Some of these stories you just can't make up!
Some of these stories you just can't make up!

Metz doesn't remember what year this was taken. We'll guess it's 1998.
Photos: Courtesy of Scott Metz
A lot of you might not remember Scott Metz. Back in the late 1990s, and early to mid 2000s, Metz was a privateer staple at supercross and motocross events. He loaded up his white creeper van and he would travel the circuit chasing down his dream and as many factory riders as he could. His hard work eventually paid off as he was rewarded with a very brief fill-in ride with the Butler Brothers BTO Honda squad in 2008. He would race two events with the team and then he disappeared from the professional side of the sport soon after that.
Metz had a become a family man and decided to hang up the boots on his own terms. However, he only hung them up on the professional level. You can still find him on local gates around the Midwest on any given weekend. He actually made it to Loretta Lynn's in the 25+ class just last summer.
I thought it would be fun this week to get ahold of him and ask him his opinion about certain topics from his career and the sport today. If you know Metz you know that you're going to get the straight honest answer. He tells it like he sees it and that's why he's such a great subject for an interview. Metz has seen the sport from an angle of a longtime privateer and has witnessed both the good and the bad. I figured you old school junkies who miss the old days of the sport could use a little bit of some "Old School Confessions". Here's just a little taste. You oldies…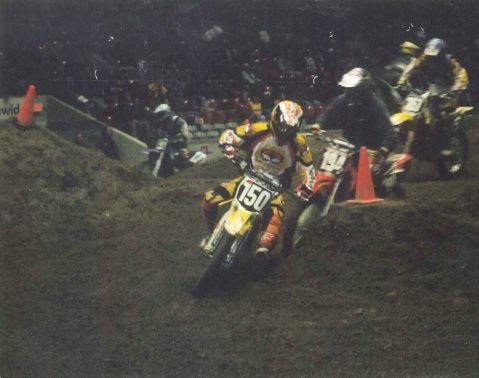 Metz, on an F&S Suzuki at the time, always wore the #150.
On coming up through the ranks to the professional scene.
When I was fifteen almost sixteen I lived with my mom and they never had that much money or anything like that. My buddy Paul Karrle was big into racing went pro also. He was pretty good. He got a fourth at Loretta Lynn's or something like that. I started going to the races with them all of the time. I needed a way to make money in order to continue racing. I was like I need to make something happen, so I basically made myself get faster. As soon as I could go to the A class I went to it and then things started coming together. I started getting product sponsors around that time, so that helped a lot. I could put more money towards my life out of racing because sponsors were covering my racing. I just love to ride, it's my favorite thing to do. I just ride whenever I can.
I went pro in 1997 during the nationals. A couple of years in I started doing supercross. I kept it fun. I trained and stuff, but I did whatever I wanted pretty much.
When my buddy Paul quit racing I had another buddy David Hill, who is from the New Philadelphia, Ohio area. He raced too and he and I would travel everywhere together. We would split everything. Let's say that I made $300 on a weekend and he crashed out and didn't finish. We would split my winnings or combine them. Then if we got a flat tire or a speeding ticket we would work it out. We supported one another through two years of racing.
I had a guy that sponsored me that would give me fuel money. We would take that and put it towards the fund as well. If we needed parts we would go into the account and work it out.
On the After Parties…
There were always a lot of fights. We would go to the race and then afterwards we were always looking for something to do afterwards. We'd go drink or something and David is a red head, so you know all of those redheads have tempers. He would flip on somebody and then all of a sudden we're in this big bar fight brawl. I keep quiet until someone starts something. Once something is started though I'm in it.
We went to an arenacross in West Virginia one time. Another one of my buddies from Ohio Cory Smith and his brother Kyle were racing it as well. My mechanic at the time Brian Roth and all of us went to a bar after it. We were leaving and my buddy goes up to this big group of people and asks this random dude for a lighter. My buddy was like, "Hey brah, do you have a lighter?" The guy responded like, "No brah," just mocking him. I knew right away that something was going to happen. I looked at my buddy and they both kind of squared up a little bit, not ready to fight or anything yet. All of this random guy's friends started talking to my buddy telling him that their friend was crazy and then he shouldn't have messed with him. They actually let me know who to hit first basically. I just came out of nowhere and rocked this dude and the next thing you know we are in a huge brawl in West Virginia. My mechanic and my buddy are getting beat up. I'm somehow surviving it. I see this newspaper stand and I pick it up and throw it at this guy who is beating up my buddy. As soon as I threw it the cops show up and pin my arms behind my back. They have my buddy up against this window and all you can see is blood running down it. We made it look like we were getting attacked and somehow we all got out of it.
That was Friday night and arenacross also raced on that Saturday, so we showed back up. All of my friends are bruised up with black eyes and stuff. We looked a mess.
The "Great Outdoors" privateer segment…
Oh, the van…that thing has seen some stuff. I sold it and got another one. I've actually had quite a few vans since then. That thing was a beast though.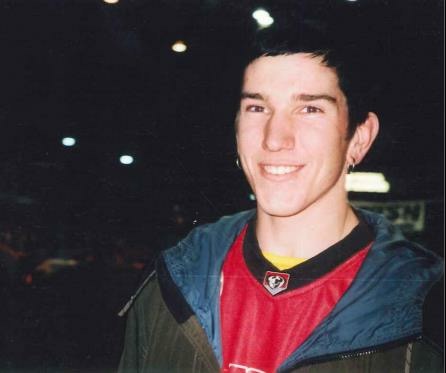 A young kid chasing his dream and loving racing.
The switch from two to four strokes…
The four strokes came out and I was riding a Honda 450. It kind of evened it out a lot for me. I loved the power of the 450 opposed to the 250. With the 250 you just have to ride it so much harder. I think I only raced a 250 four stroke one time at a pro event. That was at Kenworthy's when I borrowed one from my buddy. I made the main on it, but I'm not sure how my results were that day. If I had a 250f for supercross back then I think I would have had some really good results. The 125s were still good. I was riding a KTM125SX when I was making all of the main events. That bike was actually from Scott Plessinger's dealership back then. He was helping me out. A 250f would have been more ideal for me.
Brief stint with Butler Brothers…
When I raced two races for the Butler Brothers team in supercross that bike was way too fast for me. I don't think I've ever ridden a bike that fast before, so it was hard to ride for me. That was definitely the best looking bike.
Forrest Butler and I are really good friends. I went to Costa Rica one time to race a supercross one year and that's where I met those guys. Somebody got hurt and they needed a fill-in rider that year. Forrest came and asked me if I would fill-in for them and I told them of course. I ended up getting hurt right in that time. I think it was right before the first race I did for them. I still raced though. I wish they would have given me another shot. I didn't have any time on the bike or anything. It kind of sucked. I think I could have done something if I had more seat time.
A lot of the Ohio guys would stay down in Georgia for supercross practice. I was down there and Willy Browning, Jeff Gibson, and Brock Sellards would all be there as well. The year I raced for the Butler Brothers I didn't practice for supercross at all before the season started. I went in really unprepared.
Favorite Bike of all-time?
Chris Onstott and Rob Buydos were trying to help me out and set up a bike for me one year. They got me hooked up with Triangle Cycles in North Carolina. They brought on Wyatt Seals, who was Jeremy McGrath's old mechanic, to do my suspension, and I was also getting exhaust from Pro Circuit. That was my best setup. That was somewhere in between 2006 to 2008, I don't remember what year exactly. Wyatt just made my bike and engine work really well.
Training Facilities
It's crazy because all of us Midwest guys won't ride supercross all year round and then we put the smackdown on all of the guys who ride all of the time (laughs). Every race kid today is at a training facility these days. We didn't have any of that crap. We didn't need people to show us how to ride. We did it because we wanted to. We did it for ourselves. We just made it happen. Now you see every post on Facebook is a kid at a training facility. It's kind of ridiculous.
On Sound Check
Sound check…ha…I hate sound check! There were so many times I had to rig my bike up to pass. That's ridiculous. We tried so many things. I would fill my airbox with a bunch of rags and loosen the sub frame. One time I had my air box filled with rags and the official saw it through the breather hole. He was like, "I hope you don't plan on racing this bike with all of those rags in there." I told him I would fix it.
On Racing With All of the Top Riders
One heat race I was in front of Reed and Vuillmen for a couple of laps. I actually got a flat rear tireoff of one of the triples. They just all made a joke about it. I never really got into it with the factory riders. I felt like I was going really fast there. I didn't know I had a flat until I got off of the track.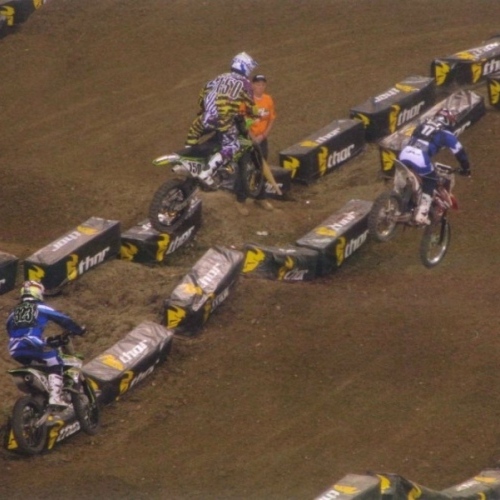 Metz later on his career battling it out with Robbie Reynard (17) and Jimmy Povolny (323).
On the sport today…
I like to be able to call it the 125 and 250 class. Today I'm not even sure what they are even called. I have no clue. What is it the Supercross class? I don't really like that. Then in the outdoors what is it the Motocross class? It's just stuff like those changes that I hate. The timed qualifiers are really neat. It's not racing. I feel like my practice speed isn't on the same page as my race speed. I can't get serious when I'm practicing. I like to play around and do laps. I can't just throw down. Arenacross is not what it used to be. To have two 250 classes doesn't make any sense at all. Back in the day they used to have a dash for cash, a jump contest, you know all of that stuff. It left those guys that would follow the series more options to make money. On top of all of that extra money they lose out on they get rid of the two day weekend at most of the events. The events are spread out farther and there aren't as many. My opinion is that the sport is going downhill, especially with the prices of bikes, those are ridiculous. Finding support is twice as hard too. I love the sport though! I love to ride. I think I like racing better than I like riding. I sound like a Debbie downer right now and I'm showing my age.
Advice to Today's Privateers
My advice to the privateers today is just to live with your parents as long as you can. Also, don't get stuck with a chick. Go into it open minded and have something to fall back on. The chances of succeeding are pretty slim. Don't be cheap on your suspension. I think it's possible for privateers to get support from outside the industry. Just stay on the right track, stay out of trouble, and don't be afraid to talk to people. Ask people for things. I think a lot of people want to help other people if they go about it the right way. Just have fun with it and search the internet for outlaw money races.
Difference of Being a Privateer then and Now
I got lucky I think. I got in with some heavy hitters of the industry and they liked me for some reason. I'm not sure why. I got pretty decent help with product. Mitch Payton hooked me up with exhaust, which was awesome. It was for the four stroke, so that was really expensive. I don't know where I'm going with this, but it's different. I guess there are less privateers out there following the series. Sometimes they have timed practices where everybody makes it to the night show because they don't have enough guys. You could ride both classes too back then. It's changed quite a bit.
Do you have a question for Scott Metz or have any suggestions on who to interview next for this segment? Email troy@pulpmx.com and we'll get you dialed in. Thank you for reading!