What a weekend of racing in Holland!
What a weekend of racing in Holland!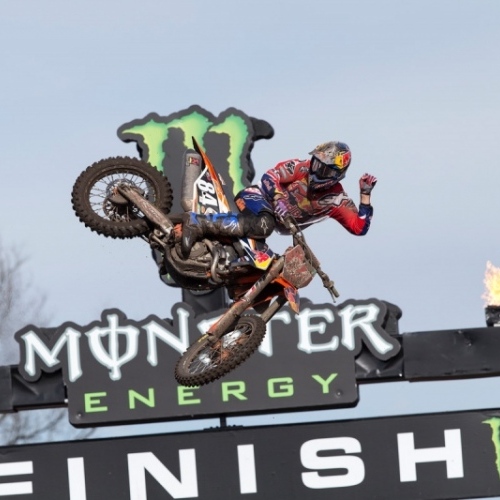 Herlings continues to win and break GP records.
Article: Jonathan McCready
Pics: KTM/Youthsream
Despite heavy rain Jeffrey Herlings, the home hero, won his 50th ever GP victory at the site of his very first GP win when he was 15 years old.
It was a typical Dutch GP for Herlings despite the rain making the first moto like an enduro in places. Herlings followed teammate Pootjes for the first couple of laps as he studied the track conditions then took the lead and won by 30 seconds. In moto two with the track dried out and faster Herlings decimated the opposition, his sand skills are simply unmatched and no-one on the planet can stay with him.
Pauls Jonass rode well for second to give KTM a 1-2 while Jeremy Seewer had a brilliant tussle with five riders in race two but eventually came through for third overall. Seewer and Jonass are tied for second place in the championship and Seewer is showing he is the real deal this season.
In MXGP Romain Febvre did what no-one has done to Cairoli in sand – ran him down and took the win on the final lap of race two!
Febvre was a frustrated third in race one and admitted his was "pissed off" as Tim Gajser, the 19 year old rookie, shocked everyone by winning the first moto in very difficult conditions.
Cairoli was even more frustrated after a lacklustre seventh, so both wanted to set the record straight in race two!
Cairoli took the holeshot but Febvre was into second and putting pressure on AC when he lost the front wheel and went down. He was stuck behind Van Horebeek. But with two laps to go Febvre struck, passing his teammate and reeling in a two second gap to leader Cairoli within a lap.
For the final lap it was all out from both riders, this was an ego battle and both had a point to prove. But Febvre did the damage with an inside pass to take the lead and once Cairoli cased a double trying to get Febvre back it was clear that Frenchman would take the win. Maybe the best win of his career.
Febvre said: "The race was tough and in the first moto I never really found my rhythm. The sand here is very wet, very compact and very tricky, and each lap was different with a lot of bumps and not a lot of lines. I had a small crash in the second moto and lost some time but no positions, and then I found the missing rhythm and tried to race to the finish for the lead. In the last lap I found Cairoli ahead of me and did everything I could to pass him and take the victory."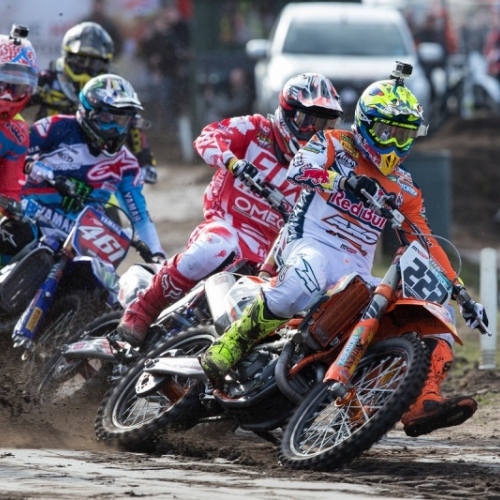 Cairoli is slowly getting back to form, but wants race wins and podiums right now.
Meanwhile Cairoli admitted he wasn't happy with what just happened: "For sure I am really disappointed because I led the last race for all the laps and I got passed in the last part of the final lap. That's not the best way to end the moto but already 2-3 laps before I was tired and I knew my condition is still not so good at the moment. Its getting better every day for but such a rough track in the sand there is still something missing. I'm not so happy because at the beginning for the first race I was a bit too careful and I finished seventh. That was the lowest point of the weekend. But it was better in the second race and the speed was there. I made a little mistake because I was tired and Febvre is really fit at the moment. For sure he deserved the victory but soon we will come back to the podium."
The pass not only cost Cairoli the moto win but also a podium result overall. Cairoli hasn't won a GP since the British GP last May and hasn't been on the podium yet this season. His back in against the wall and is now 37 points behind Febvre but he will fight back.
Max Nagl showed some superb form in Holland in what was his best ride of the season to finish second overall. Nagl has been testing the 450 Husky since Thailand and looks a lot more comfortable and much more like the rider that led the World Championship last season.
Tim Gajser was only eighth in race two after the Honda stalled on him twice but still managed to make the podium. Gajser showed this weekend that he will be a title contender, he doesn't like sand but still won a moto and got on the podium. In fact it is only Gajser and the Febvre that have won motos so far this season!
Jeremy Van Horebeek and Kevin Strijbos also showed good form but it was a bad day for Ben Townley who only scored a 14th in race one after being ill and in bed all week.
The series heads to Argentina in two weeks's time on a circuit that all the riders love, and if this weekend is any indication, the racing should be epic once again!
MXGP Overall Top Ten: 1. Romain Febvre (FRA, YAM), 45 points; 2. Maximilian Nagl (GER, HUS), 40 p.; 3. Tim Gajser (SLO, HON), 38 p.; 4. Antonio Cairoli (ITA, KTM), 36 p.; 5. Jeremy Van Horebeek (BEL, YAM), 36 p.; 6. Evgeny Bobryshev (RUS, HON), 33 p.; 7. Kevin Strijbos (BEL, SUZ), 31 p.; 8. Shaun Simpson (GBR, KTM), 23 p.; 9. Glenn Coldenhoff (NED, KTM), 22 p.; 10. Tanel Leok (EST, KTM), 19 p.
MXGP Championship Top Ten: 1. Romain Febvre (FRA, YAM), 137 points; 2. Tim Gajser (SLO, HON), 124 p.; 3. Evgeny Bobryshev (RUS, HON), 107 p.; 4. Jeremy Van Horebeek (BEL, YAM), 104 p.; 5. Antonio Cairoli (ITA, KTM), 100 p.; 6. Maximilian Nagl (GER, HUS), 84 p.; 7. Shaun Simpson (GBR, KTM), 80 p.; 8. Kevin Strijbos (BEL, SUZ), 79 p.; 9. Tommy Searle (GBR, KAW), 63 p.; 10. Glenn Coldenhoff (NED, KTM), 55 p.
MX2 Overall Top Ten: 1. Jeffrey Herlings (NED, KTM), 50 points; 2. Pauls Jonass (LAT, KTM), 44 p.; 3. Jeremy Seewer (SUI, SUZ), 38 p.; 4. Brent Van doninck (BEL, YAM), 34 p.; 5. Benoit Paturel (FRA, YAM), 29 p.; 6. Alvin Östlund (SWE, YAM), 23 p.; 7. Michele Cervellin (ITA, HON), 21 p.; 8. Vsevolod Brylyakov (RUS, KAW), 21 p.; 9. Aleksandr Tonkov (RUS, YAM), 21 p.; 10. Davy Pootjes (NED, KTM), 21 p.
MX2 Championship Top Ten: 1. Jeffrey Herlings (NED, KTM), 150 points; 2. Pauls Jonass (LAT, KTM), 112 p.; 3. Jeremy Seewer (SUI, SUZ), 112 p.; 4. Aleksandr Tonkov (RUS, YAM), 91 p.; 5. Brent Van doninck (BEL, YAM), 78 p.; 6. Petar Petrov (BUL, KAW), 76 p.; 7. Benoit Paturel (FRA, YAM), 75 p.; 8. Samuele Bernardini (ITA, TM), 60 p.; 9. Alvin Östlund (SWE, YAM), 60 p.; 10. Vsevolod Brylyakov (RUS, KAW), 59 p