We went back and looked at the results of A-Mart to see if we could make any sense of this.
We went back and looked at the results of A-Mart to see if we could make any sense of this.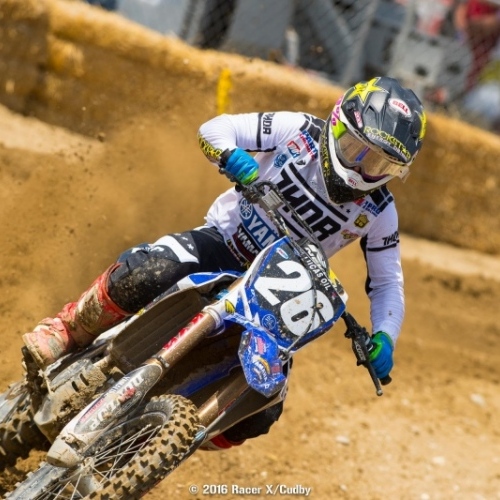 A-Mart is on fire right now.
Photos: Simon Cudby
The hottest topic in motocross this week has of course been the emergence of Yamalube Star Racing Yamaha's Alex Martin. It seems like everybody has done a story on him, so I figured I would jump on the bandwagon, just like ¾ of the Golden State Warriors fan base last season. The insiders at the practice tracks before the season indicated that he would be ridiculously fast in the 2016 season, but did anyone expect that he would be leading the 250MX standings after two rounds?
I know I didn't expect it. It's not that I don't believe in Alex, but it's the fact that his supercross season didn't go as planned. He was coming into the outdoor season without momentum I thought, but I admit I was wrong. The outdoor season is a perfect place for a fresh start and A-Mart has used it to his advantage. Everyone is happy for him too.
Here's the thing…how did Alex Martin go from solid top ten guy to championship contender? I went back in "The Vault" to look up every result that A-Mart has had in Lucas Oil Pro Motocross since turning pro at the end of the 2008 season. The following finishes are in overall scores only.
2008
Spring Creek 20th
Steel City 30th
2009
Glen Helen 16th
Hangtown 21st
Freestone 16
High Point 21st
Thunder Valley 20th
RedBud 25th
Spring Creek 11th
Washougal 17th
Unadilla 17th
Budd's Creek 17th
Southwick 17th
Steel City 18th
2010
Freestone 39th
High Point 15th
Budd's Creek 20th
Thunder Valley 12th
RedBud 15th
Spring Creek 10th
Unadilla 22nd
Southwick 23rd
Steel City 13th
2011
Hangtown 17th
Freestone 36th
High Point 10th
Budd's Creek 13th
Thunder Valley 10th
RedBud 19th
Spring Creek 5th
Washougal 13th
Unadilla 9th
Southwick 4th
Steel City 8th
Pala 10th
2012
Hangtown 21st
Freestone 15th
Thunder Valley 17th
High Point 11th
Budd's Creek 15th
Spring Creek 13th
Washougal 16th
Southwick 7th
Unadilla 18th
Steel City 7th
Lake Elsinore 17th
2013
Hangtown 19th
Thunder Valley 39th
Tennessee 16th
High Point 20th
Budd's Creek 19th
Southwick 10th
RedBud 30th
Spring Creek 15th
Unadilla 14th
Utah 18th
Lake Elsinore 36th
2014
Glen Helen 16th
Hangtown 11th
Thunder Valley 20th
High Point 10th
Tennessee 13th
RedBud 8th
Budd's Creek 13th
Spring Creek 8th
Washougal 12th
Unadilla 9th
Indiana 7th
Utah 13th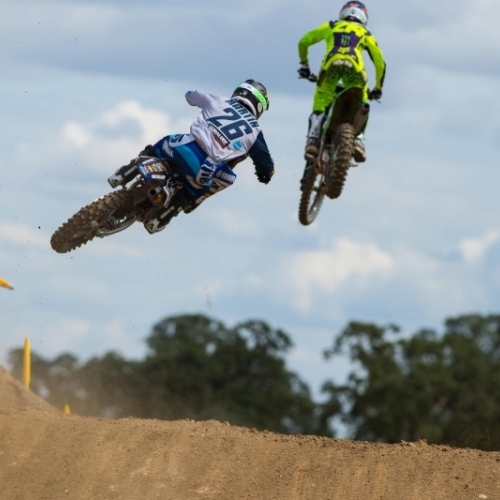 A. Martin has been carrying a lot of speed, which has helped him come through the pack on occasion.
2015
Hangtown 4th
Glen Helen 5th
Thunder Valley 21st
Tennessee 15th
High Point 4th
Budd's Creek 2nd
RedBud 5th
Spring Creek 10th
Washougal 11th
Unadilla 5th
Utah 8th
Indiana 24th
2016
Hangtown 2nd
Glen Helen 1st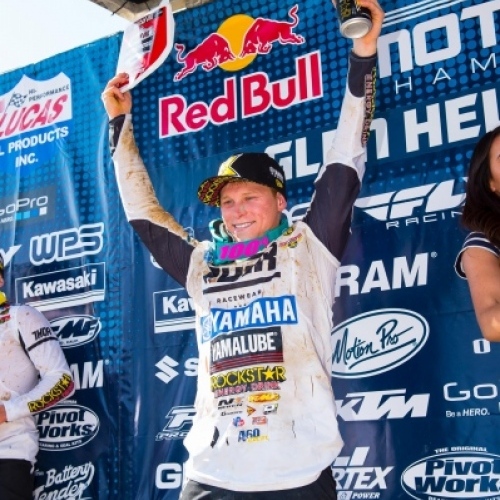 First time overall winner and red plate holder.
You can see quite a few trends in A-Mart's results over the years. Of course you are going to see some inconsistencies through the years, but all riders have that. What makes Alex's story unique is that he used to be a guy that didn't know if he'd have enough money to make it to each race. Alex was a member of the very fast, but "in over their heads" Eleven10 Mods team. He has come a long way from the guy sleeping on a floor with just a mattress to his name, which is what he did during his duration with the team. The Eleven10 team deserves a lot of credit in the making of A-Mart the championship contender because they believed in him when no one else did.
If you go back and look at his rookie season in 2009 you'll notice that he had an average season. His best finish was an eleventh at his home race Spring Creek and the rest of it I'm sure was spent learning the ropes of the series. The 2010 season was a bit abbreviated because of the confusion with Eleven10 Mods, but he accomplished his first top ten at (you guessed it) Spring Creek. In 2011 he had more of the same consistent results, but he also had some stand out rides with a fifth at (yes!) Spring Creek and a fourth at Southwick. Spring Creek is a bit on the sandier side, so you can imagine he felt at home there too.
The 2012, 2013, and 2014 seasons were almost identical to one another. Alex's results varied from round to round in the 20-7 range, which is good, but what happened to those flashes of brilliance that he had in the 2011 series? You could chalk it up as not knowing what training worked best for him, or a confidence issue, or even he didn't mesh well with the bike. Whatever it was, something wasn't right and something held him back from realizing his true potential. His younger brother Jeremy came in hot and won the title in 2014, which probably didn't put a good taste in Alex's mouth. Sure, Alex was happy for him, but at the same time you better believed it motivated him to get to the top.
Last year was a coming out year of sorts for the older Martin brother. He was established with the CycleTrader Rock River Yamaha team and it showed that he was comfortable. Alex even pulled off some podium performances in supercross, which allowed him to carry momentum into the summer months. Just like this year he had solid results at Hangtown and Glen Helen, looked exceptional at High Point, and it all accumulated into a first moto win at Budd's Creek for a then career-high second overall. Out of the twelve rounds last summer Alex finished within the top five in half of those races. It was the best year of his career and that earned him a spot at Yamalube Star Racing Yamaha this year and the rest is history.
All of that hard work has translated into a success story for the one that they call Troll. He's gone 2-1 in the overall game this season and has looked like a completely different rider. Alex's charges through the pack have been really fun to watch as he has been carrying so much more speed than other riders. I see him continuing his success throughout the remainder of this summer. This 250MX title seems like it's going to come down to four riders who pit out of the same truck. It's just a game of consistency and Alex will use his veteran experience and newfound success to make a real run at the championship.
Should we have seen this coming? That's debatable. It's just really rare when a rider steps their game up to that next level, but it's really fun to watch and report on. Let's watch and see how far Troll can take this.
Thanks for reading my column and if you have any questions or want to bench race you can email me at troy@pulpmx.com.