Fantastic Febvre!
Fantastic Febvre!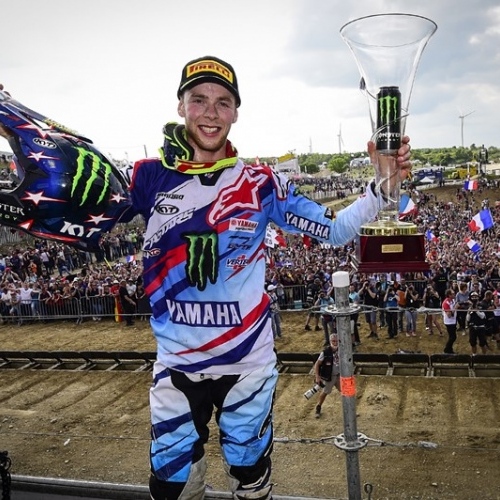 Febvre was the big winner in France.
Article: Jonathan McCready
Pic: KTM/Yamaha
Romain Febvre, fuelled by, pain, rivalry, frustration and a rapturous home crowd stormed to victory in France after two blistering battles with title rival Tim Gajser.
Both Febvre and Gajser were in a league of their own on the slick, hillside French track of St, Jean- D'Angely. Both riders excel on slick tracks and for the first in a few round Febvre managed to start at the front meaning Gajser had a big battle on his hands.
Febvre aggressively took the lead on turn two in race one passing adversary Cairoli, but Gajser would be the main threat and once the Honda man got into second he started reeling in the Frenchman, making the pass with just a few laps to go as the speeding duo left Cairoli way back in third.
But, when Gajser took the lead Febvre learnt his lines and clamped himself firmly on the back wheel of the Honda, and on the last couple of laps Febvre did everything he could to make the pass and dived down the inside of Gajser on the last turn only to have the Honda man accelerate way to win by 0.5 of a second!
Febvre was not happy and rode straight back to the motorhome, you knew he would come out swinging in moto two, he couldn't let Gajser get any more points on him!
Febvre indeed laid it all on the line in race two, getting the lead and setting a pace only Gajser could match, try as he might Gajser could not make a pass stick and the with five minutes to go Febvre broke Gajser and forced him to settle for second.
It gave Febvre the overall win to the delight of a huge home crowd and kept the gap at 24 points, but it was huge win for Febvre who was still battling his shoulder injury and had his back against the wall in the championship.
It rounded off the perfect weekend for Febvre who earlier announced he had signed for another three years with Yamaha, after rejecting big offers from Honda and other manufacturers.
Fevre said: "To celebrate my new contract by winning at home makes me very happy. I'd like to thank Yamaha with this victory today. To win a GP, especially the home GP, in front of the crowd is awesome."
Tim Gajser was honest in his appraisal and admitted Febvre was the better man in moto two. But the championship leader still hasn't been off the podium all year and his consistency so far this season has been stunning. He's doing a Cairoli on Carioli!
So what happened Cairoli? The slick terrain is Tony's weakest surface and unfortunately for him it his title rivals' biggest strength. In race one Cairoli went form first to third and couldn't do anything about Febvre or Gajser, in a race he needed to win he simply wasn't fast enough to beat his rivals.
The problem is Cairoli is used to being in control of the title chase, he usually has the points lead and can pick and choose when to push and when to play it safe, but now he can't, he has to ride at 110% to win races at every round, and when he crashed in turn one in race two, Cairoli had no option but to simply ride as hard as he possibly could.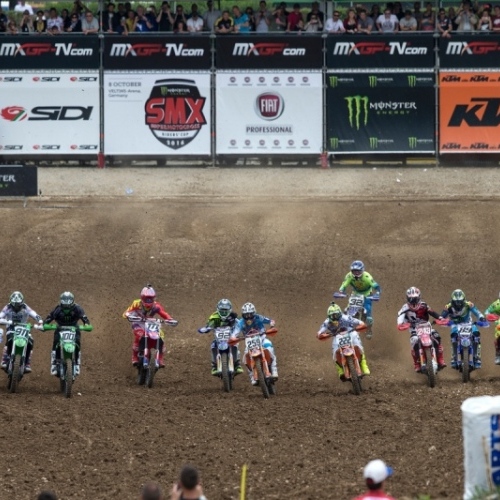 The MX1 class is chasing Febvre and Gajser.
The result was some awesome speed but another crash while trying to pass Nagl for tenth. Cairoli just isn't used to riding the edge like Febvre and Gajser are doing, but he better get used to it quick if he wants to win another world title. After his crash, Cairoli, to his immense credit kept pushing and incredibly made it back to seventh, he was flying and he wasn't giving up, but as he said after the race, he simply has to win races now.
"This time I had the speed and good condition and I was able to make passes even if I had to come back from last. I got back into the top ten and then I crashed again, but still finished seventh," explained Cairoli. "I was disappointed in the first moto when I should have attacked. It's not ideal for the championship but we keep looking forward. I will work harder and try to win from now on, and see if we can get closer to the leaders."
After years of control and never going at 100%, we will now see Cairoli, 60 points back of the championship leader, at his maximum speed and the next few tracks on the calendar are some of his favourites.
Evgeny Bobryshev was on good form yet again and claimed another podium but admitted he just couldn't believe how quick Gajser and Febvre went in moto two!
You have to feel sorry for HRC teammate Gautier Paulin. The Frenchman was leading the qualifying race and looking back to his best, when with just half a lap to go he had a horror crash on a fast downhill, ragdolling himself to a stop on the corner. Paulin eventually go up and amazingly had no broken bones but was unable to race on Sunday due to his eye swelling up and compromising his vision. Paulin hopes to be back in two weeks at the British GP.
It was another solid day for Clement Desalle who was fifth overall, again a lack fitness and bike time holds the Belgian back from challenging for wins but he is getting stronger and stronger and should be close by the end of the year.
In MX2 Jeffrey Herlings has a fight on his hands to win both motos. An overwatered track in race one left Herlings cautious in third for the first 15 minutes as home favourite Benoit Paturel built up a 9 second lead over the Dutchman with Jeremy Seewer riding well in second.
But then Herlings unleashed his speed put in the fastest la and passed Paturel with a two laps to go to take the win! It was another race that showed the maturity of the Dutchman.
In race two Ferrandis cut Herlings off hard out of the gate and the Dutchman again had to work his way to the front, he got to the lead after 15 minutes using unique lines no-one else could find. but couldn't shake early leader Max Anstie who kept the gap within two seconds for the rest of the moto, but again Herlings is learning to do just enough to win and limit the risk.
Paturel finished third to give him second overall and gave the French crowd something to cheer after Ferrandis got so pre-occupied with cutting Herlings off out of the gate he made two mistakes in the first turn and had to come from last twice! A 6-7 for fifth overall were the disappointing results for the Frenchman's last race in France before he moves to the USA.
The championship now moves to Matterley Basin in England and a track that Cairoli loves and has a had a huge amount of success on, but it will suit Febvre and Gajser too! All three are motivated to win, it could well be one of the best Grand Prix of the year! The gloves will be off and all three will be giving it their all!
And as an added bonus to an already enthralling world championship, Chad Reed will make his first appearance in MXGP since 2001, Reed wants to do well but in reality a top ten performance in an incredibly deep field of motocross talent would be very impressive.
It's going to be epic in England!
MXGP Overall Top Ten: 1. Romain Febvre (FRA, YAM), 47 points; 2. Tim Gajser (SLO, HON), 47 p.; 3. Evgeny Bobryshev (RUS, HON), 38 p.; 4. Antonio Cairoli (ITA, KTM), 34 p.; 5. Clement Desalle (BEL, KAW), 31 p.; 6. Glenn Coldenhoff (NED, KTM), 28 p.; 7. Valentin Guillod (SUI, YAM), 28 p.; 8. Maximilian Nagl (GER, HUS), 25 p.; 9. Jordi Tixier (FRA, KAW), 21 p.; 10. Dennis Ullrich (GER, KTM), 19 p.
MXGP Championship Top Ten: 1. Tim Gajser (SLO, HON), 432 points; 2. Romain Febvre (FRA, YAM), 408 p.; 3. Antonio Cairoli (ITA, KTM), 372 p.; 4. Maximilian Nagl (GER, HUS), 342 p.; 5. Evgeny Bobryshev (RUS, HON), 333 p.; 6. Jeremy Van Horebeek (BEL, YAM), 293 p.; 7. Shaun Simpson (GBR, KTM), 210 p.; 8. Valentin Guillod (SUI, YAM), 208 p.; 9. Kevin Strijbos (BEL, SUZ), 204 p.; 10. Glenn Coldenhoff (NED, KTM), 184 p.
MX2 Overall Top Ten: 1. Jeffrey Herlings (NED, KTM), 50 points; 2. Benoit Paturel (FRA, YAM), 42 p.; 3. Jeremy Seewer (SUI, SUZ), 38 p.; 4. Pauls Jonass (LAT, KTM), 32 p.; 5. Dylan Ferrandis (FRA, KAW), 29 p.; 6. Aleksandr Tonkov (RUS, YAM), 29 p.; 7. Brian Bogers (NED, KTM), 27 p.; 8. Samuele Bernardini (ITA, TM), 24 p.; 9. Max Anstie (GBR, HUS), 22 p.; 10. Petar Petrov (BUL, KAW), 20 p
MX2 Championship Top Ten: 1. Jeffrey Herlings (NED, KTM), 497 points; 2. Jeremy Seewer (SUI, SUZ), 363 p.; 3. Pauls Jonass (LAT, KTM), 332 p.; 4. Benoit Paturel (FRA, YAM), 293 p.; 5. Aleksandr Tonkov (RUS, YAM), 269 p.; 6. Petar Petrov (BUL, KAW), 230 p.; 7. Dylan Ferrandis (FRA, KAW), 229 p.; 8. Samuele Bernardini (ITA, TM), 228 p.; 9. Max Anstie (GBR, HUS), 227 p.; 10. Vsevolod Brylyakov (RUS, KAW), 209 p.