Rogers finally gets to tell his story.
Rogers finally gets to tell his story.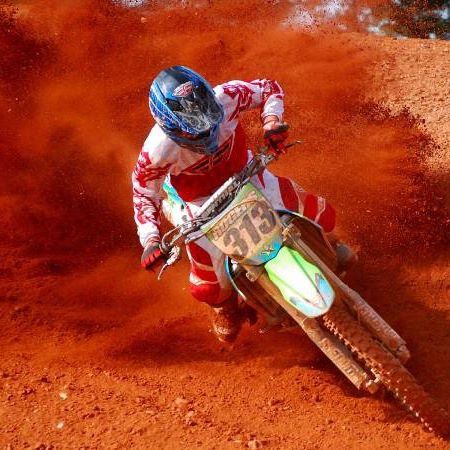 Rogers in late 2009 on his Kawasaki.
Photos: Courtesy of Derek Rogers
Often times in this sport you'll hear about a top amateur rider that never quite made it as well in the professional ranks. Essentially it's more common than not in this sport. We continue to watch the races and live our lives until one day we ask, "What ever happened to that guy?"
This week we caught up with one-time high profile amateur rider Derek Rogers. On the surface Rogers is a good ol' boy from Georgia, but at one point in time he was slated to be a star of pro motocross. At the end of 2006 Rogers was one of the first riders signed to be on KTM's Jr. amateur support team. He stayed on the team for three seasons and raced against many of today's top stars. Just as fast as he came on the circuit he disappeared. So what happened?
"I just kind of got burnt out on it I guess you could say," Rogers admitted.
Everyone has a story to tell and we knew there had to be more to it. Here is Rogers' life in motocross unedited. If anyone can shed some light on what happened it's him personally.
Coming Through the Ranks
"I started back in 1999 and it was just a hobby. My dad raced and he got me involved in the sport. I stayed local for about two years. Someone talked me into doing a Loretta Lynn's qualifier and I ended up qualifying. I did pretty decent and after that I started to do all of the amateur nationals."
"In 2005 I did pretty well in all of the youth classes and I started riding for Factory KTM's amateur team in 2006. In 2007 I had a really good year at Ponca and Loretta's and that's when I realized I could make something of myself in this sport."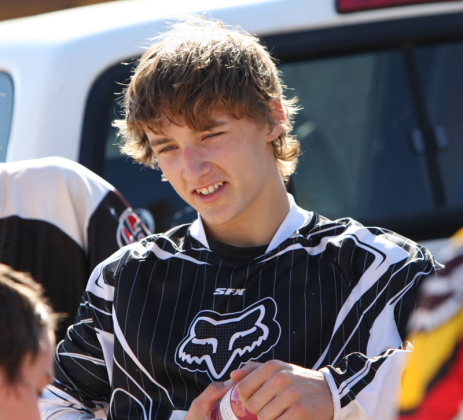 A young D. Rogers when he was a member of the KTM Jr. squad.
Factory KTM Amateur Team
"They started the junior team at the beginning of 2007 and it was Jason Anderson, myself, Michael Hall, and the Wharton brothers. It was their first real amateur team. They had some stuff before that, but nothing too serious. I had a shop deal with a Suzuki dealership, but it wasn't anything serious. KTM was the first factory deal I had."
"It was fun! We got to travel out to California to do some riding. The team never really put much pressure on me; it was just myself that did. The pressure wasn't too bad. The team was set up to be like the pro team. We flew to the races and they had the semi already there for us with a motorhome. We were good to go."
The Golden Era
"The pro class was stacked when I raced it. We had guys like Dean Wilson, Justin Weeks, Blake Baggett, PJ Larsen, and Darryn Durham. Back then if you got into the top five it was pretty gnarly."
Oak Hill 2009
"Max Anstie came over here and he started getting motors from the pro side of the team. Everybody felt like he was getting special treatment. It made all of the dads upset and everything. In 2007 and 2008 my bikes were really good and then in 2009 my bikes kept blowing up. Max's bikes weren't. Then we found out that he was getting different stuff. I remember I had three motos in a row where I was leading and my bike just stopped working. My dad and I had enough and we just went our own way after that. The team lasted another two weeks I believe and it fell apart."
"Anderson was more upset over the deal because he was riding the same class as Max. They were in the B class and I was in the pro classes. Anderson was more involved in it because of that fact. I never have had any problems with Jason, we were always cool, but with Max it was kind of weird. You never really were around him much because they did their own thing. The rest of the team was always pretty close. I never got to hang around with Max much."
"That is probably what ended everything for me the most. There weren't too many teams back then. The cost of doing everything on your own is too much."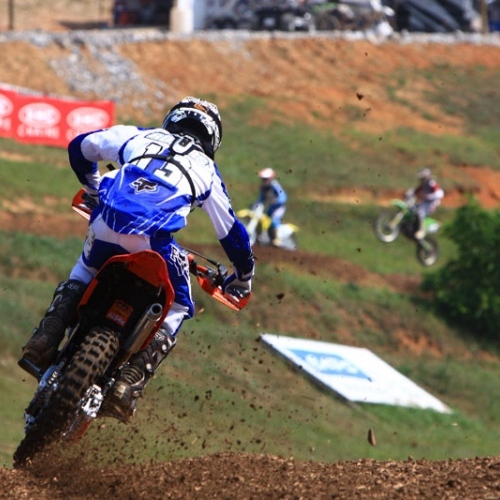 Rogers said that his best accomplisment was riding for a factory amateur team.
2009/2010 Pro Debut
"We drove to Thunder Valley in Tennessee right after Oak Hill that year because they were paying contingency. If I raced a Kawasaki then they were going to pay me double contingency, so I went there. We drove all night and it was awesome. I did a lot of local racing on a Kawasaki actually. I did whatever paid money. I did that for about a year until Kawasaki stopped paying contingency in 2010."
"I didn't really have any other teams interested in me. Kawasaki helped me out a little bit, but that was pretty much it. I don't know if that had something to do with the KTM drama or what."
"I raced Loretta Lynn's in 2009 on a Kawasaki and I raced that with a broken shoulder from my regional. That was hard because I couldn't' even hold on. That was the last amateur national that I ever did. I was going to do the last three nationals of 2009, but my shoulder was so jacked that I couldn't have done two thirty-minute motos."
"After Loretta's I didn't ride for a while. I was thinking that maybe something would come up, but it never did. I bought a Yamaha is November of 2009 and did some local arenacross races. I wadded my brains out at Hangtown in 2010 and then went to Freestone and I didn't do too badly. That was pretty much the last time I raced."
"I've ridden factory bikes and I know what they are capable of. You're just behind the eight ball at all times if you don't have one."
Calling It Quits
"After Freestone I just decided to be finished with racing. It sucked for sure; there is no doubt about it. When you spend your whole life doing something and then stop you don't know what to do. I played around in some local racing after that."
"I thought about coming back to Loretta Lynn's this year. I wish I had done it. I want to do it next year for sure."
"My dad and I have a contracting business. I play some golf and that's really about it. We do pretty well, but its not racing dirt bikes, but it's not the worst thing in the world. Quitting was hard to deal with at first, but at the end of the day it's just racing dirt bikes."
Toughest Competitor Growing Up
"I'd say Justin Barcia for sure. Ever since I met him I had issues with that kid (Laughs). Every time I ran into somebody or got ran into he was somewhere around."
Best Race
"I'd say it was Mammoth. That was the best place to go. "
Biggest Surprise
"Honestly, it is Ken Roczen. He would come over and he had all of this hype behind him, but at the end of the day Anderson and those other guys were just as fast. I never thought he would do what he is doing today. He's really surprised me."
Thanks for reading my column this week! If you have any questions for Derek Rogers or anything else you can email me at troy@pulpmx.com.