The Official Motocross Videogame Review
The Official Motocross Videogame Review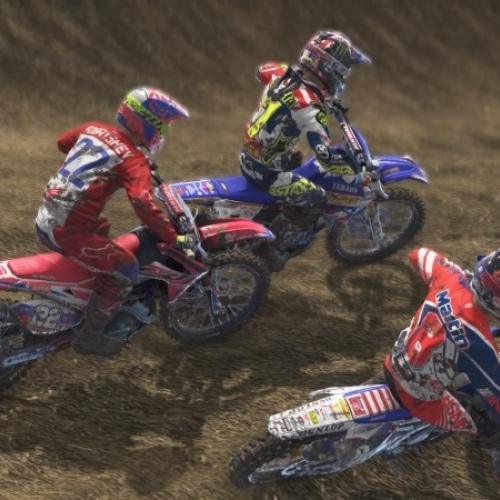 Martin and Barcia take on Bobryshev.
By Ken Catton
Sometimes, unfortunately, riding isn't always an option. Maybe its injury, maybe its weather or maybe you just don't have time, but we've all been there and it's nothing short of a bummer. While it's clear that there's no way to fully replicate the feeling of twisting the throttle, dropping the clutch and laying down fast laps, MXGP 2: The Official Motocross Videogame can help you get your moto-kicks when you're in a pinch. Developer Milestone S.r.l has a well-established pedigree in the development of realistic racing simulations, dealing with popular racing series like MotoGP and WRC, as well as, of course, the European MXGP racing series. While MXGP 2 is chock full of new modes, new features, improved graphics and fresh track design, the main thing that any racing simulation should aspire to be is realistic. In this respect, MXGP 2 hits the rut at full speed and blows by its competition. Instead of focusing on arcade style gameplay in order to maintain broad market accessibility, MXGP 2 takes the outside line, focusing on official licencing of the bikes, riders and tracks, as well as realistic racing dynamics— both in terms of the way the bikes handle, as well the constantly changing racing surface—for a more authentic motocross experience.
By featuring official tracks from the MXGP circuit, as well as all the speedy Euro teams and riders like Cairoli, Febvre, and even Ryan Villopoto, MXGP 2 aims to appeal to the real motocross fan instead of trying to attract the casual video game audience. I don't know what it is, but racing random dudes, on imaginary bikes just isn't the same as battling for a championship against Nagl, Gasjer or Desalle on their factory steeds, even if it's only in a virtual sense. Even more enjoyable is booming around some of the most iconic motocross tracks in the world, like the hard-pack hillsides of Ernèe, the never ending sand of Lommel, or my personal favorite, and American national series staple—Glen Helen. I've always wondered what it would be like to go sweeping around Talledaga wide open, or to claw my way up Mt. Saint Helen, elbow to elbow with some of the world's best. While it's clear that I'll never have the speed to actually know that feeling (Although, I feel like I'm just a couple clicks away), MXGP 2 offers the next best thing.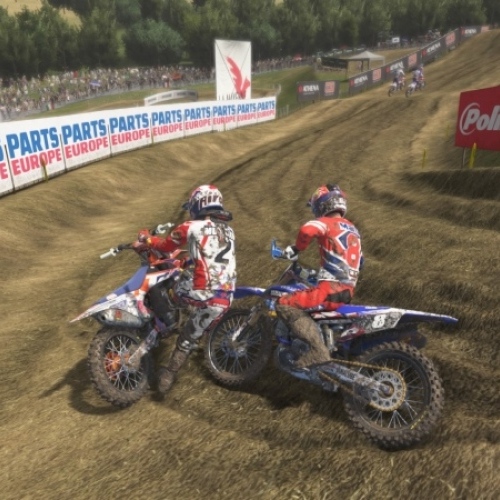 The MXGP game has a new realistic feel.
And that's the beauty of Milestone's aim toward realism. Playing MXGP 2 actually feels something like riding a real dirt bike. My only technical complaints with the way the bikes handle are the whipping mechanic, which is just wonky and usually results in a loss of speed or a crash, and block passing, which no matter how slick, usually results in both guys on the ground. While those that are familiar with the previous version's controls will find it awkward at first, I think most will find the way the bike handles to be an improvement after a little bit of time and practice. Further, with a Bona fide testing facility at your disposal, you can actually pound laps and make a plethora of different adjustments that effect the way the bike feels. This helped me to find my way back to the comfort zone that I had established through (literally, and embarrassingly) hundreds of hours of racing in the first MXGP game. As an experiment, I ran ten laps on the stock setting, which felt slow in the turns and extremely unstable at low speeds. By adjusting the fork and shock setting a few notches at a time and then heading back out to pound some more laps, I was able to cut almost 4 seconds off my average time consistently, and I was able to achieve a more comfortable feeling in the turns. I took this setting to the races, and along with a quick gearing change, I found that it translated into better finishes and less crashing, which is crucial when you dive into the extremely competitive online mode.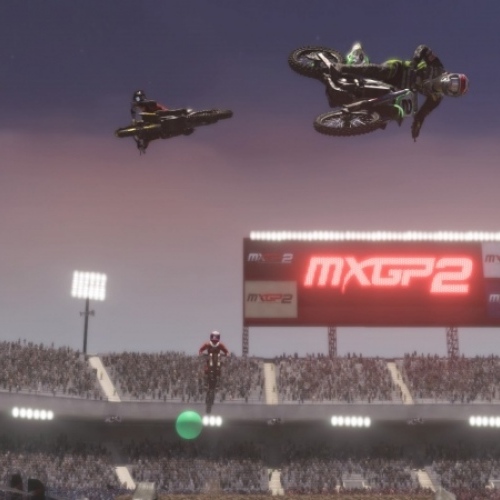 Villopoto getting redemption from last season.
The online mode is easy to navigate and fun, though as I mentioned above, very competitive. Dudes can be ruthless at your local raceway, so just imagine how aggressive people ride when they are anonymous and crashing doesn't hurt. This can be frustrating at times, as getting smashed off the track or blown up in a turn—à la Mike Alessi vs Broc Tickle in Atlanta a few years ago—isn't the exception; it seems to be the rule. Of course, like real racing, good starts and better speed are the key to staying out of the ram-and-slam quagmire. Unfortunately though, when racing online and especially in the stadium races, riding with precision and style isn't as fast as throwing up a fat old boner air, going long on every jump and bouncing through obstacles. You can be laying down the smooth like Dungey, thinking you're going fast, and then some goon will inevitably blow by you riding like Ronnie Mac. Speaking of getting good starts, the gate-drop is now completely random instead of the old ready-steady-go countdown. This is a welcome change which requires more skill and separates the racers going into the first turn.
Along with the official licencing of riders, tracks and bikes, comes the addition of the new Monster Energy Motocross of Nations mode. This simple addition is really fun, allowing people from all over the world to race as their home grown heroes—unless of course you're Canadian like me, in which case you'll just have to sit on your hands and do nothing. Look to the CMA for a perfect example of how to do this. You lucky Americans, however, get the chance to change the outcome of the 2015 running of the race (if only for a few moments), riding as Justin Barcia, Jeremy Martin and Cooper Webb. There's just something about the MXdN that's special, and it translates well into the virtual realm.
In addition to the MXdN is another new mode called the Stadium Series, featuring four fictional Supercross-style tracks. The change of pace is unique and quite welcome, with tighter courses and different obstacles than you might find on the official outdoor tracks. I found this mode to be fun, but lacking in depth, and the options for how you hit different obstacles to be very limited. In the odd rhythm section, you might be able to turn a double-double-double, into a triple-double-single saving a few tenths per lap, but on balance, creative line choice rarely pays of in terms of speed. The fictional track designs are well done and unique however, and provide a level of bar to bar action that isn't as prevalent on the outdoor tracks.
In a field of competition that resembles your local 40+ race class, MXGP 2: The Official Motocross Videogame stands out as the only real option for the rabid motocross fan who would rather spend their time on the bike than in the house. It improves on its predecessor in almost every way, includes new modes that any fan of motocross will enjoy and it fits nicely between the arcade style of its console counterparts and the extreme simulation of other popular PC simulators that demand more time and patience than most adults have laying around. The game is available now for PC and on Steam, as well as PS4 and Xbox One.