An unscripted interview with an underrated personaiity in the sport.
An unscripted interview with an underrated personaiity in the sport.
We get it bro, your bike is great and so is your program. We hear the same things every week! What if someone just called up a rider without a plan for the conversation? Well, we decided to do just that and it actually turned out to be a pretty insightful view into the life of Alex Ray. Ray is one of those guys on the verge of a breakthrough and in time could get off Privateer Island. Read on to get a little glimpse of who A. ray is under the helmet!
Photos: Simon Cudby, Cycle Dump, and Ray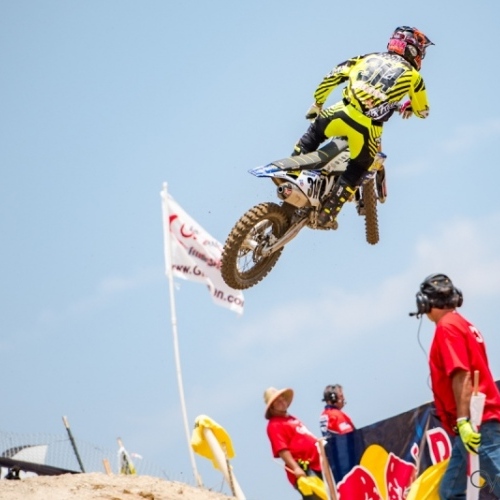 Ray switched from Honda to Huqvarna for a fresh start this outdoor season.
Pulpmx: What's up Sting Ray?
Ray: Not too much. I'm just doing some bike work before RedBud.
Do you like that nickname?
What did you say it was?
Sting Ray.
Yeah man! It's a pretty sweet name.
Have you ever been called that before?
Yeah, but not since I was a little kid.
It's just been done before you know? Mike Craig was Sting Ray, so we need to come up with a new one for you.
Alright!
This isn't a normal interview where we just talk about your program. We're just going to talk bout some random stuff. So what's new with you?
Oh not too much. I've just been putting in motos with Noah and that's helped me the past couple of weeks. I'm just really excited to get out of butthole California. I'm a country guy at heart, so right now I'm fishing and taking it all in. It's hot, humid, and I love the East Coast. The West sucks because you're in traffic all of the time, the tracks are blown out half of the time, and I just love the East.
That's what I like to hear. I hear that you really live deep in the woods is that true?
The closest town is maybe seven miles away. I live in a super small town. I live in the backwoods and I have three tracks. We have a night track that we actually have races on. I help my dad put those on. We have a lot of fun doing that. I usually get my sponsors to put up some banners along the fence to promote. I also set up my canopy with my bike under it with posters and things like that. So, that's good.
I also have a supercross track and a sweet outdoor track that is made of sand. It's pretty sick and that's what we've been riding the past couple of days. We got some rain and the track was perfect.
Man, you own three tracks? That's very cool!
Yeah man, and I have a pool and a pond in my backyard. Noah's trainer has been fishing since he got here and he caught a huge fish today.
You guys have been swimming as training then?
Yeah, we do some pretty good workouts in the pool. I've got a couple of good cycling loops as well. I've got quite a few guys around here who race too. I have about four guys who live close that race pro. My best friend lives eleven miles from me and his name is Bryce Klippel. He actually raced Muddy Creek and he races supercross as well. We ride with him and it's a great area to row up and train. It's hot and we're right down the road from Loretta Lynn's, so you can imagine how hot it is.
Muddy Creek is your home race then.
It is, it's pretty centrally located and not a bad drive.
How excited are you for RedBud this weekend?
Dude, I'm so pumped! I raced it last year and I did pretty well. I had some bike issues, but I love the track, it's one of my favorite races. I'm ready to giver her a go on the new Husqvarna.
Yeah, you just recently switched brands. Why did you switch from Honda's?'
I think it was just time for a change. You get to a certain point. I actually got the chance to ride Noah's practice bike before I made my decision. I just thought that the bike was great and I had to have one of them. My bike right now is stock. I'm running pump gas in it and I think I put a new sprocket on it and a pipe, other than that the thing is stock and it's faster than my Honda was last year.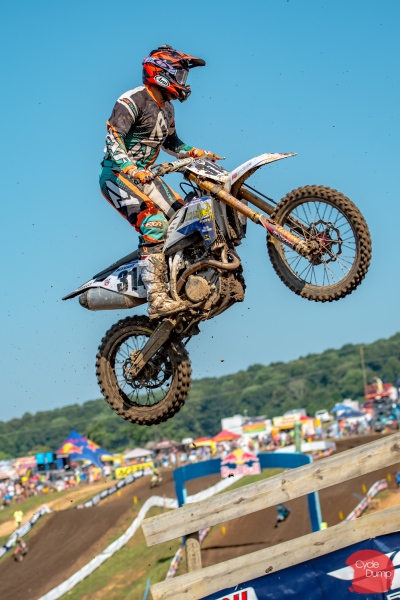 Here is hoping that airing out Larocco's Leap won't attract too many track snacks!
How did you and Noah become best friends?
Last year during supercross we were on the same team, so we were always traveling and stuff. During outdoors last year I invited him to come out to my house to ride. We hung out a bunch and just became good friends. This summer he wanted to come back and ride again and it's been really good. Last week we went riding at Fast Farms, a track close to Nashville, and we did a little bit of cat and mouse training. We've been doing that this week too and it's been fun.
Oh yeah, you guys were on the BWR Honda team together. Are you going to make it to all of the rounds?
No, I'm going to do RedBud, Southwick, and Ironman right now. It's because we have local races here at the night track. I have to be home for that to help out my dad. I may do Unadilla, but I'm not sure yet, we still have to check the schedule. That's another fun one to go to.
You work at the track too? Tell us more about the place and how long have you guys been in the business?
This is our 20th year. It's crazy my dad has been doing it that long. He's getting a little older now, so he needs some help watering the track. There is a lot of work that goes into it. It's al worth it though because it turns out great and we get a lot of people out here as well. It also helps fund my racing, which is cool.
What's the track called?
It's Power Line Supercross. We have power lines that line the outside of the track, so it's a pretty good name for it.
With your experience racing supercross I bet you have a lot of good input in track design…
We try to change it up every year. It's not much, we just have a couple tabletops and turns, but it gets exciting that's for sure.
It's pretty cool you grew up at a track and now race professional.
Yeah man, my dad raced and went out to California to try and do something in the sport. He went pretty far until he got hurt. He got me into it and it's been awesome. I'm so thankful to have him as a dad because he showed me dirt bikes. I don't know what I would do if I didn't have my dirt bike, I'd probably be going crazy. I've had the time of my life and met some of the coolest people and some really hot chicks.
Do you pull the chicks down in the woods? Do you have many to choose from?
No, none down here…you've got to travel for that!
No farm girls?
No, if you find a girl that has all of her teeth down here you're doing pretty well.
So it's not like you have that one super fit farm girl that lives right down the road? She has no other option, but to be with you because she doesn't have any other options? That's what I picture when someone says I live in the country.
We've got none of that. You'll have that once every blue moon, but not down here. There are a few, don't get me wrong. We've got Nashville right down the road, but you've got to go pretty far to get them. Every one in a 30-mile radius down here I wouldn't mess with.
Still looking for your dream girl?
Oh man, I'm still looking! Hey, it's fun looking for the right one! You've got to try a few out, right?
Well, you have to stay away from track snacks.
Oh, yeah the jersey chasers, there is a whole bunch of names for them.
Do you have a bunch of girls coming up to you at races wanting your jersey?
Not my jerseys, but there are a couple out there.
Do they ask you to sign their body parts?
I've had a couple where they were like 'Oh yeah, sign my chest,' but it doesn't get too out of hand.
It sounds like you're slaying them bro.
(Laughs) I should be doing better than I am. That's for sure.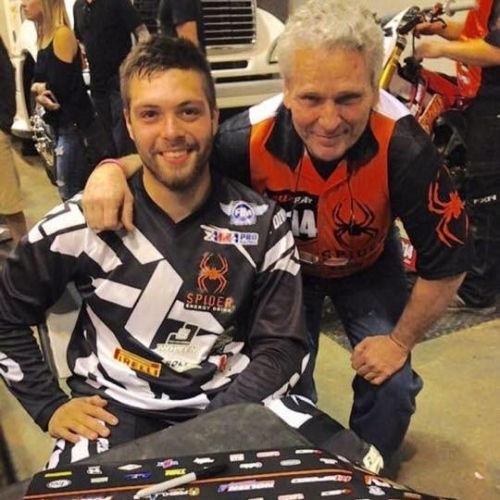 Putting a name to a face!
This is getting kind of weird, but it's what we want. Anyway, I wanted to tell you that I think you're kind of like one of those next guys that gets off Privateer Island. Your name is always up in the mix, so just talk about how cool you are I guess.
(Laughs) How cool I am, huh? I just got healthy! I had four years there where I just kept getting hurt. I took a summer off and I got in shape and healthy. I've just been trying my heart out to be that next guy. I want to be in the main event every weekend. I want to be the guy that gets called for a fill-in ride. Or, I could just build my own program, like I've been doing. I rounded up all of the sponsors. I had help from my dad and a title sponsor. I was sort of a no name for years, but now I feel like I established myself and I keep growing and getting better. That's what I want to continue to do for the next couple of years. I want to be up in the mix and turning heads.
Are you pretty stable with funding to where you will continue to come to the races?
Yeah, as long as I have the funding I'll show up and I'm going to do what I do.
It seems like you always race a lot of races in the wintertime to make some money.
We have a couple of good fair races around here and we have the arenacross tour as well. I hit those up and I stay pretty busy. You've got to race every weekend otherwise you'll get forgotten about.
What are the odds of you finding your dream girl at RedBud?
Oh…man, I don't know. It's so hot there and she's going to probably be drunk. She's going to smell like crap probably. One thing I don't want to do is find my dream girl at the track.
You've got to go to a grocery store or something.
I'll just be walking down the aisle getting a Pedialyte or something. She'll be over there just looking at the sausages and hot dogs, just eyeing it down.
That's the kind you want?
Yeah.
Good times.
You know it, man.
Keep doing your backwoods training and get up in the mix this weekend.
I like that. It's backwoods training now!
Backwoods Training with Alex Ray, featuring Noah McConahy.
That's going to stick!
Thanks for taking the time out of your day to find service and chat with me for a bit. Who would you like to thank for helping you out this year?
I'd like to thank Spider Energy, K1 Speed, FXR Racing, Arai, Sidi, Dedicated Ride Company, Ssi Decals, No Toil, Evans, Bolt, Rekluse, Works Connection, Noleen, Mika, Motool, Dirt Tricks, Yoshimura, Motoseat, Pirelli, Vertex, Hot Cams, Oakley, Dubya, JMC Motorsports, Bryan McDonald Signature Coaching, and Lynne and Larry's Cookies.
If you have a question to ask Alex Ray, want to give me a nominee on who to interview next for this segment, or just want to benchrace you can email me at troy@pulpmx.com. As always, thanks for reading!