Worth is not letting an opportunity go to waste.
Worth is not letting an opportunity go to waste.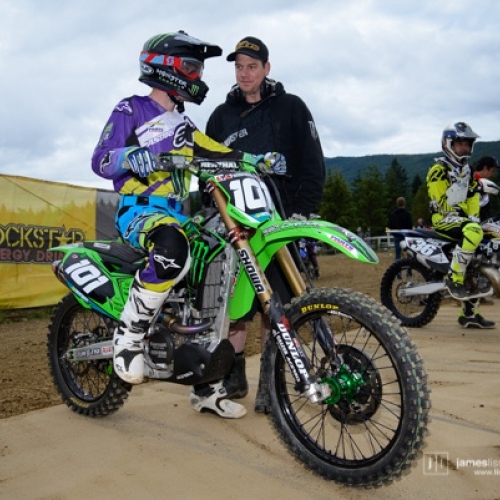 On the gate…Mike and Vince should be close by.
Photos: James Lissimore
It's been a really strange season for former amateur prospect Marky Worth. The Arizonian was signed late in the offseason to contend the 250SX West Region for Motorcycle Superstore Suzuki, but was injured at Anaheim 1. Look, it's supercross and even the oldest veterans make mistakes, however Worth wasn't able to show his worth at all.
After the injury Worth and his team decided to mutually part ways. It was a weird scenario, but this is a business and the two parties felt it would be best to do so. After Worth recovered from his injury he bought a couple of Yamaha's and decided that he was going to attempt Loretta Lynn's one last time. The thought was that going to the ranch could maybe turn some heads in order to get a ride for the 2017 season.
Yet, now it's almost mid-July and Worth finds himself on the Canadian Monster Energy/Alpinestar/Kawasaki team. Worth is filling in for the injured Jacob Hayes in the MX2 class at the moment and is adjusting nicely to his new deal. Through his first three rounds with the team, Worth has finished 6-3-3. This is coming from a guy who was supposed to race Loretta's in less than a month from now. Worth is thankful for the opportunity because for a while there he didn't really know where his career was going to go.
"It's been a blessing in disguise," Worth said. "Everything happens for a reason and I've enjoyed venturing out and seeing where it takes me."
Apparently the change of countries hasn't bothered Worth's speed or riding ability. A lot of riders who race the Canadian tracks say that it can be difficult to get used to. Despite some good results to start, Worth admitted that it's been a challenge to get acclimated up north.
"The first race at Nanaimo was rocky, jumpy, and kind of a smaller track, but it was actually really fun," Worth said. "It got really beat up and you had to watch out for boulders coming up. I had fun with it."
Coming into the season after missing a couple rounds was difficult, yet Worth decided that he wasn't going to give himself any expectations. He knew it wasn't going to be easy because of the talent of the other racers who have been racing the series for many years.
"It's a learning year," Worth admitted. "I definitely belong up front, every round has gotten better, and I think pretty soon we'll be looking for wins."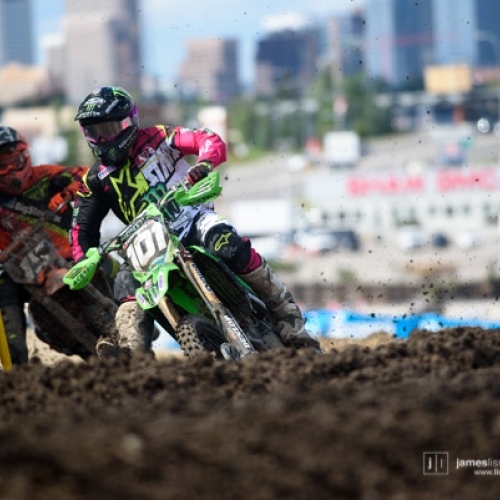 Worth said he knows he has the speed to win and give Maffenbeier and Thompson a run.
Worth said that he is enjoying the laid back, but competitive nature of the Canadian Nationals, but he's been enjoying learning from his veteran teammates as well. He's got Mike Alessi and Vince Friese giving him advice and helping him with technique. It's actually shocking for Worth because he's looked up to Alessi since he was on a 50cc. Alessi actually signed one of Worth's amateur trophies at a race in Arizona way back in the day.
"They've been the best teammates I could ever ask for," Worth said. "Mike is like a grown up child, with how hilarious he is, and with Vince they are all just good people to be around."
According to Worth, Alessi and Friese have gone down to the gate to help him every moto. He said that they cheer him on while he's out racing and it helps create a family atmosphere.
The Loretta's deal wasn't really the best case scenario, but it was a plan that Worth felt he would have had to do. Through his amateur career Loretta's never really went Worth's way, and after last year's event, he realized he wasn't the chosen one to come up in the ranks to a factory supported team.
"It was like the worst age group to be in," Worth said of his amateur class. "We never got that much attention because all of the focus was on the age groups in front of us or behind us."
Loretta's was going to be another way he could get his name back out there. When the Canadian deal came about, the Worths only had a good twelve hours to decide whether or not they were going to race in up North. Rather than risk it all on a race that never really worked out in Worth's favor, he decided to go learn and race in Canada. He arrived in Canada about a day later and has been trying to prove himself ever since.
"Instead of risking it all on six motos, why not just race for the next eight weeks and try to learn and build myself as a pro," Worth said. "That way when it comes to racing supercross and outdoors next year I'll know how to prepare myself during the week."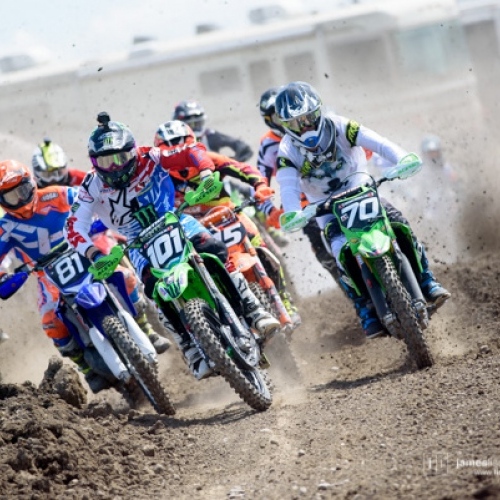 Worth taking advantage of a golden opportunity.
For the time being Worth is content where he is after a crazy year. He's been unsure of a lot of things concerning his future in the sport, but now he can at least focus on one thing, which is just racing. The future is still uncertain for Worth as far as next season goes, but at least he has his foot in the door and is taking advantage of a perfect opportunity to show what he is made of.
"Hopefully this is the path that I'm supposed to be on," Worth said. "I believe it is. I'm having fun and I'm seeing stuff that not everyone gets to see and I'm enjoying it."
Thanks for reading! If you want to bench race you can hit me up on Instagram/Twitter @troybendgen or you can email me at troy@pulpmx.com.