A pro race at Washougal would not be the same without Moser wreaking havoc every year. Here is a look into his trip in the Woody this year…
A pro race at Washougal would not be the same without Moser wreaking havoc every year. Here is a look into his trip in the Woody this year…
Thursday morning of the Washougal weekend started like any other year, except I knew this wood be the last one I'd have the pleasure of watching Shorty race. So it was with a heavy heart that we loaded up the Woody, and headed West. If you haven't seen my woody before, it's a beauty. A 1991 Buick Roadmaster Estate Wagon, with wood paneling that my wife bought for me. The drive from Spokane to Portland takes about 6-7 hours depending on drink stops, and we try to make it to Portland International Raceway to watch the races under the lights. If you have the chance to check it out, it's definitely worth it; cool track, huge crowd, and always a good pro turn out. If you follow the 7deucedeuce on IG, then you also saw that I got to comb his long Jesus like locks of hair.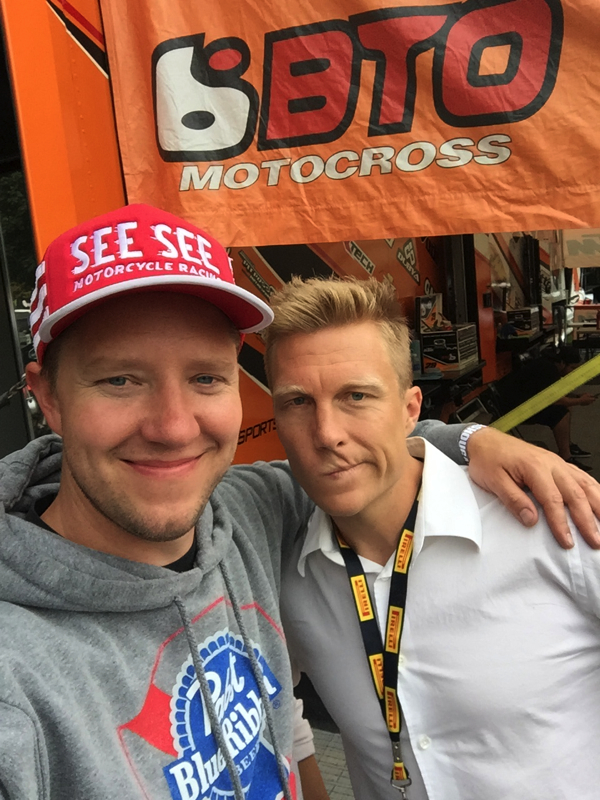 With a long weekend ahead of us, we decided to call it an early night, so we met up with some of the guys from the JGR team… which in turn eliminated the idea of going to bed early. The woody was left in a sketchy neighborhood over night, so in the morning I was pumped to find it had not been stolen. It was pouring down raining Friday morning so we were in no rush to get to Washougal.
Last year, I met a character at Washougal named Thor – his legendary mustache caught my eye and I had to introduce myself. Come to find out, he owns a moto themed coffee shop in Portland called SeeSee motor coffee company. A rainy morning in Portland was a perfect opportunity to check it out, and we didn't' regret it. Hands down the coolest coffee shop I've even been in. A wall full of custom painted helmets, bookshelves full of vintage motorcycle magazines, dirt track bikes on display, an Excitebike arcade game, coffee, and more. They say timing is everything and as chance wood have it, the owner Thor was there and gave us a behind the scenes tour, showing us some of his vintage bike collection. With the appropriate caffeine levels obtained, we pointed the Woody towards Washougal.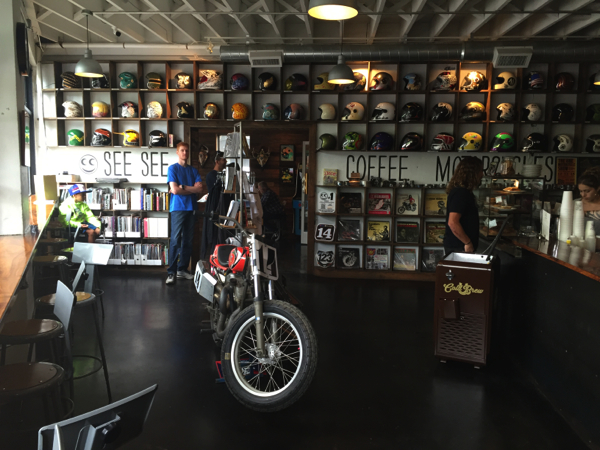 If you ever have the opportunity of acquiring a pit pass, do so by whatever means necessary. Some of the best opportunities to "bro down" are before and after the races. So after arriving at the track, we headed to the pits. Again, they say timing is everything, and by chance Shorty was headed out to ride around the track on a mule with his teammate Benny Bloss, and insisted we join him. My buddy Big Red and I checked our schedules and were able to squeeze in track walk with Shorty and Bloss. Walking a national track is cool… doing it with your favorite professional rider is better, and doing it in a mule so you don't have to walk is ideal. Benny Bloss had never been to Washougal, so I provided him with plenty of unrequested insider knowledge about the fast lines around the track.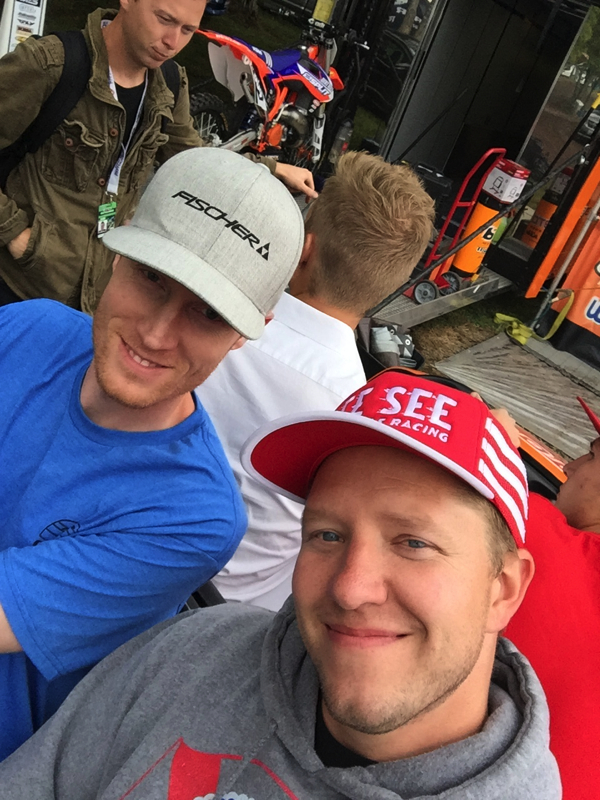 The advantage of spending the night at the track is you don't have to wake up super early to beat the traffic. With no driving required, you can let your hair down a bit and only have to worry about trying to make it back to the campsite. It's hard to beat drinking a cold beer and bench racing with your friends, and some of the most epic bench racing sessions are at the race track. If you ever find yourself looking for a midnight snack at Washougal, look no further than Miles Warren's campsite. He started grilling and it was unanimous that Warren's wieners win. Shockingly, Saturday morning was upon us before we knew it, literally.
When I woke up Saturday morning, I wish I felt as good as the weather looked. Race day goes by fast, so you have to capitalize on the bro down time, which made us head straight to the pits. After stopping by the BTO tent to slap Shorty on the ass and wish him luck, I ran into my boss Matthes. Together, we went in search of the 7deucedeuce who had just dropped his new album. Go hang out in a privateer pits, then go hang out under a factory tent, and you see how big the gap is between the haves and have nots…it's a big gap. I got to meat Teddy Parks who organizes and funds the TPJ team, helping get privateers to the races. I had heard some stories about Teddy and not one of them was exaggerated. Cowboy hat, cowboy boots, a southern accent, and a hell of a storyteller, he's the complete package. He runs a pretty tight ship under the tent, well as tight as a tent full of privateers can be.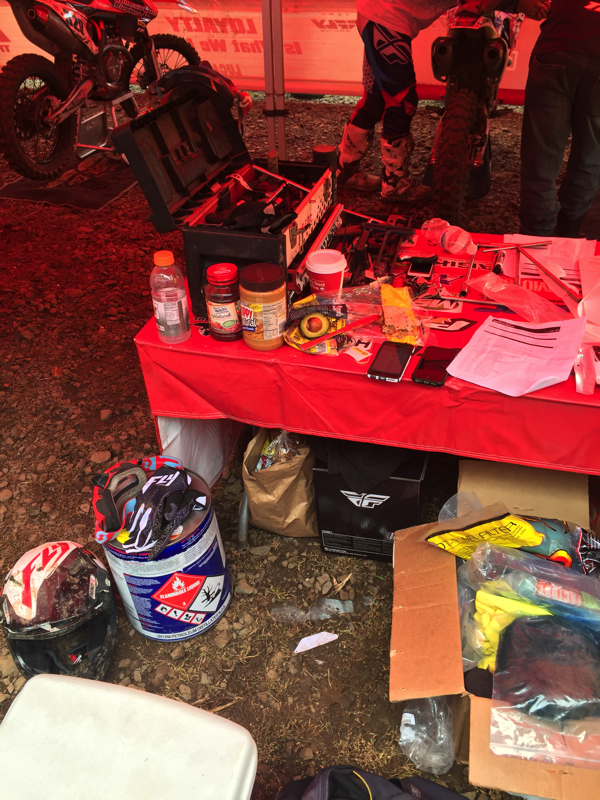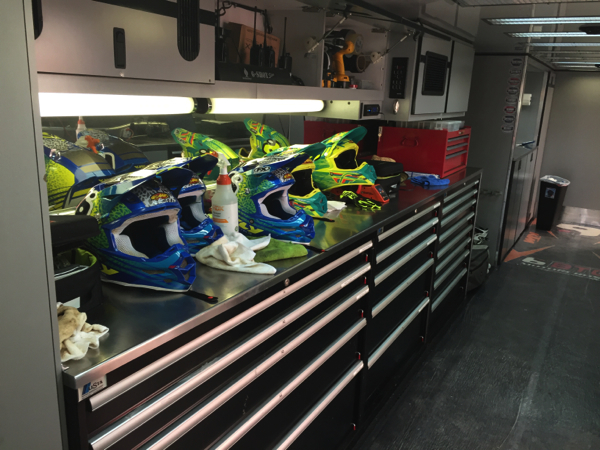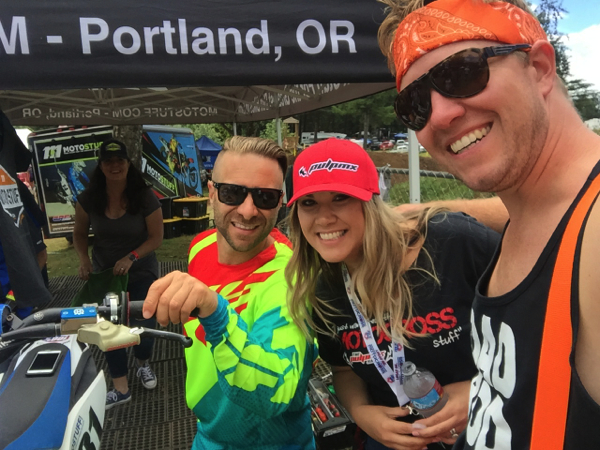 After listening to hours and hours of the PulpMX show, you feel like you know the cohost even if you haven't met them before. So, although this was the first time I'd ever met Keefer in person, it felt like we'd already known each other for years. How can Weege miss a gate drop on TV? Well after peaking behind the curtain and into the TV truck you can see why. Weege and Langston are locked inside a semi-trailer watching something the size of a computer monitor calling the action. It was really interesting to see, and thanks Weege for letting me rub my balls on Langston's headset. Practice was uneventful, and at this part of the day the priority is making our way over to the catered Fox tent. How I'm still allowed in there…I'm still not sure, butt it's awesome! Sooner or later I'll get kicked out for sure. Shorty had his best ride of the season in the first moto…"cough cough", the lines I showed him on track walk had to help.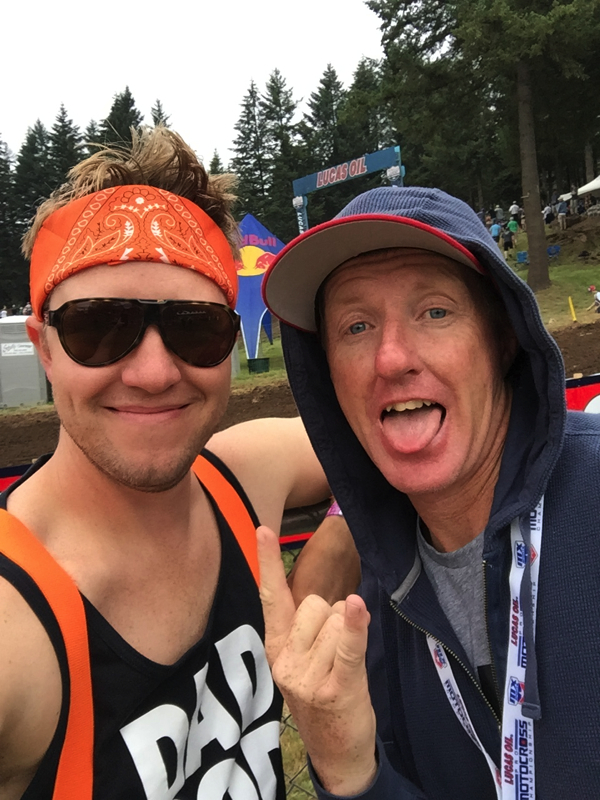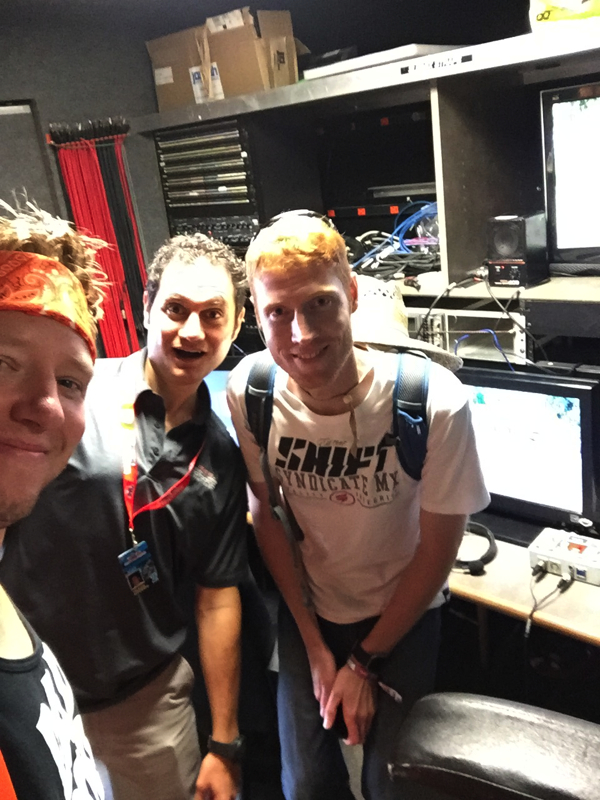 There was a lack of mechanics for the 125 dream race, so I offered up my services, and Anton from Transworld MX reluctantly accepted them. This was the first time I ever packed a starting gate at a national race, and most likely the last. It was a really cool event Joey Lancaster put on and it was great to hear 2 strokes racing around the track again. The definition of irony was Stank Dog watching the 125 race from the sidelines. As fate wood have it, I had a great view of the Webb/Savatgy crash in the second 250F moto from the beer garden (yes I'm serious). For the record I didn't' see Webb brake check Savatgy, from my view is just looked like Webb bobbled in the rut. All hell broke loose afterwards though. This had me reflecting on other memorable Washougal moments I've witnessed in person. RC crashing over Leache's lump and losing the overall to Stew. Ryno running into Brown on the uphill 3rd gear wide open, I thought for sure Brown was dead. Stew cartwheeling through the fence on the uphill on a 125 and taking out a spectator.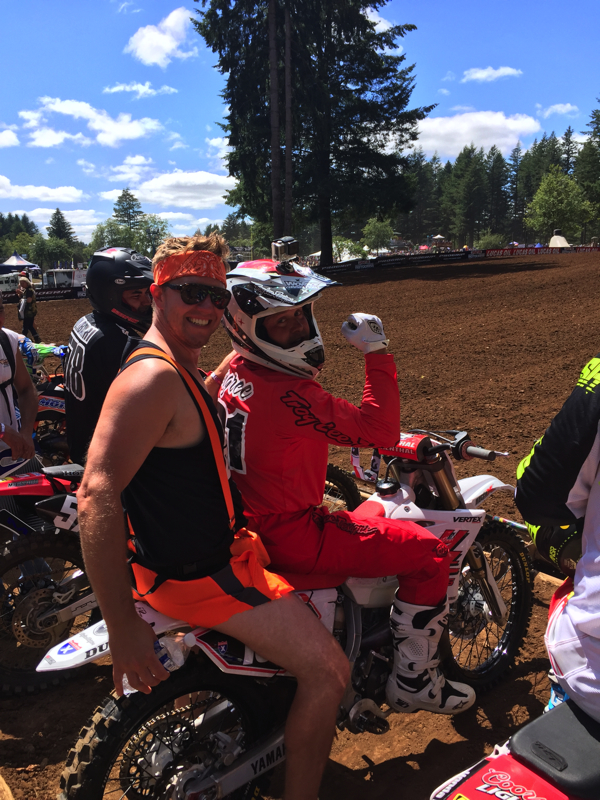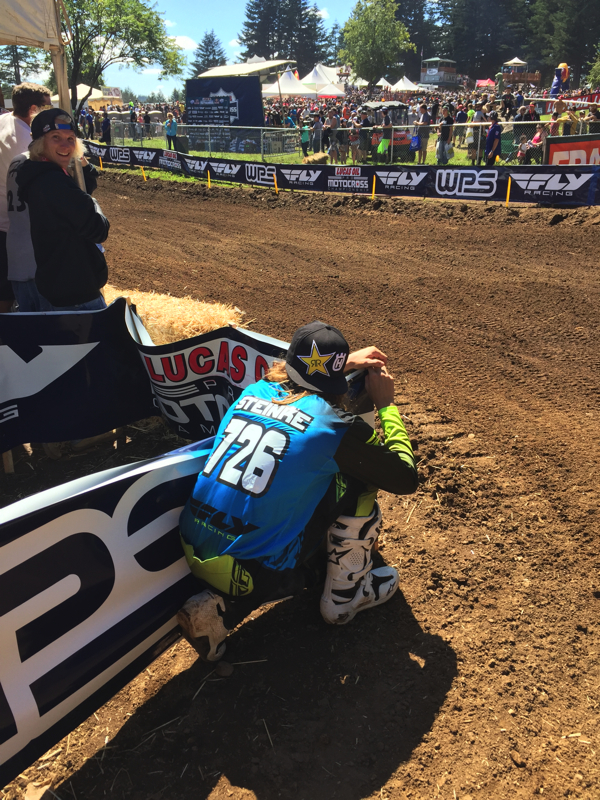 I wanted to do something to celebrate Shorty's last Washougal, and showering him in orange silly string after the finish seemed appropriate. Also with his forthcumming retirement I felt a gold retirement watch was fitting. There is always a lot of traffic leaving the track, so again ideal bro down time in the pits. I chatted with Shorty and had him autograph a bunch of stuff, he's the nicest guy in the pits and I'm honored to call him a friend. Sunday morning the Woody woodn't start which wasn't ideal, butt Big Red tapped on the starter with a broom handle and it fired right up…you can't make this stuff up. Washougal 2016 was another success, definitely bittersweet with this being Shorty's last year, but I promised I woodn't cry.
Thanks for reading please email jasonw@racerxill.comwith any compliments and complaints, he is also happy to provide you with the TV schedule for when the race will be aired in your area.
Moser