Read what your favorite riders had to say about Ironman,
Read what your favorite riders had to say about Ironman,
Photos: Simon Cudby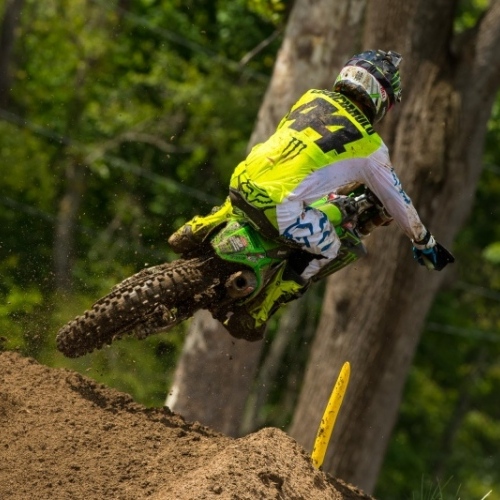 AC put together a full season of motocross.
Adam Cianciarulo
Pulpmx: Before we started you said better than Hangtown. I agree. You kind of got stronger all year. We had some second moto issues for a couple weeks but you almost won the overall last week, probably could have had it with a little more fitness, then this week two good motos. You've got to be stoked. There's a group of about four or five of you and you guys were clearly better than everybody and that's all right.
AC: Yeah, I think these last couple races with how my body's starting to feel and how I'm getting better, I sort of came into the race kind of expecting more of myself. When I was going to Millville, around that time I think I went 6-7 or 7-8 or something at Millville and Red Bud and those races. I was like, that's not bad for where I was. I think as my body's starting to come around naturally my expectations are getting more. I crashed twice in the first moto today, which wasn't good. My starts really weren't that great today either but I can't complain. Like I said, 6-5, we made it through 24 motos, which was the first goal of the year. I feel like we've accomplished the goal, meaning we're competitive again. I feel like I can see what I need to do to be one of the top guys. It's this, this, and this and it's not like we started out at Hangtown like, am I ever going to get there again? I think the progress we made over the races and also trying to get better during the week, weekend to weekend, it's pretty tough. I think we got better but by no means am I super satisfied with where I am. I think coming back from multiple injuries it would be easy for me to kind of lower my standards and kind of be stoked for top fives, top tens, but I still believe in my ability to be one of the best guys.
It was a weird day. Your teammate up front, Forkner, Joey was up there in the first moto. It's kind of been like that the last little while where your guys are getting better starts than you and they're all right in front of you.
Yeah, exactly. That first moto I actually didn't get a great start but I made some moves around the outsides in the first few corners. I think I was in fourth. It was Forkner, Oldenburg, Joey, and I dumped it behind Joey but you're right, the last few races really it seems like… we're all wearing the same gear and it's normally pretty bright so you just see kind of a whole row of PC guys. I'm stoked for next year obviously, so how good Austin rode today and Joey's been having some problems at the end of the season but we all know what he's capable of and we see what he can do in supercross. I think next year I'm super excited for me to be back to my normal self. I'm excited for what the team can do.
Forkner's like the new AC.
Totally, bro. He's the man.
You've never been here before, right?
No, it's my first time.
What'd you think?
I liked it. I was super stoked when it started raining this morning. I actually used to start crying whenever it started raining back in the day when I was a kid, when I was an amateur, like five or six years old. There'd almost be tears coming out of my eyes. Then that changed, for some reason. I don't even remember. I think I was on 80s or something. I was like, oh, I like the mud. When it started raining I was stoked, but I felt like this is called bullshit rain. It didn't rain enough to make it a mud race, just enough to make it gnarly. It was a fun track, but I told the guys this morning, I want to race in a mud race that people talk about for years and years. It's got to be so wet that the lines are changing every lap and you're sloshing around. I wanted it to be one of those races.
I could only see about seven corners from where I stood all day long, but I noticed you were one of the only guys I thought really going outsides and keeping momentum up compared to other guys. Do you think that?
Yeah. Actually Nick Wey who's been helping me out was kind of on me about that all day. I tend to sometimes when I'm uncomfortable – and to be honest, I was uncomfortable kind of all day on this track with the ruts and everything – I tend to just go straight down the insides and that's kind of what I was doing in practice. My dad and Nick were getting on me to get to the outsides. I think I was pretty solid speed-wise in the first fifteen, twenty minutes of that second moto. I just kind of lost touch with those guys, but I just tried to impress you. I saw you standing there and I thought to myself, might as well carry the momentum.
I thought it was different from some of the other guys, which was neat to see, as far as you getting around the outsides of guys and kind of making up time. On a scale of one to 46, how excited are you for the USGPs?
Very excited. Another two races and I get to race Jeffrey Herlings, which is pretty cool. I'll probably go to 450s the next couple years so I don't know if he's coming over to the US anytime soon either, so it could be kind of a one-time opportunity for me to get to race him. I'm excited. Going to go back to Florida this week and then go out to California before Glen Helen. I can't complain too much. I haven't done too much racing over the past two years, so it's good with me.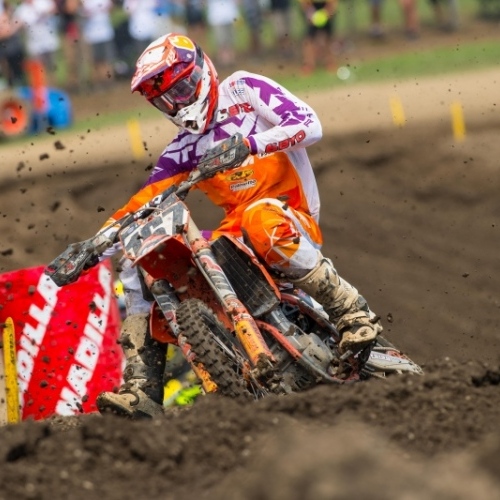 Bloss (seen here at Unadilla) barely missed the top five in 450 points.
Benny Bloss
You had a good day. You came from way back in the second moto, but Phil Nicoletti captured fifth in the points over you. If someone had said you're going to get sixth in 450 outdoors before I started, you would have probably told them they were nuts.
Yeah, definitely. I would have said you're crazy. At the beginning of the year my goal was top ten. Halfway through the year I was like, it's possible that I could get to tenth. I think I lost fifth by one point. So to be there I'm still happy. It's crazy to see how far I've come since the beginning of the year. I was getting 18th's and 16th's and now I'm top ten, occasionally top five. The progression, I was really, really happy with it. I feel like it's just going to go up from here.
This is one track you rode actually. You've got some time on this track now.
I raced here last year. I like it a lot. It's a lot of fun. I was hoping for a mudder but it wasn't too bad.
You charged up in the second moto after you fell. How bad was it roost-wise and getting around guys?
Roost-wise it was pretty bad. I crashed twice. The first crash, my nose started bleeding a little bit, and then I got hit with a rock. It was just gushing blood out of my nose from there. Tried to make the best of it and work my way up to I think 11th for 10th overall, so not too bad of a weekend.
Sixth overall in the points, it was a great season for you for sure. Unadilla the standout do you think, or was there something else?
I'd say Unadilla for sure, definitely.
What's up next for you?
I'll be racing Monster Cup with the BTO team on the 450 and then 250 supercross and 450 outdoors next year.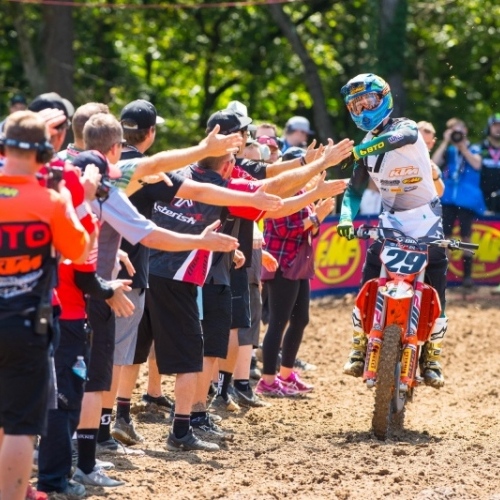 Thank you Shorty!
Andrew Short
You went out with a holeshot. You had some bike problems, but I thought you were like, I got the holeshot, mic drop. I'm out, everybody.
Yeah, I was just stoked I got to go across the gate there. For a while it was looking kind of bleak. I didn't get to do the parade lap to check out the lines, then the 30 second card was up. My bike still wasn't even in the gate. Threw it in there, put the device down. I think the guy next to me, it was the Canadian dude, we threw it down and literally just ran into start mode and pulled the holeshot. I believe I got it. It was close, but I swear I got it going across the lines. Guns blazing, went out. Obviously I had issues and I think it's fairly easy to figure out what it was. That has kind of been my role here at KTM is to help develop parts. Racing at the highest level, those things are going to happen. I think I'm the last person to run it. I think they're going to put it on the shelf and no one else will run that shock, from what I'm aware of. It is what it is. It's been a lot of fun. I had a good time. There are so many people that have made this career awesome and I feel very blessed to be walking away.
You were up there again in the first moto. Anything go through your mind? I know you knew you had another moto to go, but did you take time a little bit to appreciate it?
Yeah, it was really cool because I got to do the parade lap and there was a bunch of people on the starting line, so that was really cool. I think it kind of messed me up for the moto, honestly. My head wasn't in a good spot. I wasn't focused on racing and I got really scared because the ruts. I was jumping stuff and I about crashed a few times. I just backed it down and as a racer you can't do that. You got to be focusing ahead. I thought I was really going to rebound the second moto and kind of hang it all out and who cares at that point, but it wasn't meant to be.
Even when it comes to today, I saw you signing everything, talking to people. Your whole race day prep probably was a little interrupted.
Yeah, but I've been blown away by the support. I love this community and I feel like this is a dream come true to me to not only make it to this level but to do it this long. I really appreciate all the support in the community, the fans. It's been a good run. Definitely not your normal day, but really special, and I'll never forget it.
Your kids are going to ask you years from now, how was your last moto? And you're going to be like, well…
No, my kids don't really care about racing. It's something I won't forget. It's just personal. You're only as good as your last race and it's like a season. You're like a flower, it's alive and then goes away and you're forgotten about. I have a lot to be thankful for. I'm looking forward to what's next. It'll be a whole different role for me. I think I'm looking forward to that.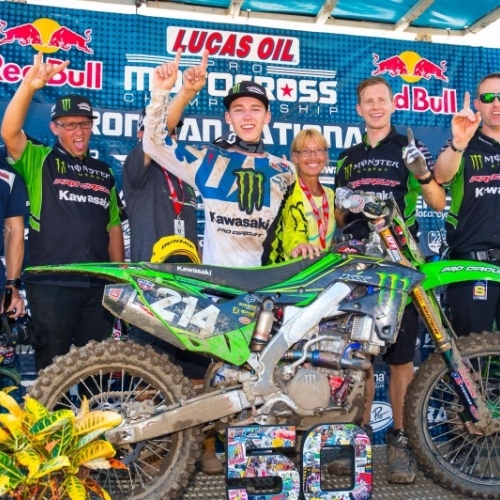 The Pro Circuit crew ended the season on a high note.
Mitch Payton
Another year and another Pro Circuit Pulp Cast gone.
We're excited about that. Pulp is lasting. That's good for you, obviously.
Who knew?
It could be a flash in the pan, but it's for real.
Tell Jody I'm gunning for him.
You're gunning for him. You're going to start a magazine now.
Forkner got his first overall today. I knew this kid could ride supercross. I don't follow amateurs that closely but my buddies that do are like, hey, he's going to do some real damage in supercross. He's not as good in his motocross. Well, holy shit, if he's not as good at motocross then supercross is already probably over. What an outdoor season for the guy.
Yeah, honesty I think I just mentioned that to another guy. We didn't have an expectation because everybody wants to ask. I don't think that's worth saying because everybody just gets talking. We were going to start the season, see where it was, and we'll build on it, build on it, and build on it. Then it got better and better and better and I had talked to him too and just said the way he was riding, with the right circumstances, good starts, you're going to win a moto. You win a moto, then you can win an overall. He finally got a moto at Washougal, and then here. First moto he was epic. Really, really good and stayed on it, that was great. Then second moto he was right there too and then he had a little crash and still got the overall, so I'm really happy for him.
Savatgy, what's been going on with him a little bit? He's obviously got some issues in the second half of the season, not so good. What's happening?
We're not sure. He's just tired. He gets tired. He's exhausted. We're getting some blood tests done on him and we'll have some results. We got one set of results but we're getting some more. We'll have those next week. It's almost like too little, too late. It kind of crept up on us before everybody thought it was serious. There was some races too where he threw away, with a crash here and a crash there, and stuff like that. I think it just built up to where it was hard to get out of the hole. We'll get it figured out. Obviously I think he'll be a contender in both supercross and outdoors next year.
I was making a joke on my show, regardless of today but Tonus, AC, Joey, not finishing these motos and having pretty good first motos at times. I made a joke about you absolutely losing your mind. Were you, or are you? Each guy's got a specific issue maybe and you're okay with that?
No, I'm not all right with it because I don't think it should happen. The one thing is I believe in all my guys. They're all putting in the work. I think they're all doing the things they need to do. Adam once again was hurt in supercross, didn't ride. Was trying to get ready for outdoors. Didn't have a ton of time but we wanted to do it. Our goal for Adam was I want to go the whole series. I want to finish races. I want to get a base underneath him because he's been hurt for a while. He'll be much stronger next year just by doing this. I think that's awesome. Joey we didn't expect and Arnaud we knew was coming off of Epstein Barr. It just tore him down pretty bad and it's taken a long time to build back up. So no, not happy about it, but I've got to say that I don't think it's through lack of effort by any of them. I know Adam puts in the work. Joey's putting in the work, and Arnaud is putting in the work. Austin, he's at Robbie's house too and he's putting in the work. So they're all doing what it takes to be good. It's just how it works out sometimes.
So you're not sending them all running shoes on the next morning like you did with Nick Wey and Ramsey and those guys?
No. Back then everybody kind of did their own thing too. That started early in the series and it just didn't seem like it was getting any better. Everybody now it seems like has a program. All the good kids, they really do try to focus on the program and they stick to it. It's like anything. You want to believe in your guys, so I believe in what they're doing and we're going to stick to it. I think next year we'll have a kickass team. I think we're going to have guys that supercross and outdoors, we're going to be for sure winning lots of races.
Tyler Bowers came out and said that you had told him we're thinking about you, but in the end we're not taking you. I found that a little bit surprising, to be honest. I thought you'd put him on a 250 West Coast supercross ride. He did well for you up and down last year. Do you want to talk a little bit about that?
I would say this year was a disappointment but obviously it was the same thing. It started last year and it carried over to this year a little bit. He was behind the eight ball going in and he did everything he could to get ready, and it didn't seem like it was changing a lot. Then there was a lot of, just for himself, he didn't really know why. Was it fitness? Was it arm pump? Was it this? Was it that? I believe in him. I think he's a great rider. He wanted to ride outdoors. I didn't think he was prepared for that. So we didn't think that was a good idea. Then Kawasaki, with Josh getting his ankles done. he wanted a replacement rider and I think that was cool they did it. So he got an opportunity to see if he wanted to ride outdoors, and he did.
He didn't do too badly either.
He did okay.
Considering he hadn't ridden for so long I was like, this could go bad.
Well, he was riding. We had a 450 that he was riding just so he could keep up with riding. I said if one of our guys gets hurt our plan was to plug him on for us. I thought outdoors, he's pretty big and our class is so stacked right now that if you don't get a good start you're sort of buried. I thought it would be hard for him to consistently do that and with the fitness that we had in supercross I thought that would be hard.
Adam Cianciarulo, lots of talk about him obviously. He's had a lot of injuries. He got through the season, like you said. Some flashes, some not-so-great motos. In the end you're probably starting to see this kid come around a little bit, huh?
Well, I've always believed in his speed. He proved that a million times in the past. I just don't think he's had… He rode supercross and he won his very first supercross. So we know he can ride supercross, but we have to stay healthy. I think right now where he's at, he's changed trainers and his program has changed. I think that's all positive. I think it's only going to make a better him. I think you'll see him come into supercross really good. I think he has a great opportunity to win a series. Then outdoors next year by him riding all the races I think you're going to see a lot better guy outdoors next year too.