I can only take so much ridiculousness…
I can only take so much ridiculousness…
Photos By: James Lissimore
The American series has one race left and not much at stake. Cooper Webb and Kenny Roczen are the champs and nothing's going to change that fact. I wrote last week about some of the battles that are still up for grabs but that was simply to try and generate hype and get MX Vice guys something so they don't fire me.
Look, I don't care a whole lot about what happens this weekend in Indiana (although it's a pretty sweet track!) so let me talk to you guys about things I do care about ok?
We're going to see our MX2 champion Cooper Webb matching up with multi-time MX2 champion and "should'a won a lot more MX2 titles if he didn't get hurt" Jeffrey Herlings in Charlotte in a couple of weeks. Herlings is racing this weekend after missing some races with a collarbone injury and with the amount of injuries he's had the last few years, I'm sure Jeffrey just wants to stay safe and wrap up this MX2 title. He's 40-something points ahead so he can definitely just get on the podium and be fine. And I think riding with one arm should get him there, never mind two.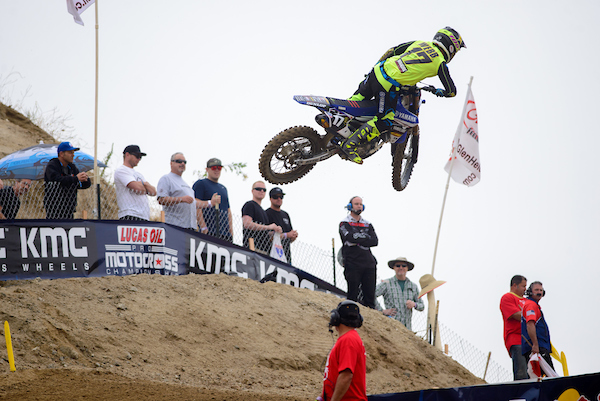 Team USA's ambitious young captain.
Meanwhile, the internet buzzes with the typical America versus Europe thing and hey man, whatever gets them interested and maybe buying tickets I'm all for but no matter who wins, it means nothing. Webb's got all the motivation in the world and is in front of his home fans. Herlings is trying to wrap up a title and is flying across the ocean. They have different agendas and besides, it's a mad made flat track with some jumps—is this really motocross at its finest? I'll give the MXGP crew credit as the man-made flat track at Assen this weekend looks pretty good. Qatar and over here, Utah? Not so much.
Any Americans that may want to wave Ol'Glory around if Webb wins may want to go back and look at the last four Motocross des Nations to realize that perhaps, and I say PERHAPS, Europe's producing better motocross riders than the USA.
Then again last year at Glen Helen is was very surprising to see riders like Jessy Nelson, Chris Alldredge and Shane McElrath (three very fast but hardly front runners over here) just handle the best MX2 riders there. So as you can see, Webb wins, Herlings wins, whatever man—it doesn't mean anything so just enjoy the two world class talents racing one another.
I've written here and OTOR (Adam Wheeler's great digital magazine) and talked about it in my shows that I cannot believe the riders being forced to ride the two USGP's, the SMX Cup and how I believe our season is long enough over here with 29 races, the Monster Cup, the Red Bull Straight Rhythm and the MXDN. This week, I was forwarded a column over on MX Large by a gent named Geoff Meyer where he takes aim at a lot of things I've been saying. Now I like Geoff, whenever I see him we chat, but this column, boy oh boy does he miss the mark.
I'll start with this- "Yet when riders are told by the companies that employ them, be it KTM, Monster Energy, HRC, Red Bull, that they should do some extra races that are good for the sports future, the American media see it as a punishment."
The term "good for the sports future" is a very vague one. What is fact is that the USGP's and the SMX Cup are good for the promoter Youthstream and the title sponsor Monster Energy "futures". USGP's have been held in America for a long time and there was also a period of no USGP's in America. When there were no USGP's, the sport over here grew greatly in terms of rider salaries and supercross and motocross attendance. Exactly where are the figures that Geoff can point to that make these extra races "good for the sports future"?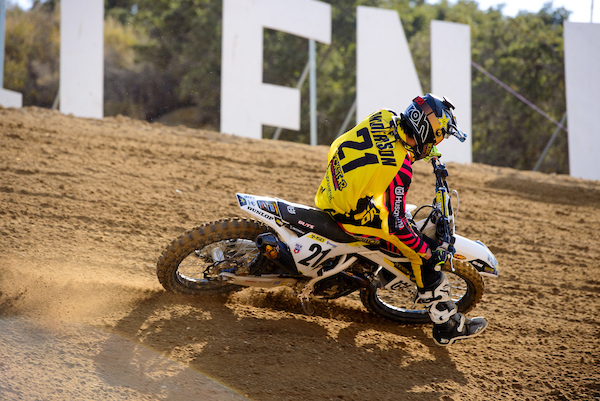 Team USA's MX3 selection early in the Nationals at one of the tracks the GP's will visit soon.
"Those riders, who are earning millions in some cases, should tow the line and be happy they are making a good living in something they love. Doing three extra days' work can't be that difficult with millions of dollars in your account right?"
First up, the number of riders making "millions" is probably less than five so there's that. The second part is the team people, that greatly outnumber the riders, just did about double what the MXGP teams did in terms of races and they're asked for more. More hours worked, more days away from their families and I don't have to tell you these guys do not make "millions" right? Geoff says "three extra days" which is so dumb, I don't even know what to say. First up, I know he doesn't go to as many GP's as he used to but someone PLEASE tell me Geoff knows the GP series practices and races on Saturdays and Sunday's? That's four days for two races.
What about the week away from everyone when the riders go to MXDN and SMX Cup? The "three days" just kills me. See you at the local comedy club Geoff. As a former mechanic for teams, I would probably hit someone in the hit with my 27mm wrench if they told me that a GP was "just one day" while I worked 60 hours that past week to get ready for the TWO days at the track.
"I know if I was a racer and somebody asked me, what would you like to race, I would be doing as many races in as many different countries as possible."
Ummm, I actually HAVE asked the racers about doing the two USGP's and they do not say anything like that at all. Don't believe me? Listen to Chad Reed's interview from the Pulpmx Show on Tuesday night to hear his "enthusiasm" and this comes from a guy that's paid by Monster. And the teams? Yeah, I've asked them also and not much enthusiasm there either I'm afraid. Sorry Geoff, I guess you'd be the first rider in history to want to fly all over the world over and over and risk your life and limb every time.
"It's time the sport was like it used to be, when American racers flew to Europe and spent three months here. The only way that will happen is if the sport in America wakes up and cuts their season down."
Geoff wants the sport to be like it used to be. What he doesn't remember is that the riders went to Europe and spent two months there was because they made TONS of money. Has he seen the purse structure of the USGP's? Oh wait, there isn't one! Does Geoff work for free? Because that's what many of the American racers at the USGP's will be doing. Not Tomac, or the elite USA racers, but many of the other guys.
Geoff says the American series needs to be cut down. That's a laugh as the series has been the same since 1997 and everyone agrees on it. How about this Geoff, how about we cut the number of USGP's, SMX Cup's down? I guess that wouldn't work out well for you though.
"What the American media are saying is, we don't want the world to see these guys, we want them for ourselves. Keep your hands off. Pretty poor mentality isn't it?"
This is just creepy. He thinks "we" the American media think of the American riders as our own personal china dolls? This is hilarious which actually fits in line with Geoff's entire article.