Our main tester Keefer puts the new EKS through the toture test
Our main tester Keefer puts the new EKS through the toture test
EKS Brand
GOX EKS-S Goggle $64.99
Rich Taylor of EKS Brand knows a thing or two about goggles. His dad Hook was the Vice President of Smith optics for over 15 years so he has seen plenty of goggles over his time. I have been using the EKS Brand GOX goggle off and on for the past few years while testing at Dirt Rider, so I am familiar with the model. The new GOX EKS-S goggle is the latest in their arsenal of clear vision goggles. The "S" goggle was built with function, style and comfort in mind. EKS has taken all the benefits of their GOX goggle frame and incorporated a "fit force" outrigger system along with a detachable nose guard and a new strategically placed "flo air" ventilation system. EKS also added four lens channel restraint tabs, to the frame, to help reduce lens recoil. These new additions along with the 4-layer, neoprene lined face foam and "ultra-pliable" urethane frame make this a completely revamped line of goggle for all of you in 2017. EKS offers the "S" goggle in eleven color combinations from the brightest of florescent to good old So. Cal bro black!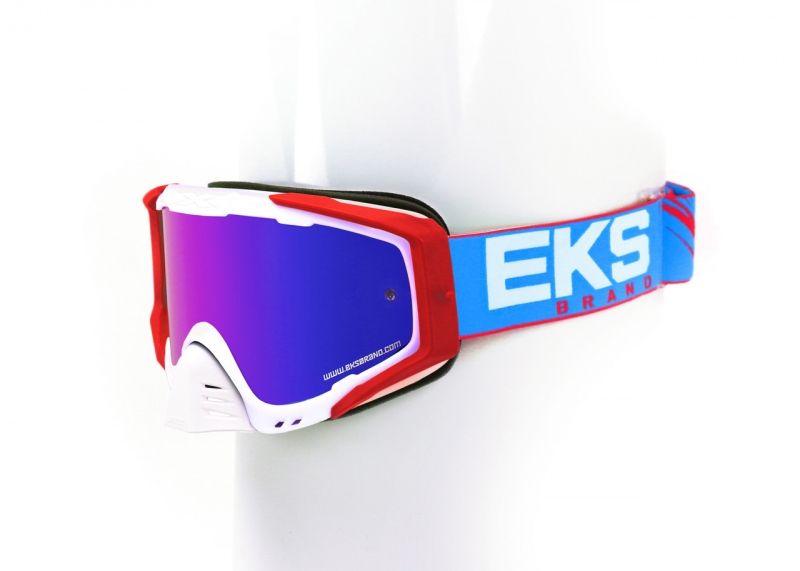 New goggle from EKS Brand, it's first major re-vamp in a few years.
While doing this test I wore the standard GOX goggle and the new EKS-S back to back for several weeks to see what the differences were. I immediately noticed the new EKS-S goggle felt better on my face than the standard GOX goggle. The standard GOX goggle slightly pinched the middle of my nose, but the EKS-S felt more comfortable inside several types of helmets that I wear. The EKS-S seals better and doesn't pinch any part of my face while I ride. Usually I am not a fan of the outrigger system on goggles but EKS makes it work with the EKS-S. Their outrigger is not so big and wide (like some other goggles that incorporate outriggers) that it hits the side of your helmet. The EKS-S outrigger improves the amount of even-pressure the goggle gives around the eye port. I consider EKS Brand's foam combination to be one of the better offerings on the market.
There is a layer of medium-density foam nearest the frame, followed by a thin and very dense layer, and finally a wide swath of soft foam. The foam is sandwiched and finished off by a layer of felt for maximum comfort against the face. I don't sweat abnormally heavy, but the sweat absorption is quite good, as is the longevity of the foam. I almost always rip off every nose shield that comes on goggles these days, because it either hits my nose or comes way to close to the front part of the helmets I am wearing at the time. The nose shield on the EKS-S is seamlessly integrated in with the goggle's frame that I DO NOT even notice it when I put it on.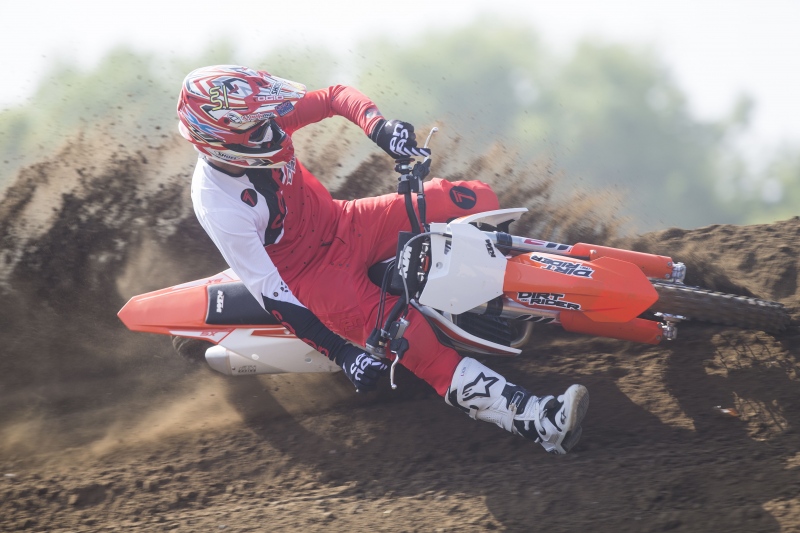 Keefer blows up a berm in the new EKS-S goggs. Photo courtesy of Dirt Rider
What I do notice is that my big nose is more protected from Thursday afternoon Glen Helen roost. People always freak out on what silicon they use on goggle straps, but I never have had a strap slip down on me since a 1992 Vents goggle. The EKS-S goggle strap doesn't slip down, but more importantly each strap color is very cool looking and will offset against your helmet's color very well. I mean come on the cool factor has to be in there too right? It is motocross after all and that means it is slightly like a fashion show. The ventilation of the goggle is adequate on those hot summer days in Southern California, but it doesn't ventilate so much that my eyes get dried out and bloodshot.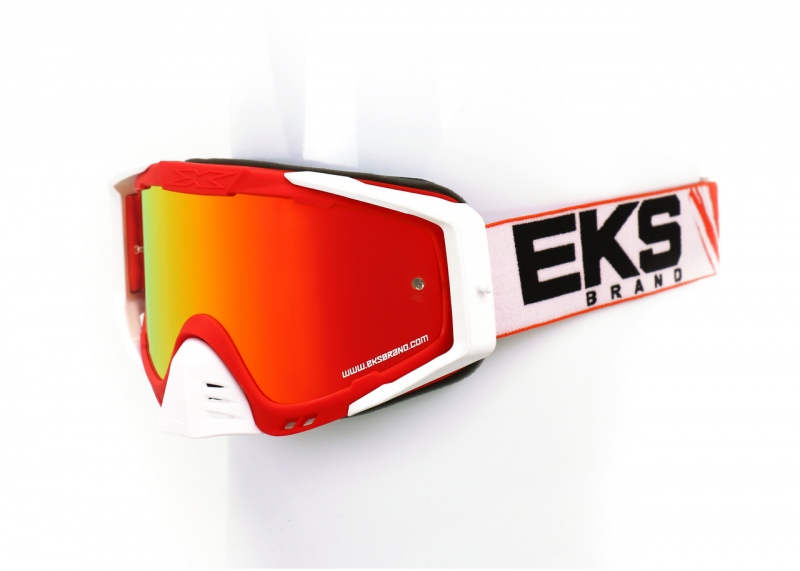 The one thing that the EKS-S doesn't have over a wider frame goggle is the peripheral vision. As you all know I wear Oakley Airbrake's a lot and I am used to the wide peripheral vision I get from the Oakley. The EKS-S doesn't have a wide field of vision like the Airbrake, but it wasn't such a drastic difference that it was a deal breaker for me. If you have never worn a wider goggle (like the Scott Prospect or Oakley Airbrake) then this is something that you wouldn't be concerned or notice anyway. I do feel with the smaller framed EKS-S that it does seal slightly better to my face than the Airbrake does. Sometimes when I am riding a faster type track (think Glen Helen) my eyes can and will water with the Airbrake (even when my strap is extra tight). The EKS-S always kept my eyes clear and my heart full (that is a "Friday Night Lights" football phrase for all you that didn't get that). Tear offs were easy to install and lined up perfect with the integrated tear off posts that are on each lens. The lenses do scratch fairly easy if you run out of tear offs mid moto and use your finger to wipe away the mud, so make sure to install enough tear offs before you leave the truck to protect the lens.
For $64.99 you will be getting a great goggle that does its job and looks bitchen all at the same time. Yes, you might even see me wearing the EKS-S more in photos now that the fit feels and seals better to my face.