Why digging deeper into the amateur ranks isn't the best idea.
Why digging deeper into the amateur ranks isn't the best idea.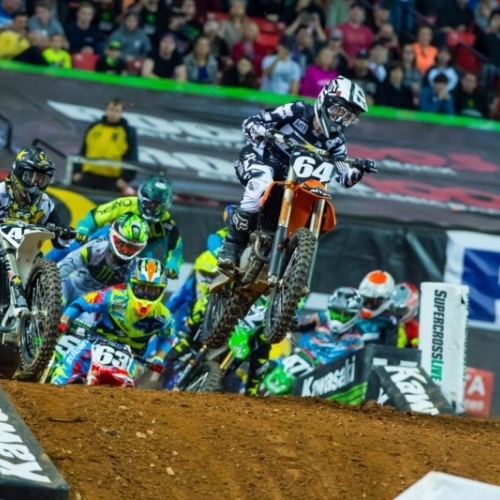 Alix put in some decent results on his own progrm this year…
Photos: Simon Cudby
This sport has really become quite backwards lately in the way that the teams are hiring riders. It's beginning to get to the point where we need to change it, or otherwise the 250 class is going to become the class to race and make money in.
Here is my point of view on the current state of teams trying to find that next big thing: stop it. I get that all of these teams want to win championships, but hiring every up and coming amateur guy is actually hurting the sport in the long run.
Let's do a little estimating here. We have six pertinent factory supported 250 squads in the running right now. Those teams are GEICO Honda, Monster Energy/Pro Circuit Kawasaki, Rockstar Husqvarna, TLD KTM, Yamalube/Star Racing Yamaha, and rumor has it that Motorcycle Superstore Suzuki will be joining this crew.
Let's just say that each of these teams has room for four riders (Rockstar Husqvarna usually has room for less). That means we have room for 24 riders on all of these teams combined. It seems like a lot, but it really isn't. The majority of the rides in the sport are now offered in the 250 class, which isn't the premier class.
All of the teams I mentioned each have their paws on amateur racers coming up. Every year it is getting harder to remember all of these new faces in the pits and then before you know it someone else comes in and replaces them. Of course all of these teams are trying to find the next Ricky Carmichael, James Stewart, or maybe even an Austin Forkner, but all of these guys are hard to come by.
We've seen things workout badly for a guy like Alex Frye, who was groomed by KTM and then given one shot with TLD KTM this season. His season was riddled by injuries, but he was able to grab rookie of the year in supercross with a fourth and a few top ten performances. Yet, he was not given another shot with the team for 2017 and has not received any calls. He had one season to perform and it was riddled with an injury, so now he might not be racing next year because he can't afford to on his own. Wouldn't it make sense for KTM to keep their investment after showing some decent potential?
After Loretta Lynn's each year it's interesting to watch which riders get picked up for a grooming ride that will take them to the pro ranks. GEICO Honda is very deep in this part of the game after their success with Canard, Barcia, Tomac, and Bogle. Yet, lately it seems like they have hit a rough patch. The younger guys are having a tougher time figuring out the consistency portion of the pro ranks. All of them have speed and potential, but they aren't having the same success of those riders mentioned before them. Matt Bisceglia was out after last season with the team and now Jordon Smith is moving on as well.
The only riders who won races (and a title) this season for them were Malcolm Stewart and Christian Craig, who were not groomed in their amateur system. Speaking of their amateur system again, we still have to wait to see how young Carson Mumford will pan out and the recently signed Joe Shimoda. These guys are waiting in the wings behind Tristan Charboneau and Chase Sexton who are the new guys on the block on the pro team. Am I forgetting somebody here? Oh yeah, Zach Bell! How many chances will these guys have to get acclimated to the ranks before their time is up?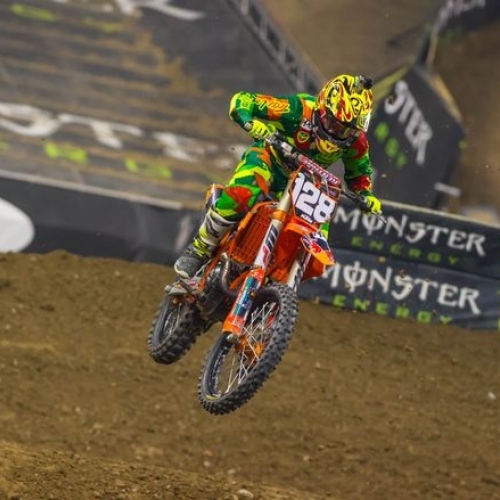 …meanwhile Frye is uncertain of his future.
I'm not just picking on Honda here because every team is signing kids younger and younger now. Team Green Kawasaki always has some great talent coming up, but how many of these guys will actually stick around for a chance at Pro Circuit?
Last year Darian Sanayei and Mark Worth were longtime Kawasaki guys who were left without anywhere to go due to overpopulation on teams. Sanayei had a standout year in the EMX250 class this season, while worth struggled at first and eventually ended up salvaging some podiums in Canada. As it seems all of these guys have speed, but they don't have many chances to show that speed.
Of all the manufacturers, KTM seems to have the most amateur riders. Their system of the Orange Brigade pro team folded up last summer. This system was actually a great idea because it allowed these young riders to come in to a no pressure environment in the pros and show their stuff. Joey Savatgy, Dakota Alix, Daniel Baker, and Frye were all products of that team. Now it's gone. When it comes time for Sean Cantrell, Mitchell Falk, and Derek Drake to move up to the pro team are they going to have a spot? Of course they will, but they will most probably be bumping out someone who has only been given a year or maybe two (if he's lucky) to perform.
The sport needs more no pressure environments like the Orange Brigade setup. It will give the teams investments a place to go for a trial run. They can go out and show their stuff in supercross and outdoors and if the team likes what they see then they can sign them to a deal. It would take money, but in the long run it would cost the teams less money. KTM invested time and money into Baker, Frye, and Alix and just like that they were replaced. Instead they should have given them time to get acclimated to their new surroundings. It takes time sometimes to be a successful rider, just ask Phil Nicoletti and Alex Martin.
At the end of the day this is a business and the teams are not hiring these guys to do anything but win. They always have another guy waiting, so what is there to lose? Well, the sport is losing a lot of talent. All of these riders are fast and won't be able to afford being a privateer for long and will eventually quit. They've spent their entire lives dedicated to this sport and within a year their time has come and gone.
These 250 rides aren't helping out the premier class either because the class has far less rides available. The new talent isn't making the jump up to the 450 class as it used to because of this fact. The veterans are staying down longer as well because they can make a lot of money, which is in turn taking up a space for the amateur riders coming in.
This problem is only getting worse. Pretty soon we might see the 51cc (7-8) champion at Loretta's signed to a pro deal. Something has to give here!
What are your thoughts on this situation? I would love to hear them. You can email me at troy@pulpmx.com if you want to talk about this or anything else.