What will 2017 hold for these five riders?
What will 2017 hold for these five riders?
If you haven't noticed in my columns before I really like numbers and statistics. I usually use numbers a lot in my stories to try and make a point. In this new column I'm looking at numbers in a different way. I'm going to pick random riders out of the national number list and explain their current situation in the sport. I figured that this would work well this offseason since no one really knows who will end up where still.
Some of these riders have rides and others either don't or things aren't officially announced yet. Either way I'm going to hopefully give you some insight on where each of these riders stand for 2017.
Photos: Simon Cudby, Andrew Fredrickson, and Ken Hill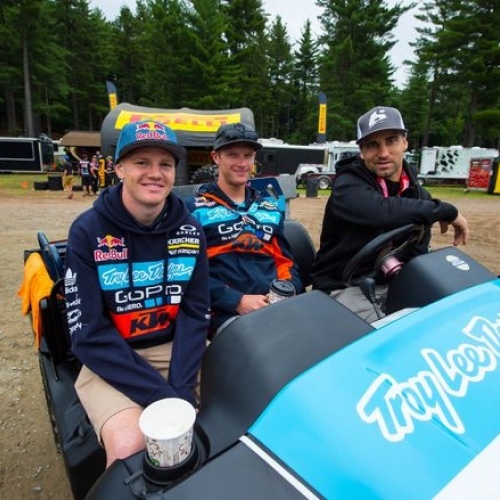 Oldenburg (left) is fitting in nicely under the TLD KTM awning.
#28 Mitchell Oldenburg
It's been a really great year for Mitchell Oldenburg on the TLD KTM team. Not only has Oldenburg proved his worth for the team, but also he's taken fill-in rider to full-time gig route in order to get here. I remember at Indianapolis in 2015 when Matthes was talking to him about racing that summer in Canada. At the time he was racing a supercross only deal with Jimmy Albertson's old Yamaha team.
Then riders got injured at TLD KTM and boom, instant fill-in ride for Oldenburg. He's never left since and he's in for 2017 as well with teammates Jordon Smith, Alex Martin, and Shane McElrath. Oldenburg has some great speed and he showed it towards the end of the nationals. This is his highest earned number yet and it looks like his career is on the rise.
Oldenburg takes over the #28 from Weston Peick.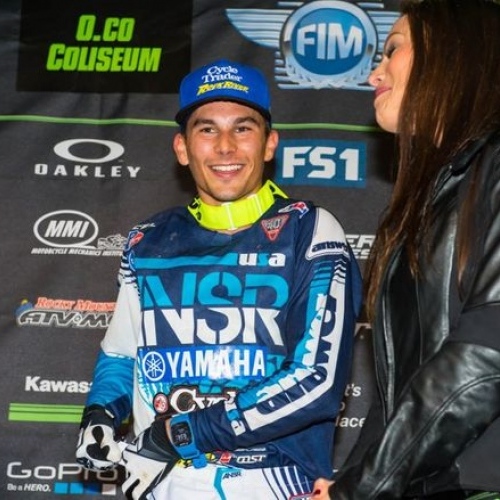 Nichols after his surprising runner-up in Oakland.
#39 Colt Nichols
I almost didn't pick Nichols for this column because everything is going right for him at the moment. I wanted to keep it centered on the guys who don't have anything for next season. I sat back and looked at it and realized that all of these riders deserve a place in this column. Each of them has had troubles and has somehow managed to end up overcoming the odds.
In the beginning of 2016 I will admit that I forgot about Colt Nichols a bit. I remembered that he was fast on a Crossland Honda in the 250SX East Region in 2015, but then he got hurt and you know what happens then? The sport forgets about you and your potential.
Fortunately for Nichols, CycleTrader/Rock River Yamaha didn't forget about him. He was signed to the team and he rewarded them with a second place finish at Oakland. It's not like the runner-up finish was shocking because he was up in the mix at every round. He finished fifth in the standings with five top five performances. He officially announced on Instagram this week that he will be on Yamalube/Star Racing Yamaha next season. However, boss man Matthes first reported this move so long ago that I can't even remember when (I attribute his scoops in all of my stories, look it up!).
Nichols takes over the #39 from Jordon Smith.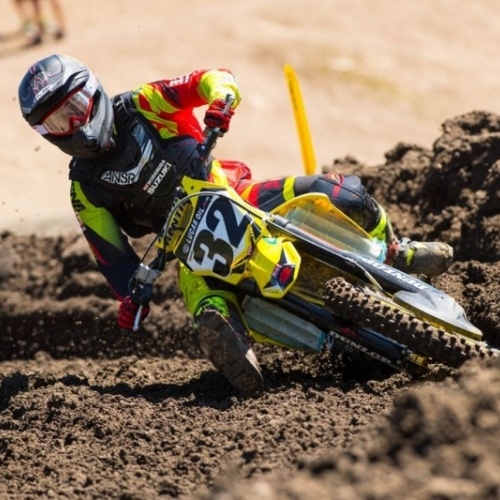 Bisceglia is searching for a ride for 2017.
#43 Matt Bisceglia
Matty B is another rider in the sport who doesn't have anything lined up for next season. Yes, the same Matt Bisceglia who grabbed a 250SX East Region podium, and put in top ten performances all summer as a fill-in for Factory Yoshimura Suzuki, can't get anything for 2017. He told me earlier this week that he had some rides lined up, but all of them fell through. He didn't disclose any information on what those deals were, but at this point it doesn't really matter.
Bisceglia is at a point in his career where he either gets a ride or he won't be able to line up next year. If nothing lines up for him then he will be another talent lost to the sport, which is a shame. This goes with the column that I wrote last week about the overflow of amateur talent in the sport. Too many riders are moving up and taking the spots of very fast riders. Bisceglia got a podium this year on a small private team bike and did excellent work keeping Yoshimura Suzuki relevant this summer. The fact that Bisceglia can't lock anything down is scarier than all of these weird clowns overwhelming communities and schools.
Bisceglia takes over the #43 from fast Freddie Noren.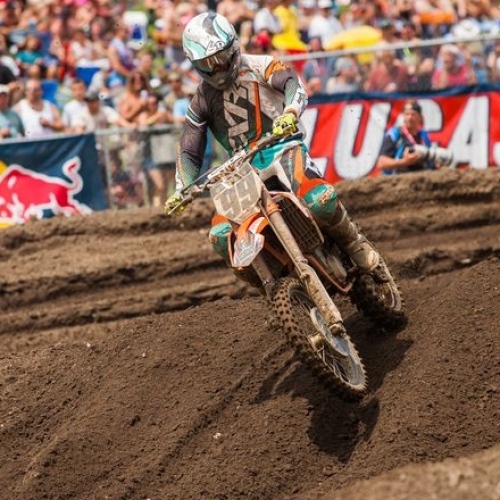 Harrison is heading over to Germany to race supercross in a few weeks.
#68 Heath Harrison
Now here is a real privateer hero. Heath Harrison has been a pro since 2010 and has done it all on his own dime. He's going to be doing the same thing he's done in years past in 2017, but he does have some cool stuff coming up for the winter months. Harrison is getting the opportunity to go race the German Supercross Series in November. After that series is over he said that he will probably be racing Amsoil Arenacross.
The German racing and arenacross will play into Harrison's skill set. He's very good in the tight confines of a smaller arena and I think he will surprise a lot of you. He's been racing arenacross races for years on the AX Tour and is a former champion in that series. When the Lucas Oil Pro Motocross Championship comes around I will bet on Harrison lowering this #68. He's on the way up in the sport and doing everything on his own.
Harrison takes over the #68 from Cole Martinez.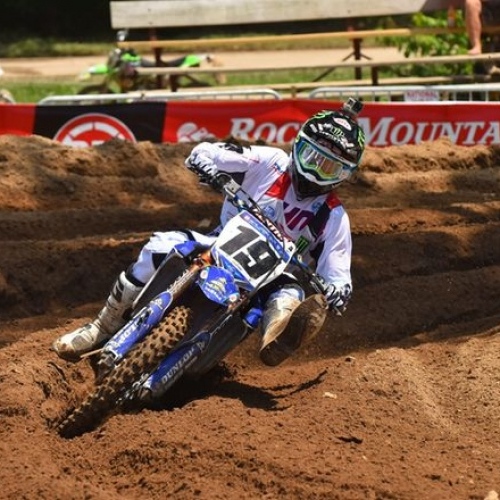 Taft won the 250 A title at Loretta Lynn's in August.
#74 Bradley Taft
We've got to put a rookie up in the mix and new CycleTrader/Rock River Yamaha rider Bradley Taft. This kid turned pro after Loretta's this summer and earned #74 in the process. In analyzing this early I see that Taft is going to surprise a lot of people in 2017. He doesn't have any hype around him and with a team like CycleTrader he can just go out and ride like he knows how. He's got Gareth Swanepoel training him and that means he gets to hang out with Cooper Webb and Aaron Plessinger all day (just to name a couple). The real quest for Taft will be staying whether or not he can stay healthy all season. If he does he will do great, but if he struggles with injuries then he won't be able to show his potential. Regardless I have a good feeling that Taft will be around for a while.
Taft takes over the #74 from Mr. Ryan Sipes.
Thanks for reading. If you'd like to chat about this story or any other story I've written you can email me at troy@pulpmx.com or reach me on Twitter/Instagram @troybendgen.