The top riders have moved on, but Stars rebuilding process could be a quick transition.
The top riders have moved on, but Stars rebuilding process could be a quick transition.
Welcome to the offseason and our new ongoing "Team Previews" column. Every week from now until the Monster Energy Supercross season starts in January we will be profiling a big team in the sport. We'll go through the changes that have been made, analyze results, and give each team a grade on all of their offseason moves. This week we have Yamalube Star Racing Yamaha and you will find the full schedule below.
Photos: Simon Cudby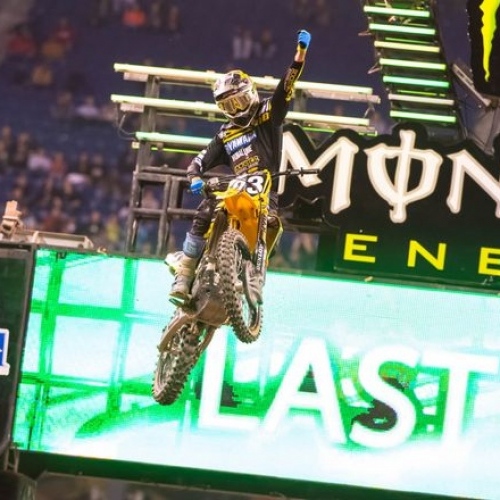 Star is expecting a lot of fist pumps for Plessinger next season.
Who's In:
#23 Aaron Plessinger
#39 Colt Nichols
#45 Mitchell Harrison
#TBD Dylan Ferrandis
Who's Out:
#2 Cooper Webb
#6 Jeremy Martin
#26 Alex Martin
Last season's Supercross Results:
Webb – 1st 250SX West
Plessinger- 2nd 250SX East
J. Martin- 3rd 250SX East
A. Martin- 10th 250SX West
Harrison- 19th 250SX West
Last Season's Motocross Results:
Webb –1st 250MX
A. Martin- 2nd 250MX
Plessinger- 5th 250MX
J. Martin- 6th 250MX
Harrison- 13th 250MX
Offseason Grade: C-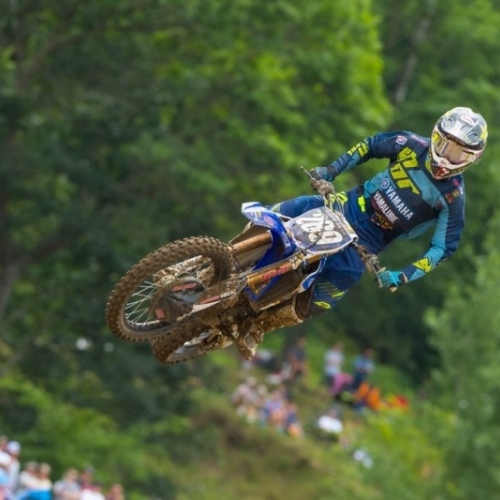 Harrison could come out swinging in 2017.
The Rundown:
The Star Racing boys are in the midst of a team rebuild. Since Cooper Webb and Jeremy Martin came down the pipeline through the amateur program this team has more often than not been in control of the 250 class. At first it was really weird and a change in power from the days of just Pro Circuit Kawasaki and GEICO Honda running the class. Now we've gotten used to the guys in blue winning and the 2017 season could be quite different for them.
The good news is that Aaron Plessinger will be returning for 2017 as the team leader. He's been on the team longer than anyone else and is the best hope for Star to win a championship. AP will settle for nothing less than wins and podiums next season after showing that he can win more than one race in 2016. Here is how 2017 is going to go for Plessinger. He either poo's or gets off of the pot because he wants to be on a 450 as soon as possible, but he also has goals he wants to reach in the 250 class. It's now or never and if Plessinger is going to have a career year it's going to be in 2017. I'm not saying this stuff to get on bad terms with AP. Heck, I wrote his feature story in Racer X Magazine, but I know that this is his mindset going into the season. He is good enough to win both titles and now it's time to execute.
Mitchell Harrison is returning for his second season and he will be looking for top fives and maybe even a podium here and there. If we're going by Plessinger's path then Harrison should be able to pull off a win at some point next season. While this would be cool to see happen I don't think it will in such a stacked class. If a win doesn't happen this year and Star keeps him around for 2018 then we should see it happen then. Harrison did show some promise last year and if you're going by the "you're only as good as your last race" mantra then this cat is doing just fine. The last time we saw him race was at the Glen Helen GP where he went 3-3 for third overall. I think that with more seat time and not really that much pressure at the GP helped him and it definitely gave him more confidence for the upcoming season. Harrison will be a sleeper and up in the mix.
One of the newcomers to the Star team is Colt Nichols who stunned the sport last year. Nichols took the 250SX Region by storm with five top five finishes including a second in Oakland. He had a great bike under him with the CycleTrader/Rock River/ Yamaha team, but it was his speed and the way he came out of nowhere after a bad injury that was impressive. If Star didn't pick him up for this ride then another team would have in a second. Can Nichols win races this year? Well, he did get second in a race, so what is one more spot? He's fast, consistent, and a great pickup for a team that lost three superstars.
Finally we've come to the newest GP transplant/experiment with Dylan Ferrandis. If you've been keeping up with the GPs Ferrandis spent much of the 2016 season on the injured reserve. When he is healthy he finishes on the podium and steals an occasional win away from Jeffrey Herlings though, so that's a plus. He's been riding Kawasaki's for a while, so it will be interesting to see how the change to blue and a new country will faze him. He could wind up being incredibly awesome if he can stay healthy through supercross, which always seems to be the issue with foreign riders. Yet, Ferrandis is French so that means that he is going to be good, right? Most of the French riders end up winning and taking the tour by storm, just like Bayle, Pichon, DV12, Pourcel, and Musquin did. Ferrandis is on the right path, but for now it's a wait and see sort of deal.
I gave the Star Racing team the worst grade yet with a C- because I feel they lack a true plan for the future right now. They don't really have the young talent waiting in the wings on the amateur side. Yamaha has fast amateur riders, but they have such big shoes to fill with Webb and Martin that I don't see that next champion yet. Plessinger is this team's best bet for as long as he stays on board, but after he's gone where does that leave this team? They will have to lure in an established rider capable of winning who is already on the circuit in order to become a contender again. If I'm wrong I'll be the first to admit it, but besides Plessinger how many wins and podiums do you see this team getting next year? It's a rebuild and you have to trust the process, but processes take time and Star knows that better than any team in the pits. They will be just fine in the long run, but 2017 could be a little rough for them.
GEICO Honda is next.
Preview Schedule
10/14 – Rocky Mountain ATV/MC KTM
10/21 – Troy Lee Designs/Red Bull KTM
11/4 – Monster Energy/Yamalube/Chaparral/Yamaha Financial Services/Factory Yamaha
11/11 – Yamalube Star Racing Yamaha
11/18 – GEICO Honda
11/25 – HRC Honda
12/2 – Rockstar Husqvarna
12/9 – Factory Monster Energy Kawasaki
12/16 – Monster Energy Pro Circuit Kawasaki
12/23 – RCH Yoshimura Suzuki
12/30 – JGR/Toyota/Suzuki
Thanks for reading my series of team previews for the coming season. If you'd like to talk about these or any of the other stories that I've written you can email me at troy@pulpmx.com. You can also reach me on Twitter/Instagram: @troybendgen