Bringing in a heavy hitter and cleaning house.
Bringing in a heavy hitter and cleaning house.
Welcome to the offseason and our new ongoing "Team Previews" column. Every week from now until the Monster Energy Supercross season starts in January we will be profiling a big team in the sport. We'll go through the changes that have been made, analyze results, and give each team a grade on all of their offseason moves. This week we have GEICO Honda and you will find the full schedule below.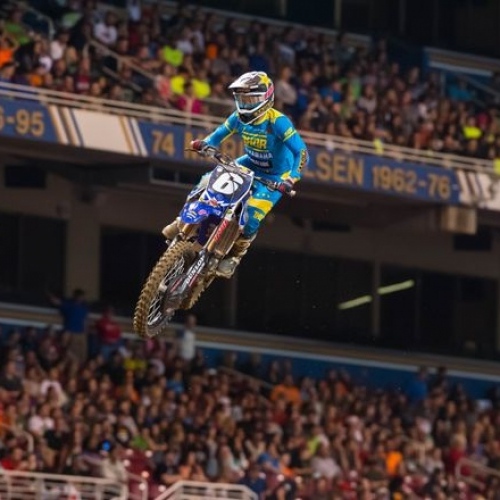 Martin is the favorite of every championship he enters in 2017.
Photos: Simon Cudby
Who's In:
#6 Jeremy Martin
#31 RJ Hampshire
#48 Christian Craig
#57 Jimmy Decotis – SX Only
#486 Chase Sexton
Who's Out:
#19 Justin Bogle
#44 Jordon Smith
#60 Tristan Charboneau
1E/47 Malcolm Stewart
Last Season's Supercross Results:
Malcolm Stewart – 1st 250 East
Christian Craig – 3rd 250 West
Jimmy Decotis – 7th 250 West
RJ Hampshire – 8th 250 East
Jordon Smith – 9th 250 West
Justin Bogle – 11th 450SX
Tristan Charboneau – Did not race.
Last Season's Motocross Results:
RJ Hampshire – 11th 250MX
Justin Bogle – 16th 450MX
Jordon Smith – 16th 250MX
Tristan Charboneau – 20th 250MX
Christian Craig – 30th 250MX
Malcolm Stewart – Did not race.
Jimmy Decotis – Did not race.
Offseason Grade: B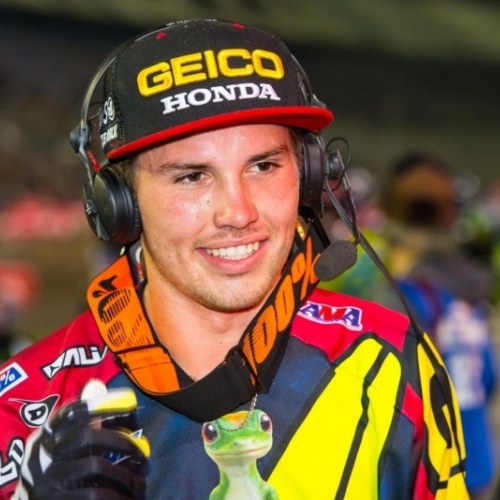 Hampshire has the speed to win a race. It's his third season and time to make something happen.
The Rundown:
When GEICO Honda implemented their amateur farm system at the end of 2006 it's been a huge success. When your team pumps out superstars like Trey Canard, Justin Barcia, Eli Tomac, and Justin Bogle you are going win. Well, just as soon as their successes have come, we've seen a change in the program. GEICO Honda is still extremely involved in the amateur game, but the star power just isn't what it used to be.
We've seen riders like Zach Bell, Matt Bisceglia, Jordon Smith, and Tristan Charboneau come and go in the past few years. It seems like if these riders don't win races get podiums then they kick them to the curb. This is weird to see from this team because it's the same guys that have stood behind riders like Wil Hahn and Malcolm Stewart when they were either hurt or going through some health issues. I understand that Bell was always injured and he had another opportunity with the Rockstar Husqvarna team. What I don't understand is the fact that Bisceglia and Smith showed a ton of potential to kill it in their third years and were let go. Charboneau was just given one summer to prove his worth
I've written this before and I'll write it again, but wouldn't it make sense to hang onto a guy that you've invested in the past couple of years? You've put a lot of money and effort into these kids already, so why not keep them around a little bit longer? At the end of the day this is a business and anything goes. GEICO Honda wanted to change their direction a bit to ensure a more successful future for its squad. Also, Charboneau and Stewart were allowed to hold onto their Hondas until something else came along, which is a really cool thing that GEICO Honda does.
Here is why I believe that the team couldn't hang onto Charboneau. They were already bringing in Jeremy Martin, who took up most of the team's budget. While their amateur guys haven't been battling for wins the team needed some guys who would be in the championship hunt. They already had Christian Craig, but they needed another contender for the other coast. Martin and GEICO Honda will be a great match and will be the heavy favorite to win inside and outside, a much-improved turnaround from this summer's results.
RJ Hampshire is a guy that I like to compare to someone like Shane McElrath. He has the talent and speed to get many podiums and in his third season it's time to make some noise with a win or two. He has all the potential and speed to be a great rider in this sport and this is the year he should break out if he's going to.
Everybody's favorite rippa Jimmy Decotis will be back on a supercross only ride once again. He was a quiet seventh overall in the 250SX West region despite putting in seven top ten rides. After an injury took him out of the Australian Supercross Series, Decotis will be hungry to get back behind a gate.
It's always good to have a new guy on the block to see how he will make a splash in the pro ranks. This year the team has brought on Chase Sexton, the AMA Horizon Award winner from Loretta Lynn's, for a full-time gig. Sexton was supposed to race the final few nationals of the Lucas Oil Pro Motocross Championship, but unfortunately ended up hurting his left knee before his debut. He has the speed to do great things off of the bat, but the transition can be a tough one. He was fitting in nicely with Christian Craig and family last month before moving back East to train.
All in all it was a successful offseason for GEICO Honda. They went out and hired one of the top free agents in the sport, retained two riders who can win, and brought on a rookie to learn the ropes from a successful team of riders and personnel. Meanwhile in the amateur ranks Carson Mumford and newcomer Joe Shimoda are waiting in the wings to show that they can be of value when it comes time to talk about a pro contract. We have a couple of years before these kids show up to any pro gates though.
HRC Honda is next.
Preview Schedule
10/14 – Rocky Mountain ATV/MC KTM
10/21 – Troy Lee Designs/Red Bull KTM
11/4 – Monster Energy/Yamalube/Chaparral/Yamaha Financial Services/FactoryYamaha
11/11 – Yamalube Star Racing Yamaha
11/18 – GEICO Honda
11/25 – HRC Honda
12/2 – Rockstar Husqvarna
12/9 – Factory Monster Energy Kawasaki
12/16 – Monster Energy Pro Circuit Kawasaki
12/23 – RCH Yoshimura Suzuki
12/30 – JGR/Toyota/Suzuki
Thanks for reading my series of team previews for the coming season. If you'd like to talk about these or any of the other stories that I've written you can email me at troy@pulpmx.com. You can also reach me on Twitter/Instagram: @troybendgen