Husky coming at you like a dark horse.
Husky coming at you like a dark horse.
Welcome to the offseason and our new ongoing "Team Previews" column. Every week from now until the Monster Energy Supercross season starts in January we will be profiling a big team in the sport. We'll go through the changes that have been made, analyze results, and give each team a grade on all of their offseason moves. This week we have Rockstar Husqvarna and you will find the full schedule below.
Photos: Simon Cudby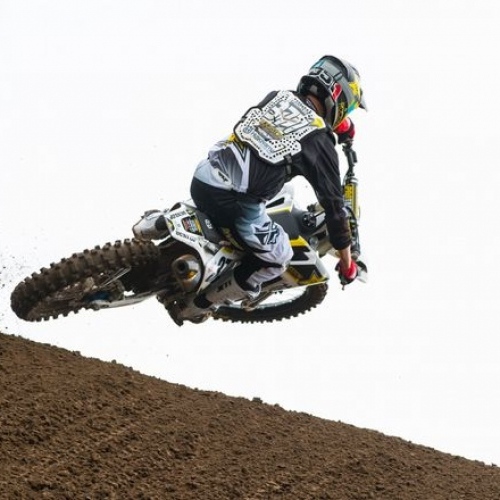 Need a rider to finish inside of the top ten in the 450 standings? Pourcel will get the job done for you.
Who's In:
#16 Zach Osborne
#21 Jason Anderson
#30 Martin Davalos
#377 Christophe Pourcel
Who's Out:
N/A
Last Season's Supercross Results:
Jason Anderson – 3rd Overall 450SX
Zach Osborne – 4th Overall 250SX West
Martin Davalos – 4th Overall 250SX East
Christophe Pourcel – 15th Overall 450SX
Last Season's Motocross Results:
Christophe Pourcel – 7th Overall 450MX
Zach Osborne – 7th Overall 250MX
Martin Davalos- 12th Overall 250MX
Jason Anderson- 14th Overall 450MX
Offseason Grade: B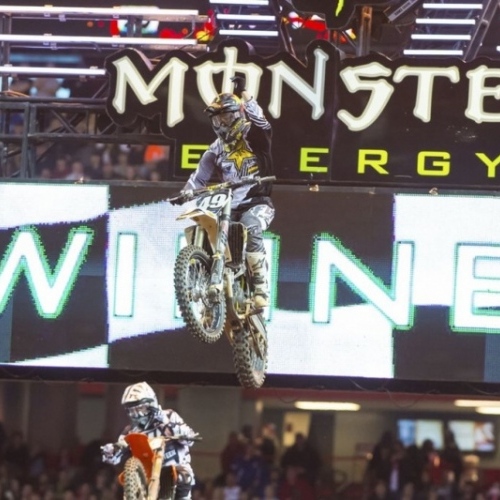 Davalos will do what Davalos does.
The Rundown:
For the first time in our weekly rundown we have finally found a team that hasn't undergone any rider changes. Rockstar Husqvarna looked to the future last season and signed the majority of their riders to long-term deals. Their lineup of Osborne, Anderson, Davalos, and Pourcel bring to mind two words: dark horse.
I know it seems like I've been very lenient with these team grades and I should be a little harsher I guess. However, the way I look at it is that none of these teams are stupid. They each look at the sport in their own different ways and have different goals they want to reach. So who am I to downplay a solid team lineup and give them a bad grade because they didn't make any changes? Maybe they are so happy with the way things are going that they didn't want to make any changes? Did you ever think of it that way?
Jason Anderson is going to win at least four main events this season. Whoa, is that a bold claim? I'm feeling like some of you out there reading this have forgotten how good he is, especially at supercross. We haven't seen Anderson since his scary incident at the Motocross DES Nations since he was landed on after winning the second moto. It wasn't that long ago, I suppose, but he put on a performance that afternoon that will forever go down in team USA history. Will he be able to beat Ken Roczen, Ryan Dungey, Eli Tomac, Cooper Webb, Chad Reed, Cole Seely, and everyone else on a consistent basis to contend for the championship? I'm not so sure about that. Anderson has been somewhat consistent in his 450 class seasons, but in order to contend for the title you have to be on the podium week in and week out. Anderson hasn't been able to do that just yet, but I'm not going to be the one to count him out.
Just when we started to think that we saw the best of what Zach Osborne had to offer he had to go ahead and win a moto and an overall. It was something that I personally thought would have happened when he made his return to the American circuit in 2013. Osborne is always fast and he is up in the mix all the time it seems. With some wins under his belt from last summer this could catapult Zacko into some more wins, maybe even in supercross. It's all about the confidence level for these guys.
Davalos is Davalos and he's going to do Davalos things. Here is what we know we can expect from him in 2017. He's going to have the fastest lap time in supercross practice sessions more often than not. He's going to win a lot of heat races. He's going to win a couple main events. He's going to throw some main events away by crashing. He's going to be fast, but inconsistent. I'm sorry that this is harsh, but I've watched this guy race the 250 class since 2006 and I'm kind of over the hype. He's no doubt a really fast rider and props to him for making a great lifestyle of always having a ride and racing dirt bikes. The 250 class should be for up and coming riders and not seasoned veterans. To help put things in perspective, his teammate Anderson won the 85 (7-11) stock class at Loretta Lynn's when Davalos was turning pro.
Pourcel is another under dog rider, joining the rest of his teammates in that category. You never really know what to expect from this guy and he's been one of the toughest riders to analyze because of that fact. At this point in his career I see a lot of 5-10 place finishes, which is great, don't get me wrong. At this point in Christophe's career I think that those results are what the team is looking for. They want a guy who will get good starts and be inside of that top ten for them at the end of the series. Pourcel can do that and he's always there quietly in the standings. If he's really feeling it we can see some podiums in the outdoor season.
This team is just all-around good and you can see why they signed their guys to long-term deals. It gives them all one more season to get comfortable on their bikes. Husqvarna is still a new (old) brand that is making its comeback to the American series. If I'm Husky then I like what I see with all four of these riders. They are going to give me wins and podiums. They are also going to be consistent in the standings, which is really important. It shows that we have a competitive bike that is going to have durability through the grueling winter months and the wicked hot outdoor conditions.
Monster Energy Kawasaki is next.
Preview Schedule
10/14 – Rocky Mountain ATV/MC-WPS KTM
10/21 – Troy Lee Designs/Red Bull KTM
11/4 – Monster Energy/Yamalube/Chaparral/Yamaha Financial Services/Factory Yamaha
11/11 – Yamalube Star Racing Yamaha
12/2 – Rockstar Husqvarna
12/9 – Factory Monster Energy Kawasaki
12/16 – Monster Energy Pro Circuit Kawasaki
12/23 – RCH Yoshimura Suzuki
12/30 – JGR/Toyota/Suzuki
Thanks for reading my series of team previews for the coming season. If you'd like to talk about these or any of the other stories that I've written you can email me at troy@pulpmx.com. You can also reach me on Twitter/Instagram: @troybendgen