Let the debating begin!
Let the debating begin!
pow·er noun
| | |
| --- | --- |
| | the capacity or ability to direct or influence the behavior of others or the course of events. |
in·flu·ence noun
the capacity to have an effect on the character, development, or behavior of someone or something, or the effect itself.
Well this should be interesting right? I took an idea from a couple of different magazines to come up with a list for our sport of SX/MX. First up though, a few ground rules. This list is for the sport of SX/MX racing and NOT the sales side of the industry and secondly the reason for the definition up above there is because power and influence can be two different things. Guys at the top here can hire and fire people and make big, huge decisions which is power AND influence. Chad Reed, Ken Roczen can influence the people who like them as racers. So keep that in mind mmmmk?
I sent this list off to six different people who I trust and know the industry inside and out. Some of these people work right alongside the people on this list! And then we let the arguing and moving up, down in or out begin!
I also texted a few power brokers on this list and asked them opinions about others on here. It's not perfect, we may have missed someone but I think we all did a good job. You want to know who controls the riders, teams, money, series, media, etc, etc? It's all right here.
The top 30 most powerful/influential people in the sport of supercross/motocross.
Photos by James Lissimore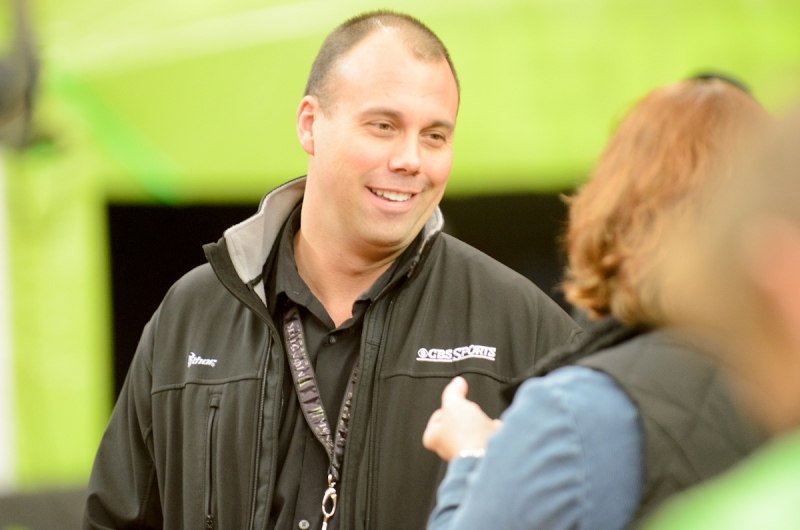 Todd's been going to the supercross races a long time now and he's finally in charge of the whole thing.
1- Todd Jendro, Director of Motorsports, Feld Motorsports- Todd's the man in charge of the most popular motorcycle racing series in the USA and probably second in the world [a nod to MotoGP]. With Charlie Mancuso, who ruled Supercross for a long time, moving on Jendro assumes the top spot at Feld. From what we hear Juliette Feld lets Jendro make the decisions on the future of the sport. Jendro's been through the different companies that have owned supercross over the years, whether it's PACE, Clear Channel or whomever. Todd's got to balance profits along with making the AMA/FIM and the teams happy. With growing discontent among teams in the pits over their situation it's Jendro's job to try and partner up with them to help out. The good part is he was a fan of the sport, raced for a long time and is not a "suit".
2- Mark Hall, Chief Marketing Officer, Monster Energy- One of the key men that drove the decision by Monster to go into the two-wheel sports, Hall maintains a low-key presence but with Monster going into pretty much every two wheel racing series and now NASCAR, he's the main guy there and has a huge part in the future where the sport of supercross goes. Word is the MXGP deal was initiated by Hall in 2009 and Hall's the one who is pushing for the SX series to expand to more races and more countries. Monster CEO Rodney Sacks has the ultimate decision but the guy with the passion for supercross/motocross is Hall. Red Bull has the market share and more sales than Monster but it's the green claw that really controls the indoor series, the teams and the riders. They are the 700-pound green gorilla with a massive checkbook.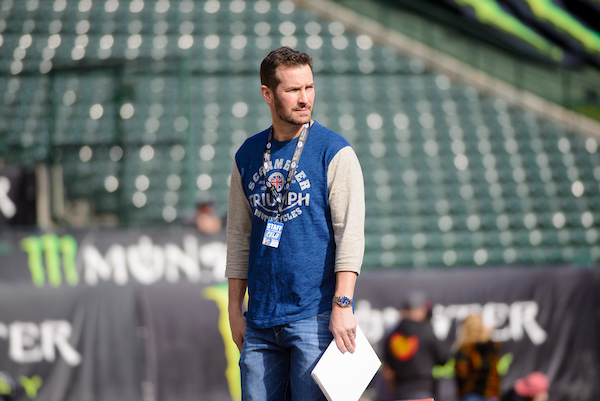 DC's got the magazine, website and more importantly, the nationals to run.
3- Davey Coombs, Editor-in-Chief, Racer X Illustrated- DC's got a ton on his plate with the magazine, Racer X online and MX Sports the parent company that runs the nationals, GNCC series and quad racing as well. It's DC that is the public face of all these series along with Loretta Lynn's so it's he who tries to balance everything along with the magazine work. A Racer X cover is still a very desired thing by every company in the industry and the website is very influential. What makes DC very good in my opinion is he interacts with the fans everywhere he goes and tries to do the right thing for everyone, even at the cost of his own series sometimes. (Disclosure: you all know I'm a freelance journalist whose biggest client is Racer X right? Ok, good. Chances are DC won't even read this or know what Pulpmx is!)
4- Mitch Covington, Vice President Sports Marketing, Monster Energy- Covington must pinch himself every day as he climbs into Lewis Hamilton's private jet for some vacation time with the F1 champ. Covington, like Dave Prater at Feld, is Monster's man on-site at whatever event Monster throws their money at and has a big say in what the company does. He does seem to love the life that he's carved out for himself but myself, I wonder if he's got the background in the sports history to really grasp what Monster should do.
5- Carrie Coombs-Russell, President, MX Sports- A lawyer who gave up her practice to help the family racing business out, Coombs-Russell works with her brother Davey at the MX nationals as well as the GNCC's (which have had record number of entries last few years) and Loretta Lynn's. Her husband Jeff Russell is a former National Enduro Champion, the GNCC track builder, and the father to current GNCC Champion Kailub Russell. She's got a big voice in how the nationals are run and behind the scenes is very powerful.
6- Dave Prater, Director of Two Wheel Motorsports, Feld Motorsports- Prater replaced Jendro as the man on site at the supercross races for a long time before a recent promotion. The buck stops with Dave at each of the 16-rounds Feld promotes. Dave is the guy that gets yelled at by everyone and probably not much praising which is the way these things work. A very nice guy that tries his hardest to compromise to make everyone happy, Dave's liked by pretty much everyone in the pits. When people complain about Feld they almost always preface it with "Prater's awesome, he's doing his job…".
7-Roger DeCoster, Team Manager, Red Bull KTM- Yes, we put Decoster ahead of the other team managers as he's in charge of Team USA at the des Nations, he almost single-handedly re-booted KTM's USA racing efforts and his opinion is still respected by many in the paddock. He's The Man for a reason.
8-Mitch Payton, owner, Pro Circuit Racing- When Payton speaks, people listen. The most successful private team owner in the sport, Payton's been known to offer advice to many riders that no longer ride for him, he aligns deals up behind the scenes and his team is still regarded very highly. Strangely, Payton's been pushed out of the Team USA thing at the MXDN and the team hasn't won in a while now. One thing that Payton doesn't do anymore is get involved with the direction of the sport like he used to because of frustration with his past suggestions being ignored. Payton's a strong personality that could get the team owners together but I think he's just tired of the politics nowadays.
9- Takashi Mashima, Manager Motorsports Division, Honda USA- Want to know one of the main guys to resurrect the HRC brand and get it rolling? Right here. Mashima is based in the USA and is the man that decided to get Honda back to the its glory years by cleaning out many of the old staff, getting the checkbook open for Roczen and the R&D machine at big red fired back up. New bike, new rider- we'll see if the old Honda comes back.
10- Bruce Stjernstrom, Head of Racing, Kawasaki USA- The big boss at Kawasaki, Stjernstrom used to be the head of Team Green, used to be marketing manger at Monster and has ran Kawasaki USA SX/MX a couple of times now. He's smart, funny, gets along with most everyone and knows the guys at Monster which is important. He gets the big picture of the sport, not just what's important to Kawasaki.
11- Keith McCarty, Motorsports Manager, Yamaha USA- it's McCarty that pushed hard for Yamaha to get back into racing with a factory team and it's McCarty that paid Cooper Webb huge money to be its signature rider for the next few years. A lifer in the motocross/supercross world, he probably wouldn't have been on this list just a few years ago but Yamaha is back now and in a big way so he's on here.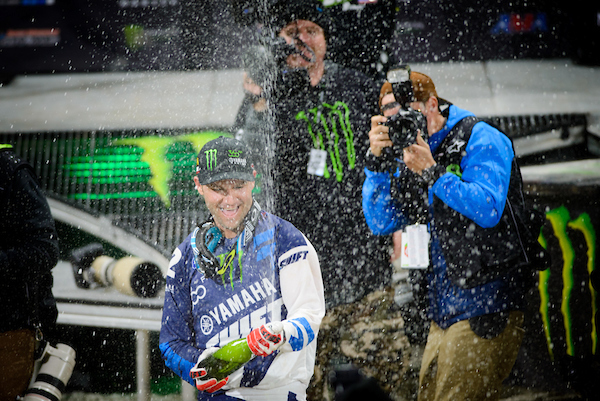 It's been a while since his last title but Reed's still the number one power broker among the riders with his social media, his popularity and more.
12- Chad Reed, racer, Monster Yamaha- Reed's the most popular rider in the sport, he's the veteran leader among the racers and he's active on social media with his thoughts and opinions. He's also very media savvy and knows how to use the media to get his message out. He's not powerful, but he's influential–two different things, but either one is very important.
13- Ken Roczen, racer, Factory Honda- Like Reed in a way, Roczen's not very powerful in the sport, no more than say a Ryan Dungey or Eli Tomac, but he's very much an influencer with a strong presence on social media and he's not scared to say whatever he wants. He's world wide probably the most popular and highest paid racer and what he wears, does and says influences people.
14- Kevin Crowther, Director of Racing, AMA- The AMA's role in pro racing has been drastically reduced the last ten years or so but they're still the American division of the FIM (where the sport of motorcycle racing first started) and therefore, still has some say. How much can be debated, but the AMA is the only organization that touches on pro racing, amateur racing, what the OEM's sell and has potential for greater things than what they do now. We wish we could put Kevin much, much higher on this list. It's kind of sad that he's not because the AMA could do really get some change happening in the sport.
15- Pit Beirer, Motorsports Manager, KTM Worldwide- It wasn't that long ago that KTM in the USA was lost, just drifting along after the debacle of teaming up with MDK Motorsports. It was Pit, the ex-racer, that targeted Decoster to take KTM to the top in the USA and incredibly, they did it. Aggressive in racing on both sides of the Atlantic, Beirer has gotten bikes built, top riders signed and deserves a spot on this list.
16- Forrest Lucas, owner, Lucas Oil- Lucas is on this list moreso for the ownership of Mav TV which airs the first motos of the MX Nationals than the Lucas Oil brand. The oil company itself is a big part of a few teams in the pits but it was wise for the company to team up with MX Sports and elevate the profile of it's channel. Without Lucas Oil, the nationals would suffer.
17- Fred Fox, owner, Parts Unlimited- It's Fred that issues the go/no go for Parts and its Thor MX and Moose house brands. His worldwide marketing manager, Hylton Beattie, brings the deals, including the 2017 signing of Cooper Webb to a huge deal, to Fred and is the man on the ground at the races but it's Fox that ultimately decides how much PU is going to spend. Although WPS is closing on them, Parts Unlimited is still the world's biggest distributor and a big sponsor of supercross.
18- Michael Kelso, Marketing Manager, Rockstar Energy- With energy drinks running everything in our sport, Kelso's the man at Rockstar and has to be on this list. Rockstar's a very aggressive company with its athletes and teams and chafs some with its demands but just like the other guys, its investment into the sport cannot be overlooked.
19- Craig Shoemaker, owner Western Power Sports- What a rise for the owner of WPS (which owns Fly Racing) and they've come a long way from having David Vuillemin wear their gear and Tim Ferry running the Fly helmet. Stepping up and sponsoring the MX Series, having a ton of riders wearing Fly every weekend, WPS itself is coming on strong in pursuit of Parts Unlimited's sales. Getting Alpinestars into WPS was a huge get for Craig and we'll see if Fly gets even bigger in the coming years.
20- Paul Harrington, CEO Fox Racing- Fox has had some major upheaval the last few years with a venture capital firm buying it and original founder Pete Fox coming and going from the company (Pete is still on the board and part owner) but there's no doubt that the company is still a "prestige" in the industry. Dungey, Roczen, Reed and Pro Circuit teams are a huge nut for the company. Chris Onstott's (AKA Beeker) role has increased a lot lately (Beeks was the guy who got Payton's team out of a 17-year relationship with Thor) and he's the man who deals with the athletes but Harrington's had an increased role in the company's racing side this past year including personally re-upping Ryan Dungey's deal there. Fox doesn't sponsor series, just athletes so he's behind Fox and Shoemaker on here but Fox is the number 1 in gear sales.
21- Guiseppe Louongo, president of Youthstream/ Wolfgang Srb, President, FIM Europe- Years ago when the folks at Clear Channel did an end-around on the AMA when they were battling supercross and got FIM affiliation for supercross, Srb immediately became influential in the sport over here. Most people in the pits didn't think the SX promoters would renew with the FIM but they've done it twice now so you have to think FIM is here to stay. Of course that led to new rules, new governing, new officials and some new problems. And Louongo is here because when he puts races in the USA, he leans on Monster (or DeCoster before they had a falling out) to make sure they're attended. Want to follow the plan to expand SX with more events, into Europe, the MXGP's into the USA? It's Jendro, Hall, Srb and Louongo who are working together on both sides of the Atlantic.
22- Dan Fahie, Team Manager, Monster Kawasaki, Dan Betley, Team Manager, Factory Honda, Jimmy Perry, Team Manager, Monster Yamaha- We lumped the OEM racing team mangers all into the same group. They are the guys that run the most powerful teams in the sport and have a big say in who rides for the teams and it's these guys that see the sport's issues week in and week out that report to their bosses.
23- Jeremy Mallot, Motorsports Marketing Manager, Red Bull- The Red Bull Straight Rhythm was 100% Mallot's idea and his stable of athletes runs deep. Red Bull does things a lot different than the other energy drinks so Jeremy's not ranked that high here but with the success of the RBSR and the names he works with, he deserves to be on here. If Red Bull got aggressive, like we're talking Monster aggressive, he'd be much higher.
24- John Gallagher, Race Director, FIM- For a few years John was just in charge of the 450SX class but now the 250SX class is under FIM rules and regulations as well. John works with Feld and the AMA to make sure everything is done at the SX's but it's mostly his call and he's come under fire for some of his decisions over the years. Gallagher's been an authority at the races for a long, long time (mid-80's) and is a good guy who's made some questionable decisions in discipline. There might not have been more of a divisive guy on this ranking with my consultants than John.
25- Chris Wheeler, Motocross Manager, Suzuki Racing- With the movement of Pat Alexander to head of road-racing, Wheeler moves over from R&D to be the man in SX/MX at Suzuki. Lagging sales and a team that closed up awaited Chris so he started moving quickly with getting JGR to switch to Suzuki, finding much needed money for RCH and got JGR to start a 250 program. He's a much needed shot of enthusiasm for Suzuki after years of struggles. Now about that amateur effort and 250F?
26- Eric Peronnard, President, EP Productions- Eric's the man who started the US Open of Supercross, Mini-Moto, Endurocross, he works with the ESPN people on all the motorcycling that's in the X-Games, he works with Youthstream in setting up USGP's, he was Charlotte Speedway's point man for that GP, he started Junior SX this past year, he works with Fox in Europe and he's the point man in the USA for riders that go to Lille and Geneva SX's in the off-season. He's a visionary, a pioneer and he does all this without pissing very many people off which is a hard thing to do with all that money and ego floating around. Eric's sneaky powerful and influential.
27- Donn Maeda, Editor-in-Chief, Transworld Motocross- Who knows what is the biggest MX magazine in the USA but it's either Racer X or Transworld MX depending on how you do the counting. Maeda's been around a long time and this is his third magazine that he's run since the mid-90's. TWMX has its own race where the winner gets a cover, he's got his staff at every round of SX and MX and he's in complete charge of editorial content. He's also not shy to voice his opinions on a product and has cost his magazine ad money at a few different points.
28- Michael Prince, Vice-President TV, Feld Motorsports- Prince is a big believer in himself and what you see on a Saturday night in SX is mostly due to him. He's the man tracking the numbers, coming up with ideas, deciding what sponsors need to be stroked. Rumor is that it was Prince who decided to blur out Travis Pastrana's Red Bull logo years ago on TV and the #199 has never been back since.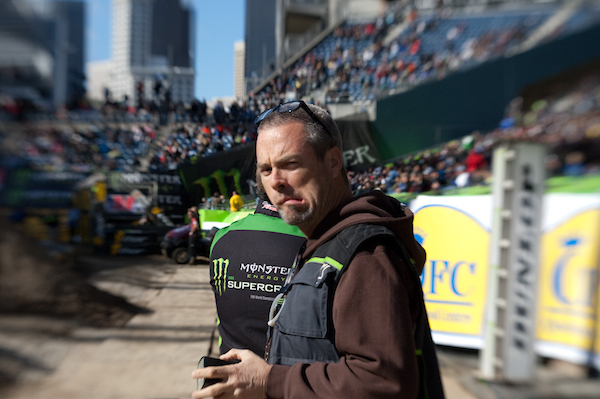 This man runs the sports number one message board and probably has the grey hairs to prove it.
29- Steve Giberson, Content Director, Vital MX- "GuyB" is in charge of the biggest and probably most popular motocross message board in the world. Many in the industry lurk and it's Giberson who gets the shit when things go sideways on there. With a simple post, GuyB can get a riders or teams message out in a subtle way and help someone get the fans on point. He's a pretty low-key guy but get him mad and he's not scared to let you know. Some of my people didn't think he should be on here but I know as a media guy in the sport that just about everyone reads and listens despite them saying they don't.
30- Gabrielle Mazzorollo, Owner, Alpinestars- Just about every rider has worn Gabrielle's boots at one point or another as an amateur or pro racer and they continue to be the company that sponsors the SX series in a big way. And paying Justin Barcia and Eli Tomac a ton of money to wear gear you cannot buy in the USA is a power move.