Bendgen's thoughts on the opening round in Cincinnati.
Bendgen's thoughts on the opening round in Cincinnati.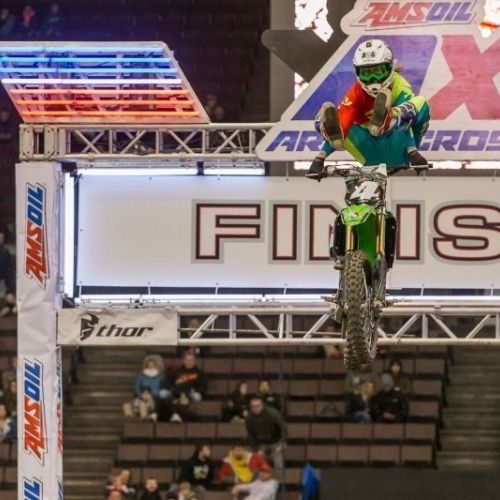 Stankdog on his new Kawi.
Photos: Josh Rud/Arenacross.com
I've got to be honest with you because I'm really kind of sad that the opening round of Amsoil Arenacross is over. It came and went way too fast and I made the most of it all weekend. This was the first year that I actually didn't actually race the Sunday amateur festivities and I'm glad I didn't. I learned my lesson about sitting around in the cold all day and getting my sixteen laps in. You live and you learn.
My weekend started early on Friday afternoon when around 2PM I received a text message at work from Ben Lamay. The Alaskan Assassin needed a ride from the airport to the Millennium Hotel downtown. Luckily for him I was at work and only about ten minutes from the airport, so I agreed to hook him up. As it turns out, I was the last guy that Lamay had thought to ask to pick him up, but I was the one that came through. We'll see who you remember is a real friend the next time you need a ride bro…
That's been the story of my year so far…getting let go and a last resort. We're picking up in 2017 where we left off in 2016. I'm shaking a fist at this industry.
Anyway, this was the third year in a row that arenacross has kicked off on the banks of the Ohio River and inside of US Bank Arena. I've been to all three of them and I've expected some bigger crowds each year. I figured last season suffered because the Bengals played the Steelers at home in the playoffs. But the turnout looked to be about the same this season. I'd say it was maybe less than half full if you fill in all the gaps.
Early in the day on the track walk I ran into a plethora of who's who in arenacross. It's really funny how low key this series is. You'll go up and try to hype them up about the opener and you'll get a smirk if you're lucky. For the most part the riders just shrug their shoulders and say something along the lines of, 'Yeah, another city, I'm ready to race, that's why I'm here'. That leaves me with so much information guys and I really appreciate the insight.
It was cool to see my childhood friends Steve Mages and Christian Telker back racing arenacross again. I grew up racing with these guys and with the help of Custom Powersports they are hoping to make some noise this year. Mages had attempted racing the 250SX West Region last season for the Atlas Racing/Slakawear KTM team and obviously didn't race Cincinnati last year. Telker has been working at a machine shop and hasn't really had much bike time. Regardless they were back and I spent most of the track walk with them. Mages had to have emergency surgery earlier in the week to get his appendix removed, but still attempted to race. He was riding tight and looked a bit uncomfortable, but ended up 11th overall. He's won races and should do the same this season.
Finally I ended up finding Jace Owen, who has been ignoring my text messages recently. I called him out on it and he denied it. However, he has been staying down at The Farm and riding with Gavin Faith and Joey Savatgy, to name a few. As we found out it pays off to train down there, as the results look great for Owen and Faith through the first round. Owen also made an extra effort after our interview when my 9-year-old nephew came up and started asking him some questions. He took his time answering them and then actually started asking my nephew questions about racing and whatnot. It was definitely a cool gesture and it made the kids night.
Lamay did not need a ride back to the airport for those of you wondering. I either gave him too much crap about it or he was freaked out by what was rattling underneath the hood of my Ford Focus. It's the engine mounts bro, sorry I can't drive a 2017 Ridgeline.
Here's a gander at the results.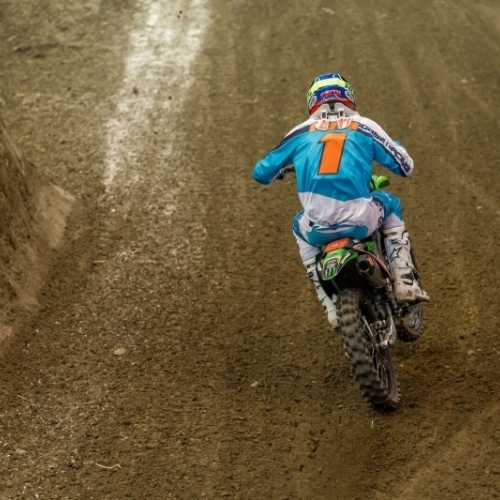 Faith got to wear the #1 for the first time in AX and went 2-2 for second overall.
1.) Jace Owen #5 – Mattoon, IL – Hon 1-1
From not knowing how this racing thing was going to work out for him in the summer of 2014 to arenacross contender. Good things are going to come Owen's way.
2.) Gavin Faith #1 – Duncombe, IA – Kaw 2-2
Faith came in heavy with his #1 plate and did what he knows how to do. The only problem he had all night was in his opening ceremonies video. It's him in a limo with Monster chicks with Fat Joe's 'All the Way Up' song. Good times.
3.) Matt Goerke #101 – Temecula, CA – Yam 4-3
To be honest I was so overwhelmed by everything that I didn't even notice Goerke was even out there racing. Like, I knew he was there and in the series, but I never made a mental note of him. You have to think that he's going to be a serious threat for this title.
4.) Ben Lamay #6 – Forney, TN – Hon 5-4
You're living in Texas. Why are you listed as Tennessee? The cool thing about Lamay is that he knew how to get to the hotel when I got lost. I've been living here almost 27 years and Lamay has never been here before. Crafty.
5.) Jacob Hayes #90 – Liberty, NC – Kaw 3-7
He changed his number back to the #90 and he's looking for the #1 here in 2017. He's finished 2-2-3 the past three years.
6.) Gared Steinke #4 – Woodland, CA – Kaw 6-5
Steinke was fast on his new Kawasaki and put in some decent finishes at the opener. He's one of the fastest guys not pitting out of a big rig.
7.) Daniel Herrlein #9 – Bethesda, OH – KTM 7-6
I can never track down Herrlein for the life of me. If anybody knows how to get in touch with him let me know. I'd like to tell his story. He's got a new ride with the Woodstock KTM team this year.
8.) Cameron McAdoo #812 – Sioux City, IA – Hon 10-9
The Monster Energy Cup Amateur All-Star winner is legit. I saw flashes of brilliance out there that definitely didn't show in the results. He's here to get his points and to stay injury free as he makes his debut on the 250SX East Region.
9.) Heath Harrison #68 – Silverhill, AL – KTM 12-8
I had no idea that Harrison would do so great on a tight arenacross track. #Shocker
10.) Chris Blose #2 – Phoenix, AZ – Yam 11-12
Was it the flu? I'm not sure, but it was very hard to track Chris down all day. He showed up to the pits ten minutes before practice and left right after the autograph signing.
Thank you for the support and reading my column. I spend a lot of time on my content and I enjoy talking about the sport. You can email me about anything at troybendgen@gmail.com or troy@pulpmx.com. I would also appreciate if you followed me on Instagram and Twitter @troybendgen.