I said we would be back with more data, and we're back!
I said we would be back with more data, and we're back!
Photos By: James Lissimore
Note: "Theoretical Best" is a combined time of a rider's fastest segment time.
Last week in Motolytics, we went through a whole day's overview in the 450 class, from qualifying until the main event, analyzing lap times and how they would convert throughout the day. There was a lot of close racing this week, so I'll try to just get to the nitty gritty good stuff and bring in more charts and graphs this time while we're at it. Plus, some shorter lap times meant more laps, so for the first time we get to see the "what if" part of the data if we were on the old format of going by a strict number of laps.
Dungey came out a little hotter in qualifying this week, eventually nabbing the top spot of the day with a 52.352. After Anaheim 1 I commented on how last year he seemed to up his pace a little during qualifying, where he hadn't been known for taking the top spot, and how at A1 he seemed a little off the pace in general. We saw throughout the night that his times did in fact translate into the night show, mostly staying consistent and not necessarily the fastest. This week he did that once again, carrying his quick pace from qualifying to the night show, more specifically the main event, so we that's 2 weeks out of 2 that we can sort of guage his pace from qualifying. It will be interesting to see how this pattern continues throughout the season, if there continues to be a pattern at all.



A look at Dungey's times through his qualifying, heat, and main.
In the 250 class there was a new player this week in Justin Hill, who was able to put down a qualifying time over a half second faster than anyone else. His speed was pretty much unmatched in qualifying and into his heat, again putting down the fastest lap by 3 tenths and a theoretical best by 6 tenths, proving he was faster basically everywhere on the track.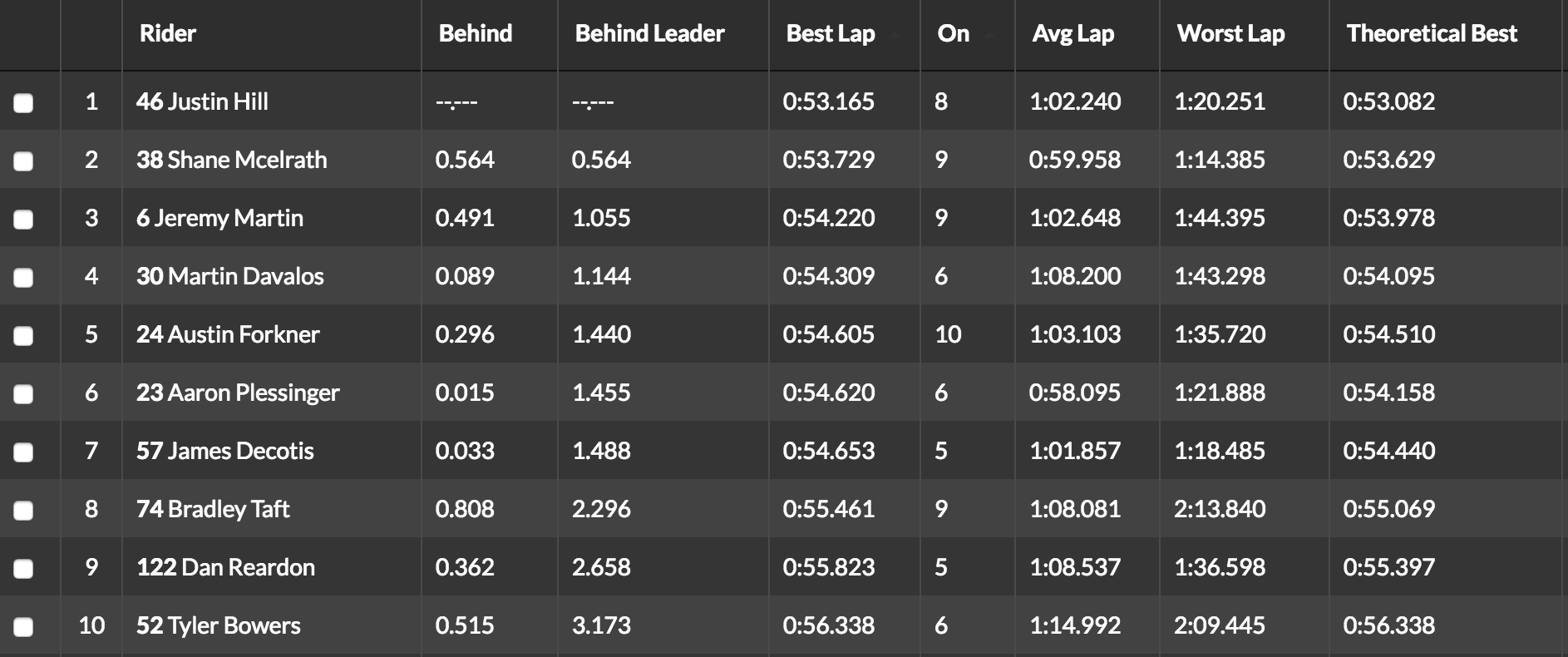 Hill was able to take 250 top qualifying spot, and left no doubts doing so.
The 250 Main Event turned out to be some of the best racing we've seen in quite some time. There were a total of 171 changes of position over 18 total laps, where the new timed format came into play. Martin Davalos led a good chunk of the race after getting around Jimmy Decotis, who lead 10 strong laps, up until about lap 17 when he was passed, and eventually finished 4th. Old format = Marty win. New format = poor Marty. Plessinger spent too much time too far back, even though he had the fastest lap of the race, but was only able to manage the 3rd step of the podium behind Mcelrath and Hill. Justin Hill did put on a late race charge, with his last lap being almost a second faster than Shane's, who was almost a half second faster than Plessinger. I'm of the opinion that had he had "just 1 more lap", the race was his, but being back in 9th early in the race cost him.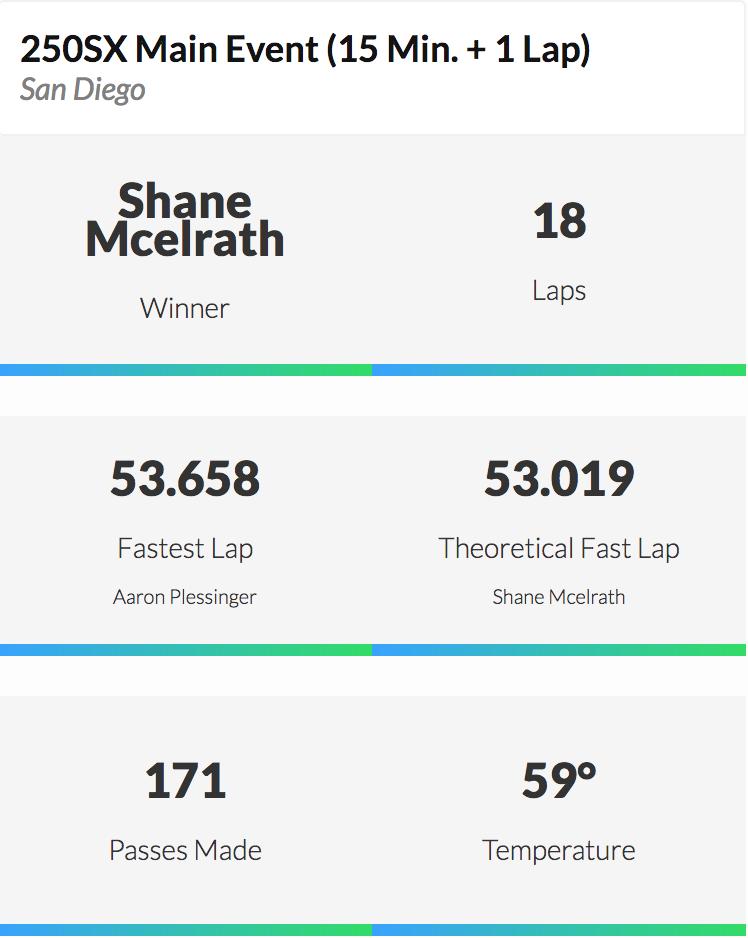 250 Main Event Overview

Logged positions from the top 5 in the 250 Main. SM38: Blue, JH46: Red, AP23: Orange, MD30: Green, AF24: Teal

Lap Times from the top 5 in the 250 Main. SM38: Blue, JH46: Red, AP23: Orange, MD30: Green, AF24: Teal
The 450 Main turned out to be another great race, but Kenny and Dunge pretty much stole the show, not counting Marvin's backflip attempt on lap 1. They were the only leaders of this race, with Dungey ending Roczen's streak of leading every lap he had been in so far this year. Their pace was pretty much unmatched all race, with only a couple of laps where they weren't the fastest two guys on the track. Marvin split their times on lap 4, and Anderson was able to put the fastest time on laps 15 and 19. The story of the race seemed to be Roczen's whoop speed, which was in the 3rd segment of the track. Out of 22 laps recorded (AMA data had a glitch a couple times early in the race), Roczen was faster in the segment 21 out of 22 times. His average was 11.3 to Dungey's 11.6, which was the case for both of them in their heat and the main event alike. He was more consistently faster than Dungey, eventually making his move and staying there until the finish. He wasn't able to pull a gap like he did at A1, however. Dungey kept him honest, with the average gap between the two all race being 1.02 seconds. Again to note, Dungey's times were pretty consistent with what he had done all day, with his best and theoretical best times being pretty close in each of his sessions on the track. There's a case to be made that Roczen may have won this race on consistency, with the difference between his best and worst laps being 2.18 seconds, while Dungey's last lap bobble caused his to be 4.25.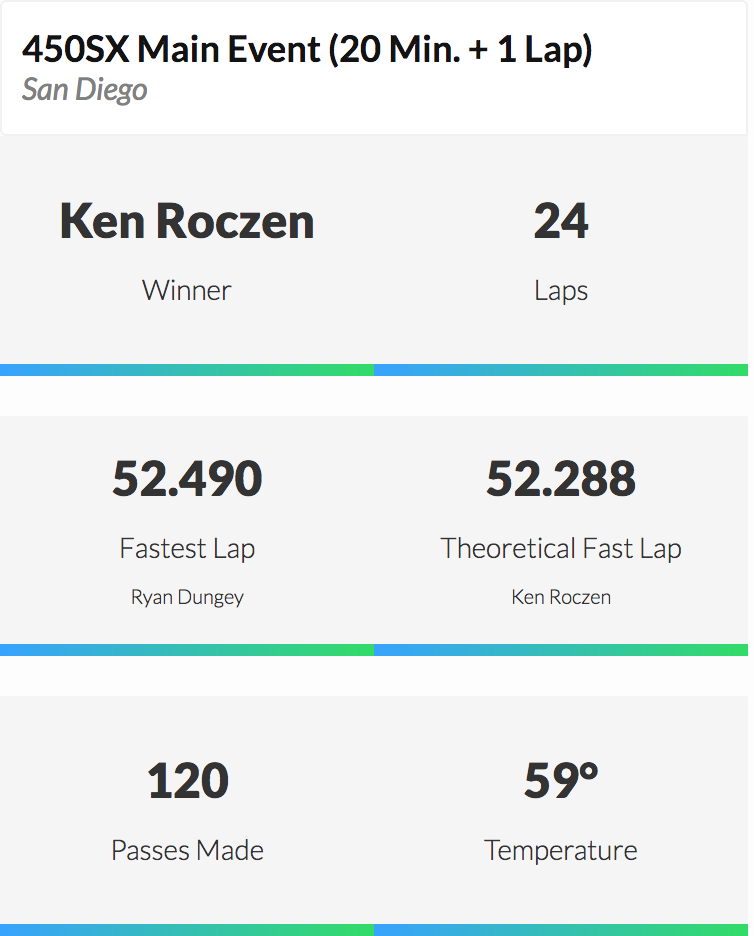 450 Main Event Overview

Lap Times from the top 4 in the 450 Main. KR94: Blue, RD1: Red, MM25: Orange, JA21: Green

An overview of the top 4 from the 450 Main
There also weren't as many position changes in the 450 main, even though the race was 5 minutes (or 6 laps) longer. The total came out to 120 for the big bikes, most of which was clearly not happening in the top 5. The 250 LCQ reads as having 111 position changes, and the 450 LCQ having 103. The 250 class definitely and handily had more passing going on throughout the night, sometimes even having more passes in shorter races.
As I continue to build and expand what I do with the data, I'll try to include more charts and graphs along with more in depth analytics. Thanks for taking a look at Motolytics, and we'll see you next week!