A rough rookie season leads to a new outlook in 2017.
A rough rookie season leads to a new outlook in 2017.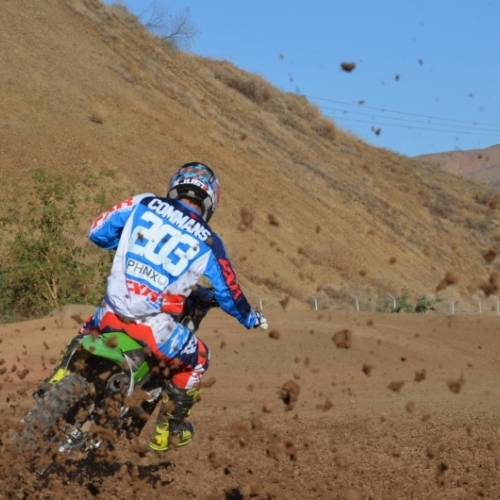 "I just did a ton of laps this offseason with all of the testing. I'd get there at 9 a.m. and didn't leave until dark," Commans said.
Photos: Ryan Clark
"I'm going to be real with you, at some point out there you're going to have this 'Oh crap moment' that says 'I'm racing supercross right now. When that happens don't let it happen for very long and try to keep a cool head." – AC
The above advice is what friend of PulpMX and Monster Energy Pro Circuit Kawasaki's Adam Cianciarulo told his buddy Zac Commans at his first supercross in San Diego last season. It's advice that Commans has taken to heart ever since and it's helped him come to terms with the pressures of racing in stadiums across the United States.
You see, according to Commans people only know him because he is a best buddy with Cianciarulo, hence the irony that we started out his spotlight with a quote from AC. In reality, some people could only know Cianciarulo by being friends with Commans, you know?
Commans is in his second season of Monster Energy Supercross, although last season was filled with some injuries and bad luck. He only was able to make two main events after being forced to miss Anaheim 1 to earn his SX endorsement through Amsoil Arenacross.
"This 2017 season feels like a rookie season to me because of injuries I had throughout the season," Commans said. It's still pretty new to me. "
After regrouping and racing some west coast rounds of Lucas Oil Pro Motocross during the summer, Commans started talking to Ryan Clark to setup a ride for 2017.
Clark, a former top privateer of the sport who created his own Team Solitaire back in the early 2000s, offered Commans a ride on the new Rockwell Kawasaki team. His teammate Trevor Reis unfortunately went down with a season ending injury in the offseason. As for Commans he was given the opportunity to test for Mitch Payton and Pro Circuit leading up to the season.
"I just did a ton of laps this offseason with all of the testing. I'd get there at 9 a.m. and didn't leave until dark," Commans said.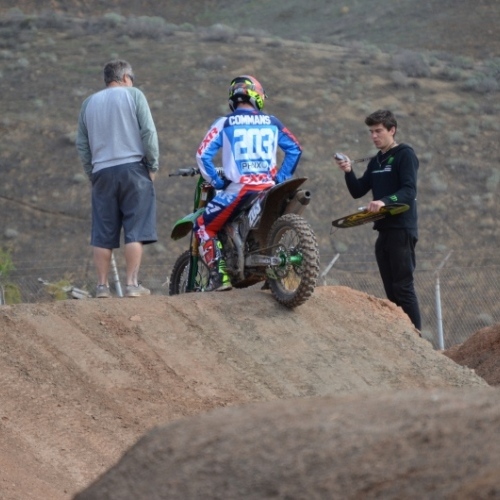 Commans has had a long journey back to feeling comfortable on a bike again.
As a Pro Circuit test rider Commans learned priceless knowledge on how to setup not only valuable bike information for Pro Circuit, but also on his own race bike.
"I always heard the rumors of a test rider being able to tell the difference between a steel bolt and an aluminum bolt," Commans said. "I was like there is no way that you can tell the difference, but it blew my mind that I was able to tell the difference between the two."
The bike time alone was enough of a confidence booster for the Californian as he made the first two main events of the season in a stacked 250SX West Region.
"Last year a mistake in the day could ruin the whole night for me because I would lose that confidence," Commans said.
This is a huge turnaround compared to the position that Commans was in last season. As you may or may not know Commans came off a very serious head injury in 2015 that led to a long recovery to function normally in everyday life. In all it took six months to recover and he didn't get on a bike until September of 2015 because of it. This was a huge setback, which resulted in not enough laps that led to easy uncomfortable situations for Commans.
With the comeback and newfound confidence, Commans is ready to start putting in the results and building a name for himself.
When he's not on the track he's probably keeping up with his 4.0 GPA from his community college. He just started his second semester and in the future he may transfer to USC. Until then, Commans is content in making the most of each day. He's got his sights set on becoming a household name in the West Region this season and he's looking forward to seeing what the future holds.
Thanks for checking out the new Privateer Spotlight. Let me know what you think by emailing me at troybendgen@gmail.com or you can hit me up on Twitter/Instagram @troybendgen. Do you have any suggestions on who I should cover next?