Who'da thunk it?
Who'da thunk it?
Cover Photo By: James Lissimore
Note: "Theoretical Best" is a combined time of a rider's fastest segment times combined.
This week will be a bit of a combination of the last two weeks, seeing as how I didn't get my stuff done last week. The basis of what would have been last week's article was basically "Was the Eli Tomac Glendale domination a fluke?". Let's break it down anyways.
Two weeks ago was a big "what is going on with Eli Tomac" analysis. I guess he was tired of everybody talking about it, because he came out with a point to prove in Glendale. He wasn't quite fastest qualifier, ending up 4th, but only .378 off Blake Baggett's leading time, and 4th in qualifying for theoretical best as well, which belonged to Marvin Musquin at a 58.849. He was able to pick it up when the night show came, winning his heat as well as having the both the fastest lap and theoretical fastest, even when compared against the times from the other heat race. You could tell he was feeling it.
Then came the Main. Eli was able to put in a ride I think we've all wanted to see from him for some time. Ripping the holeshot and leading from start to finish is a story in and of itself, but the manner in which he did it was something else. A 2.5 second lead after lap 1, which grew incrementally each lap, up to 18.5 seconds eventually, before, we assume, he backed down the pace. Either way, he was able to put in 3 laps in the 59 second range, nobody else would be able to break that barrier. One question I saw come up a few times was "Would Reed have been able to run with Eli had he been able to start up front with him?". Nobody knows, and Chad Reed is full of surprises, but even assuming Reed ran his average lap time of 1:01.317 for all 21 laps, his total race time still would have come up about 4 seconds short of Eli's actual race time. Yay for hypotheticals!

Tomac's lead throughout the race to those closest behind him, Glendale.

Lap Times of the top guys in the 450 main, Glendale
My concern here was that he did in fact slow down eventually. Looking back after more evidence from a tremendous ride in Oakland, I think it's safe to say the drop in times at Glendale was more him backing off rather than the more of the round 1-3 plague coming back to haunt him. An indicator towards the positive is that he was able to run yet another 59 second lap time on lap 12, well into the race and on a tough track, and past the point where he would seemingly struggle in the races prior, around lap 8 on average. To compliment that, he dipped into the mid 1:00 flat mark again on lap 20. All signs pointed to a "healed" Eli Tomac, but I was curious to see what Oakland would bring.

A look at Eli's lap times from the main, Glendale.
We'll jump straight to the Main for Eli-Oakland talk here. There's been plenty to analyze with this one. Eli got a less than stellar start, while Dungey worked some more voodoo magic to get out front early after a poor gate pick. Eli came across the line in 8th, not making life easy for himself. His gap behind the leader topped out at 9.3 seconds before chopping it down like Clark Griswold looking for a Christmas tree.

Tomac's gap behind the leader until moving into the lead, Oakland.
The big talk of the race came from the section immediately following the finish line in Segment 1: the triple-quad. Eli was reminded of it when Cooper Webb pulled it right next to him while Eli was making his way around Coop. It was clearly faster, the eye test doesn't lie. But I've heard some debate as to whether he would've made his way up without it. Eli's fastest time in that segment came on lap 3, and Dungey's on lap 4. The difference between their fastest in that Segment, which ended at the end of the sand turn, was only .02 seconds. Not much really, and their averages through there were about the same as well, a difference of only .083. Tomac was about .3 seconds faster on average through Segment 2, which seems to be where he actually made up more of his time. Dungey didn't look comfortable in the whoops if you ask me, which may be the contributor here.

Tomac vs. Dungey by the numbers, Oakland

Tomac, Dungey, and Webb lap chart, Oakland
An interesting takeaway from this, I think, is that Tomac didn't even get fastest lap, OR theoretical fastest. The track was pretty beat by the time he was out of traffic, so he didn't get a super-heater in. What he did do, however, was go fast for a longer time. The difference between his fastest lap and his worst lap was 4.883, only bettered by Seely with a 4.793. To add to this, he was most consistent with his speed, evidenced by the difference between his fastest and average lap times, only 1.695. He topped the field in this category. Occassionally we see this number dip below 1, which shows phenomenal consistency, but given the nature of the track in Oakland (hint: nasty), being below 2 is still a feat. You can add Millsaps and Reed in this category as well, both with a difference of 1.947. Long story short, Eli went fast, and consistently so. Dungey slowed down a fair amount really. His best-average difference was 2.735, ranking him 6th in the category.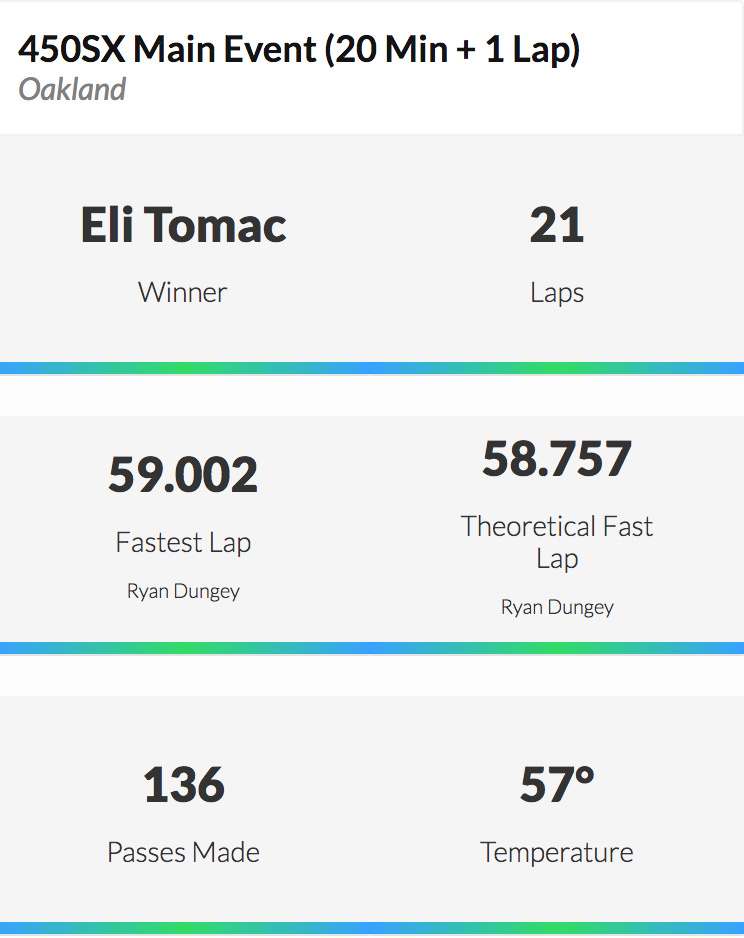 450 Main Event Overview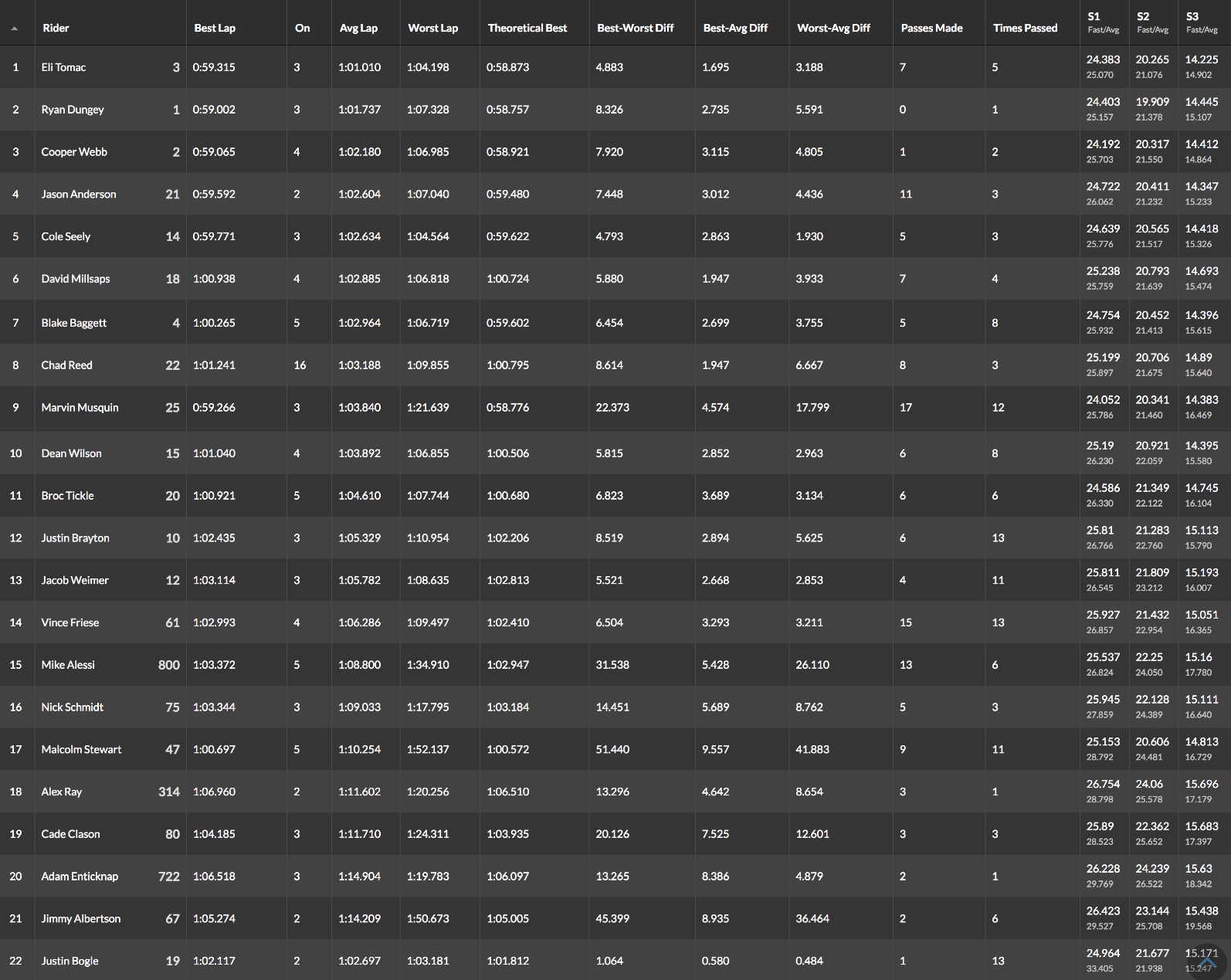 450 Main Event Data Table
As always, thanks for reading and see you next week!