Getting you caught up in Amsoil Arenacross.
Getting you caught up in Amsoil Arenacross.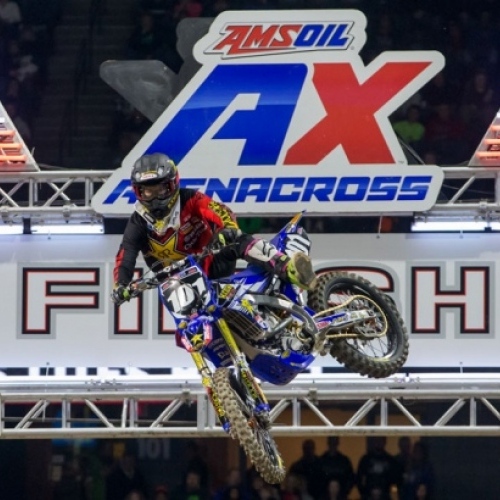 Goerke is coming off of a main event win in Kansas City. He has only finished outside of the top five once.
Photos: Josh Rud/Arenacross.com
The 2017 Amsoil Arenacross series has only been to six cities and had seven rounds, but the biggest thing you need to know about is the dominance of Jace Owen. Owen leads the championship with 222 points over last year's champion Gavin Faith, who currently has 205 points.
It's not just that Owen has the lead, but it's the fact that he started off the season with a perfect 6-6 main event wins. He currently has seven wins before heading into tonight's race in Atlanta.
Owen started off the season strong, but Faith is still right there in second with five main event wins. Since we're on the topic of the top spot, only four riders have been able to collect a win so far this year. Owen and Faith have been the ones to watch, but Owen's teammate Ben Lamay also has one win, as does Matt Goerke. Goerke has been strong and consistent in his veteran ways and holds down third in the championship.
Jacob Hayes, who would be right up in the mix with the front of the pack, unfortunately suffered a pretty serious ankle injury early in the season. He'll he able to start physical therapy soon, but he will be out for the season.
Babbitt's Kawasaki went out and picked up Gared Steinke to fill Hayes's spot on the squad. Stankdog is riding well and sits fourth in the standings, which is where he finished at the end of the season last year. I don't see why he won't get a main event win or two before the end of the season. He's done it before and now he's on some of the best of the best equipment that arenacross has to offer.
Behind Steinke we have Chris Blose sitting in fifth place. Blose started off the season a bit under the weather and has come up in the standings quite a bit in the last few rounds. He currently doesn't have any main event wins, but that could change pretty quickly. Blose finished second in the championship last year by a slim margin and has two overall podiums heading into Atlanta.
In sixth we have the Alaskan Assassin Ben "I need a ride from the airport" Lamay. Lamay had high hopes coming into the season. I know he expected a whole lot more from himself than just one main event win thus far, but he's been riding well. Other than that he's a very quiet person and you know that he has his eyes on winning and doing the best he can.
The next three riders in the standings are all dark horses because you never know what you are going to get from them. In seventh we see Daniel Herrlein, who finished ninth in the series last season. He's gotten better each year and is a threat for the top five each weekend. Behind him is a really over looked Cody Vanbuskirk. Cody VBK really needs some exposure in this sport because he hasn't gotten any. He finished 7th in the series last year and is consistently just one of those guys that impresses every weekend. In ninth we have a beat up Steven Mages, who I thought would get a win early on. Mages is nursing a new wrist injury and a week before the season he had emergency appendicitis…he raced the opener anyway. He should get some wins by the end of the season and if he doesn't I'm going to be surprised. Once Mages gets going he can throw down some heaters.
Last but not least is Babbitt's Kawasaki's Travis Sewell in tenth. On paper Sewell's results haven't been so good. His best finish in any main event this season is a fourth, but I would assume that he's racing back into shape. Sewell, if I remember correctly had a very bad get off last summer that left him pretty messed up injury-wise. He could still be feeling the affects from that. He's won three LCQs this year.
Do you want to know what the best part about arenacross is? All ten of these riders (and possibly someone outside of the top ten) have a chance to take home the championship once the points reset. The chase format is allowing the top ten to fight it out and that adds some great drama to the series to ensure that the championship will come down to Las Vegas. Who do you think will be the one with the championship in hand?
Without any injuries I think that Owen will get the job done. He's been the standout guy and I think he keeps the ball rolling. He's having too much fun this season and I don't see it stopping anytime soon.
Let's hear your thoughts! You can email me anytime at troy@pulpmx.com or troybendgen@gmail.com to chat about anything really. I will respond to whatever you send I promise. You can also reach me on Twitter/Instagram: @troybendgen. Thanks for reading.