One of the things I have always loved about motocross is the gear.
One of the things I have always loved about motocross is the gear.
Colorful, expressive and often quite high-tech, motocross gear has always been at the cutting edge of protection and style. The need for clothing that could both protect the rider in a crash and provide sufficient flexibility and cooling has always been a challenge for the designers of off-road gear. In a perfect world, we would all be wrapped head-to-toe in Kevlar and bubble wrap, but it is hard to pound out those 30-minute motos when you can't move and are baking like a microwave burrito.
When you add in the vanity and fashion conscience sensibility of your average motocross racer, and the realities of manufacturing in a global economy, you can see just how hard it is to come up with a line of gear that can fill all those needs and actually turn a profit. Over the years, many companies have tried to break into the gear business. Some of them have gone on to become motocross icons, while others have faded into the obscurity of old gear bags and dusty magazines. For every Fox Racing or Thor, there are half a dozen Alloys, Feroces and Chuck Sun Products pushing up daisies. Motocross gear is a fickle business, and often today's all-star is tomorrow's also-ran.
In light of just what a tough business it is, I thought it might be fun to take a look back at some of the true powerhouses in the motocross gear industry – those very icons that have endured the ebbs and flows of the market and withstood the test of time. For our first installment of Moto Gear History, we are going to take a look back at Answer Racing. Started in 1976, Answer was the brainchild of former Kawasaki and Bultaco factory rider Eddie Cole and his partner Fred Hoblit. Originally a hard parts company, Answer did not actually break into the gear business until six years later in 1982. Once there, however, they rapidly established themselves as one of the premier brands is motocross apparel. With riders like Johnny O'Mara, Mark Barnett, Bob Hannah and Micky Dymond running their gear, the company once known for handlebars and alloy silencers quickly became synonymous with cutting-edge style.
In order to keep things manageable, Matthes and I decided it would be easier to break things down by decade, so for this first installment, we are going stick to Answer in the 1980s. Later, we will cover the 1990s and maybe, the 2000s, if there is sufficient interest. Basically, we will play this by ear and if you guys (and gals) like it, I will do something similar for the other iconic gear brands as well. Matthes did a podcast with Answer Racing's founder Eddie Cole a few years back and it's a great listen on how the company was built. HERE'S a link and you can get it on iTunes, Droid Podcast platforms or the Pulpmx App, just search Eddie Cole on there.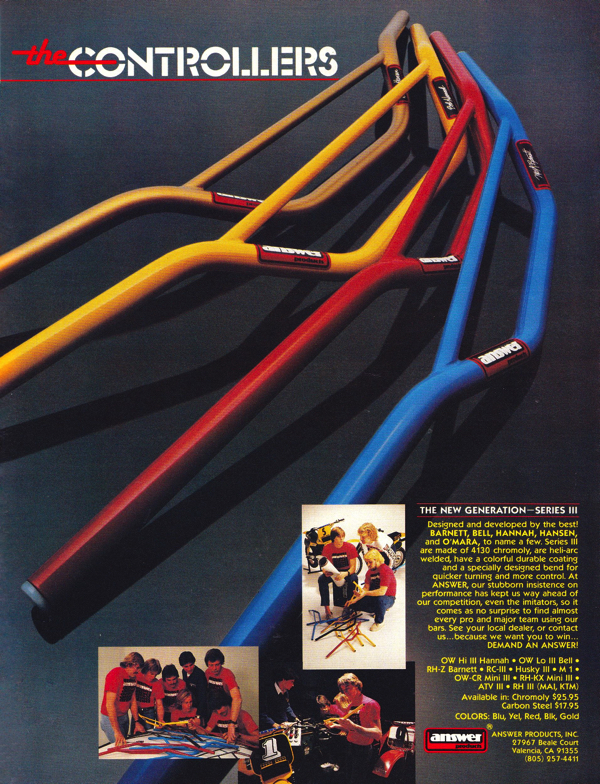 Prior to 1982, Answer Racing (originally Answer Products) was a hard parts company. Their first product was a Bultaco swingarm, followed shortly by a Bob Hannah-endorsed practice starting gate. While those products were mildly successful, the items that really put Answer on the map were their handlebars. In an era dominated by butter-soft carbon steel bars, Answer's tough chromoly steel alternatives were a must-have accessory. They were offered in several bends (including some of the first rider-replica bends) and provided far better crash resistance than typical bars of the time.
Matthes: These bars really put Answer on the map and so did Eddie Cole's friendship with the great Bob Hannah who, throughout his career, stepped up and helped Eddie promote Answer whenever he could. Apparently, these bars were THE SHIT in the late 70's and early 80's. It just takes one product and you're off!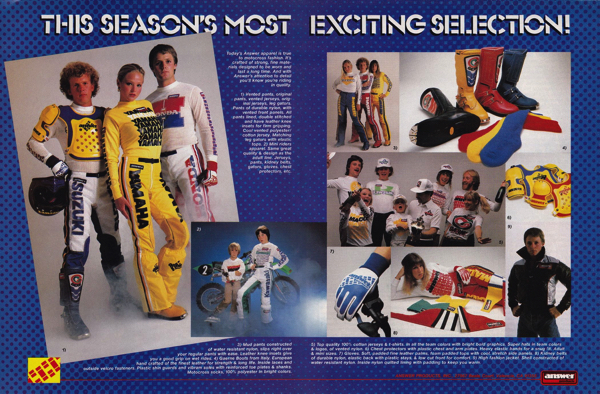 In 1982, Answer decided to expand their business into motocross apparel. They offered jerseys, pants, gloves, kidney belts and the ultimate symbol of early-eighties moto, boot gators, to fill out your gear bag. Although they did not yet have a boot of their own, they did make a deal to import Italian-made Gaerne boots into the US for the first time.
Matthes: Not a fan of the gear just quite yet, but getting Gaerne was a smooth move by Cole who had the magic touch with many products. The boots were high quality, looked good and would provide him later on with the ability to go head to toe.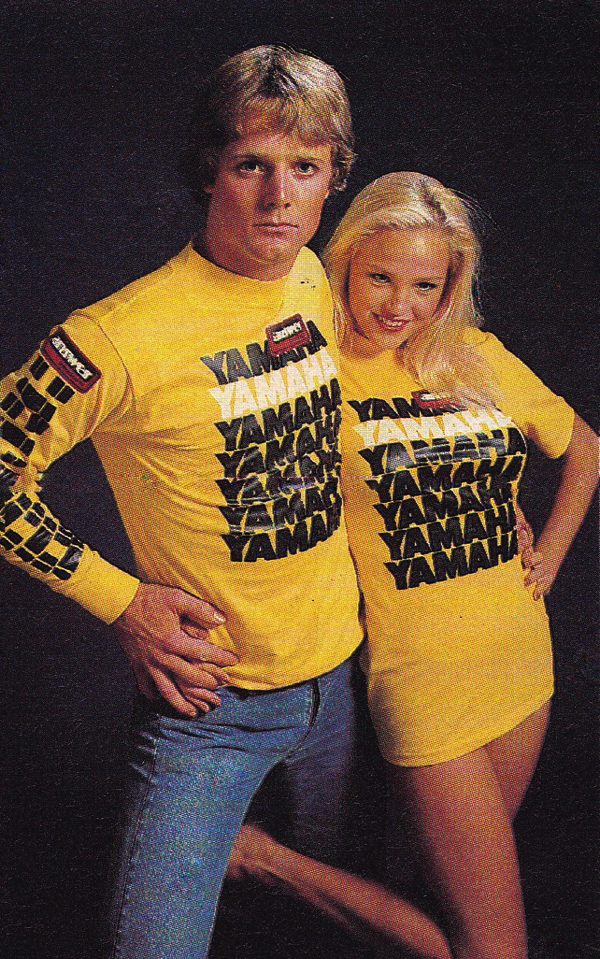 These early Answer designs may not have been particularly attractive, but at least no one was going to be confused about what brand you were riding.
Matthes: Yeah, we get it…you ride a YAMAHA. Cool story bro.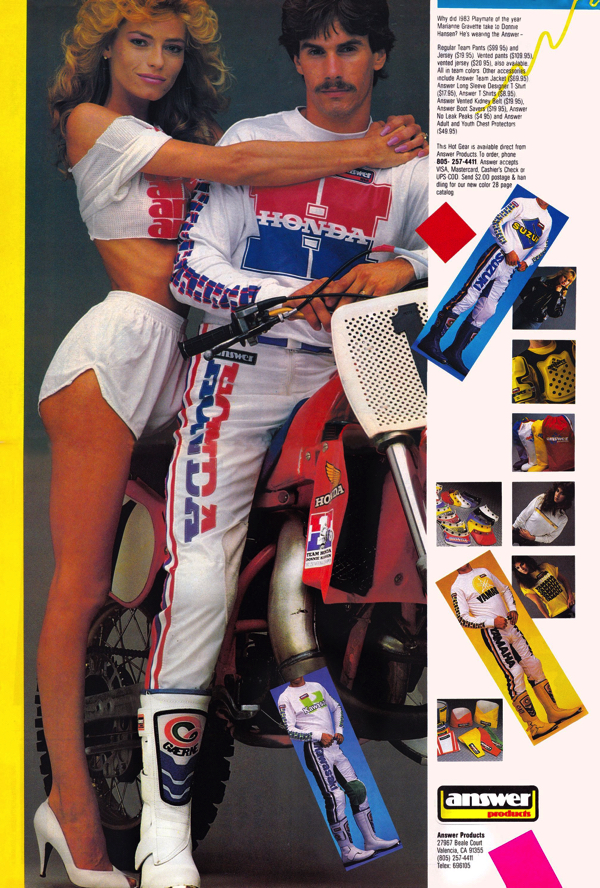 After winning the AMA 250 Supercross and 250 Outdoor titles for JT Racing in 1982, Team Honda's Donnie Hansen (shown above with 1983 Playmate of the Year Marianne Gravette) signed with Answer for the 1983 season. At the time, this was a major coup for Answer. Sadly, however, Donnie would never get to race in the new gear. While practicing in Germany for the 1982 Motocross des Nations, Donnie would crash and suffer what would turn out to be a career-ending head injury.
Matthes: Bad deal for Donnie who had turned down a multi-year contract with Honda right before he headed over to Europe. Hansen was THE guy for '83 and how that whole thing would have played out would have been fascinating. Maybe Hannah wouldn't have been able to go to Honda for '83? Not sure if he was already signed or not. Anyways, I didn't know Hansen was going to wear Answer for '83 bad deal for Cole to lose the number one rider in the sport. This gear is very close to the JT stuff Hansen wore the year before which is fine because that's a sweet look. Does anyone else think the chick's stomach looks weird?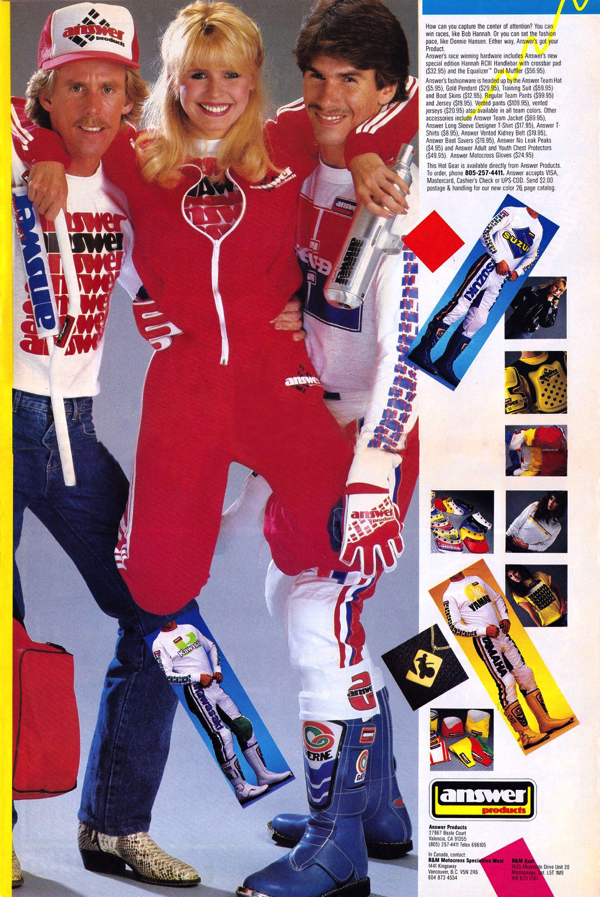 Even though Bob Hannah was running his own gear business in 1983 (Hannah Racing Products or HRP, also produced by Answer), he continued to appear in many of Answer's ads due to his close personal friendship with company founder Eddie Cole. By the early eighties, the hard parts line had also expanded to silencers and Answer's oval Equalizer had become a popular alternative to the heavy and non-rebuildable steel units found on most machines at the time.
Matthes: Agreed with Blaze, those silencers were pretty popular and hey look, it's Hannah again! See those things on the top of Hansen's boot? They're like, mini-boot gators and I had a set! Not sure why or who got them for me but mine were blue and I was ten years old. I've never thought that I had SO much dirt down my boot I needed a seal up there but hey, whatever. Nice snakeskin boots Bob.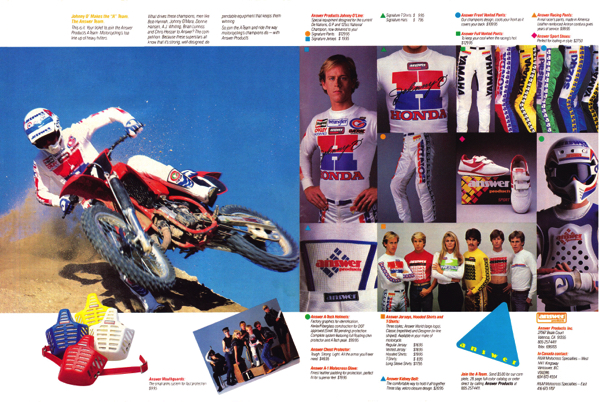 In 1984, Answer made another major rider investment by hiring Team Honda's Johnny O'Mara away from JT Racing. This time the investment paid off, with O'Mara delivering the brand the 1984 Supercross title.
Matthes: Now we're talking! Answer's starting to hit their stride here with getting O'Show. And helmets start appearing!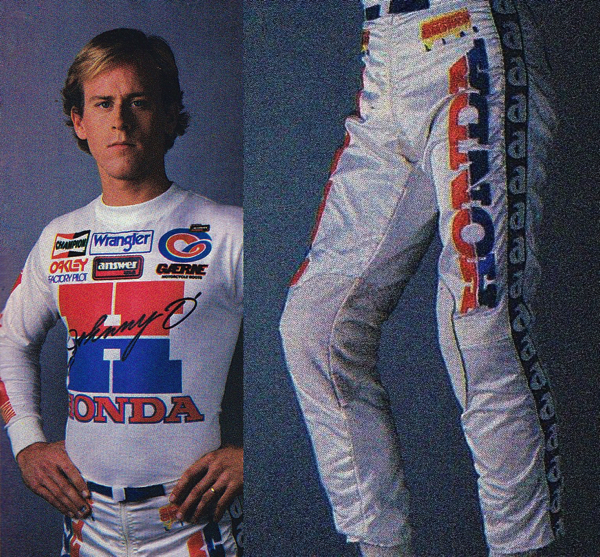 O'Mara's new signature Answer line was similar to what they had worked up for Hansen the year before, but with a few minor tweaks. The Honda logo and colors remained, but new touches like O'Show's signature and a very "factory" set of sponsor logos ratcheted up the trickness factor to eleven. Trust me when I say, this was seriously badass stuff in a time when you could not just order up a custom jersey from 50 guys on the Internet.
Matthes: Yeah absolutely, this stuff was the shit and it was VERY popular around the Manitoba racing scene thanks to Eddie's buddy Rick Sheren in Canada who started importing it under the R&M Motorsports name. This stuff was so clean and simple, O'Show looked great.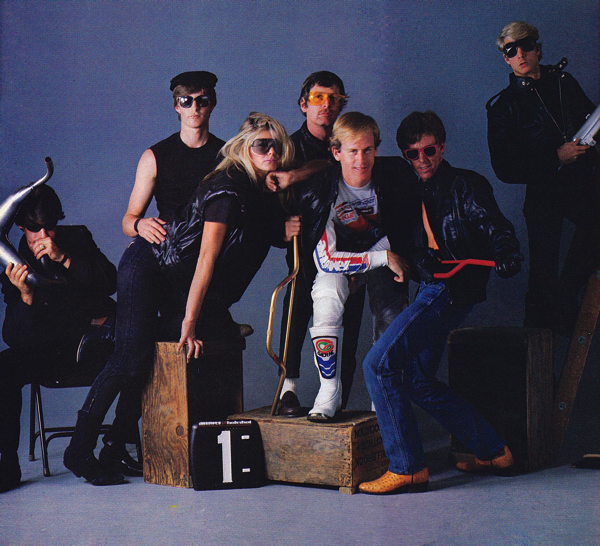 It is pretty clear no one at Answer was taking themselves too seriously in 1984. Nice shades Lunniss…
Matthes: Everyone in this ad wishes that the internet was never invented so they could forget this. Well, except for O'Show, he somehow looks ok.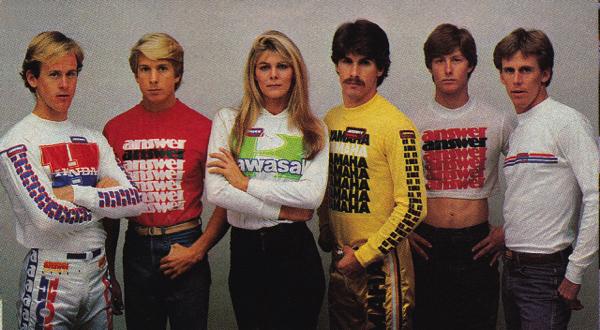 Johnny O'Mara, Chris Heisser, Donnie Hansen, A.J. Whiting and Bob Hannah for Answer in 1984. I only have one question, how did A.J. end up drawing the short straw and get stuck appearing in a belly shirt?
Matthes: I'm pretty sure that for some reason, Yamaha was the only OEM that got the "let's just write the name over and over on the shirt" deal. Not sure what was up with that but again, not that cool. And the half shirt? The less said about that the better. Honestly though, Hannah just did EVERY Answer ad I guess?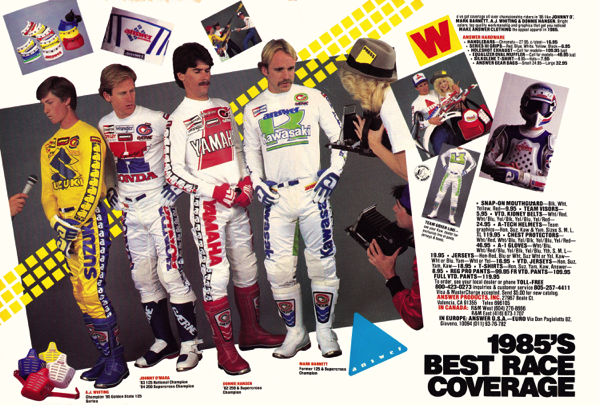 This is a pretty cool ad from 1985 featuring A.J Whiting, Johnny O'Mara, Donnie Hansen and the newly signed Mark Barnett. Barnett's move to Kawasaki after years with Suzuki was a pretty big deal in '85 and his switch to Answer from long-time sponsor Fox completed a fresh start for the multi-time champ. On a side note, what the hell is going on in the photo above Barnett's head? Barnett, Whiting and Hansen appear to be assaulting O'Mara with a Rifle, handlebar and an M-16, while the champ looks to be fending them off with a silencer and a rubber chicken? I guess you had to be there…
Matthes: Yeah, Eddie's ads could get a little wacky…maybe everyone dropped acid right before the shoots? Anyways, this stuff is all nice and clean like the O'Show stuff. Getting Barnett, my childhood hero, was a big coup for Answer and he would go on to win a moto and a SX main event for Kawasaki and Answer this year. He sure looked weird in Answer though after so long in Fox. Check out those boots that O'Show is wearing…those things were SWEET! I never had a pair but wanted them badly. The other three guys got the normal boots, Johnny got the newest ones. See those Answer open face helmet mouth guards on the lower left? I never, ever, ever saw one of those in person.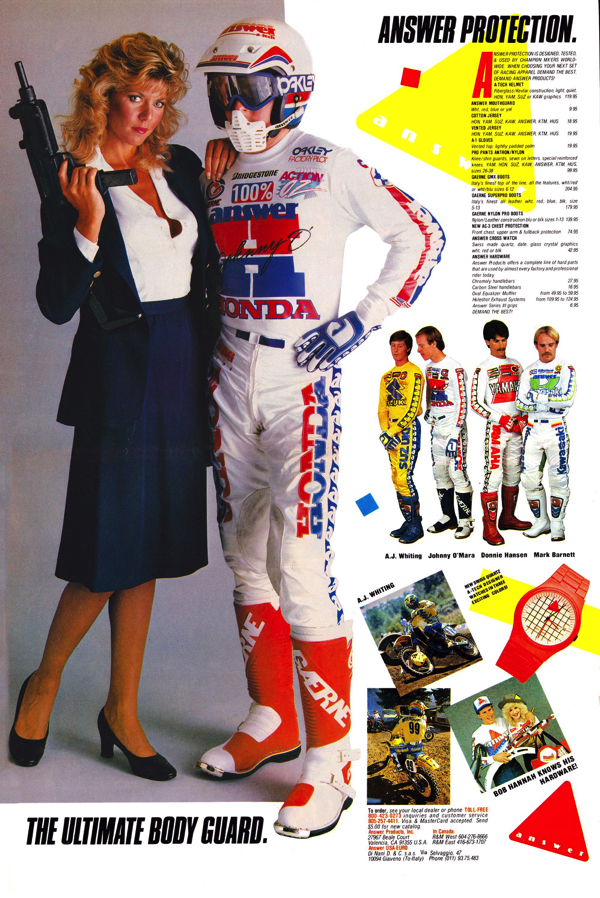 This ad from late 1985 is interesting for a few reasons. Firstly, the continued presence of Donnie Hansen in Answer's ads is pretty refreshing in an industry known for forgetting guys pretty quickly. I'm not sure how much Answer maintained paying him after his unexpected early retirement, but it is cool that he continued to appear in ads for several years after the injury. The second thing I want to point out is one of the sponsor logos on O'Show's (although I suspect this is a stand-in and not actually Johnny) jersey. Just above the Honda logo to the right (his left), is a logo for "Answer Action OZ". This refers to a project started between Answer's Eddie Cole and former factory Yamaha mechanic Dave Osterman (who had worked with Eddie when he was still a rider). This project was aimed at expanding Answer's market into performance mods, a la Pro Circuit and FMF. Unfortunately, however, distribution conflicts with Answer's other partners ended up torpedoing this venture before it ever really got started.
Matthes: Agreed on the Hansen thing Blaze…we've got an office worker chick with a machine gun here. #Merica I had a buddy who had one of those watches by the way.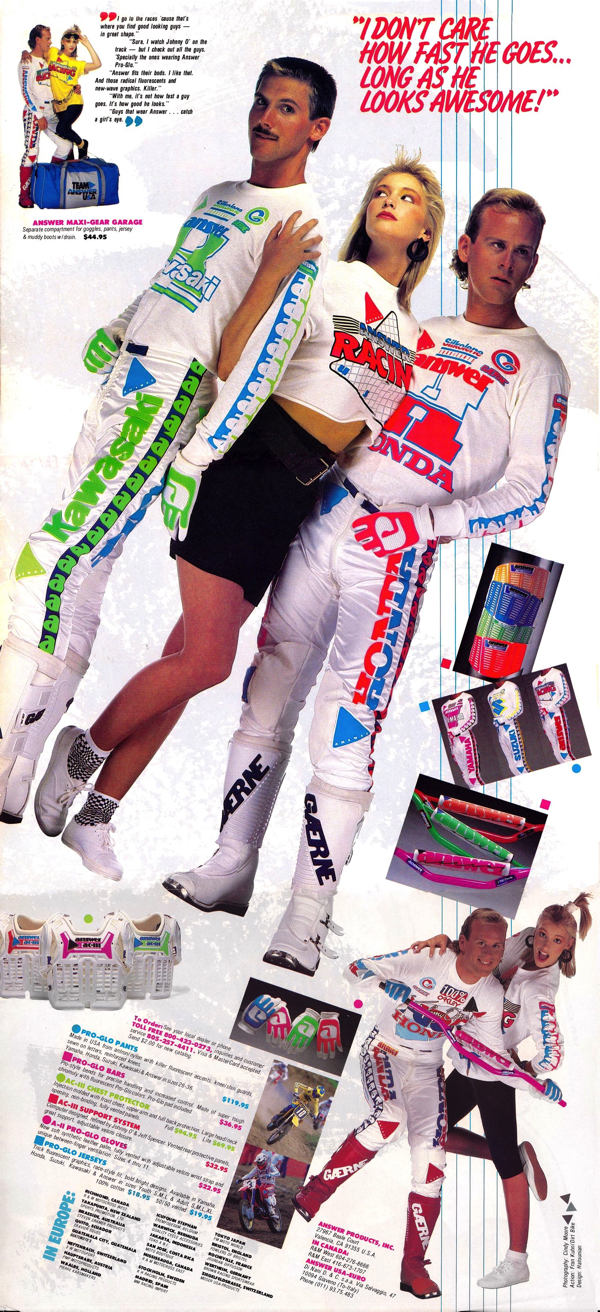 The beginning of the neon invasion, 1986 was a great year for moto and Answer was there to fill your glow-in-the-dark fix.
Matthes: I think this stuff was more orange than the red it looks like here in the ad. Answer had Eddie Warren back then on Factory Kawasaki but I guess he was busy this day so the got the dude with the creepy mustache to stand in. I liked this stuff also and the re-designed boots were still sweet.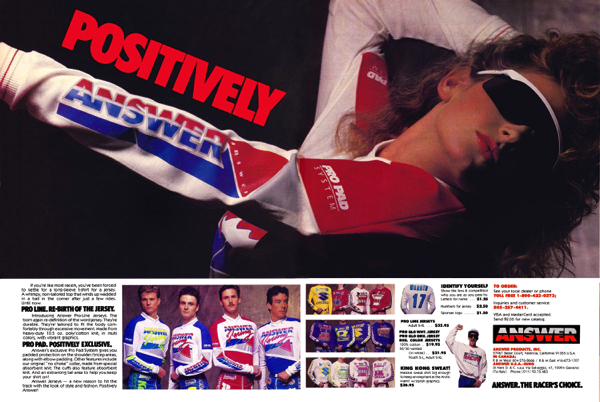 The new Pro-Line for 1987 ushered in a great era for Answer gear design. Colorful, clean and manufactured in the good old USA, the Pro-Line showed Answer could run with the big boys in terms of quality and style.
Matthes: Shoulder pads dude, shoulder pads.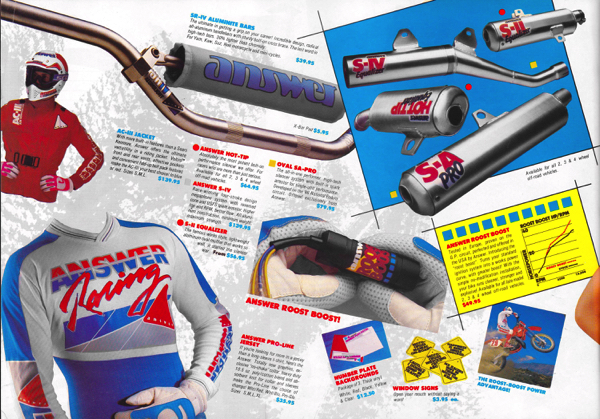 By 1987, the clothing line was firmly established, but Answer continued to offer hard parts as an extensive portion of their business. The all-new aluminum SR-IV "Alumilite" bar made its debut and a little item called the Roost Boost promised more power by simply plugging it in to the ignition. Even though aluminum silencers had become standard equipment on most brands by this point, Answer's line of silencers continued to be strong sellers. The S-A Pro in particular was popular with off-roaders, due to its patented turbine-core spark arrestor that made motocross bikes forestry-legal without sacrificing performance or dealing with the maintenance hassles common to other spark arrestor designs.
Matthes: The Roost Boost…man did Eddie Cole ever sell a shit-ton of those things! I don't even know what they did or if they worked but it seemed people had to have them ASAP. O'Mara was at Suzuki at this point and he rocked some nice looking stuff that was baby blue and yellow. Aluminite bars were awesome, I had a small shop in the early 90's and my main competition was the distributor for Renthal and wouldn't sell to me so I started bringing in the Answer bar and using them. They were good!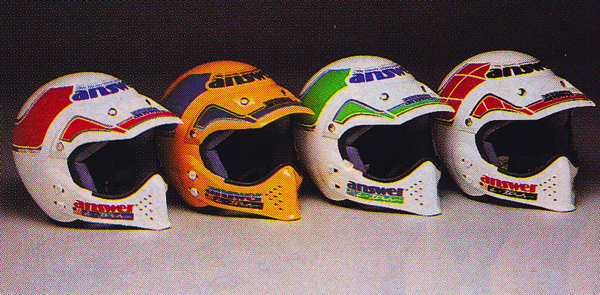 Answer's A-Tech helmets proved popular sellers at a reasonable $139.95 in 1987
Matthes: Like the Roost Boost, these things were HUGE in Manitoba, a lot of buddies had them and maybe it was the price, not sure. I didn't ever think they looked that good and the bolt on mouthpiece was not something I felt looked good or even worked although Arai did it also.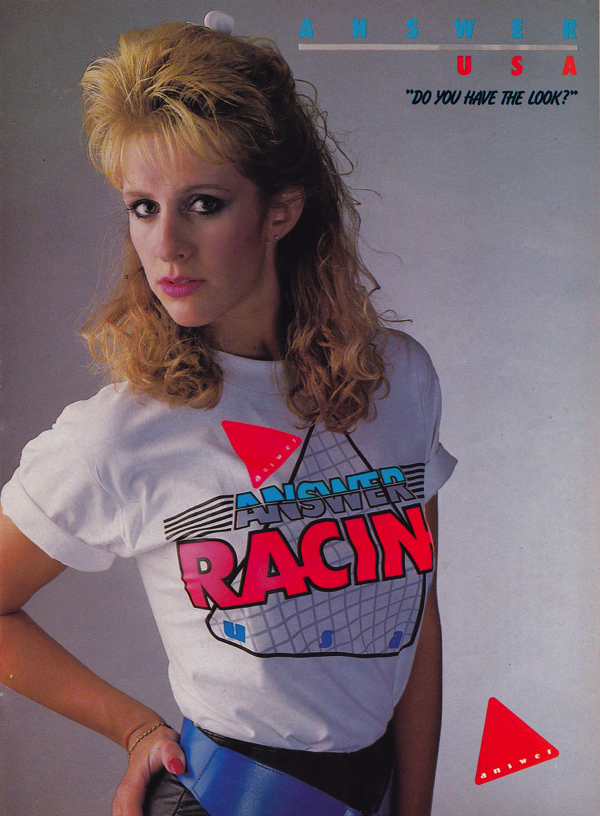 If this was "the look", I most definitely did not have it in 1987.
Matthes: Eddie liked putting chicks in his ads. Either wearing nothing or wearing everything and holding machine guns.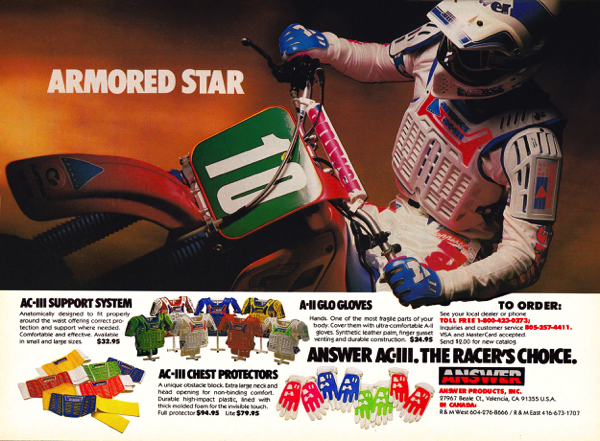 Answer's new AC-III chest protector was certainly an improvement over their lackluster early offerings, but it never took off in the way many of their other products did.
Matthes: Never my favorite chest pro, the Answer was popular though. If you took the arms off it looked hella-goofy though.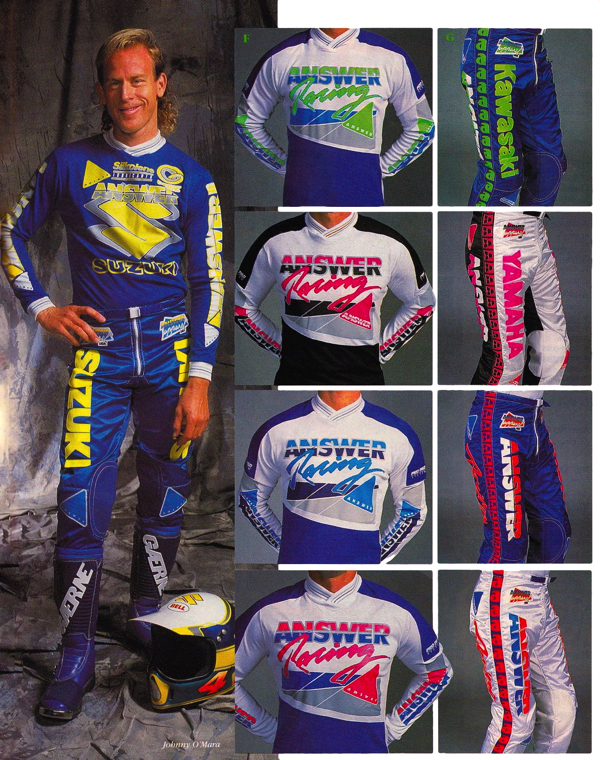 The 1987-1988 Answer lineup is probably my favorite they ever produced. The colors and designs of the Pro-Line jersey and Pro-Glo pants were just on point in these years. Even after nearly thirty years, that pink/black colorway that Micky Dymond made famous still looks amazing. As a side note, what the heck happened to having the manufacturer's names on the pants? I always heard this was due to a licensing issue with the manufacturers, but if that is true, then a big boo on them. No matter the reason, this was cool and I wish it would make a comeback. Bonus points to O'Show for that mega-sweet mullet.
Matthes: A few things come to mind at this photo. One is that O'Show's got a sweet mullet looking shiny, two is that I do like this stuff but not as much as what's coming up, three is that I agree with OEM names on the gear…bring that back! That Yamaha stuff is so sick.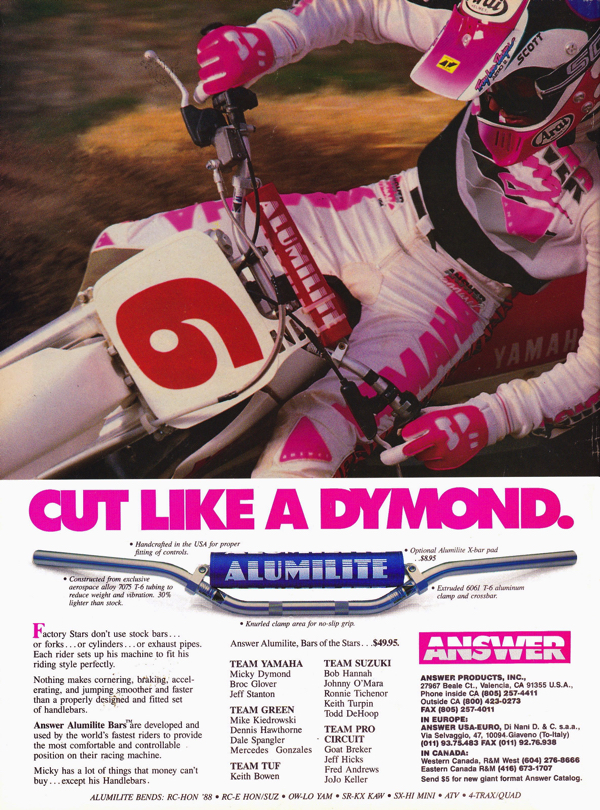 After years as the dominant player in the handlebar market, Answer started to feel some pressure in the mid-eighties. The arrival of Renthal to our shores through the distribution know-how of AXO Sport legend Jim Hale meant real competition for the first time in years. With Renthal being used by the Factory Honda squad and alloy bars starting to gain traction in the market, Answer decided they needed to step up their game. Their answer (if you will pardon the pun) was to design a new aluminum bar they coined the Alumilite. Lighter and stronger than both their chromoly steel bar and Renthal's aluminum offerings (proven in 1989 by a Motocross Action bar comparison where the Alumilite bested all comers), the Alumilite proved another massive hit for Answer.
Matthes: I already proclaimed my love of the Answer bar and I had 700 sets of them in my life but WHAT IN THE HELL is Dymond doing in this ad with a red number on his bike? It just ruins the whole ad for me…you see, in Canada, red numbers were meant for the Novice class and Dymond was no novice. He was 100% BAD ASS. Why wouldn't you just run a black number on there? Who authorized this? Who thought this looked good? This is such a rad rider, rad shot and someone just pooped on it with the red number.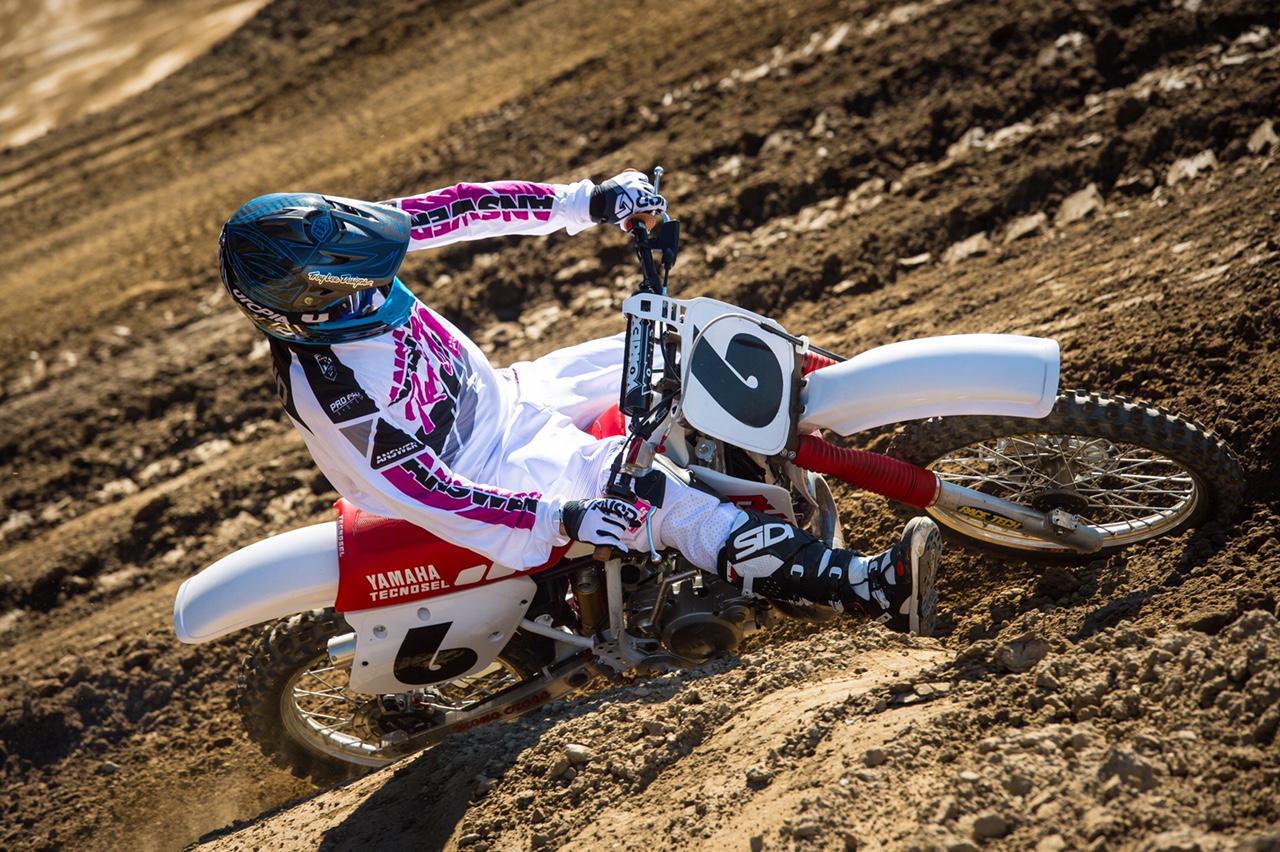 Matthes: On a side note, when I built Project '88 and had Dymond come out to ride for the day, the folks at Answer made me 2016 stuff with retro colors to look like this and I'm eternally grateful that I sort of recreated this ad with Mick on the same bike. Thanks Randy at Answer!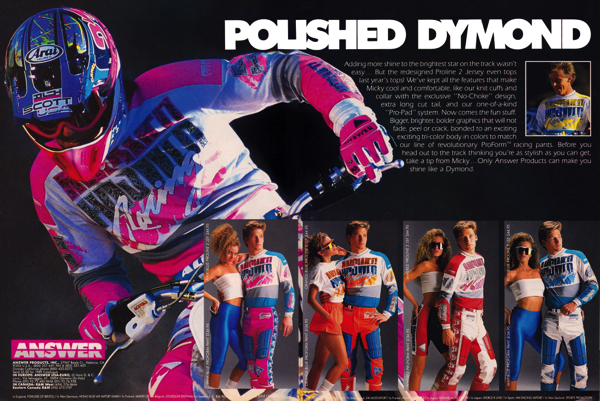 In 1989, Answer revamped their lineup with a new Proline 2 jersey and ProForm pant. While the colors continued to be bright and bold, and the graphics were attractive, I never really cared for the odd thigh pad on the new ProForm pants.
Matthes: I'm down with the thigh pad Blaze. It's a good look and I like how the chick in the ad has the "cheerleader" look with one dude, then the "gym" look with one guy and then the "whore" look all going on. Nice shape-shifting. And seriously, did it get any cooler than Micky Fucking Dymond back then?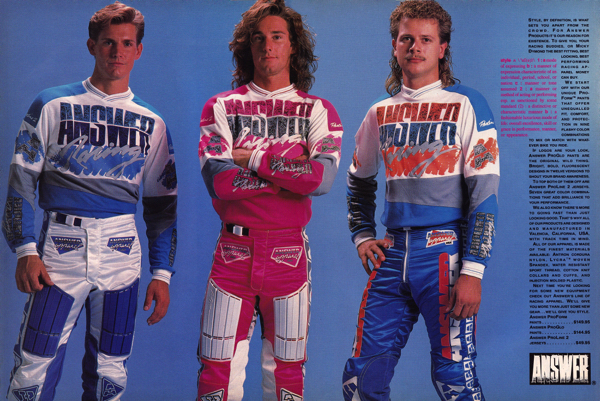 Two-time 125 National Motocross champion Micky Dymond's hair game was strong in 1989.
Matthes: I want to party with Dymond and the guy on the right. Guy on the left? Not so much.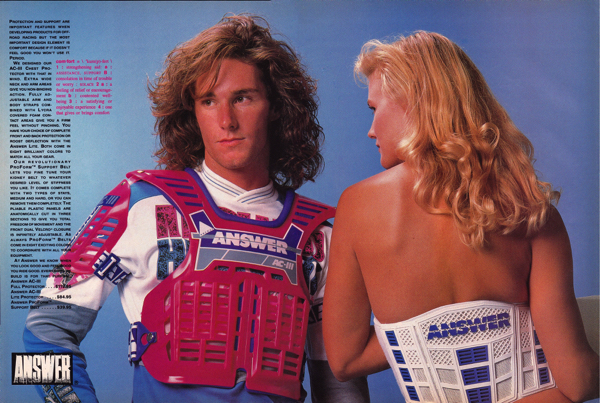 With ads like this, I could see kidney belts making a comeback…
Matthes: There's a 100% chance that Dymond took this chick to a Crue concert after this shoot and then hooked up with her.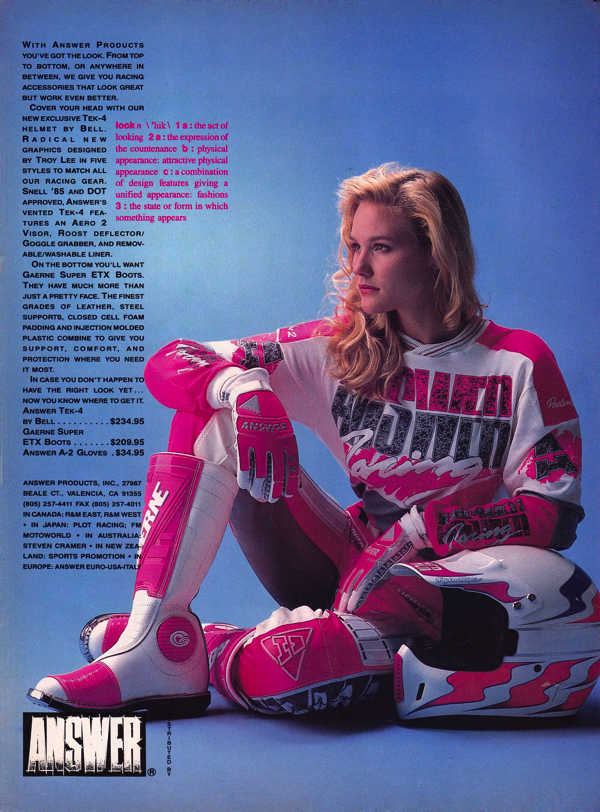 In 1989, Answer stepped up their helmet game by partnering with Bell and Troy Lee Designs to deliver the new Tek-4. Basically, a Moto-4 with some sweet TLD graphics and a standard Aero 2 visor, the Tek-4 was actually probably a better helmet than Bell's controversial new Moto-5.
Matthes: Yeah, I never got the whole helmet thing either.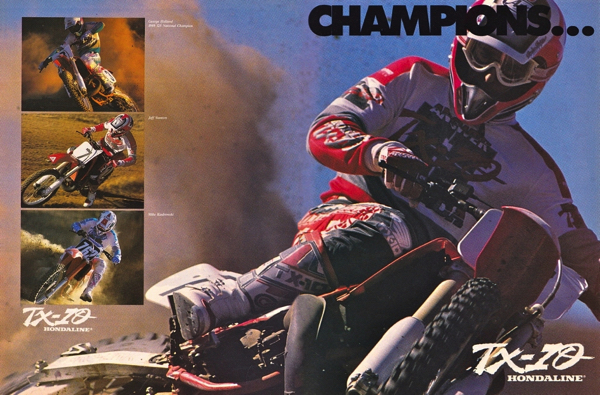 In addition to their normal product line, Answer racing also provided the gear for half of Team Honda in 1989. Jeff Stanton, George Holland and Mike Kiedrowski were tapped to wear the Answer version, while Guy Cooper and Larry Ward were picked to wear the AXO version of the TX-10 line. Of all the team's riders, only Supercross champ Ricky Johnson had the clout to buck the team-issue gear trend and wear his own signature JT Racing gear in 1989.
Matthes: The whole Honda riders wearing Answer and then AXO TX-10 stuff was weird and at one point, Stanton switched halfway through the season. I imagine behind the scenes there was MASSIVE fighting with everyone (riders, gear companies and Honda) screaming about what they had to wear, what they wanted to wear and paying everyone what they were worth. Even RJ had to wear the TX-10 stuff for a bit until I think he sued or was going to sue or something and they let him wear JT.
If you like this and would like to see us do more like it, drop me a line on twitter @tonyblazier or via email at TheMotocrossVault@Gmail.com
For your daily dose of old-school moto goodness, make sure to follow me on Instagram -@TonyBlazier