Here's how I see the national tracks
Here's how I see the national tracks
Photos by Lissimore
The cool thing about the Lucas Oil Pro Motocross Championships is that, unlike supercross where the jumps are the same, the stadiums are (mostly) the same, the nationals have flavor. There's a soul to the nationals and each of the twelve tracks have something different to offer the riders and people that tour the series.
People ask me quite a bit at the races, on Twitter or email about which races should they hit up and a lot of it is from people from outside the USA. If they're spending a shit-ton of cash to fly to America, they want to make sure that it's worth it. Each round has some good, some bad and seeing as how I love lists, I thought I'd rank the nationals top to bottom.
Criteria for each round is:
1- Track…duh
2- Atmosphere/fans- there's no doubt that this can make a good race great
3- Convenience factor- Maybe this doesn't matter to you but for me, making it easy to attend a national is part of why I like certain races
4- History/Heritage- Wonder why people flock to Fenway Park or Wrigley Field? It ain't the amenities bro
5- Viewing- gotta be able to see the track right?
***Editor's note…these are my rankings and not yours. Therefore the things you think that make a great national could be/are different from the things that I think make a great national. Please remember that before you blast me as a moron on the bottom.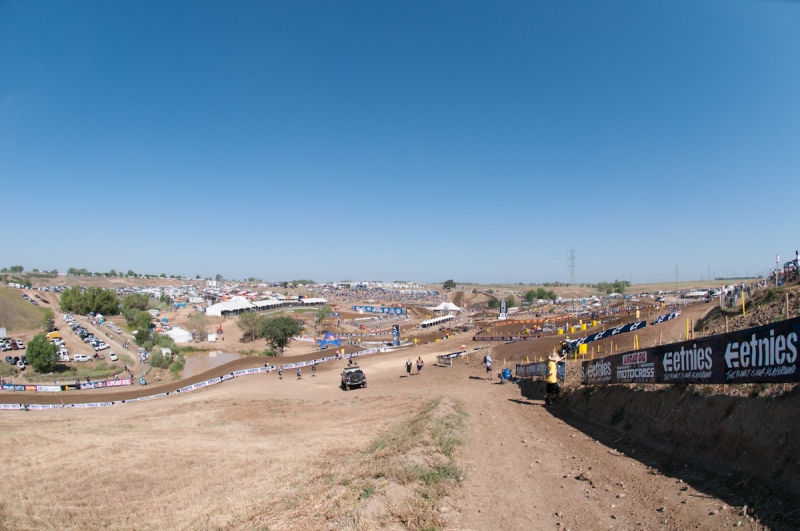 Hangtown has been on a circuit a long time, great viewing there!
HANGTOWN
Norcal's track has been on the circuit for every single year since 1974 which is remarkable. It's been the first or second national for a number of years now and presents a serious test to the racers and teams.
1- Track- It's a good track and there's no track on the circuit that has changed more since I started going there in 1996. It used to be rock hard and dusty but like a lot of national tracks (too many in my opinion) they've brought in sawdust and rice hulls to make the surface almost 100% different from what it used to be. And that's a good thing. Choppy, square-edged and rutty, Hangtown is a man's track. RATING: 7
2- Atmosphere/fans- Another good ranking here as the place is usually pretty packed rain or blistering heat. When Steve Lamson was in his prime, the place went nuts for him. I'm taking a bit off here because the Dirt Diggers crew that run the place can resemble the Sargent in Stripes. RATING: 8
3- Convenience factor: It's a bit far from the Sacramento airport but it's real close to nice hotels, restaurants and things to do. Driving in and out of the place is easy also. RATING: 8
4- History/Heritage: Well as stated, it's an historic national and even before the track was at it's current place, they had a national in nearby Plymouth. Lamson and the Vohland brothers provided highlights over the years. It was the site of a one moto format when it dumped biblical rains on it (Doug Henry and John Dowd winning!) and there have been plenty of cool races here. RATING: 8
5- Viewing: Yeah, it's awesome. From the top of the hill on the far side, you can see 85% of the track as it races up and down a valley. RATING: 9
TOTAL: 39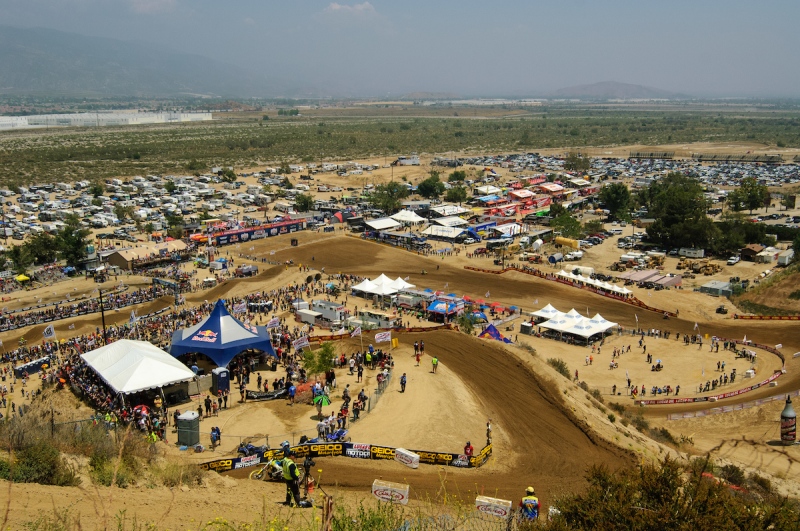 Oh the hills of Helen, they are something else indeed.
GLEN HELEN
On and off the schedule since 1993, The Helen has epic hills and maybe the most unique dirt on the circuit as well as a start straight that challenges every engine builder.
1- Track: Yeah it's pretty good but mostly if they just leave it alone. The hills are way steeper than they look, the square edges get big as do the bumps. Like Hangtown, it's a real challenging track for everyone. The problem lays in building a sx-section with steep jumps that takes out riders, or a 74MPH uphill triple that would spell serious trouble if something went wrong and the persistent flooding of a sand straightaway that confounds riders/teams. Leave the place along and it's great but that doesn't seem possible. RATING: 6
2- Atmosphere/Fans: It's weird, since going off the schedule in favor of getting USGP's, it seems like (all figures are unscientific by the way) the attendance has fallen way off. All the way through the late 90's to 2009, the place was packed and people were rowdy. No one went to the USGP's and it seems like the place can't get back to it's old level, although it's a ton better than the USGP's. RATING: 6
3- Convenience factor: It's in the Inland Empire and not far from all the hotels/restaurants/airports one could want. It's very frustrating to have one way in and out of the track that long after the motos are over, you're still waiting. RATING: 6
4- History/Heritage: Not a ton here besides knowing that it's a home track for so many racers in California. J Law won the overall here! Seb Tortelli worked everyone over in '99! There's a long history of racing here just not nationals. RATING: 6
5- Viewing: Yeah it's pretty good although the track's insistence on selling seemingly every single great viewing spot to an industry sponsor would drive me a little nuts. RATING: 8
TOTAL: 32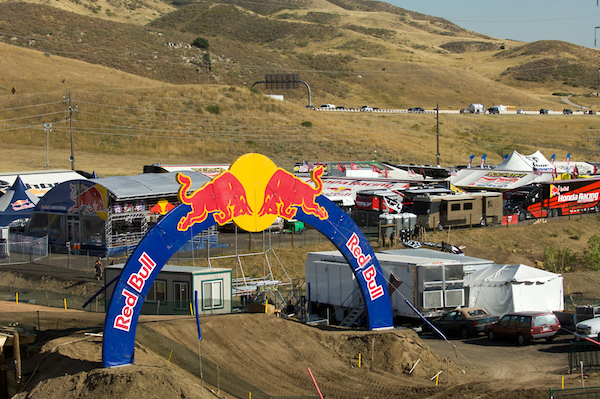 Lakewood's got a lot going for it, including hosting an MXDN in 2010.
LAKEWOOD
The Lakewood track has remained pretty close to when we first started going there and it provides a real challenge with the elevation and usually hot weather. The changes that were made for the MXDN a few years back were all positive ones in my opinion.
1- Track: It's a good one starting with the straight up a hill start straight. Ruts, ruts and more ruts provide a tough test for the riders and regular riders of the track say that outside of the national, it's rock hard. I'm glad that the track hasn't succumbed to the "Let's build a huge ass triple" trend that has taken over a number of tracks. RATING: 8
2- Atmosphere/Fans: Well, it's Colorado so it's no shock that the fans there seem really mellow for the most part. Andrew Short got them up and cheering for a number of years and the last two, three years it seems the fans have really packed the place. RATING: 7
3- Convenience factor: It's great, close to Denver but like Hangtown a tad far from the airport (I mean, seriously, why build the Denver Airport so far out there? And yes, I've read about the conspiracy theories of that) and it's an easy in/easy out type of place. Everything about going to Colorado is easy. RATING: 8
4- History/Heritage: The national's only been around for eleven years but has hosted an MXDN and the only two night nationals in the sports history so there's that. There was some Lakewood nationals in the 80's that were around where the current track is but no one really speaks too fondly of those. The night races will always be something I remember as well as the MXDN so… RATING: 8
5- Viewing: Perfect from almost anywhere. You want to stay in the pits and watch, no worries you can see everything. Same with up on either of the hillsides. RATING: 10
TOTAL: 41
HIGH POINT
High Point, or Mount Morris as MXA used to call it, is a great track that's held a national forever. It's got great dirt, it's a real European-style track that was laid out in and out of valleys. It's a real treasure of the series although I haven't been stoked with some track changes they've made over the years.
1- Track: As I said, it's a good one that always seems to have a mudder or two over the years. There as a massive track overhaul for this year that made the old place barely recognizable but the old track was pretty cool. Riding it and it seems like you're never straight up and down. Off-cambers everywhere. And as I mentioned, good dirt. RATING: 8
2- Atmosphere/Fans: Well, if this was 1998, I'd give this place a 100 but since moving off Memorial Day date the days of people camping all weekend, getting hammered all day and cheering for Bradshaw/Carmichael are over. There might not be a national that's been more affected by attendance with the date change and moving to Saturday than High Point. Still, it seems to be improving a bit the last few years and there are attempts to get people back to the old spirit. RATING: 7
3- Convenience factor: Well, I'm split here because it's close to Morgantown, WV which is a cool city and one I've spent a lot of time in but the closest big airport is Pittsburgh which is over an hour away. I'm not a fan of staying in a different hotel each night either which is what you have to do for this race. RATING: 7
4- History/Heritage: Well, the 2017 re-make made a lot of what people remember about the track obsolete. Still, this place is the Wrigley Field of the national series with some great races over the years and iconic duels between a number of great riders over the years. Stew and RC destroyed everyone then Stew destroyed himself. Bradshaw won in the mud in '97, Kelly Smith won KTM's first ever race in the USA in the mud in 2000, I lost a shoe in '97, O'Mara and Wardy had a killer 125 battle in '84 and on and on. Although Bradshaw Boulevard, the downhill double where James Stewart cartwheeled, the uphill triple behind the starting gate that barely any 125's could clear, the wall berm are all gone now. All in the name of progress I suppose? RATING: 8
5- Viewing: Better than it's ever been before. The track folks have done a nice job of clearing out some trees in order to open the viewing up and standing on the hill by the corner tunnel jump, you can see a lot. RATING: 7
TOTAL: 37
MUDDY CREEK
The newest national but the track itself has been around a long, long time. Muddy Creek was a bit of a surprise national when it was awarded four years ago. It does fit the need to cover the Southeast of the country with a race, kind of.
1- Track: Well it's cool that it's been around for so long but as far as a national track, it's just ok. Narrow in spots, kind of basic for the racers and a first turn that produces crashes 90% of the time, it's not the worst track on the circuit for anyone but it's also not anyone's favorite. RATING: 6
2- Atmosphere/fans: I didn't go to this race last year but it seemed to draw ok most years that I have been there. Again, it's not the most packed race of the year but it's also not the worse one for fans. All of these observations are very unscientific by the way. RATING: 6
3- Convenience factor: Not good really. There's an airport close to the track but it's two connections to get there for most. And very expensive. If you want to fly to Knoxville or Charlotte, it's two plus hours to get to the hotels. Also with few hotels around the area, the prices are pretty high to stay somewhat close to the track. RATING: 5
4- History/Heritage: Well nothing in terms of nationals although there's a photo of James Stewart scrubbing by Mike Alessi here that's pretty epic. You have to respect the fact that most of the east coast greats of the sport have raced here at one time or another in the Top Gun Shootouts. RATING: 7
5- Viewing: Yeah, it's good. From both sides of the track you can follow the riders around it and see just about everything. You can also get pretty close to the track in some spots if you're one of those dudes that like to lean over the fence and tell riders to twist it. RATING: 8
TOTAL: 32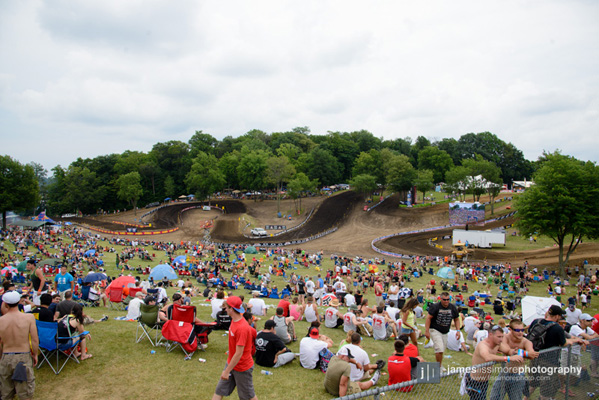 RRRREEEDDDDDDD BUUUUUUDDDDDDDDD!!!!!!!
REDBUD
Perhaps the crown jewel of the series, this track located in sleepy Niles, Michigan has been a fixture on the circuit since 1976 and has held the Fourth of July holiday weekend for that long as well. It's a great track, great crowd and if it's not your top three of national races, you're probably high and/or drunk.
1- Track: Excellent, although they are slowly turning the place into Southwick with all the sand brought in. The track's got the Larocco's Leap (rendered a bit mute with four-strokes coming in), it's got sand rollers, a start with a left hand first turn and all in all, it gets rough and nasty but not square-edgy, more rounded braking bumps. RATING: 9
2- Atmosphere/fans: Yeah, it's great. One of the only nationals that allows full out partying (in the infamous Lot B) and has a strong amateur racing turn-out as well. The stories of late nights at Redbud are never spoken loudly about, only whispered. RATING: 10
3- Convenience factor: Uhhh yeah, not very good. The drive in the morning from South Bend, Indiana is a bit far, you can't really fly into South Bend without it costing a lot and not working out great with schedules so a lot of people go into Chicago and drive which is about two hours. Getting in and out of the track is great, they've worked hard at that over the years. In 1996 our Dodge dually truck and trailer came in the front way and couldn't make it up the hill to the pits. Good times. RATING: 7
4- History/Heritage: A ton of it, as stated it's been on the schedule since the 1970's, it's got an iconic jump that every track now tries to copy (and pretty poorly at that) and has provided memories for just about every fan or rider over the years. I love the jump, the start and the property in general. James Stewart and Ricky Carmichael had an epic battle there, Mike Larocco ghost rode his bike into his teammate after the finish there, Stew jumped the leap on a 125 over and over and the memories go on and on. RATING: 10
5- Viewing: Hey, you can't have everything right? The track's on either side of a hill so you can't see half of it almost no matter what you do. You can see the tops of riders from the other side but that's about it. Hey, it's not perfect I guess. RATING: 6
TOTAL: 43
SOUTHWICK
The sand track is back! After a run of 34 races in 37 years, the track was pulled off the circuit and many thought it was gone forever. A new lease, a new owner and local legends worked together to get it back onto the circuit starting last year. In a series where every track's soil is the same as well as prepped the same, it's great to have a sand track on the circuit again. Welcome back!
1-Track: Although Europeans would laugh at "our" sand track, it's all we got ok? The last few years the promoters ran it backwards and I always thought it suffered from that. I don't know, it just seemed weird and didn't flow at all. The first thing the new owner(s) did was turn the track back around to it's original direction and that's a plus. The Frog Pond Section was great back in the day but it's not able to be run which is a same. Surprisingly in spots, it's got a hard base to it and it's a bit narrow in spots but I don't even care, sand is back! RATING: 9
2- Atmosphere/fans: Before they moved the start forward it was great to be loading your bike onto the gate and literally have the fence jammed five rows deep with fans mocking the riders and cheering for the locals. It's a great area of the country for riding dirt bikes and the fans of The 'Wick have always been great. Rain or shine, they're die-hards. RATING: 9
3- Convenience factor: Yeah, pretty good. Fly into Hartford, lots of hotels there and the track's not far from there. I've always said it's like going to Fenway Park in that the track is located right in the middle of Southwick town. It's bizarre to think that they hold races right there! I could use a good coffee place in the morning on the way to the track but hey, beggars can't be choosers. RATING: 8
4- History/Heritage: Just like Redbud, it's got a ton. The track's been the site of legendary battles over the years and rides from locals that made you look in the program to see who they are. Pat Barton led a moto until late, Doug Henry and John Dowd swept the classes one year. Dowdy almost won the thing when he was 60 years old! To be good in the sand you've got to be fit, you've got to know how to ride it (Kevin Windham just hated the place) and the visuals of dudes tearing the place up is cool. It was a real shame to see it go and it's awesome that the track is back…and running in the "right" direction at that! RATING: 9
5-Viewing: Standing on top of either hill that the track's outer edges touch, you can see a lot. I don't know if The 'Wick is different or not but it always seemed like the fans could get closer to the track than many other nationals. Off the start the track dips into some tree sections that limit some people but it's also cool to see it wind its way up and down. RATING: 7
TOTAL: 43
MILLVILLE
Another track that's been on the circuit a long time, Millville started out in 1983 and has everything you want in a facility (except for one thing we'll get to) and has really improved itself over the years. I've been going to these places for the last twenty years but Millville, being the closest race to where I grew up in Canada, it's been since 1988 for me. Clearing out a field for the pits was a huge bonus for the teams.
1- Track: I don't know, maybe because I've ridden a ton at the place over the years, including some nationals, I just think it's almost perfect for a track. It's got huge sand whoops, big hills, a very fast start, good dirt and there's even the sound of rushing water nearby! Well, "rushing" might be a stretch but you get it. RATING: 10
2- Atmosphere/Fans: Packed to the gills, the fans at Millville are into the racing and love to make a weekend out of it. One of the busier pits of the circuit although, totally unscientifically, it seemed that the attendance was light for a couple of years there. Not sure why. Clearing the trees out and making ledges for the fans on the finish line side was a good move. RATING: 8
3- Convenience factor: Well, as the great Brett Michaels once said, every rose has a thorn and this is what hurts Millville in the final rankings. It sucks to get to (fly into Minneapolis and drive an hour) and it sucks to drive there in the morning (40 minutes from Rochester) as well as if you leave after the race (or not that long after) there's traffic back up. Also, the local sheriff has gotten pretty rich hitting people up for tickets on the way to the track in the morning. RATING: 5
4- History/Heritage: Yeah, it's great. This was the place where Ron Lechien held off Mark Barnett for the entire moto to cost Barney the Wrangler overall #1 plate. It's here Jeremy McGrath tried a ridiculous jump in practice that cost him the '96 250MX title. Millville was where James Stewart and Ricky Carmichael absolutely destroyed the competition and the sand whoops all at once. Local hero Donny Schmidt made the crowd lose their minds when he holeshot in '95. Damon Bradshaw turned pro here in '88. Chicken broke his femur here in '92 and was never the same. Nick Wey even went into the creek! That wasn't a good thing though. RATING: 8
5- Viewing: Well better since those ledges were cleared for sure but it's not great. The trees taken out up the hills make for some exciting racing up and down that you can see but the signature sand whoops can only be seen if you walk over there. So as a spectator you've got to move around and check out the whole track. RATING: 5
TOTAL: 36
WASHOUGAL
Watching old videos of Washougal you see how great the dirt was all over the track and you also see some horrendous dust bowls. It seemed like there was no in-between for the beautiful track up in the Pacific Northwest. I didn't like the massive changes a few years ago that ditched the "catchers mitt" and "Chuck Sun" tabletop. Still a great race though.
1- Track: A very scenic track that is not fun to ride due to the slickness of it as well as the shadows in the back section, there's something about the layout all around the track that makes it pretty cool. I've ridden there a few times and if the riders don't like it when it's sunny out, they should try a mud race there because it's unbelievably slick. Horsepower Hill is great, the finish line whoop section is classic and I like the change to the start a few years ago, made it way more fair and less of a crash fest RATING: 7
2- Atmosphere/Fans: Just like Southwick, the PacNW has an abundance of moto fans and last year was the most spectators I've seen there in years. Lots of people cheering for the riders although it's always better when a local racer, be it Jason McCormick, Ryan Huffman Lance Smail and Tommy Weeck, is battling the factory guys. RATING: 8
3- Convenience factor: Yeah, better we not talk about this? The close proximately of the hotels to the Portland airport is offset by the long drive to the track in the morning, the wait to drive into where you have to park the rental car, the long ass wait to get back to the highway after the race. If you have a flight out Saturday night, forget about trying to watch all the motos before you leave. In and out access at Washougal isn't very good. RATING: 4
4- History/Heritage: The place went bonkers for years when the locals would run up front, it's perhaps the weirdest national of winners when Eric Eaton and AJ Whiting each won their classes. It's where Bradshaw railed the catcher's mitt and so on and so on. The track's been a staple for years and has plenty of cool racing in its history. RATING: 8
5- Viewing: Yeah, not very good. Unless you count the overall viewing of the facility from the announcers tower, then that's pretty good. Hey it's like having a super hot chick for a wife, she can't be great at everything right? RATING: 5
TOTAL: 32
UNADILLA
It's New York's classic track! 'Dilla hasn't been on the schedule as long as the RedBud's and High Point's because it held so many USGPs over the year but it's been forever in our minds as moto fans. From an amazing unbelievable luscious, loam track that had mechanics' picking grass out of the radiators after practice to kind of beat down to now, somewhere in-between, 'Dilla isn't on really anyone's favorites and having high profile riders like Ricky Carmichael and James Stewart openly detest it hasn't helped it out.
1- Track: Well at one time it was amazing, go look through some old Motocross Action's and you'll see what I mean. Nowadays, it's pretty good and a lot better than the late 90's. I don't understand why they don't just move the track over 20 feet and hit fresh ground. Isn't that a good idea? And I'll never understand why the go rid of the dip in the start. Like all national tracks, it's gotten some pretty big jumps in it. RATING: 7
2- Atmosphere/Fans: Great. The Northeaster's are hard core moto fans from back in the day and they have always come out in droves for Una-f**king-Dilla. You'll see more wife-beaters here per square mile than any other track. Lots of local entries as well. RATING: 8
3- Convenience factor: Uhh, not very great. Flying into Utica or Syracuse and then a long drive in the morning. It's easy to get to but there's not much to do in any of the towns and less to do around the track. RATING: 5
4- History/Heritage: Oh man, where to begin? Great USGP's over the years with Decoster, Hannah and O'Show, a MXDN in '87, the Stew landing on RC moto and so on and so on. Heck, Jamie Dobb won a national here! All hail Unadilla when it comes to this stuff. RATING: 9
5- Viewing: Pretty good, you need to go walk over to Screw-U to understand how steep it is but you can see a ton of the track from most places on it. RATING: 7
TOTAL: 36
BUDDS CREEK
Hey don't look now but Budds has been on the schedule for a long time. It's shuffled its dates around a bunch and I don't think any track has dropped off in terms of attendance quite like Budds Creek for whatever reason. A very good track with red dirt that can get pretty hard and slick, we've seen blazing hot days and rain filled ones there as well over the years.
1- Track: As stated, pretty good. It's one of those tracks you never feel like you're just on flat ground. Off-cambers and hills aplenty. Many riders like this place even though the start, re-designed for the MXDN in '06, is absolutely terrible and one-sided. All in all though, a very good track no matter what direction they run it in. Also, why did we ditch that off-camber turn by the pits that was so cool? RATING: 8
2- Atmosphere/Fans: Pretty good, it was absolutely packed to the gills for the MXDN and the nationals back in the Fathers Day day (?!?) were also stuffed with fans. Lately, not so much as the dates move around and the weather gets hotter. RATING: 6
3- Convenience factor: Not so good, fly into Washington D.C or Baltimore and immediately get stuck in traffic for the hour drive south. You'll stay in Waldorf (most likely) and still have a 30-minute or so drive to the track. Saturday night it's the long trek back to DC for your flight. Not much fun. RATING: 5
4- History/Heritage: USGP's, MXDN's and many nationals add up to a lot of things happening at Budds. Doug Henry anyone? Doug Henry again anyone? The red flag thrown in the mudder when it seemed everyone would be swept away. Lots to talk about when it comes to Budds. RATING: 8
5- Viewing: It's kind of like Unadilla really, a big valley with the track running up and down it, viewing is pretty good from either side of it. Back when the track ran around the old announcers tower and when the start was there, it wasn't the greatest but that's changed. RATING: 7
TOTAL: 34
IRONMAN
The newest track on the circuit, it's pretty epic. Or at least it looks epic without the rain of the last few years turns it into rut-fest cross. We've only had one dry year here since the track came on the circuit three years ago but when it is, it seems fun.
1- Track: Fast start, big uphill triple, good dirt (when dry) and plenty of places to pass make for a good race track. The pits are convenient as well. It's a track that when I look at while it's prepped, I think I'd like to ride it. RATING: 8
2- Atmosphere/Fans: I haven't gotten a sense of this yet. As I said, bad weather has hurt the attendance, the part where the fans are is seemingly far from the pits and it lacks the vibe from the more established tracks. The crowd for the GNCC is huge so there is hope here. RATING: 6
3- Convenience factor: Pretty good, fly into Indianapolis and grab a room there. Then you have a long drive in the morning but it's nicer than grabbing two different rooms over two days a hell of a lot better than where you can stay in the town of Crawfordsville. RATING: 7
4- History/Heritage: Well there's been a great GNCC there over the years and it was the site of that great Ricky Carmichael, Jeff Stanton, Guy Cooper, Tim Ferry, Kevin Windham battle in the one and done Legends Race. So, uhhh, not much but I can't penalize it that much. RATING: 6
5- Viewing: Yeah not too great. Riders disappear over the hill a couple of times, if you're standing on one end you can't see much of the other. The terrain just doesn't allow for spectators to look over the track. RATING: 5
TOTAL: 32
FINAL RANKINGS:
1- REDBUD (43)
2- SOUTHWICK (43)
3- LAKEWOOD (41)
4- HANGTOWN (39)
5- HIGH POINT (37)
6- MILLVILLE (36)
7- UNADILLA (36)
8- BUDDS CREEK (34)
9- WASHOUGAL (32)
10- GLEN HELEN (32)
11- MUDDY CREEK (32)
12- INDIANA (32)