What's the big deal, right?
What's the big deal, right?
The 2018 Yamaha YZ250F hasn't changed, so what is there to know? Well it's always good to re-visit any machine at anytime because you never know what you can feel or find out just in case you missed it the first time. So here are ten things about the 2018 Yamaha YZ250F that you can learn about or maybe just get that re-fresher course you need.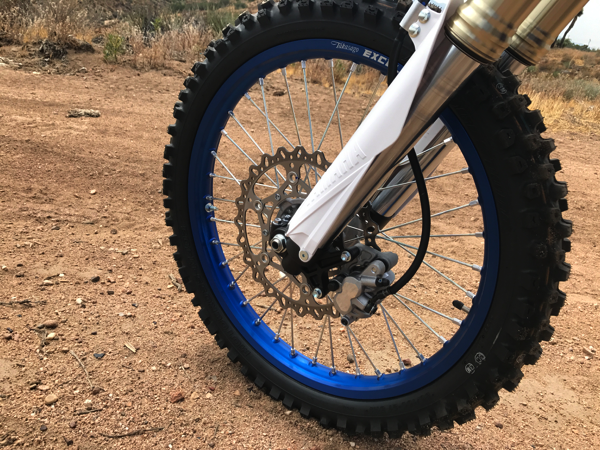 The blue wheels are a nice added touch to the 2018 Yamaha's.
If you're in the market to buy a 2018 Yamaha YZ250F and are able to get a better deal on a 2017, go ahead and do it! The 2018 is the same bike as the 2017 (albeit updated shroud color/graphics), so save yourself some money and go with the 2017 version.



The 2018 Yamaha YZ250F engine is powerful and has incredible amounts of torque for a 250F. If you are looking to lug a 250F look no further than this machine right here. Usually it is very hard to carry third gear through corners, but the Yamaha's torquey feel lets you do just that. The YZ250F's throttle response and bottom end feel is unmatched and if you are a older rider who doesn't want all of that 450 power, the Yamaha could be your weapon of choice.

For you hyper active Justin Barcia revving riders out there there is something for you as well with the YZ250F. If you're wondering about mid range and top end the YZ250F is great in this category as well. Mid-range pull is strong and transfers into a healthy top end that is second best to the KTM 250 SX-F. The 2017-2018 Yamaha YZ250F pulls longer in each gear than the 2016 version, but still doesn't quite have that free-revving long top end pull like the KTM 250 SX-F does.



You will not find a better balanced 250F than the Yamaha. The KYB suspension moves in the

stroke freely, but gives the rider tons of comfort when the track gets chewed up. The fork soaks up big hits well, yet can also pick up the small chop to where the rider doesn't get deflection through the handlebars. The KYB fork has a wide range of adjustability, which lets a 150 pound rider to even a 175 pound aggressive rider feel comfortable out on the track. The stock fork height (which is 5mm) works well to give the rider good straight line stability and the ability to carve an inside rut well. Running the shock at 102mm gives the Yamaha a balanced feel on the track, but don't be afraid to try a sag as high as 100mm if you want a little more cornering character. Stiffening up the high speed compression a quarter turn helps the shock hold up just a little more on g-outs and still provides enough comfort on choppy corner exits.




The chassis is a blend of forgiving aluminum, but has enough stiffness to carve up ruts with ease. I did find out that the 2018 YZ250F's frame character gets better past the 10 hour mark. Initially I thought it had a stiff feel, but as the hours went on the frame loosened up and became even more compliant over square edge and braking bumps. The YZ250F isn't the lightest feeling bike in the class, but doesn't feel heavy when riding. The Yamaha has more of a front wheel biased cornering character and provides ample grip through ruts. The front end can get a little vague (or loose) when there is nothing to bank off of however. Adjusting the sag to compensate for this helps some with this sensation.

I have said this in my podcast before that the ergonomics of this bike isn't horrible, but the visual aspect of the shrouds turn some riders off. If you measure from each end of the shroud and compare to other bikes (in its class) the Yamaha isn't that far off. However when sitting on the bike it seems like the Yamaha is much fatter through the mid section than anything else out there. This takes some time to get used to, but once you're on a Yamaha for a couple days those sensations go away. You can get a set of Cycra shrouds to help your visual fat sensation as the Cycra Powerflow shroud kit is thinner. The rider triangle (footpeg to seat to handlebars) is comfortable for a wide range of riders and it feels like you are sitting on top of the Yamaha not in it.

I have found that the stock mapping on the 2017-2018 YZ250F is best stock. I have played around with tons of fuel and ignition timing, but always came back to the stock map, which provided the most power throughout the YZ250F's range. Trust me on this. I have spent many days trying to make it better and I came up with nothing as good as ALL ZERO's..

The Yamaha YZ450F comes stock with Dunlop MX3S tires and the YZ250F comes with Bridgestone 403/404 tires. Just like we talked about in the Rocky Mountain ATV/MC Keefer Tested podcast there is a reason for this folks. I am sure the Yamaha R&D department has tried Dunlop MX3S tires (on the YZ250F) and decided that the Bridgestone's work well enough to remain on this bike. Yes, cost sometimes comes into play with tires on production bikes, but don't stress as the Bridgestone 403/404 combo on the YZ250F works well.

"Keefer can I remove the backfire screen on my YZ250F and will it get me more power" is a question I get asked a lot. The answer is "yes you can remove the screen" or buy a Twin Air aluminum cage/filter for your YZ250F. But……Be careful when you go to remove your dirty filter when using an open cage design. Dirt particles can get into your intake much easier (than with the stock screen-type cage) and will cause top end damage, so handle with care when taking your nasty filters out of your airbox.

Look for an all new Yamaha YZ250F in 2019 folks. Engine updates, frame and bodywork changes should be on tap for next year's model. The Yamaha YZ250F didn't change in 2018, but when you're as good as the Yamaha is that may not be a bad thing. It's closest competitor, the KTM didn't change much neither, but with Kawasaki making the KX250F a little better we could be in for a closer 250F MX Shootout for 2018.




The Yamaha YZ250F remains unchanged for 2018, but it remains a lethal mid sized motocross weapon.