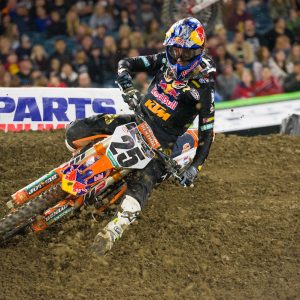 The Marvin Musquin Whoop Debate
If you go back a few weeks ago before the season started there was a conversation that Jason Thomas and I had on the Pulp MX Show that involved Marvin Musquin and has whoop speed/ technique ability. JT argued that Marvin's inability to skim larger size whoops could hurt him in the championship chase and that he would not be able to hang with the other championship competitors like Eli Tomac if the whoops were big. My rebuttal to JT$ was that MM25 is a professional and that he will figure it out and that it didn't matter anyway because the main event whoops are so chewed up that most riders jump through them anyhow. Jumping through them ends of being the fastest way through them and is more consistent.
Now it's easy to sit back and arm chair quarterback this thing, but lets fast forward to Saturday night in Houston, Texas and break all this down for you. Marvin was getting bumped around in the heat race a little and was attempting to "jump" through the whoops and proceeded to get front nose heavy and endo, thus injuring his shoulder. After this happened all I could do was cringe that Marvin got hurt, but also cringe because my twitter feed was about to blow up with messages telling me that JT was right and I was wrong. I will be the first to admit that JT was right and Marvin does have a whoop issue and that he was pre-mature to jump the whoops in the heat race Saturday night. If Marvin would of made it out of the heat race and into the main event I feel that his jumping style would of prevailed once again through the NRG Stadium whoops, as they once again got broken down heavily in the main event. We saw more than one or two cashes in the whoops Saturday night, but Marv got the worse end of it by far.
Now this leads me to not also admit that JT is right, but also go back and really dissect why Marv is having trouble skimming whoops as good as some others? I am no where near inside his camp, nor am I as near talented of a rider like Marv, but I do understand moto and wanted to break down what I think the problems are. I went back and watched a few laps of ten main events from last year's SX series. I sat and studied (just like he does I am sure), watching Marvin and his unique JMB whoop technique. Out of the ten main events I watched eight of them I spotted Marvin jumping through and not blitzing! Originally I didn't think he was using that technique that much, but after further inspection, I was mistaken. Typically riders that can blitz whoops the best are either strong as an ox and built like a shit brick house (think Weston Peick), have balls of steel (think James Stewart) and or have a stiffer fork setting than most (think Chad Reed) that is tailor made to hit whoops at speed. Marvin is not your ripped, most muscular rider, so finesse and talent needs to get him through whoops and around rough tracks the best. When I think of Marvin Musquin I don't think of "Balls Of Steel". I am sorry, I know he is a talented rider and super fast, I just don't think he likes to hang it out like JS7 once did. He rides within himself and is calculated most of time. When it comes to fork settings, I can watch MM25's fork and can tell you it doesn't look nearly as stiff as Chad Reed's or even his teammate Broc Tickle's forks. It is set up little softer, so Marvin can carve corners with fury and get front end bite, which he does!
So why didn't I just agree with JT at the beginning of the year and say "you're right JT, Marv will suffer from some whoopitis of some sort in 2018"? My thought process was that the new Factory Edition KTM chassis is stiffer and that will help in the whoops under heavy load and Marvin will adapt and start blitzing just fine because he is ultra technical and talented of a racer. At A1 his jumping technique worked great and I was sitting pretty and telling JT "I told you" I told
you", but little did I know that Marvin would resort to jumping through the whoops in Houston so quickly in the night's program. Musquin was reported to have a crash before the season started at the practice track (reported by Chad Reed, when Guy B from Vital MX interviewed him before A1) and maybe that just put something in his head. Maybe that something was that he was going to stick with what he knew and what was winning him races beforehand and that is what lead him to start jumping through the whoops so early, because he was uncomfortable blitzing. Most people that read this know how mental our sport is, but from the outside looking in, it just looks like you have to ride fast, train your balls off and you will succeed. Naaaaaaa. There is so much more than that it's ridiculous. You can do all the laps in the world, ride hundreds of miles on your road bike, but if you're not mentally strong in one area of the track, that little guy in the back of your head will always be there to haunt you. I don't know if Marvin crashing in the whoops Saturday night was just coincidence and that it should be chalked up to the "shit happens" column or if that little guy in the back of Marvin's head reached out and reared its ugly head? Whatever the case may be I hope Marvin gets healed up soon, gets back on that KTM and blitzes the crap out of the next set of whoops on Saturday night. Watching Marvin ride is a thing of beauty and I can't be the only one who learns something from him every time he hits the track.
Oh and thanks for all the reminders on my twitter about what I said to JT on the show. I am now making a shirt for A2 that simply reads "JT KNOWS".