Photos by James Lissimore
What a 450 Main Event right? Hell, the 250 Main Event was great as well! Most Saturday's I am home with my family enjoying my day, but when it comes to Saturday evenings that is spent on the couch studying the race. I usually like to watch the race with just my family and not have people at the house. The reason being is that I like to study the riders and watch the race in peace, instead of people talking or asking questions while the race is going. Nothing more annoying when you're watching the race and someone is next to you on their phones asking you to watch the latest Jurassic Park movie clip or Axell Hodges edit.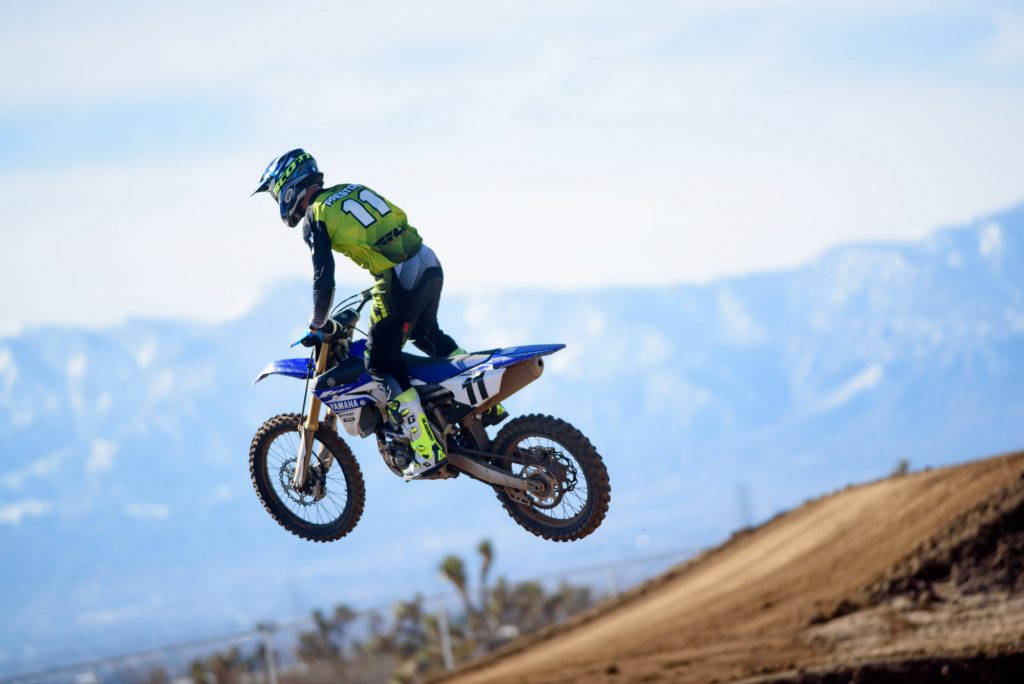 However, one person I love having over my house on Saturday evenings, when the race is on, is my buddy Travis Preston. Travis is your 2002 AMA 125cc West Coast Supercross champion and has had many Saturday night main events under his belt. I like to hear his perspective on things when watching the races and see what his thoughts/comments are. I mean how many times do you get to watch a race on TV with an AMA Supercross champion? Not that often right? Travis was a charismatic rider in his day and has a vast amount of knowledge of riding technique, testing and racing. I thought it would be cool to share with you all what TP mentioned to me as we enjoyed the race on the couch from Saturday night.
Rider Interviews
Preston-"Most of these post-race rider interviews are boring Keefer. No one really says anything that is worth any substance".
Amen, Travis, amen! As we sat back and watched these rider interviews I could tell that TP wasn't amused or drawn into what these guys were saying. Can we get one guy to please just speak to us like we are normal human beings and not some robot worried about grading him on his sponsor list speech. I guess out of all the rider interviews that we had on Saturday night TP thought Plessinger had the most real speech of them all. I mean the dude was sick as hell and couldn't really BS could he?
Pulling Off To Mechanics Area In Main Event
Preston-"I cant believe these guys! Man, I would have never done that when I was racing. I either would have to be really hurt, as in broken bones or if my bike was damaged, I would have rode it until it fell apart".
Travis didn't like the fact McElrath pulled into the mechanics area with some sort of problem with himself after his Main Event crash. "If he can work his way back into 15th place after pulling off for a bit in the mechanics area imagined if he would of just stayed out on the track the entire time. He might of even salvaged some more points towards the championship".
Eli Tomac's Main Event Blunders
Preston- "I don't understand how Eli is making all of these mistakes when he really isn't under any pressure".
We all have seen Eli make some mistakes and some weird moments in racing, but even Travis is scratching his head at what is going on with Eli at time. "Supercross is tough and this track tonight is extremely challenging, but how can you make mistakes when you're not really fighting for the championship. I also wonder why he didn't move up that many positions in the Main Event when his bike wasn't visibly beat up"?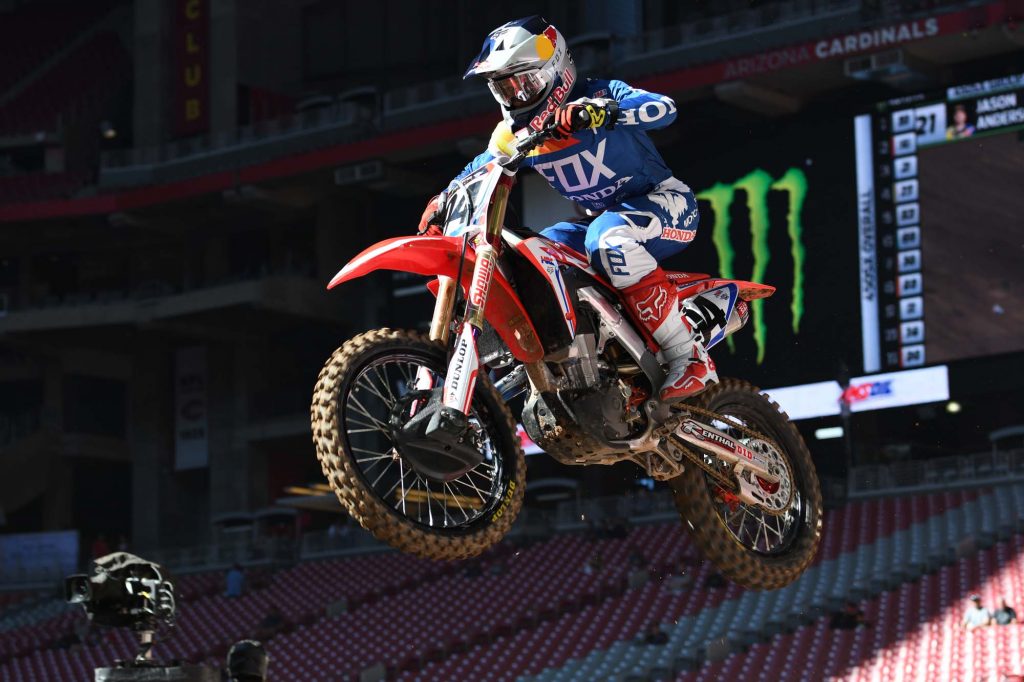 Roczen Doing Well On A Tough Track
Preston- "Keefer, how cool is it to see this Roczen guy riding this technical track so well? The dude has a gnarly injury and is excelling on a track that makes you use your brain more, is filled with ruts and is super technical".
Travis had something here. Roczen is definitely a finesse rider and is great at using his legs when it comes to riding. Next time you watch him race, look at his foot placement on the bike. His feet are always in the right spots! Tucked in close to the frame and on the balls of his feet! It's impressive to see Kenny catching fire as of late!
Aaron Plessinger Being Sick
Preston- "It takes some real mental effort to ride through what Aaron just rode through. To be feeling like crap and then having to go lay down fast laps on a insanely technical track is something that you can't explain to people".
I hear TP on this one….I mean when I am sick I don't even want to to go test, let alone go hang it out and race. To see how drained Plessinger was at the end of the race proves how gnarly that race was for him. I can guarantee you that he will be taking more than a couple days off this week to let his body recover from that one.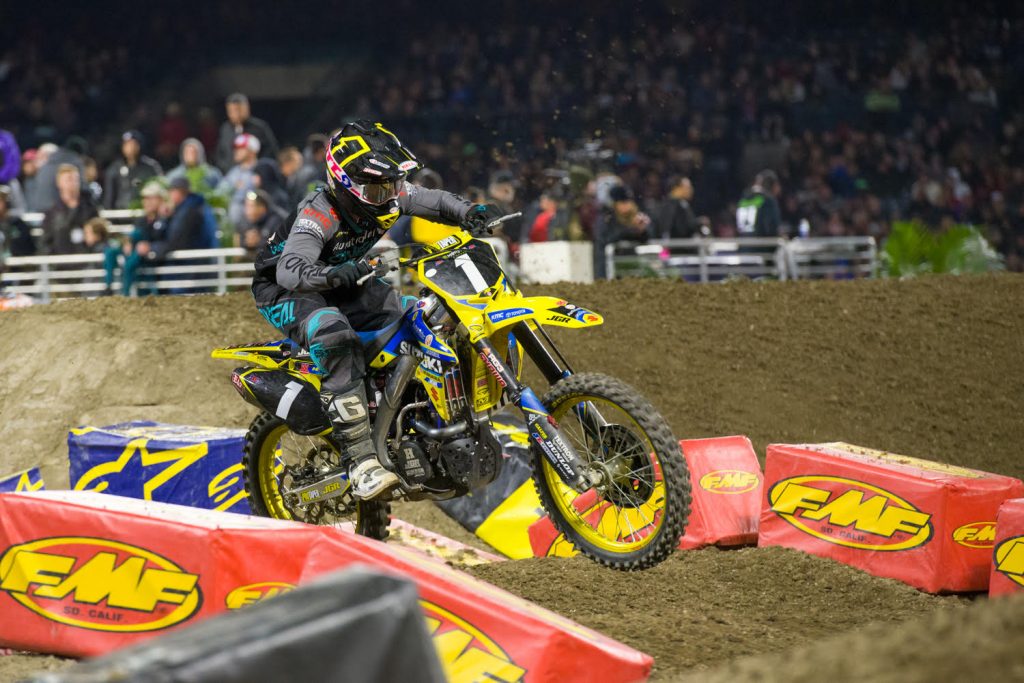 Hill Looking Better
Preston- "It's good to see Justin Hill riding better and making that number 1 plate stand out more for the JGR guys".
TP really didn't elaborate on if he thinks the bike is holding him back or not, but I mentioned that I don't think it is the bike at all. I think the guys have stepped it up and Justin is in a little bit of a slump. Again, this was a technical track and Hill has stated that he is a technical type of rider, which this proved on Saturday night. Here's hoping San Diego is technical as well and we can see more of the JGR Suzuki rider up near the front.
Anderson Take Out On Musquin
Preston- "Yes! I love it! He is trying to get to the front and wasn't taking no for an answer there!"
I thought it was a great move and Marv maybe could of slowed down a little and could of made it out of that ok. I don't Marvin thought JA would come in that hot, but that shows me that the respect that Marvin and Ryan had at the Baker's Factory last year is not there with Jason and Marv this year eh?