Photos by James Lissimore
J-Bone is always an amazing interview, he's incapable of not being honest and he's a good story teller. Here's his interview from this past Monday night from the Pulpmx Show-SM
Justin Hill – what's been the biggest change these last two weeks? This weekend he was fantastic. He took the win. Everyone's happy for you guys and your team. You went out on a limb and picked up the 250 team full-time from the guys. To explain to us, is it more Justin or was it some bike stuff you guys found the last couple weeks? What's happened? What's been the biggest reason?
J-Bone- The last couple weeks honestly it's been him. Before that, it's been the same bike for the last three weeks. To back up, he felt really good. Then he got sick before the season started. Then he went out and did a moto with the guys. It didn't go as good as he was hoping, so I don't know if that got him a little nervous or what. But went to the first race. It didn't go to plan, but didn't go bad. But he didn't panic. He wanted to stiffen his bike up quite a bit. That's what he felt like after he watched it. He just tried to think how he always went fast. So, went stiff. We went way too stiff going to Houston, and then Houston was the worst race we had. Then went back to work the next week. Changed it up. Went to the race. He felt really good but he didn't get the position he wanted, but he was happy with the bike. So then we decided to leave it and just let him get used to it so he knows what it does. That's pretty much what we've done.
Each week he's improved. The craziest part is before the podium last week, he was sick all week so he didn't ride. So then I'm wondering, maybe he was doing too much to try to get himself… When you don't do good, he was probably going to the gym a whole lot, riding a whole lot, doing everything because now he's bummed out he's not doing what he should be. But to his credit he was awesome and never complaining, never blamed the bike. We weren't really freaking out too bad either. He honestly just turned it around all on his own. The only thing I will say, during the week last week he did work on starts a little more and different things there that the guys worked on. But other than that, nothing changed with the bike.
It's the first Suzuki 250 win in five years, I think. Five or six years.
Yeah, I think it was Anderson maybe the last one. I think Anderson said '13.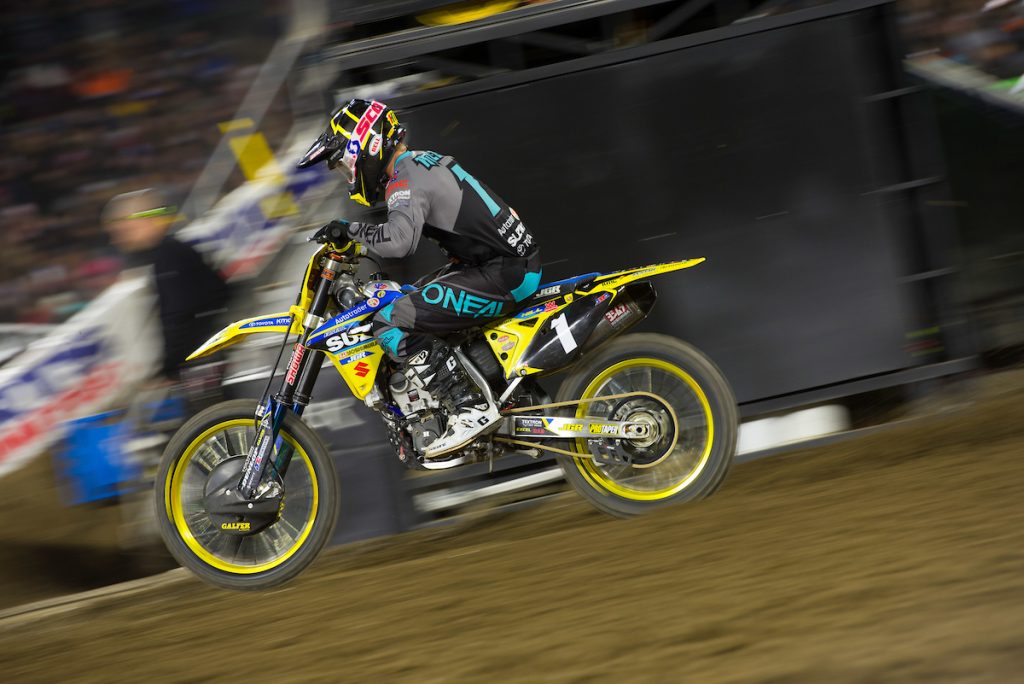 So you're regretting not putting the W on the beginning of the year, the 1W.
It's funny. When we put the W on both races have been good. I was laughing. If I knew that's all we needed to do, I'd have done it a long time ago. It was kind of a joke. Normally you don't do that. When I was talking to (Jeff) Canfield (AMA) he said, you got to run 1w at the east/west shootout thing. Usually it's only Vegas. But now there's two of those, so I made number plates and I was joking around. I said, we should just put these on and see if our luck changes. Which I don't believe in that anyway, but we did it. Then I thought maybe it would just get him excited that we did something different. That wasn't it, but we did do that the weekend we got on the podium. I had people on the team going, "Hey, is that new today?"
I'm happy for you guys. That's awesome, man. That had to have been a lot of pressure. You signed the defending champion away and he struggles early. The bike of course isn't quite there yet. Probably a new one coming next year. So, a lot of people including myself are talking and writing and wondering what's going on. You validate it.
Yeah, we see it all, hear it all. It's frustrating because people don't believe. When he said he really likes the bike, he was bummed because people don't believe him. They think he's just saying that. He really does. He really does like the team. It's so hard because when you're not doing good it's hard to believe that that's all true because everyone says that about their team or their bike no matter what. So that's when it's hard. When you feel like you're telling the truth and it's not showing, it's kind of a bummer.
Obviously you know Phil and my relationship is pretty good, off the record and just talking Phil said the bike is better. The bike is way better than last year. He's genuinely not complained about the bike one time to me, and Phil complains about everything.
That's right.
The status of Bogle – surgery. We assume that Mookie's going to slide over and take that spot now unfortunately for Bogle?
Yeah, it's a bummer that Bogle had the crash this weekend. He did have surgery today.
He broke his upper arm, humerus?
Actually everything went good. I talked to Button earlier right when he got out of surgery and then Bogle texted me after. Told me everything went to plan. Surgery was successful. Everything went good, as good as it can go. Now he'll start recovery. I don't think they're putting a cast on him, so he can do therapy quicker than usual. We'll just see. I'd have to say supercross is most likely not going to happen. Might as well just get ready for outdoors early for him. So I didn't get it all figured out today, but that's most likely the plan.
That Mookie will move over?
Yeah. We haven't figured it out, but that's the obvious…
What do you mean you haven't figured it out? We've been talking about this every week about getting Mookie on the team and making it happen.
I know.
It's got to happen. It's got to be that easy. No?
It's easier now.
Newf, can you believe Bogle? He wins a moto at Lakewood last year with RCH. He wins the overall at Budds Creek. Debuts with JGR at Monster Cup, knocks himself out. Can't start this year because of another crash and now broke the upper arm. Dude.
JBone: It's horrible. Really bad luck for sure.
You got to feel for Justin Bogle.
A bummer, to be honest, all three of those injuries were not just something that he did. That's the worst part.
You're right.
When he was at Monster Cup, that Hept kid kind of just cross-jumped on accident and took him out. Then chain broke before the season. Then now this happened which wasn't his fault either. He just got landed on.
Stjernstrom told me a story. There were some gnarly whoops at the Kawi track and Stew was going faster and faster through these big whoops, and Bruce was like, or someone said, "You got to slow down." He was pissed. "You're going to skip a whoop and die." So, you only go through these this fast, James.
He thought he was doing a favor because they would say stuff about the bike and he said, "Hey, maybe you're too fast for this bike? You need to slow down and let the bike work." If you're racing a car and you go into a corner wide open and turn the wheel, sometimes you just got to slow down. The bike isn't going to do it all. So, it was like, he tried to say it in a nice way, maybe this bike is too fast or doesn't work for you. Then they took it like they needed to go to a different team. Maybe that bike just isn't good enough.
But that wasn't what he meant. He was trying to say, you need to slow down. You're willing to go faster than these bikes are capable of, any bike. He was. He was willing to go into a whoop section wide open and see what happens. There's not many people that will do that. The first race it worked for him, he went into the whoops wide open and endoed. He didn't even do another lap because back then you didn't have to stay on the track. So he went back and hit them one more time and blitzed across them. He just hit them faster. That's the only thing he knows. If it doesn't work, go faster. He would do it.
The Stew crash in Phoenix in '05, when he first turned to 250s that year. I was in the mechanics area down there and he's going across the start straight. It's a left on-off or something. He's hitting the corner almost horizontal to the ground, and then he's landing on top of the on, already turned with the front wheel a little bit and then skipping off like in Excite Bike. I was like, oh my god. This is gnarly. This is practice. Eventually the front tire – because I imagine there was only two tiny knobs of rubber contacting the dirt – just gave away and he broke his collarbone. I remember thinking, you can't keep doing that. The bike can't work like that. Your tire will not have traction.
Vegas the year he actually was 1w because he won the championship and he was doing that quad on the front stretch. It was super big. No one was even thinking it. And then he ends up breaking his collarbone too because he crashed. He was launching out onto the flat in front of the mechanics area and he flew into the mechanics. It was the craziest thing I've ever seen. It was the highest I've ever seen anybody go and he flops right in front of us. He did some amazing stuff for sure.
Back to JGR Suzuki. Hill talked about in the press conference about maybe 450 east coast. What can you tell us, if anything?
I told him I want to see how he rides it. It's really hard to say at the moment. He brought it up to me last week and I said, we'll have to see. I need to figure out this Malcolm piece. I have a few things we need to figure out, and let's talk about it later. And then of course after he wins on the weekend he asks me right after if he can do it. We'll let him ride one and see what he thinks. He hasn't even ridden one yet, so kind of hard to throw it out there. But if he feels good and he likes it, after he rides and we think it's a good decision then yeah, we'll give it a shot. If not, we've got plenty of time.
We assume the Mookie thing is going to come together. So you would put three back on for a few east coasts then?
Yeah, I guess that's the tricky part. That's been the whole thing sitting here trying to plan all this. Trying to get three guys. It sounds easy, but it's not super easy. The bummer is now that Bogle's hurt it does make it a little easier because if I did do it, we already have mechanics that are west coast guys that won't be doing stuff.
You can make it work.
We can figure it out. And it's a lot easier when we get on the east coast. It's been a little tougher to be out in California. We don't really have as much stuff out there. Everything's here. We'll just have to see.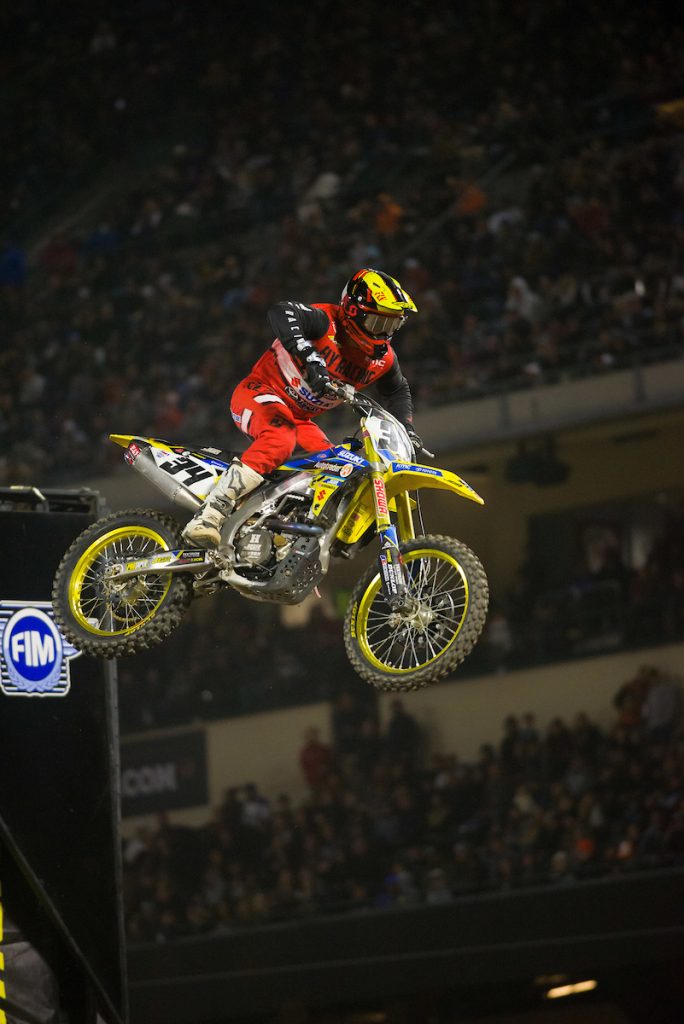 Besides Hill winning, which was awesome, honestly Weston Peick for you guys, he's been killing it.
He rode great this weekend, too. He crashed. Crashed in the first turn, came all the way back to the same group he battles with every week, so that was pretty cool.
He was dead last or near it and wow, what a ride. All year long, man. He's been very good.
Yeah. I'd say the only one we struggled was the weekend before we struggled a little bit with those ruts, but he saved like ten crashes just because he's so strong. Pretty impressive. I actually laughed. After the race I'm like, man, you couldn't save them all. I knew we were lucky like ten times. You finally went down but that was impressive to even not crash before that. He rode awesome.
We had him on last week and I said, "You should have died ten times in the first three laps."
Oh, for sure. It was crazy. The first lap he almost wrecked twice super bad, and he still kept going for it. He was like, "Man, I should have just took a seventh, but I couldn't." I like that. He was going for it.
He's been riding very well all year long. Very good job for Weston.
Yeah, he impressed me for sure. He's doing awesome. He really likes the new bike, so that's cool. The new bike suits him a lot. Last year's bike felt like it rode low in the back and this one is a little higher for him. It's funny. It's like a comment some people don't love, but he loves it. All you got to do is lower the back if you don't like it. I don't know why people always have so many issues with a bike that's stock. Who cares? Make it what you want it to be. They all talk about it being stock. That doesn't matter. He liked this bike right away, so that helped a lot. It took Bogle a little longer to get used to it. Maybe he liked last year's bike way more for him, but the bummer is he's all liking it now and getting up to speed and then this happens.
What about Phil? How do we feel about Phil? Some big crashes.
He's definitely showed improvement. I'm bummed that he didn't do what he can do. He still didn't do as good as I thought he could do. It was a bummer. Every time he was in a good position something happens. A lot of crashes. Even this weekend he rode great. The first lap got into sixth right before the finish. I'm saying he's sixth place, and then he falls. Just a lot of crashes that some are his fault, some aren't. Just bad. He's trying hard. He eats right. He trains hard. He does all the riding. He's doing great at the test track. Everything's perfect expect for the race day. The effort is great, we just need to figure out how to obviously get some results. He has some more to do it. Little break will help him. He needs to heal up because the sucker is tough as nails. The first race he breaks his ribs. That's not a good way to start. That was like the first practice. Terrible.
Then Hill feels like it's his fault because they were riding together, and Hill turned the corner and he was going to roll the whoops and he decided to blitz them. So then Phil follows him, but he must have decided even more last minute. So he didn't make it to the end and then he just endoed. Then that's when Hill afterwards felt terrible. He was like, man, I should have just rolled them and then Phil wouldn't have crashed. I'm like, you need to quit taking the blame for Phil. He could have rolled them if he wanted to.
How beat up is Phil right now? He's just so beat up.
Then he hurt his knee, his ribs… What else is hurt? There's got to be something else. He's super tough, though. Most people I will say would not have rode probably four of the races so far. He would rode one if we waited until he was healed up. Definitely the effort. And honesty he was passing and pulling away from Hill there at the beginning. It wasn't what I was expecting. At the practice track, Phil's been killing it. He's been the fastest guy a few times. If he rode that way, he would be on the podium if he could ride how he does at the test track.