There aren't too many more bad dudes on a dirt bike than Ron "The Dogger" Lechien. And there aren't too many racers who looked cooler on a bike than Ronnie either. With that in mind, Tony Blazier dug up some old photos of Ronnie's best looks and I called him up to tell us about them.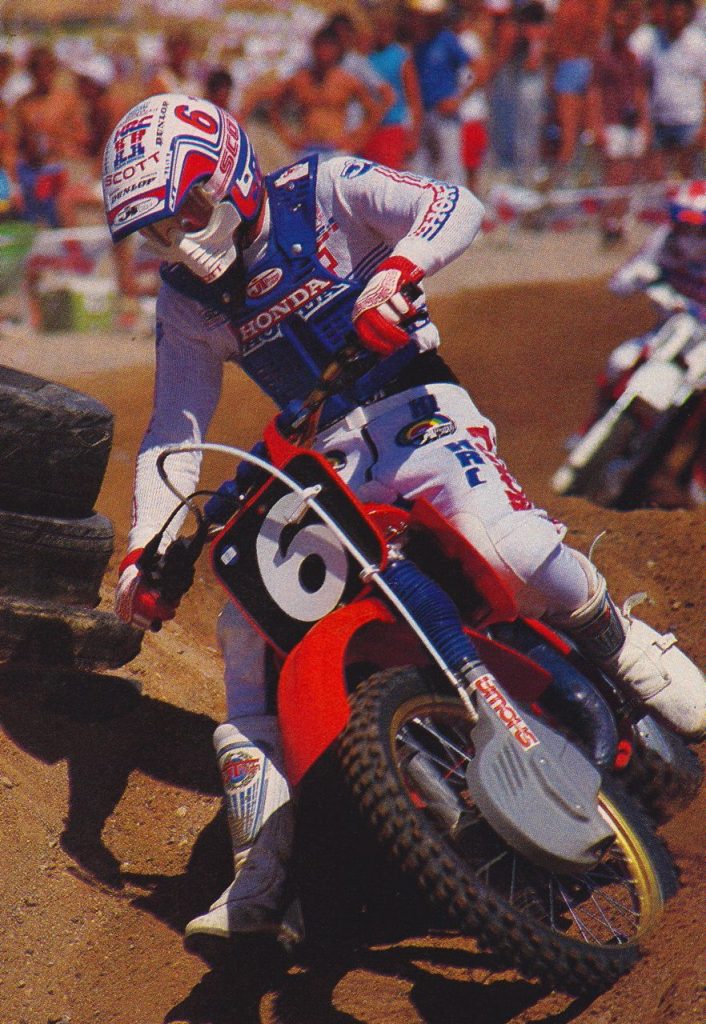 1985: "I spent a lot of time on the helmets and stuff. This paint job scheme and everything just worked out really good. They had a lot of different combinations at JT where I could either wear a red jersey or blue and red pants. This photo was actually taken at the Las Vegas national in '85, the 125 race. I think it was about 110. I know those are those vented, the old JT fully-vented white, just as light of colors as I could get for the heat. That whole year I kind of just changed up my look with maybe some blue pants and a white jersey, or a red jersey and something. There was just a lot of different looks. That definitely was one of my favorites, just with the works bikes looking so bitchin and the gear. That HRC down the front of the pants was kind of my idea. A lot of people kind of started doing stuff like that after that. I remember RJ and Fox started doing stuff, putting HRC or stuff on their things after I did that. I remember calling them and going, "Hey, might want to put HRC down the front, because they always put the RL." Like the gloves, they had blue gloves, they had red gloves. You'd just kind of change it up each week and kind of tailor it to something different.
If you look at these gloves,  I used to kind of cut the two finger ones off the front sometimes. I figured that would give me less restriction and I wouldn't get as tired if I didn't have so much restriction! If you look, there was a lens that Bevo had that was like this rose lens and he used to tell me that it takes less strain off of your eyes so it would help you with this and that. I bought into it and I wore that thing like that all year in the outdoors series.
JT made me custom boots. I don't know how many sets they'd make for me a year but it was at least a pair every two or three weeks for sure. They were just so soft. I'm actually paying for that these days with my feet. My freaking feet kill me these days. I don't know if just so many years… I think the boots were just so soft. I used to like my boots really tight. I don't know why I did, but I did. Now from so many years of just banging my toe. You land off a big jump and the boot stays there but your foot inside the thing just jams on the end of the toe."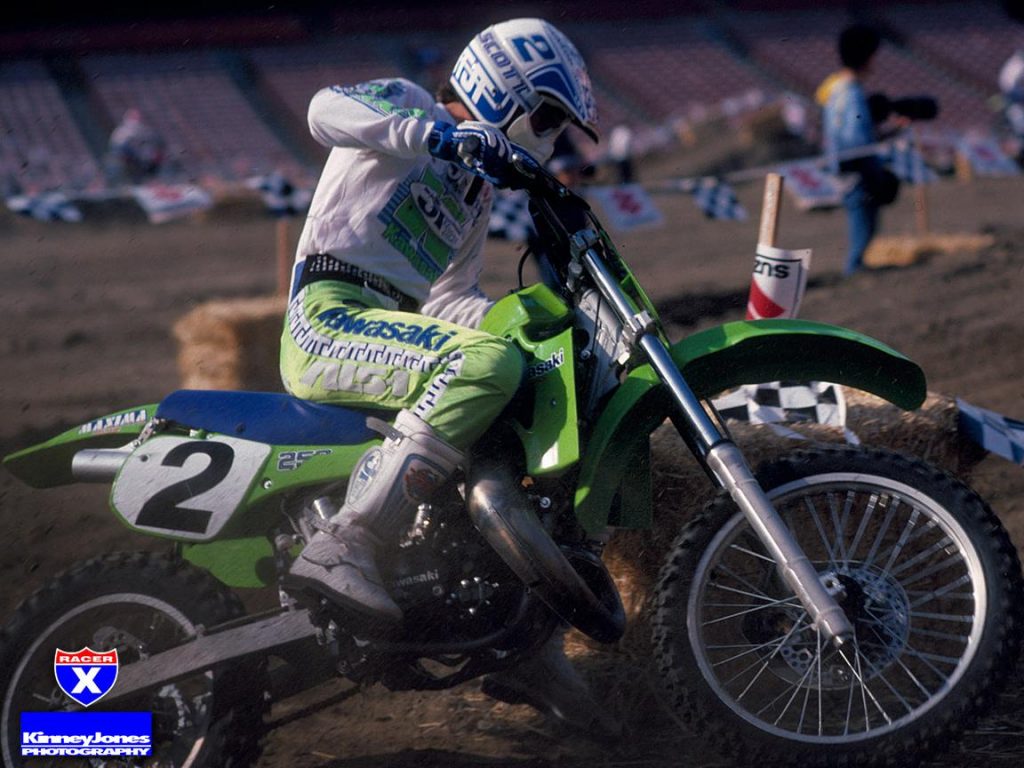 1986: "I was kind of transitioning to the Kawasaki still and trying to get used to it coming off of the works Hondas and stuff. We've talked about it before, but I signed that big contract with Kawasaki. That's one of the lowest numbers I ever had besides should have been number 1 in the 125 in that year if I rode that class. It just was a tough year for me. I think I dislocated my shoulder at Gainesville and had some injuries. I wasn't working at it real hard, and trying to get used to the bike. It just was kind of like a "meh" year. I agree, this look definitely wasn't one of the best get-ups I had that year. I think Troy (Lee) painted that helmet basically just a number. I can't tell what was on the top. I think I was still doing all the decals and all that stuff on the top.
There was some other stuff. I had some white pants with the blue Kawi and stuff. It just didn't pop that much.
There was a time when all the gear companies would put the OEM's name on the gear. I remember when the factories came to them and said, you can't sell pants with our deal on it. So they had to quit doing that and they started putting JT on the side or something different. I can't remember whether we had to or they just sold them like that. I think they sold them, the green with Kawi and the red with Honda and the blue stuff or whatever with Yamaha, or the yellow stuff. They used to just put their brand name on there. I think there was a time, I remember when it happened, and they were told they can't do that anymore.
I probably stopped wearing kidney belts in the mid-90s- maybe when I started going over to Europe and racing over there and stuff. I definitely haven't worn one in a while. I wouldn't say I wouldn't wear one if I had that same one, because I really liked those JT ones. They were super light and thin. I do like the feeling of that, the stability that it gives you. I just got an EVS one a couple months ago or something and been kind of trying it out again. I had a big crash last year and hurt my lower back. I like the stability and the feeling of it."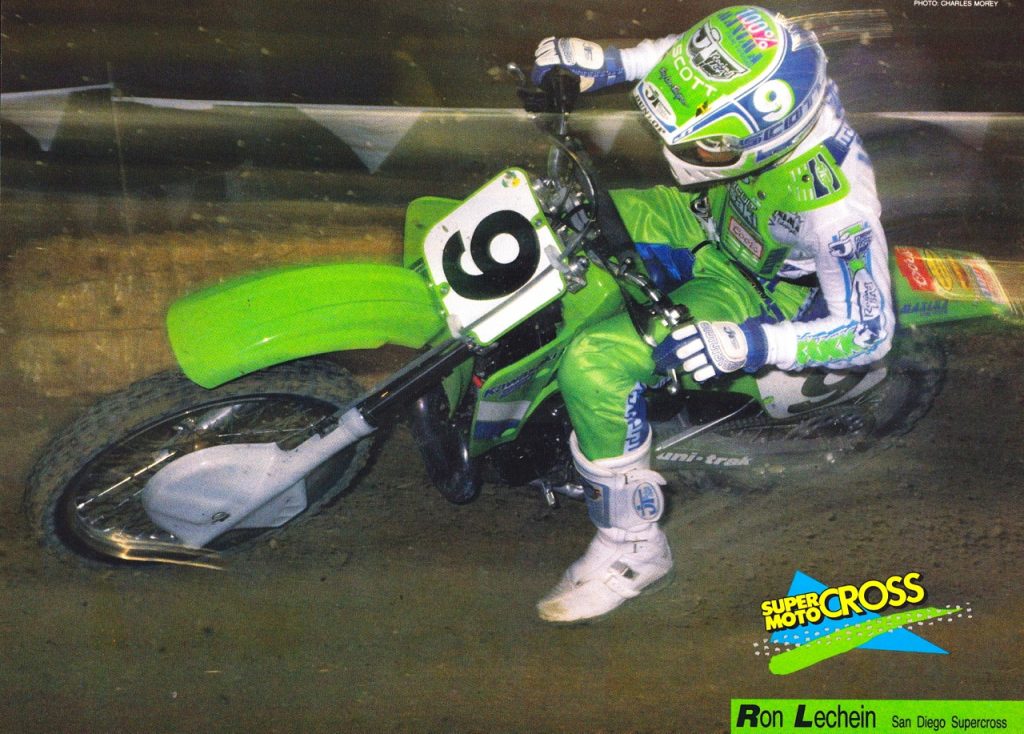 1987: "This is 1987 and I'm definitely looking better. This other green is just kind of funky, then the one from '86. I'm liking this look. I think once again it was a TLD paint job and stuff on the helmet. That year was a better year for me. We went through some rehab and stuff before that year started and I kind of got a little hungrier and started going after it that year.
I pretty much decided what stickers went on my helmet. This was just stuff that I wanted to put on there. Drew from 100% was around. I was trying to always help him out. The Taichi guys were always super cool when I started going to Japan and met up with those guys and everything. They used to treat us really well over there, and they had  cool stuff. There wasn't a lot of moto outside companies hooking up the moto guys. That's kind of how The Dogger thing came about. They were a little clothing company over in Arizona that started sending me stuff. I thought, wow, that's kind of a cool logo. That's kind of how the whole Dogger thing came about. I could kind of do whatever I wanted to. I didn't really have to run any of those stickers. I didn't have any obligations. I just kind of did it on my own.
There were some Yamaha photos of me wearing the full JT V-2000. There's I think some stuff my first year. They wanted us to wear those things, but it was too much for me. I really didn't wear a chest protector very often. This is a V-1000 but I would just take and cut the arm pieces off. That was cool."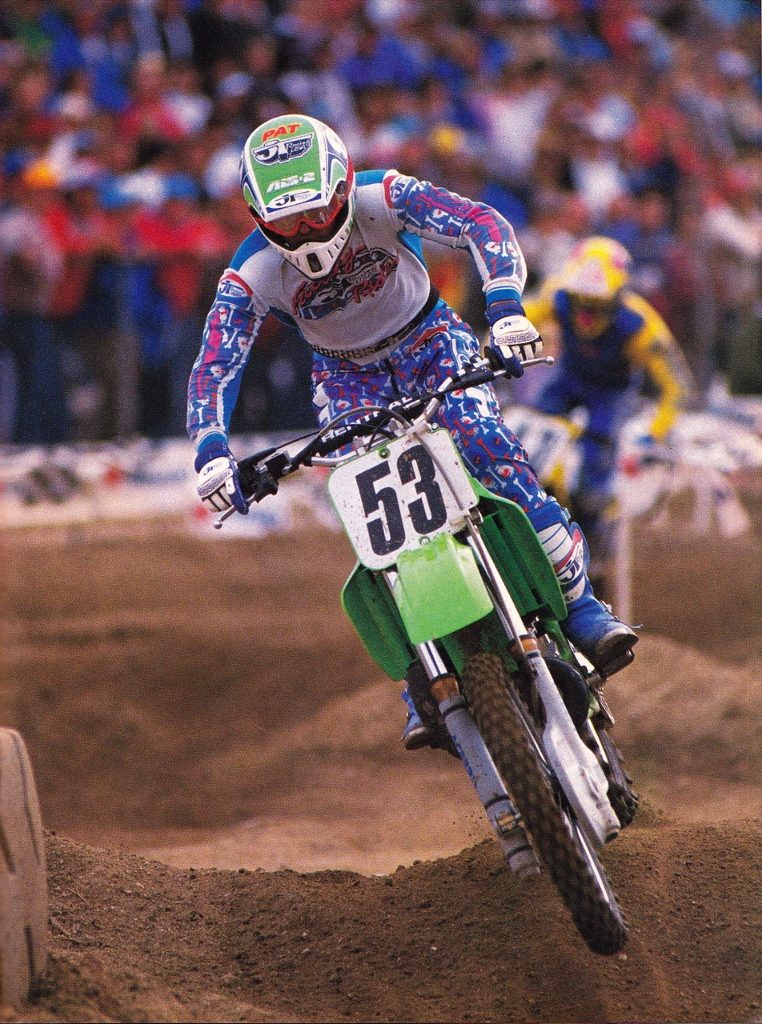 1988: " I started wearing the Bad Bones gear halfway through '87. I don't even know if they really ran it by me. They just said, hey, we've got this new gear and we want you to wear it, and they gave it to me. The first place I think I ever wore it, there's a picture of me and RJ in I want to say Tampa in like '87. It's the very first set of that Bad Bones stuff that I ever had.
I wasn't scared- I ran it. I thought it was kind of wild. I wasn't real stoked on the name of it. Everybody called it Bonehead, but at that time I was kind of a bonehead. Maybe they were trying to get the point across! I always kind of liked to have custom stuff. They (JT) always wanted us to wear stuff that they could sell. I always wanted stuff that nobody else had. I wanted something special and something different so people are like, oh man, that's cool.
The sticker, PAT on the helmet is for Pat Boulland, I met him through Xavier Audouard and Eric Peronnard. I went over and we did a lot of photoshoot stuff with Pat. JT would bring him over here and some of the old JT catalogues and stuff he did a lot. We'd go down to nd do a lot of photos and do the catalogue stuff down there. He was a super cool guy and I really liked him. I actually was supposed to go. They invited me to go to the race where he passed away. It was a French island, they invited me to race over there. I can't remember what year it was, but I didn't end up going. Then I end up hearing that he passed away. I don't know if it was that same weekend or if it was there at that same place. Sad deal.
This was the year I went to a full face helmet. Back in the day I got invited to race the Yamaha Race of Champions in 1977 or '78. I always wore open-face helmets and we got up there and KRW Helmets was sponsoring the thing. All the guys had to wear a full-face helmet and it just ruined me. I was a basket case. I couldn't see out of the thing. I didn't like it, but I had to wear it. I just sucked. It ruined my whole race. They just felt claustrophobic and everything. When that new helmet came out and some of the guys had gotten hurt and other things had happened, I just thought it was a good time to maybe step it up and have the extra protection. You get smashed in the face with a Scott Venturi mask on, you're in trouble."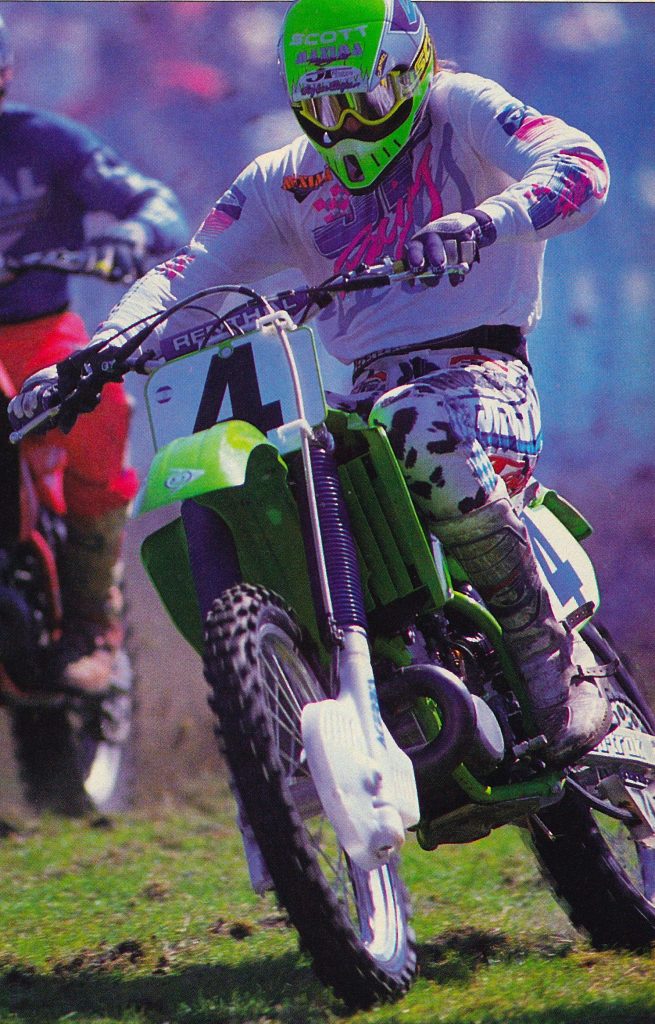 1989: "By this time, the nickname Dogger had stuck, that's actually not even a Dalmatian jersey I don't think. That's just a regular jersey. I don't know if I maybe had one or what. They kind of came to me with that print. I thought it was cool. We had a pretty good ad campaign with that. It actually turned out I guess to be one of the top selling gear lines they've ever had, one of the personal rider ones. I think they had the JMB one, they had the Dalmatian, they had the Bones, they had the Cyborg. It went pretty well with me. I liked it. I liked the look. Some of the ads and stuff that we did with that stuff were some of my favorite ads.
JT had redesigned the boots a bit around this time. If you found some photos from the supercross finale at the Rose Bowl in '85 when it was me and Wardy and Glover going for the championship. AXO made a set of boots for me. I was kind of getting into AXO, which was not very cool back then but I started liking the AXO brand. I liked Dave Thorpe. I thought he was badass. I started kind of liking the AXO look and the brand and everything about it. So they made me a set of JT boots with that plastic around the JT boot with the AXO plastic on it. I wore them at the Rose Bowl. I actually wore a pair of AXO gloves, and I had an AXO sticker on my helmet. I wore the gloves in practice. I think John (Gregory) flipped out. That was '85, and then Bob Rathcamp got ahold of me and he drew up some drawings and everything when I was getting ready to sign to go to Kawi. He made up these really cool, not life-size, but two or three foot tall drawings all in color of me in AXO gear in '86 on the Kawi and all this different stuff. It looked really cool and stuff, but I ended up staying with JT. I kind of wanted to go to AXO. I thought they had some really cool stuff. But yeah, I almost switched!"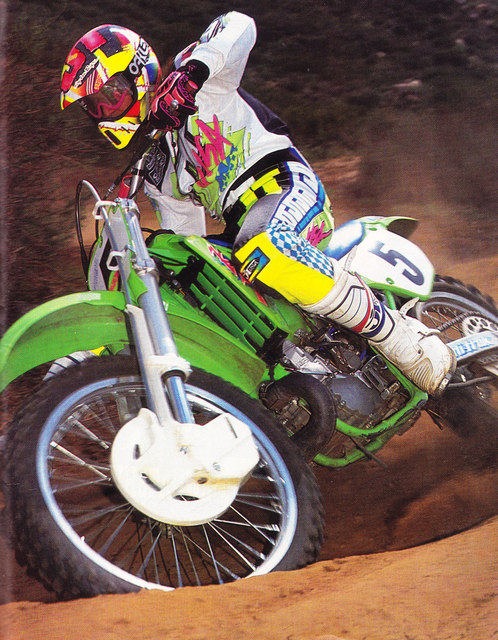 1990: "I had broke my leg in '89 and this was the next year when I was thinking of coming back. This is a photoshoot that we did. This is up above my old house on the hill. I had a track up there. I think MXA came and did a little interview with me. I hadn't been riding very much. That's a killer Troy Lee helmet. I actually gave that helmet to some guys in Japan when I won in Japan in Osaka in, I think, '91. There's a killer video on YouTube if you ever want to watch it. The one where we're lapping Bradshaw and he fell in the first turn and he kept screwing around with me and I think it was Lamson and Swink on the podium. I ended up giving that helmet to those guys after the race. It was a really cool custom JT helmet.
I stayed with Scott to the end of my career in '89, and then when I came back in '91 I kind of always wanted to – I liked Oakley, but I had always just been with Bevo and we had a great relationship. I always just stuck with him. Then when I came back in '91 I went with Oakley. Actually I had met Louis Wellen through the jet ski stuff. Louis was kind of the Oakley rep for the jet ski stuff. I had been going to all the jet ski races, racing myself jet skis and stuff. The glasses had came around and everything was getting really cool. I definitely wanted to try to get in with Oakley. I've stayed with Oakley for quite a while and now wear 100%.
This was just like a Motocross Action story that photo came from. Then I started going to Europe and racing in Europe and I kept wearing the JT stuff and some of the flame stuff they had also. I liked their stuff in the '90s. It was cool.
I don't know if I ever told you, but Kawi called me later this year. In 1990 they called me before the 500 season started and asked me if I wanted to come back and ride the nationals. I hadn't really been doing anything… I never did anything on my leg. My leg was still pretty weak. I had been partying. When they called me I was partying and they were like, "Hey, do you want to come out to Carlsbad tomorrow? We're going to have the '89 500 that you crashed. We're going to have the new one. Just come out and see if you want to ride and maybe do that nationals and stuff." I was all excited. I packed my gear bag. I was just super stoked that I was going to get another chance and factory ride. Like I said, I was already partying and I kept partying all night and there I am in the morning and I'm like, fuck. Here we go again. That was the day I made the decision. I was like, you either quit racing or you quit partying. One of the two. So I kind of quit racing.
Out of all my stuff, I think the Honda stuff was badass. I got on the cover of MXA a few times. Probably one of the coolest covers I have is from MXA that year (as the photo above) at that same race in that same gear. Then the next month was another cover from the LA supercross, the Coliseum finish line thing from underneath. I really liked the Honda stuff, just with the works bikes and the open-face helmets and all that stuff. I liked the Dalmatian because it was my own gear kind of thing, but the look of the red, white and blue and everything I think is probably one of my favorites."