On Monday I had the chance to go to Yamaha's new 2018 YZ65 introduction. As you all know I am a big believer of "Keeping kids On Dirt Bikes" and Yamaha seems to be investing in that ideology as well. Yamaha hasn't had a 65 in their lineup since 1983 and it's nice to see Yamaha invest in making a competitive 65 for kids to start their motorcycle lifestyle. Since my son Aden is now 12 years old and growing so fast, he just missed the cut off for this Yamaha YZ65 and let me tell you, he wasn't happy about it. I decided to bring out Dustyn Davis (son of off- road legend Ty Davis) to spin some laps and get me some feedback. Although kids are tough to get information from, but one thing was for certain, Dustyn really liked this bike from the time he got on the track. Conditions at the time of the test wasn't ideal as winds gusted from 40-50mph, but Dustyn literally ran the YZ65 out of gas a couple of times. That right there speaks for itself! Here are "10 things" about the Yamaha YZ65 that I think are worth mentioning. If you want more information on the 2018 Yamaha YZ65 you can head over to the Keefer Tested Podcast and take a listen on what else I had to say about the new little blue ripper.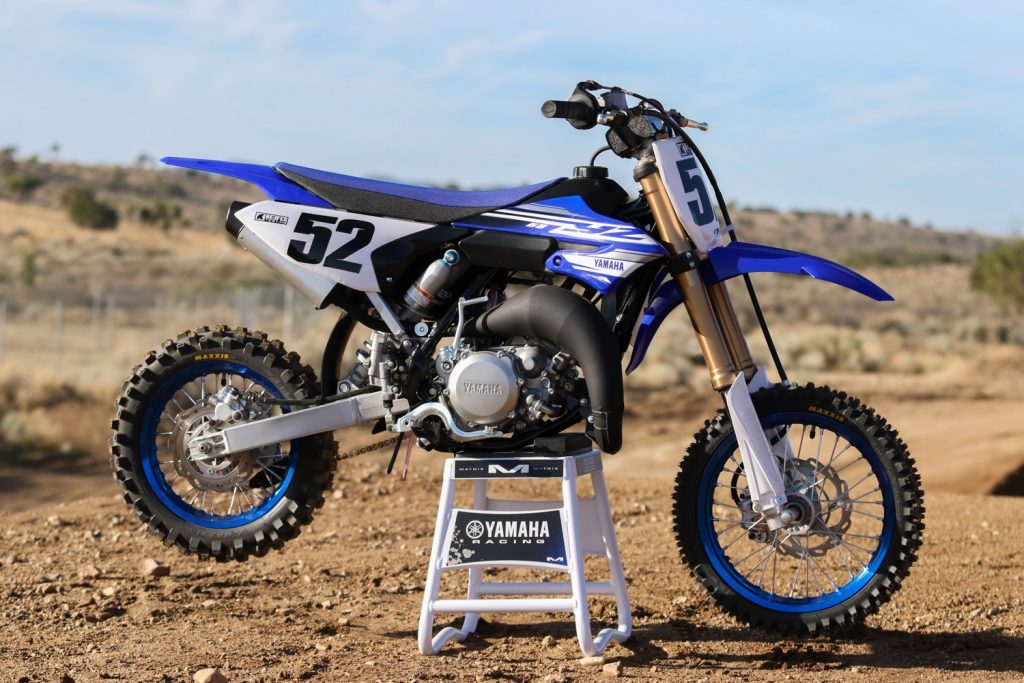 1. The all-new 65cc two-stroke engine features Yamaha's YPVS, mechanical power valve system for a broad spread of power and torque across the entire RPM range. Our 11 year old test rider Dustyn Davis said it was way faster than his KTM 65SX he currently rides, but didn't have a sudden hit to scare him away.
2. The new YZ65 has a six port cylinder layout, center ribbed exhaust port, one piece power valve, compact combustion chamber, 5.2cc volume, lightweight single ring piston and a compression ratio that is; 8.1
3. With a new steel frame and an adjustable front and rear suspension, the YZ65 offers smaller riders some added traction along with more flex that comes with a steel frame.
4. Another cool feature is the 2018 Yamaha YZ65 has a removable Aluminum subframe that is super easy to take on and off. This makes life a lot easier when you want to wash the airbox out after a muddy or dusty race.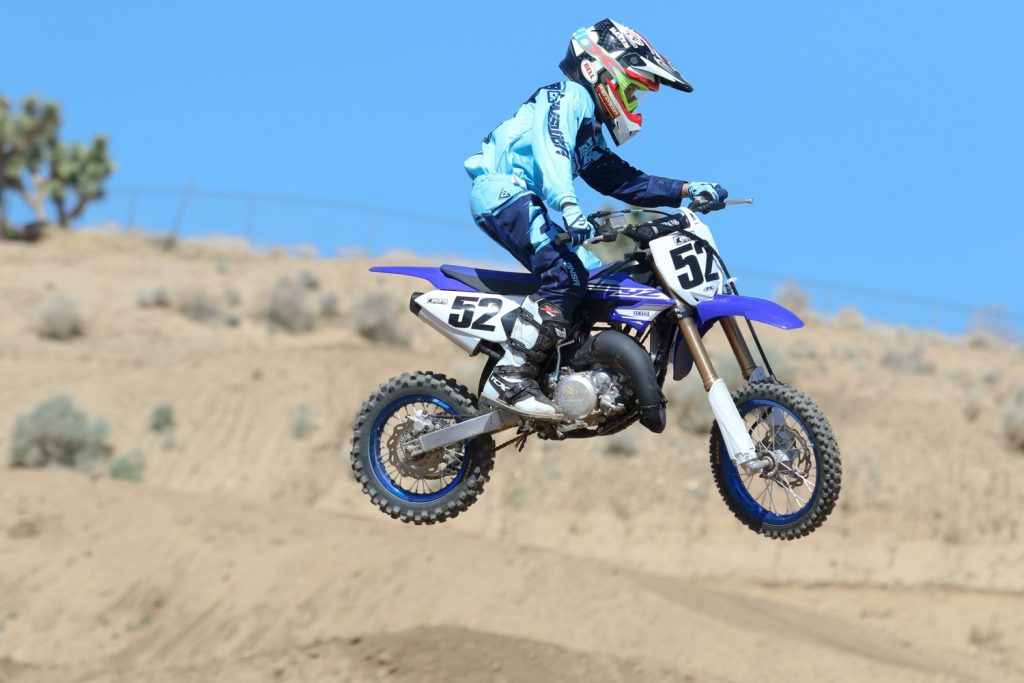 5. Specifically developed for the 2018 YZ65 the 36mm KYB forks come with 215mm of travel, a high rigidity outer tube that is Kashima coated and a fully adjustable compression and rebound damping system.
6. The KYB long travel shock (98mm) comes with 270mm of rear wheel travel and fully adjustable compression/rebound damping.
7. The YZ65 comes with Blue Excel rims just like its bigger brothers, the front wheel is a 1.60×14 (60/100-14) and the rear wheel is a 1.60×12 (80/100-12). Maxxis Maxxcross tires comes stock on the blue Excel rims of the little blue shredding machine.
8. Aluminum Pro-Taper style crossbar-less handlebars have a four way position adjustment that gives the rider a 27mm range of freedom. An adjustable clutch and front brake lever also comes standard, just in case the little guy or gal can't reach the levers.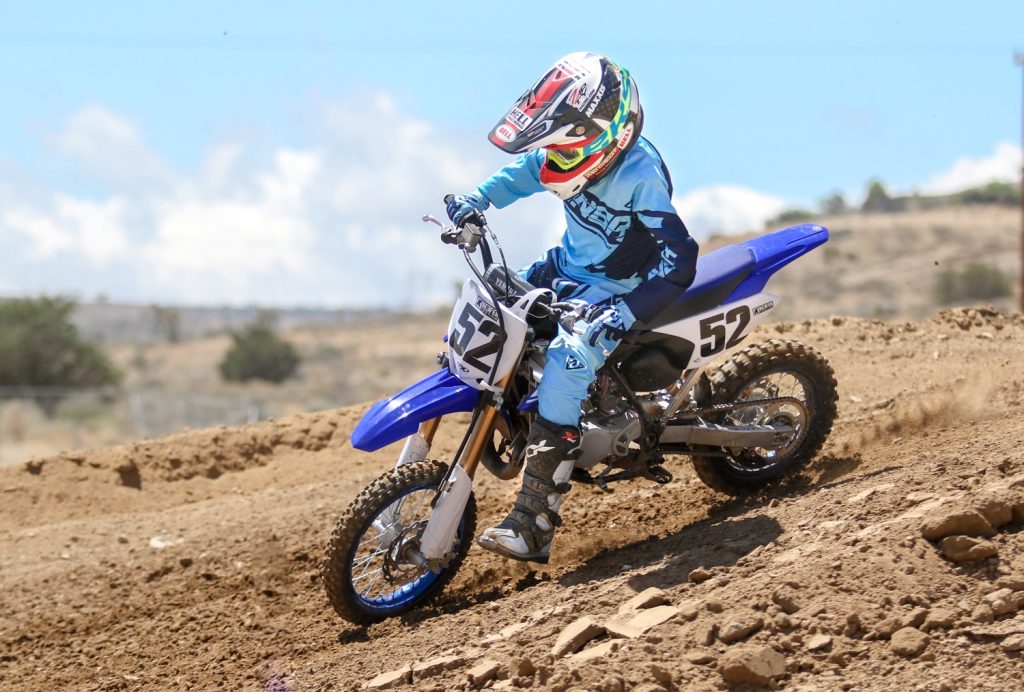 9. Accessories that will be available are a GYTR Air Filter, GYTR by FMF Expansion Chamber, GYTR by FMF Silencer, GYTR Pivoting Brake Lever, GYTR Pivoting Clutch Lever, Oil filler Cap, Yamaha Exhaust Plug, Motion Pro Fork Bleeders, GYTR Inner Clutch Hub, GYTR Clutch Pressure Plate, GYTR Billet Clutch Cover, GYTR Clutch Basket, GYTR Radiator Brace, Air Filter Wash Cap, Gripper Seat Cover, Lower Seat, MX Glide Plate and a Matrix Mini Stand w/ Wedge.
10. How did it look on the track? I say "look" because I didn't exactly get to ride it. Dustyn Davis screamed the Yamaha YZ65 around and it seemed like he thoroughly enjoyed it. Dustyn rides a KTM 65SX normally and races some motocross and WORCS style events. He told me that the 2018 Yamaha YZ65 is definitely faster than his KTM he has now, but that the shock was a little stiff for his 70 pound frame coming into corners. The cornering of the Yamaha was easier for him because he didn't feel as cramped on the Yamaha like he does at times on his KTM. At the end of the day he asked his dad "can we go buy one of these for me today"? I guess there's your answer!