The pulpcasts…transcribed!
Photos by Rich Sheppard
Justin Barcia
He told you the bike was good, the Yamaha?
He told me I make the bike look good. He bought on. He's stoked on it. He's riding Screaming Eagle right now, but the Yamaha is too good, I guess.
Does he want you to put an "I eat ass" sticker on your swing arm?
Yamaha might be too corporate for that, but he's into it.
For yourself, nice way to start the outdoors. You said you've been doing more outdoors than ever before. I read an interview with you. You were on your game pretty much right from the start today.
Yeah, we excited when we get an extra week of outdoor riding. I got to do a little more. The new Yamaha is a good bike to start with. I did all the testing on it for outdoors, and it worked good for me today. I was happy. Hangtown was good to me. To get a podium is good. I was a bit off the one an two guys. I have room to improve which is good. This is definitely a good place to start.
You rode great. You got a third in moto one. You were 30 seconds back of Eli. Do you ride off and you're like, "okay, good," or are you like, "fuck!"
For sure, that's not cool. I definitely want to be up there. I believe I can be for sure, mixing it up. The first race is difficult for sure.
I'm not trying to stir the pot here, but with the JGR bike and this bike here, how far different are you? Have these guys told you? Have you asked? On settings and that kind of stuff. You've ridden this bike – not the '18 because there are some small changes, but it's not that far off.
Not even stirring the pot. The chassis is the biggest difference and the chassis change they made makes everything work better. Over there we couldn't get it right for some reason. I don't know what it was. I don't know why, but we just couldn't. Nothing against anyone, we just couldn't get it right. We got it right over here. We've been working really hard. Maybe they have some good insight on stuff because of the factory, which is possible.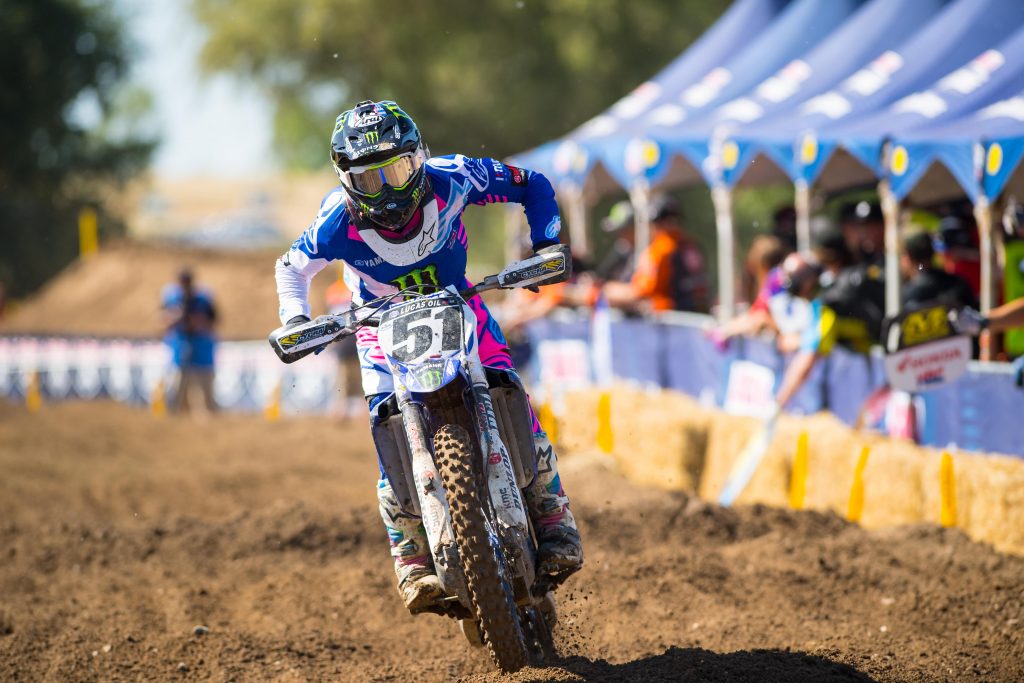 They can actually call the guy up who designed the frame.
Yeah, exactly. We had maybe some things we couldn't do over there. We were trying to do it a bit on our own. It's hard sometimes.
Your starts were good. Your pace was good. Second moto, did you notice you were reeling in Anderson a little bit? You got him kind of quickly.
Yeah, I led some laps in the second moto and then kind of got quite a bit tight, a little pumped up. I was definitely kind of bumming because I was like, that podium is slipping away. Then loosened up a little and made the charge and started pulling him in. About for tow laps I really sent it hard and made that little gap. So I was comfortable where I was at. I even kind of had my sights on Marvin where he was on the other side of the track and I was catching him for a bit. So that was exciting as well. I was like, all right, that's cool. I've had a lot worse Hangtown races, so this was a good start.
Harder Hangtown than I'm used to seeing. I don't know about you.
Yeah. They changed some sections of the track, which I think were good and needed a little change. They didn't till it as deep as usual, didn't water as much. The bikes weren't as muddy as usual. So it was going to make for a tough day of square-edge, bumpy stuff. It was a good racetrack, but it was definitely way different than usual Hangtown.
Do you like that though? You're more of an east coast guy, but do you like it?
I do like the loamy stuff a bit more, but I've came a long way on the hard-pack, choppy stuff. Back in the day I really struggled at riding this stuff. As I mature and try to not rev it as much and shift the bike, you make it work on this stuff. Eli and Marvin are good at that. A lot of guys are good at that.
It was New York one and two there in the second moto.
Me and Phil were sunning in the beginning. I was like, all right, this is cool. It reminded me, a couple years ago me and Phil sunning at Glen Helen. So that was pretty cool.
He's super angry though because Bloss landed on his arm, so he's really angry.
He would have been angry no matter what, but now he's even double angry.
How's your teammate Alex Ray next week? Making his debut. Have you been testing with him? He can't test for shit. I don't know if you noticed that.
I don't know. I've just been doing my own thing. Alex seems super happy about the bike. He's like, "This is sick!" every day. I just hear, "This is sick!" He makes me amped up. I'm like, "Yeah, this is sick." I think he's really happy though. It's a cool opportunity. I hope he does great.
So many clutches over here are going to be needed. So many clutches.
We will destroy clutches. I'm like the clutch destroyer of them all. If he beats it up as well, we'll need to make an order.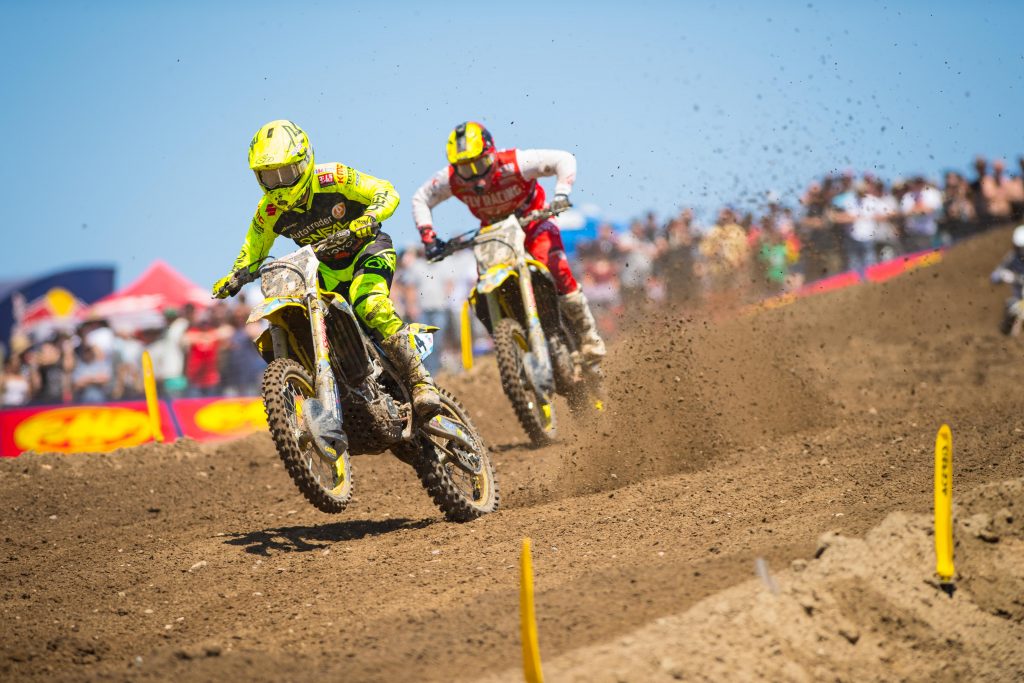 Phil Nicoletti
Back on a 450 outdoors. 9-9 on the day, but you pulled a holeshot, which I don't know if that makes you happy or mad because you got 9th.
It was nice to finally pull a holeshot and get up front where I belong. I haven't ripped a holeshot in a long time. That part for me has been a struggle. Now I got some more power. Horsepower kind of suits my style. I can finally use it to my advantage. 9-9 for the day for me is actually a win. I've only had two weeks on the bike. It's a whole new chassis and I'm starting from scratch. So it was a lot to take in. The track wasn't easy, by any means.
Harder packed than other Hangtowns, right?
Yeah, real hard-pack and square-edge . The harder bumps are really hard to ride, especially for me since I'm used to the more softer dirt. But it was good. It made the track different, not so generic like we're normally riding. So, it was good. I struggled with stomach issues all day. Maybe had a little too many electrolytes so it kind of couldn't flush out of my system. But for me, it's a win. I'll take it. 9-9 for 9th, I would assume. Go back Tuesday and do some more testing. Like I said, it's been hard. I've been really limited, but Johnny Ohlers did a fantastic job with me and tried to get a good base setting for Hangtown. It's not easy with not much time.
I have the same bike. Do you want any setup tips at all?
I heard your setup tips. You're going to get the full works next week, so you're lucky.
Bloss came into you there in the second moto. You stopped for a second. I wasn't sure if he clipped your bar and broke your bar? Clipped your clutch, clipped your front brake or something. The way you slowed there, I was like, what happened? What went on there?
The guy pretty much clipped my whole right side. I don't know what he was doing. I think he just kind of bonsai'd a little bit. When I see him, I'm going to have a little talk with him. It was a bit unnecessary. I really thought I broke my elbow there at first. So I kind of was just in a little bit of shell shock. I'll talk to Benny and figure out what that whole deal was about and go from there.
Passing Roczen late in the moto. He was hurting I think.
Yeah, I'm not going to take that as a win. For me, it's cool to say I passed Kenny. I passed Stew one time at Washougal, but it's not the normal Stew and not the normal Roczen that you're used to. Obviously I know he's struggling, but he'll get back to peak form here sooner or later. I actually told him before the first gate drop it's good to have him back. We need the guy, whether you like him or not. For me, we'll go back, get ready for Glen Helen. We'll have a short week. We got to fly out for a Suzuki thing on Thursday, which you should be going to since you're an RM army guy. Then I stay Friday. Hope to God they fix those jumps at Glen Helen.
What's up with these things? I've been hearing about them.
God bless us. You see some of those?
I haven't seen any.
I'm not jumping those 40 guys deep. There's no freaking way I'm doing that. Hopefully they changed it.
Last year I believe Coombs got there on Friday and said "This and this and this need to go." I have a feeling they'll do that again next week.
Yeah, well they did that in 2016 and '15 and '17. It's just like, why do you even have to go there? No one wants to jump that for an hour and a half straight, between practice and moto. So it's just not cool. That actually gets pretty rough. Not to get too much off topic, I'm happy with Hangtown and just keep plugging.
Troll train got fourth overall.
Yeah, he was a little sluggish there in the first moto, which that's how Alex is. He's always been like that. Second moto he was right there. Three of my buddies one, two, three, so I can't complain. It's going to be a long, grueling season for everyone.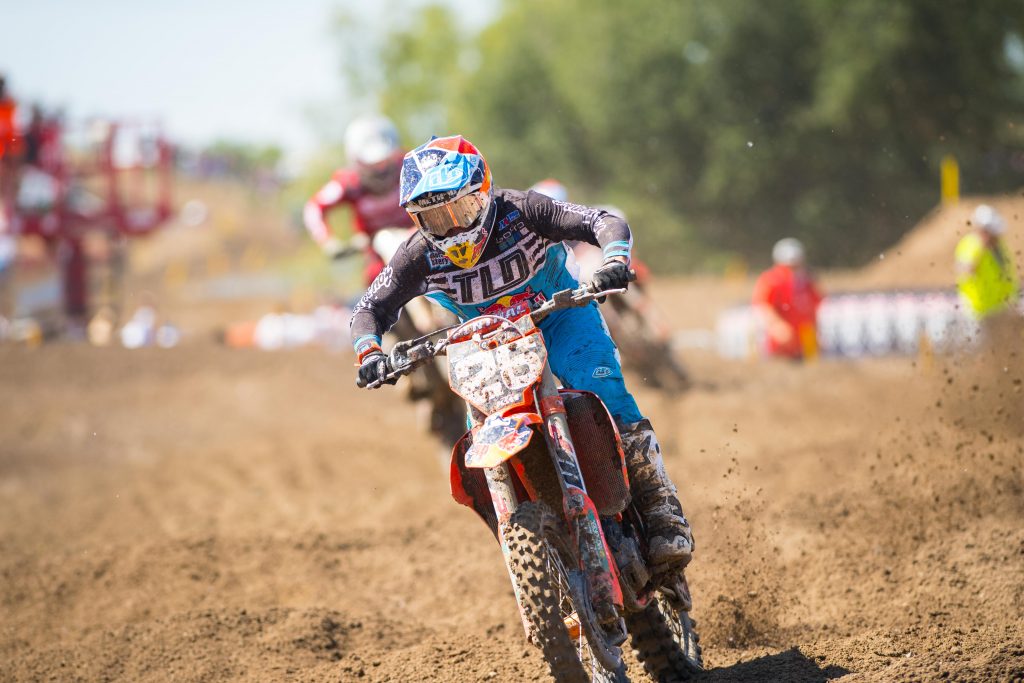 A Mart
You're back racing. We're all happy for that. You had a lot of fans today coming up saying they were on the troll train?
Yeah, they were all about the troll train, courtesy of Steve Matthes. That's probably a hashtag now. It actually is a trending hashtag. I had a lot of people tag me this week.
Good day for you. You did fourth overall so you didn't get on the podium, but second moto was very good. First moto though, let's cover that. Just a bad start, huh?
Yeah, for sure. Terrible gate. I actually went back to the same gate because I'm such an idiot in the second moto. For me, I was prepared. Feeling better on the bike. Everything was better than last year. But I hadn't raced in so long that the nerves were real today. I was so nervous before the first moto. I knew the arm pump was going to be kind of a thing in the first moto, maybe more so than it has been in the past. So for me, seventh was probably a best-case scenario with the way I felt. I was rock solid after about ten minutes and just tried to finish it out.
Your teammates were putting a little bit of heat on you.
I was like, "Guys, sorry. I can't go any faster."
Really you had a a big gap in front of you to to whoever that was, so there wasn't much you could do.
Well, for like fifteen minutes they were all right there. Then obviously they got going and they kind of left. I'm really happy with my second moto. I got up front. I passed AP there on the first lap or second lap and kind of hounded Zach and Jeremy for a long time, even right down to the very last lap I still had Jeremy in my sights. Other than a couple lappers kind of midway through the race, that maybe lost me four or five seconds, I was right there. I felt strong, fit. I'm just really happy with how we're feeling at the end of the day.
AP was catching you late. You had a couple bad laps, like you said, maybe some lappers or whatever. Did you see that and did you pick it up? Or was it a case of not really worrying about that?
We had a blistering pace going. I feel like all four of us did. I was hurting there in the middle. I'm like, I'm too fit. AP, you're not getting around me. But he was riding good. He put a charge on me and I was able to respond and basically kind of bring that all the way to the finish. I felt strong. I'm bummed I'm not on the podium. Last year I was. But I feel like I rode better. It's just that between Zach and Jeremy and AP, those guys are going to be tough this summer. Joey will be up there. It's a tough class, I'm going to have to have my crap together to contend with these guys week in, week out.
It sucks to say it, but it is true. It's a cliche, but starts, starts, starts. Your brother got them. Zach semi got them. That's it.
Yeah. You know what's funny? I felt like I crushed the starts in the couple supercrosses that I did, and then my practice starts have been great. Today I think it was just a case of nerves and dumping it. We'll practice starts again this week and hopefully that's something that helps me this summer.
Phil got the holeshot second moto.
Yeah, Filthy! I'm pumped for Phil. I saw he was tenth in practice?
Something like that.
Then ninth in the first moto. What did he end up second moto?
I think he got ninth again.
Yeah, that's solid.
He got the holeshot though.
Solid day for Filthy Phil.
Think he's happy?
Probably. He's been pretty dark. The cloud is really big lately.
He called you a loser on Twitter the other day.
He didn't even tag me?
No.
So why would he call me…?
I said, are you on the troll train this summer? He said, "Doesn't matter where he's finishing. He's a loser."
Yeah, but he calls me and we'll talk about life for 45 minutes. So we're friends.
When we put our dog down maybe three weeks ago, only one rider text me and it was Phil. So he's actually got a soft heart.
I feel bad. I would have text you, but I don't look on Twitter ever, or Instagram much.