Ten Things About The 2019 Kawasaki KX450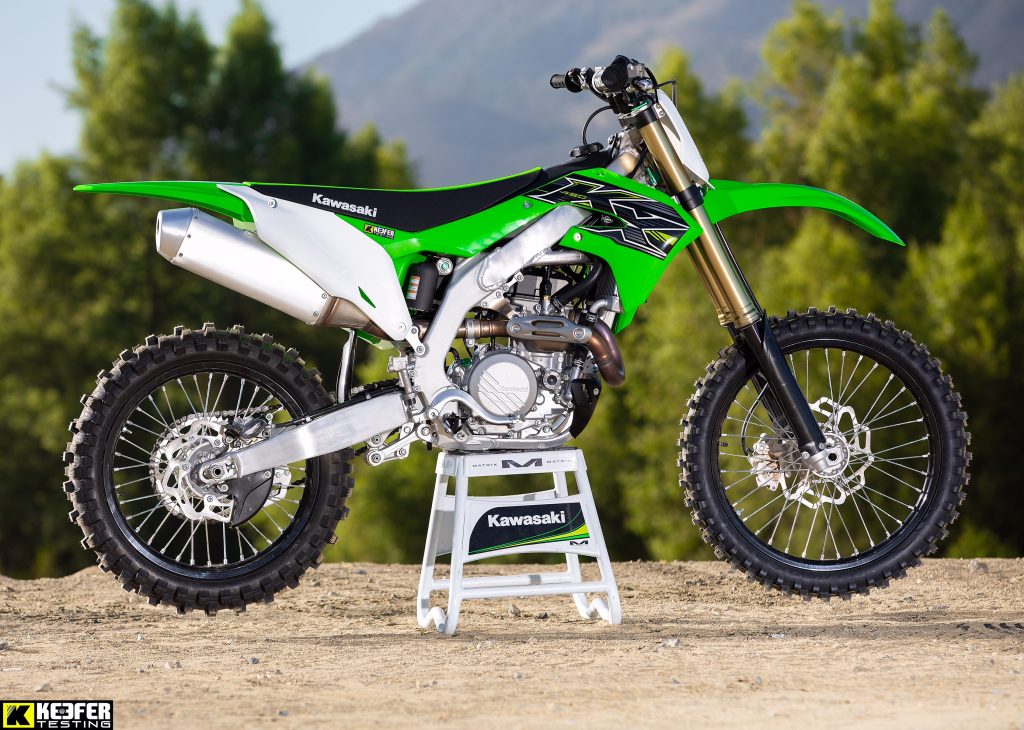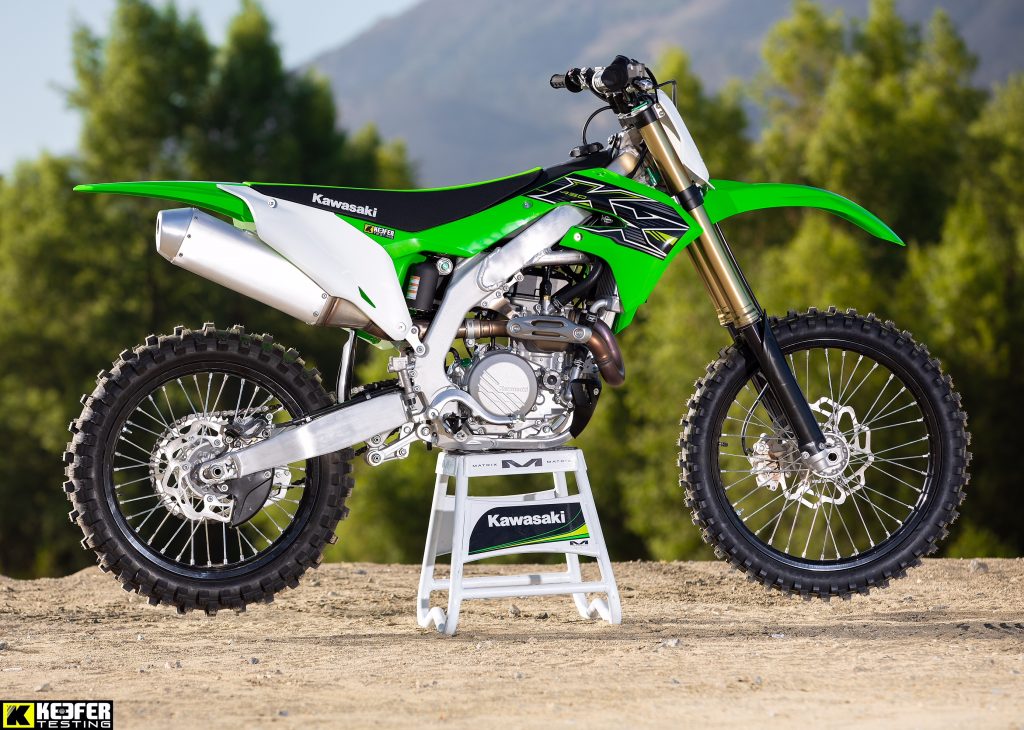 Kawasaki has a brand new KX450 without the "F" people! Who needs more "F" in this world anyway?! Seriously though, Kawasaki has a brand new 450 and it is probably the most anticipated motocross machine of 2019. I headed down to Pala, California Tuesday night to attend the presentation that Kawasaki had for the media, to get a feel of the new parts that are on this 2019 KX450 machine. Kawasaki has a lot of R&D invested in this bike and definitely are looking for some great results come shootout time. Will it be in the hunt for a shootout win this year? It's quite possible, but first things first, let me break you down some things I felt on the first day of testing so you can get an idea of what this bike is all about.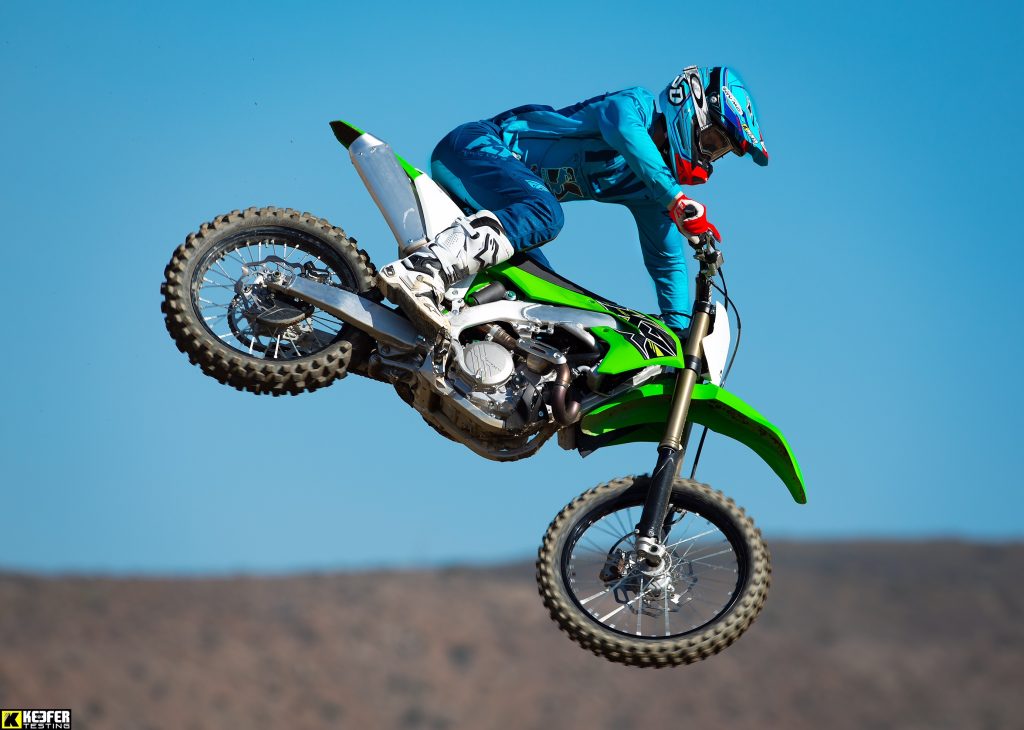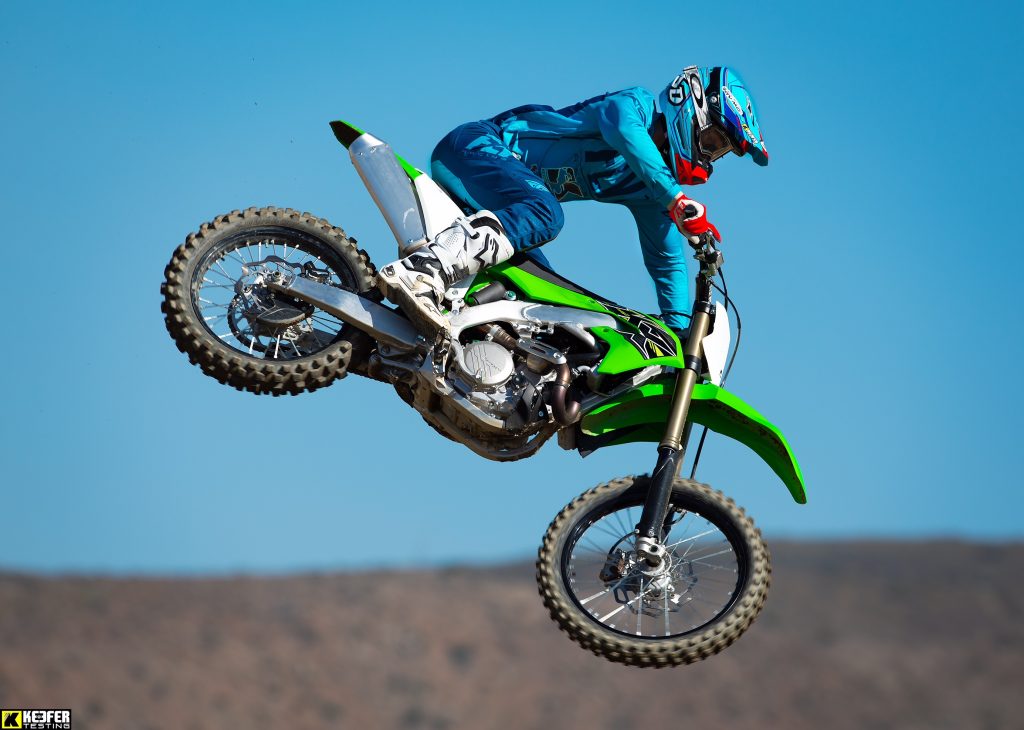 Engine Feel Compared To 2018 KX450: Ummmm…No comparison. The 2019 comes on quicker with a lighter, more free-revving feel! I am usually not a guy who likes to de-tune a stock 450cc motocross bike, but the Kawasaki simply is too crisp from 0-5% throttle opening. Yes, too crisp! Where you feel this 0-5% is when you are barely on the throttle through ruts. The KX450 gets jumpy with the stock green coupler and it upsets the chassis, which makes you very inconsistent through corners. Once the black coupler is installed it controls that 0-5% and gives you an incredible, yet smooth pulling power that feels similar to a KTM 450 SX-F. The mid range has a ton of meat and the increased top end/over-rev is noticeable on the second lap. I felt like I lost zero mid to top end pulling power with the black coupler (compared to the stock green one) and I could ride the KX450 more aggressively through corners. The engine is super connected to the rear wheel and never steps out coming out of corners. This is an impressive power plant! After I was done testing I was chatting with McGrath and he even said he preferred the black coupler. So there's that, if you don't want take my word for it.
Cornering/Chassis: The new 2019 KX450 is more cornering "neutral" than in previous years. I am able to get more front end bite than last year, but also am still able to rear steer the green machine very well too. I had a rear end steering tester with me at the intro and he liked how well it backed into corners as well as I liked the front end bite from mid-end corner. I say mid-end because the KX450 still does have a slight vague feel on entrance of corners. Raising the fork up 2mm in the clamp helps this feeling somewhat and gives you increased front bite.
Suspension Comfort: Thank you Kawasaki and sweet baby Jesus for the return of spring forks!!! The 2019 Kawasaki is so much more balanced than last year's bike and I was able to set the front end down where I wanted to without feeling like the front end was going to snap my wrists. The fork has tons of comfort, but is also too soft for my liking. At Pala there are some sizable jumps and the fork bottomed at too many times. Going stiffer on the compression only hurt de-cel bump comfort, so I settled on going slower on the rebound, which helped some. The shock is soft as well on slap down landings, but going eight clicks (two turns) in helped keep the rear end up and thus helps wallow feeling.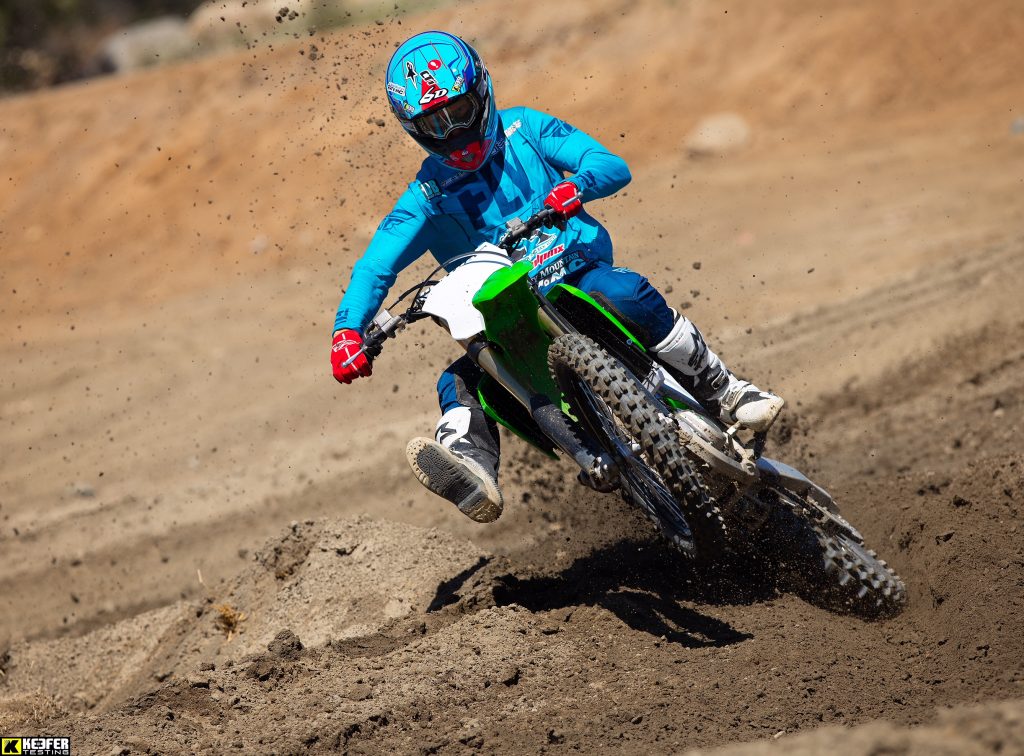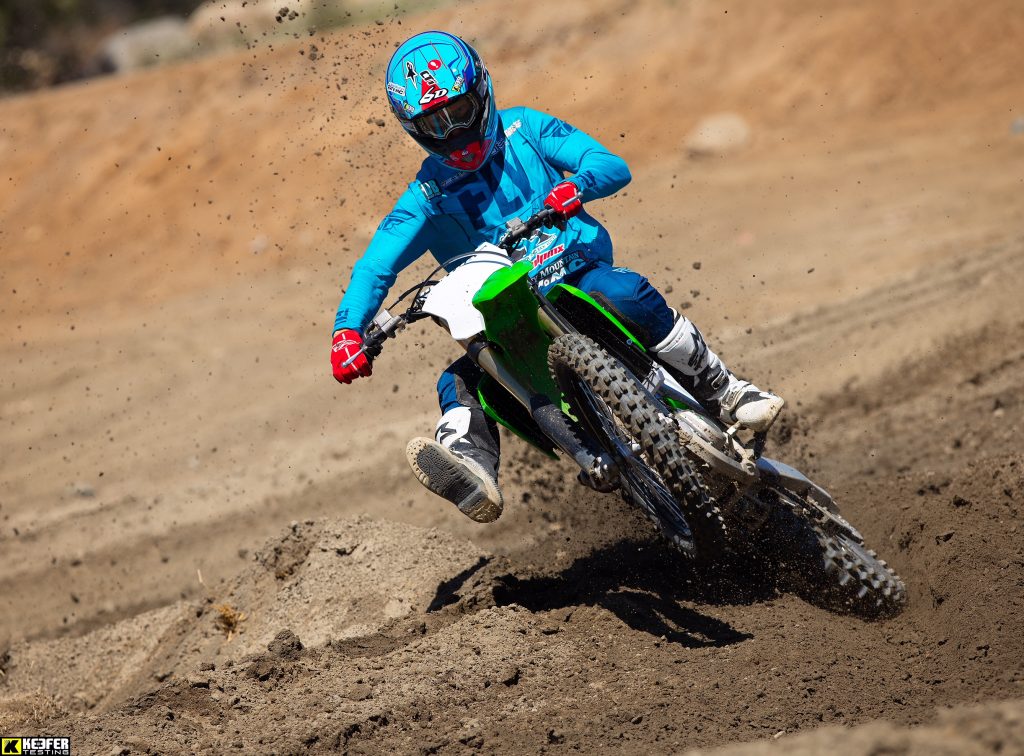 A-Kit Style Fork: When asked about the Showa A-Kit style fork to a Showa technician, I was told that this is truly an A-Kit style fork. When the Showa tech saw the drawings of the 2019 KX450 in its pre-production stage he thought it was a race team fork at first glance. Many parts that are inside of this production Kawasaki Showa spring fork is what comes inside the factory boys forks.
Weight Feeing (Chassis): I was told that the 2019 Kawasaki KX450's frame is 1.87 pounds lighter than it was in 2018. The total weight of the new machine has only increased roughly three pounds from 2018, but to me it feels lighter than the 2018. Why? I feel it is because of the way the 2019 Kawasaki makes its power. It is very free feeling and snappy which makes this bike have a very light feeling through corners. I am ale to lay it down with ease and cut down under a blown out rut almost as easy as a KTM/Husqvarna. I do get a little twitch on de-cel, but it wasn't a horrible or un-easy feeling. Straight line stability is still the same straight and arrow Kawasaki feel that you expect. The frame absorption is one of the Kawasaki's strong points and although the Pala track wasn't rough, there was some hidden square edge that I managed to hit during the day to test this.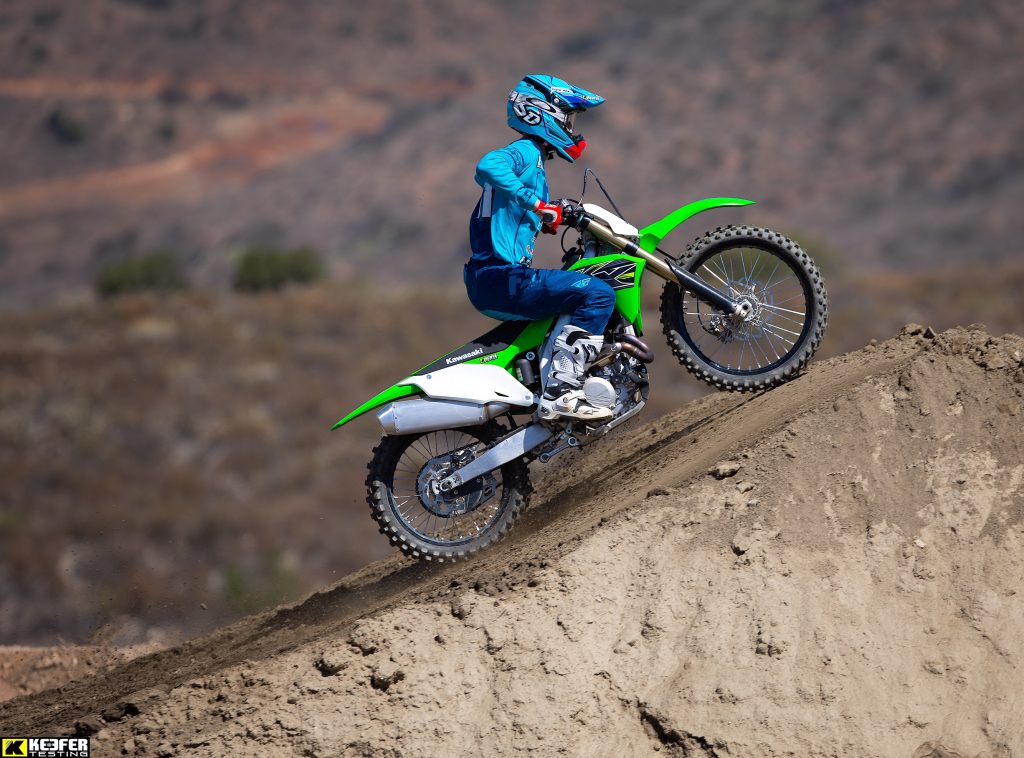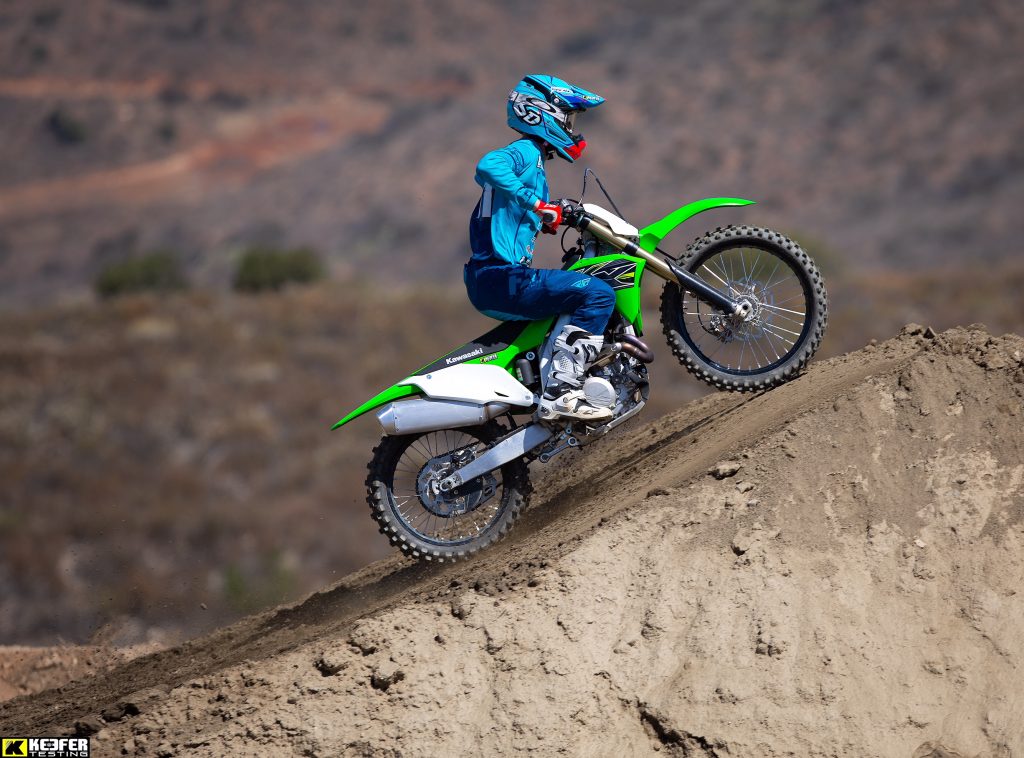 Hydraulic Clutch: The Nissin hydraulic clutch feels nothing like a Brembo or Magura. The Nissin hydraulic feel is a little bit of cable and hydro. What the hell does that mean Keefer? It means that there is a little play in the Nissin hydraulic lever that makes it feel like a cable pull initially. Unlike a Brembo where there is no play and is very touchy (on/off feel), the Nissin has more of a progressive feeling. So far I prefer the Nissin feel over the Brembo. I like to ride the clutch a little with my finger while I ride, so having that little bit of play makes sure that I don't burn up my clutch as quick. The clutch feeling as you would expect was superb and I had zero fading or lever movement while riding. Kawasaki is the first Japanese manufacturer to have a hydraulic clutch come stock on a motocross machine. Impressive!
Muffler: Ehhhhhh boy, here we go! Everyone complaining about the bazooka of a muffler from the 2019 Kawasaki. Yes, it's long. Yes, it's not that attractive, but the muffler tone is ten times better than the 2018. I will gladly take a long muffler that sounds good and provides excellent power delivery. This bazooka does just that!
Rider Triangle: The footpeg to seat to handlebar ratio is also another improvement. The seat is flatter, which puts me more on top of the machine than "in" it like last year. I like this feeling and it makes maneuvering on the bike better for my 6'0 frame.
7/8 Handlebars: Some manufacturers go away from 7/8 handlebars but Kawasaki keeps them around and I approve! They flex, they offer better vibration characteristics and unlike what most people think DO NOT bend THAT easily. I have crashed my brains out on 7/8 bars and they didn't bend as bad as I thought. I can live with 7/8 bars on a production machine.
Brakes: Kawasaki also went to work on the front and rear brakes of the 2019 KX450. The rear brake has a 250mm rotor (which is the largest rear production disc on a motocross machine), new master cylinder/hose and the front brake also has a new master cylinder. I would have to say that the front brake was more impressive than the rear because of how good its modulation was. It wasn't a grabby feeling front brake and was more progressive to pull in. I could drag the front brake more through corners without getting that stabbing front end feel. I didn't notice that much of a power difference in the rear brake compared to the 2018, but it still worked well enough for me. Kawasaki riders that update to a 2019 will be able to feel the front brake improvements on their first ride.