2019 Yamaha Off-Road Introduction
Riding The 2019 Yamaha YZ250X, YZ250FX, And YZ450FX
DO NOT ADJUST YOUR COMPUTER SCREENS PEOPLE!!! YES, PULP MX HAS GONE OFF-ROAD. Well, since Matthes is bLU cRU now I thought he might like this up on his site. Yamaha invited the media up to South Carolina last week to ride the new 2019 YZ250X, YZ250FX, and YZ450FX. Unfortunately for me I was stuck testing in California so I couldn't make it, but I managed to get a couple quality guys out there to Greenville to test these blue off-road steeds. I think it's great that Yamaha had an intro that fit the environment of each machine very well, which can be tough to do at times. Instead going to the same old, burnt out California trails, Yamaha brought us to 7 time AMA National Enduro Champion Randy Hawkins private property and from what I heard, it was some epic conditions! Figures!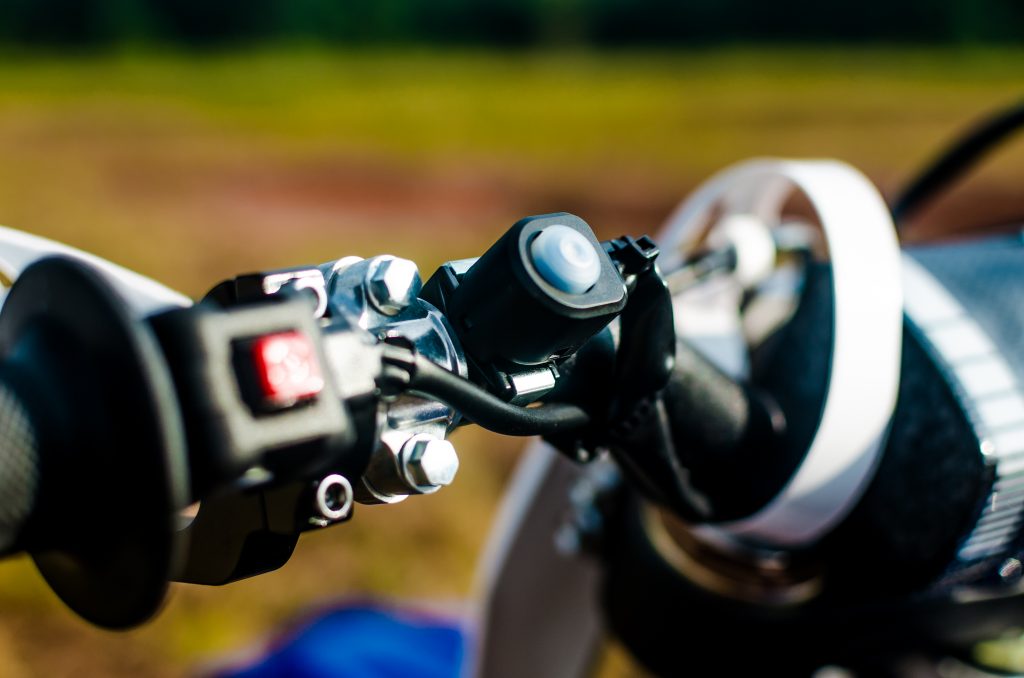 One thing I really wanted to get across to you all, that I think is important, is that Yamaha has been an innovator in the adjustable ECU category, as the Yamaha Power Tuner App is now available for the 2019 YZ450FX. Not only is the Yamaha Power Tuner App available and easy to use, but the 450FX now has a handlebar mounted map switch that lets you go back and forth between two maps on-the-fly. Just like the 2019 YZ250F! If you need a tutorial and some instructional videos on how to use the Yamaha Power Tuner App, click here: https://www.yamahamotorsports.com/motocross/pages/yamaha-power-tuner-smart-phone-app
As far as my test riders, who better to rip off-road bikes than local South Carolina native Randy Richardson and western off-road speedster Dominic Cimino. Both gentlemen spent two days on all three machines, so they collectively put together some insight for you on each machine that you can read below: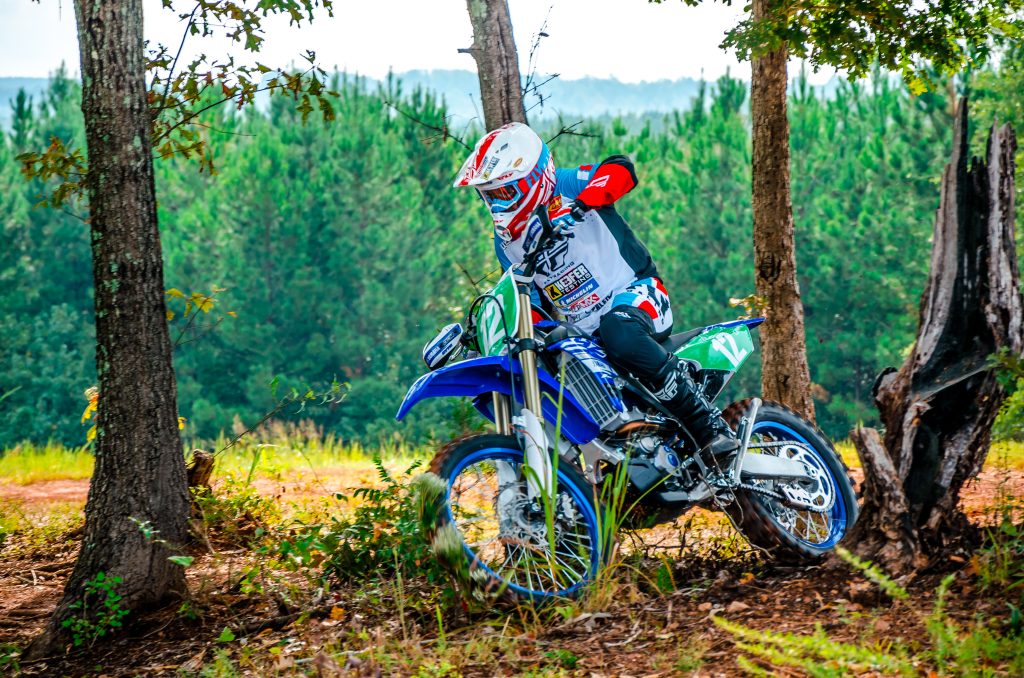 2019 Yamaha YZ250FX And YZ250X Test Rider: Randy Richardson
We spent the first day riding both the Yamaha YZ250FX and YZ250X models and as I mentioned earlier, I'm a two-stroke guy.  Having said that, I was intrigued to compare Yamaha's X model bikes back to back on the 12 mile course that featured a mix of tight Enduro and flowing GNCC trails, rocky creek crossings, some fast open field sections, a MX track, and a few very challenging hill climbs.  Hopefully no one noticed as I, similar to recent bLU cRU convert Steve Matthes, looked like a dork reaching for a kick-starter on the YZ250FX before remembering that the bike features Electric Starting.  Once I pressed the magic button and fired up Yamaha's revolutionary rearward slanted, liquid cooled, DOHC 4-stroke power plant, I began clicking thru the 6-speed wide ratio transmission as I headed out across the field to enter the trail where I'd spend the next half hour or so dodging trees while evaluating the overall performance of the YZ250FX. Yamaha specs indicate that the engine is based on the YZ250F and includes all the same race-winning features such as an updated cylinder head, lightweight forged, two-ring, flat-top piston; a shorter, more durable piston pin with diamond like carbon (DLC) coating; a revised piston oil jet, and advanced connecting rod, crankshaft, and counter-balancer designs all resulting in improved peak power, power delivery and overall durability. It was obvious that the YZ250FX is a very refined platform as the bilateral beam frame that's based on the championship winning YZ250F provided stability in fast sections as well as nimble lightweight feeling handling that enabled me to dodge every single one of the trees, including the one that Racer X Online's Jason Weigandt tried to uproot with his bike. I thought I'd mention that just in case he forgot to include it in his article.
The fully adjustable KYB spring-type XC spec YZ Fork and KYB XC spec YZ Rear Shock feature revised valving resulting in a very balanced feel that provided a supple feeling on the exposed roots and rocks on the trail, remained high enough in the stroke to absorb the bigger hits on the whooped-out trail sections, and also resisted bottoming when jumping the bigger table tops and doubles found on the MX track.  Having a ground clearance of 12.8" (compared to 14.2" on the YZ250X), the factory installed Glide Plate protected the YZ250FX engine and lower frame rails from the larger rocks and logs encountered on the course.  Though still a 2-stroke guy at heart, I quickly appreciated the versatility of the 250cc 4-stroke engine.  I'd describe the YZ250FX engine as very rider friendly as it enabled me to ride more aggressively in a lower gear at higher RPM's or I could simply click up a gear to allow the engine's usable torque to provide a smooth power delivery and less fatiguing ride.  Remember, smooth is fast and I used to be FAST… before I lost the S.
After lunch, my 2-stroke emotions were quickly triggered as I kick started the YZ250X to life for the afternoon riding session.  I sat there for a few moments gently blipping the throttle, embracing the moment, and then I slowly closed my eyes and began revving the crisply jetted engine to the tune of Whitesnake's 1987 hit song Is This Love.  Even though the YZ250X features a 2.1 gallon fuel tank with a reserve feature, I snapped out of it before I wasted too much fuel and I headed out for more fun riding the amazing loop Yamaha provided us with.  The YZ250X's liquid-cooled reed-valve-inducted engine features a revised compression ratio, exhaust port timing, revised Yamaha Power Valve System (YPVS) timing, and a model specific CDI unit that are all focused on creating a wide, controllable power character that's ideal for cross-country racing.  The stock gearing of the 5-speed wide ratio transmission provides a broad range and the clutch's reduced lever pull allowed me to quickly bring the RPM's up to the desirable range.  I was definitely enjoying the throaty bark of the YZ250X more than Weege enjoyed the bark of that oak tree.  Similar to the YZ250FX model, the suspension performed well in all the terrain I mentioned before.  Though the wheelbase of the YZ250X is nearly an inch longer than the YZ250FX (58.5" vs 57.7") and the rake is more relaxed (27.7deg vs 26.3 deg), the YZ250X weighs 20lbs less (229lbs vs 249lbs) resulting the bikes being similarly agile in the tighter sections of the woods.  While the YZ250FX and its 4-stroke engine breaking seemed to turn into corners more naturally, the lighter weight feeling YZ250X could easily be maneuvered where ever I wanted it to go and I enjoyed the handling characteristics of both bikes.  Standing at, or more like limping around at 5' 10", and just 12 lbs above my target weight of 170 lbs, the ergonomics of both bikes fit me perfectly.  The rider triangle (that's test rider lingo) felt comfortable at all times and thanks to the seamlessly smooth seat and bodywork juncture, the only thing that made the transition from standing to sitting and back up again challenging on either bike was my torn ACL's in my old knees.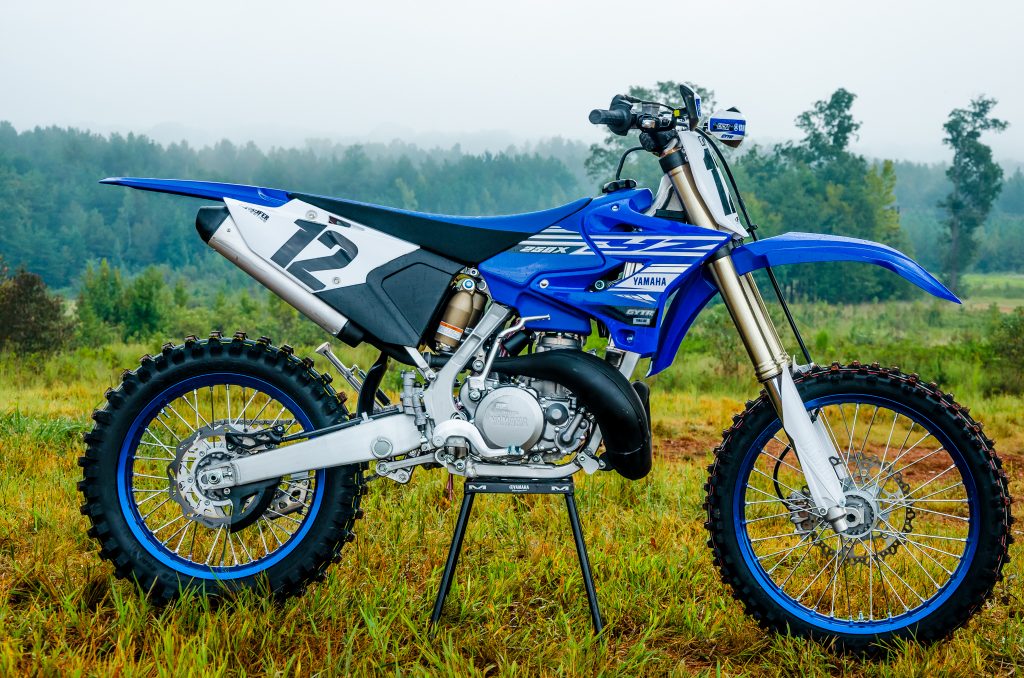 In addition to their Yamaha Team Blue color and updated graphics, both the 2019 YZ250FX and YZ250X models feature a side stand, a sealed o-ring chain, an off-road centric 18" rear wheel, Dunlop AT-81 tire shod blue rims, and a 30 Day Limited Factory Warranty.  Given that there'll always be the 2-stroke vs 4-stroke debate, it's obvious that Yamaha is dedicated to providing high performance based options for both sides of the ongoing argument and with a MSRP of $7,999 for the 2019 Yamaha YZ250FX and $7,499 for the 2019 Yamaha YZ250X, I think any consumer would be greatly pleased purchasing either model.
As for me, I really wish I had an extra $15,498 lying around as I'd love to have them both!  But then again, you know the old saying "You can't ride two bikes at once".   Well, with the innovation of the Power Tuner Smartphone App found on the 2019 Yamaha YZ450FX, I'm not so sure that statement holds true any longer as I spent time on day two of the intro on the significantly redesigned flagship model of Yamaha's cross-country range.  I was amazed at how quickly the YZ450FX could be switched from a fire-breathing 450cc beast in the open fields to a super mellow rider friendly power delivery for the tight woods and back by simply pressing the handlebar mounted ignition mapping switch for a mere 0.2 seconds.  Even though I didn't get a chance to ride the TP Pookie map, Yamaha's innovation is truly like having two bikes in one so make sure to read Dominic's complete review of the 2019 YZ450FX.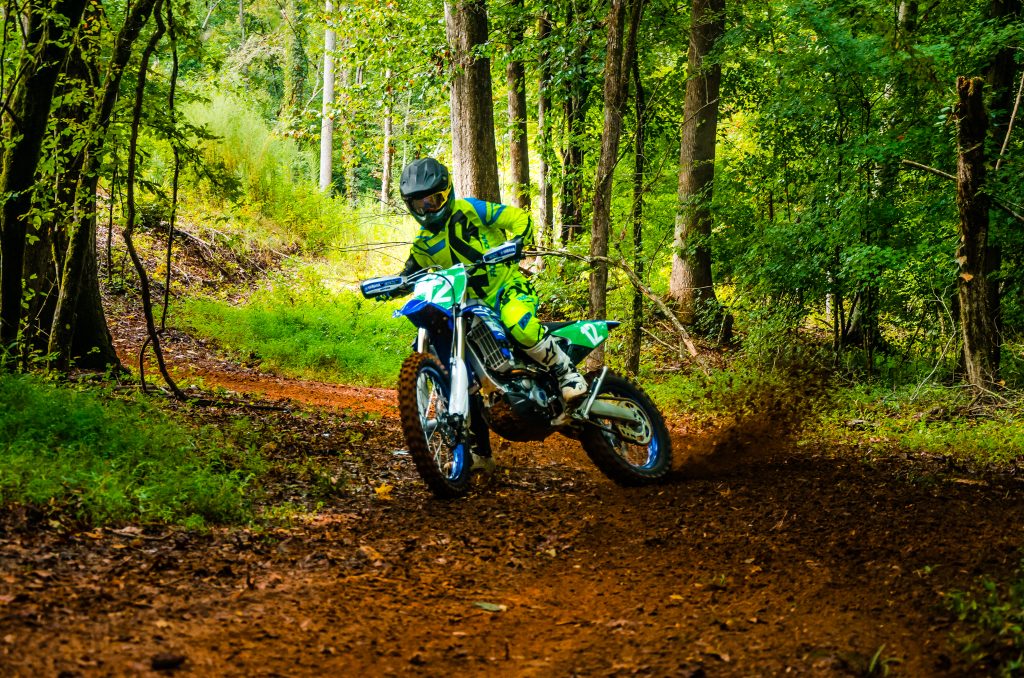 2019 Yamaha YZ450FX Test Rider: Dominic Cimino
For 2019, the 450FX sees a lot of important updates that has stimulated much of the motocross model success. The bike is graced with the new chassis, updated KYB suspension, the best Power Tuner in the industry, and other offroad specific traits. Yamaha focused on making a 450 tailored specifically for tight woods riding, but also versatile enough to take it onto an open stretch of desert at high speeds. To the naked eye, it looks practically identical to the motocross bike – the only real tell-tale offroad components are the 18" rear wheel, updated kickstand, and full-coverage skid plate (which has been upgraded for 2019). But once you dive a little deeper, you will see there is much more. Most notably, the motor itself has been specifically tuned for cross country racing, with the wide ratio five speed transmission and EFI mapping/ignition timing that all compliment one another. The suspension components are sprung lighter and have valving specs that are aimed at pleasing riders on tight and technical trails. A new 2.2 gallon gas tank is stowed away nicely in the new chassis, reducing the amount of times needed to refuel. This bike is an offroad "sleeper" if you will, coming off as a motocross bike aesthetically, but harnessing almost everything you need to race at the highest levels in off-road today.
To put it lightly, this motor is an absolute monster! It has such a broad scope of power with the wide ratio transmission, that it allows you to ride the bike in many different ways. First gear is low – if you need that emergency gear to get you out of really tight sections, say no more; it can practically lug you out of the swamp. And on the complete opposite, once you hit fifth gear, forget it! Fifth gear is so fast, its like having an overdrive. The versatility of this power plant is something special, as the 450FX compliments a wide range of cross country elements, and our 12 mile test course allowed us to try most of them. On the other hand, I did notice that the engine braking character can be intense at times and I wish there was a better way to lessen it's dramatic effect on the trail. One of the biggest stand-outs for the new year is the Power Tuner app. This standard feature lets you tune the bike anyway you want – let me try to rephrase that: you can literally customize your motor character from your cell phone, people! This is a major advancement, and after learning how to use the app on this trip and trying extreme opposite maps to really feel the differences, I was blown away with the results. Furthermore, the 2019 450FX also has an alternate map switch on the handlebar, that allows you to switch between two different maps on the fly. It comes stock with pre-programmed base settings (one aggressive, one mellow), and then as you customize your preferences in the app, those changes are reflected on top of those settings. I had two goals when testing this technology; fine tune a map specific for my personal liking, and also, load two maps that were polar opposites to one another to see how much the bike would change after you push the button.
My teammate for this test, Randy, summarized it best: when we loaded the opposing maps into the bike, it was literally like have two different motorcycles at your disposal. The changes can be anything you can imagine – do you want a fire breathing 450 in map 1? Great, its all yours. But when you get tired in 5 minutes, do you want to tame the beast into something that feels like a 300cc trail bike? Great, push the button! It really is impressive what you can accomplish using this technology, and the app has so many other useful data traits that anyone can appreciate. Kudos to Yamaha!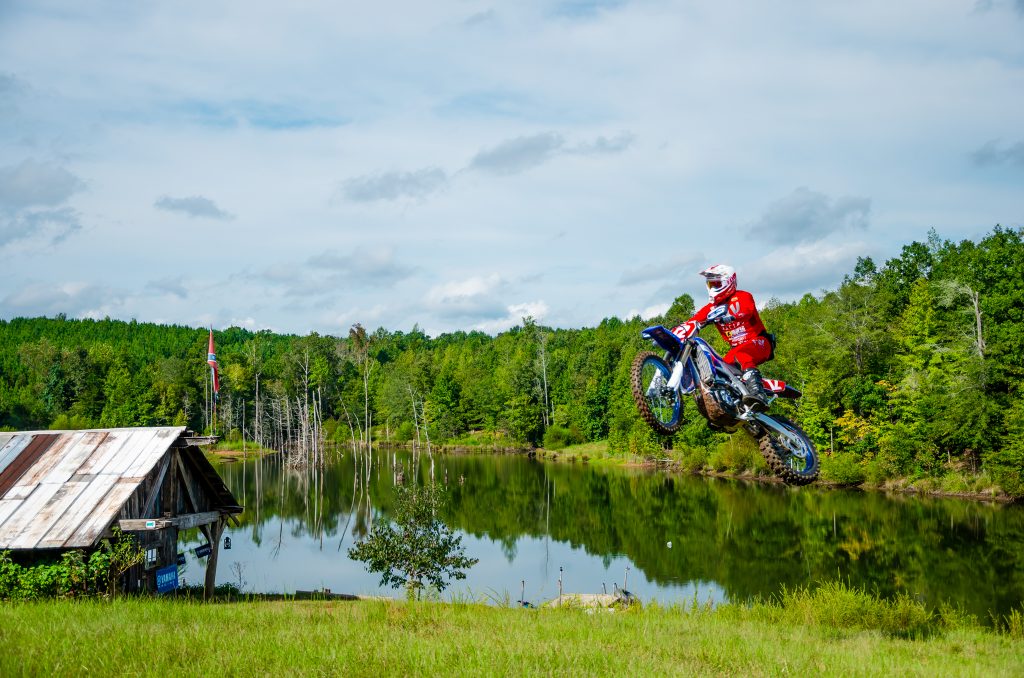 When it comes to the chassis, I think it is obvious that Yamaha's new version they introduced on the motocross bike last year has been their best in quite some time. They made substantial progress with handling characteristics and ergonomics, as the bike feels smaller and more nimble. But, I will be the first to admit – I still wish this bike could go on a diet to shed some "L-B's." It is a heavy motorcycle overall, and in certain sections it can feel sluggish when you need to bob & weave your way through the trees at a slower pace. Luckily, Yamaha has done a great job at centering the mass right between your legs, which greatly increased it's agility. When riding at a faster pace, the "weight complaint" can transform into making the bike feel more stable. You can mow over some nasty sections with ease on the 450FX, which comes in handy when the going gets tough. The chassis is very forgiving overall, as the bike will not transmit unwanted force and energy into your hands or feet. The new ergonomics are my favorite, as the rider cockpit involving the seat and shroud combination is much improved. It is fun to lay it into corners with it's narrow shrouds, and having a lower seat profile allows you to move from the front to back with ease.
And lastly, the infamous KYB suspension components are literally the best in the business. Having the privilege to ride and test new bikes year to year has allowed me to appreciate just how good these components are. Right out of the box the fork and shock work very well, and with minor adjustments become that much better. The 2019 450FX sees the exact same components as the motocross sibling, but with specific valving and spring rates that allows the bike to perform better for GNCC and offroad riding. The fork springs are 4.6 N/mm, compared to 5.0 on the motocross bike, and the shock spring is 56 N/mm compared to a 58. Having owned the original 2016 450FX myself, these components and new valving specs are much improved. On the older bike, the forks were way too soft causing the "stinkbug effect" under any type of braking or when charging into corners. The 2019 does not have that problem, as the bike has a much better balance that allows the front and rear to work as they should. On the forks, I actually went one click out on compression and one click in on rebound, to create a more planted and plush ride in the conditions we were in. The shock is stable and predictable, and I only found myself slowing down the rebound to help when popping over roots and logs in the trees of Hawkin's Ranch. Overall, the suspension package is impressive and I believe that it can accompany a wide range of riders and skill levels.