Yes, 100% makes gloves! Not only do they make goggles, but 100% has been in the glove game for a while now as well. I am hard to please when it comes to gloves, in fact gloves are one of the most important aspects of my riding attire. If the gloves are too tight, I get arm pump. If they are too loose, they bunch up in my palm. If there is too much padding, my hands feel fat on the grips. I am so "boujee", as my wife would say. I have been testing several styles of 100% gloves and this time it is all about the "Airmatic" gloves. The 100% Airmatic gloves feature an embossed neoprene cuff with an adjustable TPR wrist closure system, it also has TPR on top of the hand to give your knuckles some protection, mesh finger gussets, perforated dual-layer palm that is said to improve comfort and protect against blisters, silicone print on fingers for added grip/lever traction, and integrated tech thread that can keep you connected with your device on the track or trail.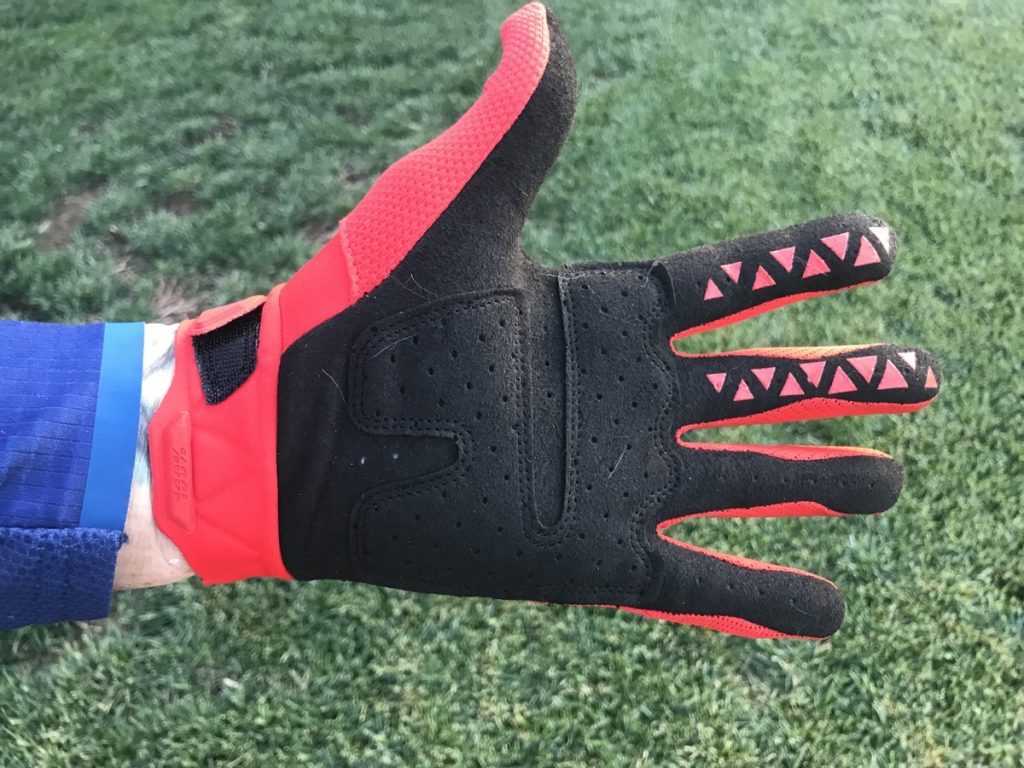 I usually prefer slip on style gloves and prefer them over having a velcro cuff closure system like the Airmatic. However, once I put the Airmatic gloves on I noticed they were comfortable for a velcro closure system type of glove. The Airmatic is a little tighter in the palm area than I would have liked, but stretched out enough within a couple rides. I am normally a size large in gloves and once the Airmatic's were broken in they felt like a large. However, when new they feel like a medium, so be forewarned it will take some break in time. The materials that 100% uses are extremely comfortable, breathable, and soft to the skin, yet provided me with enough padding in my palm to shun away blisters from long days of testing at Glen Helen. This is an all around type of glove that I feel you can use in off-road type races or at the local motocross track. The knuckle protection is more than I am usually accustomed to, but I also didn't notice any uncomfortable feeling on the top of my hand.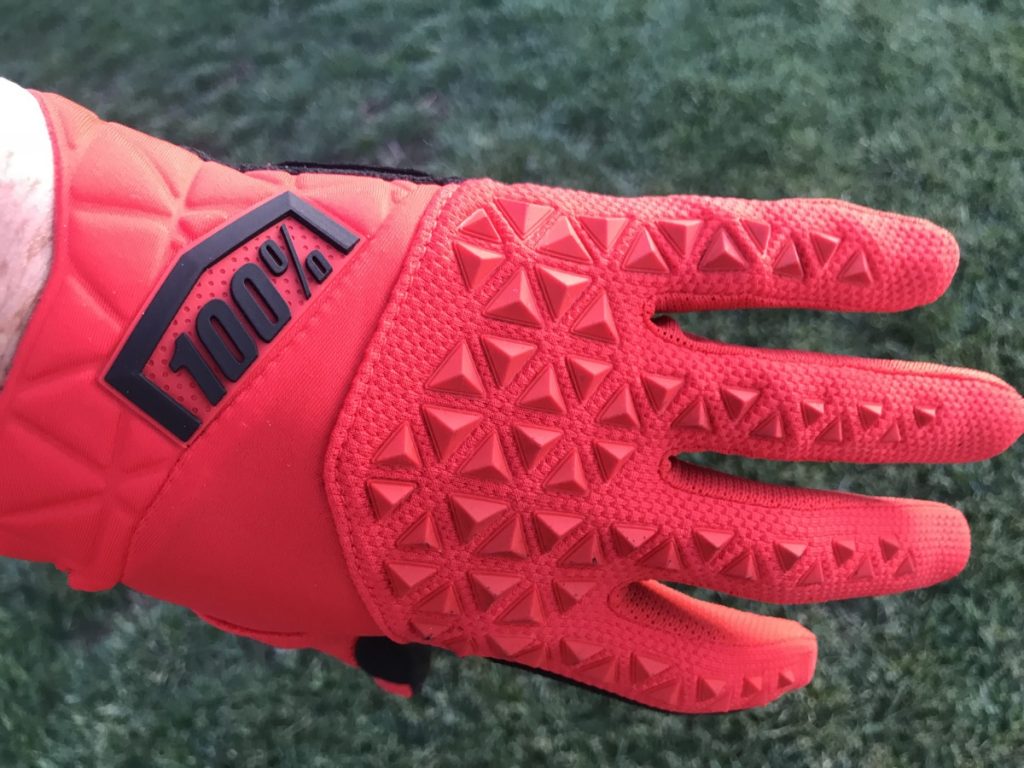 I did notice that the neoprene cuff was a little shallow as it barely covered up the end of my palms/start of my wrists. The cuff (with the TPR wrist closure) never slid down or allowed dirt inside my palms, but the feeling of it being shallow was more annoying to me than anything. The durability of the glove is something that I will have to praise. I beat the shit out of the Airmatic gloves and usually I rip the seams near the thumb area almost constantly with other gloves, but the Airmatic's have held up and proved to be a very durable all around glove. I have spent over one month using these gloves and have yet to find a failure in the sewing. (Just know that one month of my riding is equal to around 4-6 months of normal blue collar dirt bike riding). This to me is almost as important as the comfort of the glove. I hate it when I am at the track, in the middle of the day, only to find out my glove is split wide open near the thumb area. The ventilation of the glove is also superb as my hands kept dry, on long, warm, days of riding. I did manage to try out the integrated tech-thread and it does allow you to send a text with zero issues. I went out and rode some trails the other day to test this feature with success, but I don't really see this coming into play on the motocross track, however it's cool if you're a trail rider.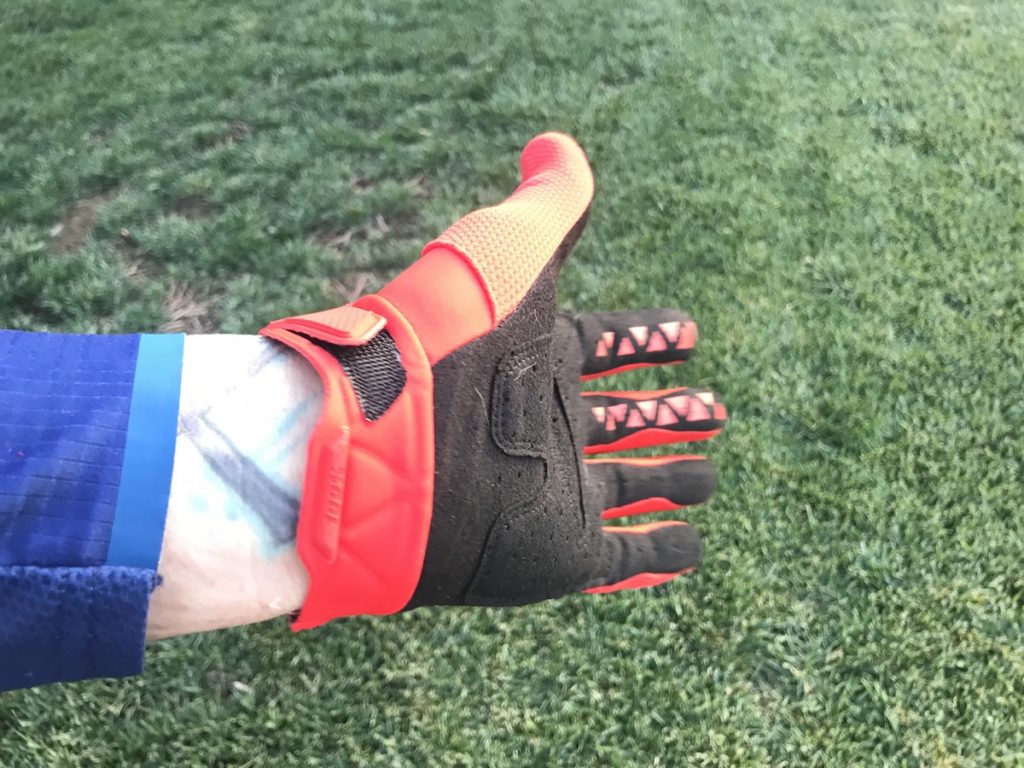 For $26.50 the 100% Airmatic gloves are a good buy, but just make sure you know that they do fit a little tighter (in the palm area) than some other gloves on the market. Just like boots, some gloves need break in time and these Airmatic's definitely need that "break in" period.