In the past when you decided on wearing Alpinestars gear you were stuck wearing another brand of helmet. That is until now… With the release of the all-new Supertech M10 helmet this year, Alpinestars is now in the premium helmet market world. The Supertech M10 helmet is the result of years of intensive study, development/testing, and after riding in it for almost two months I have learned a lot about its character.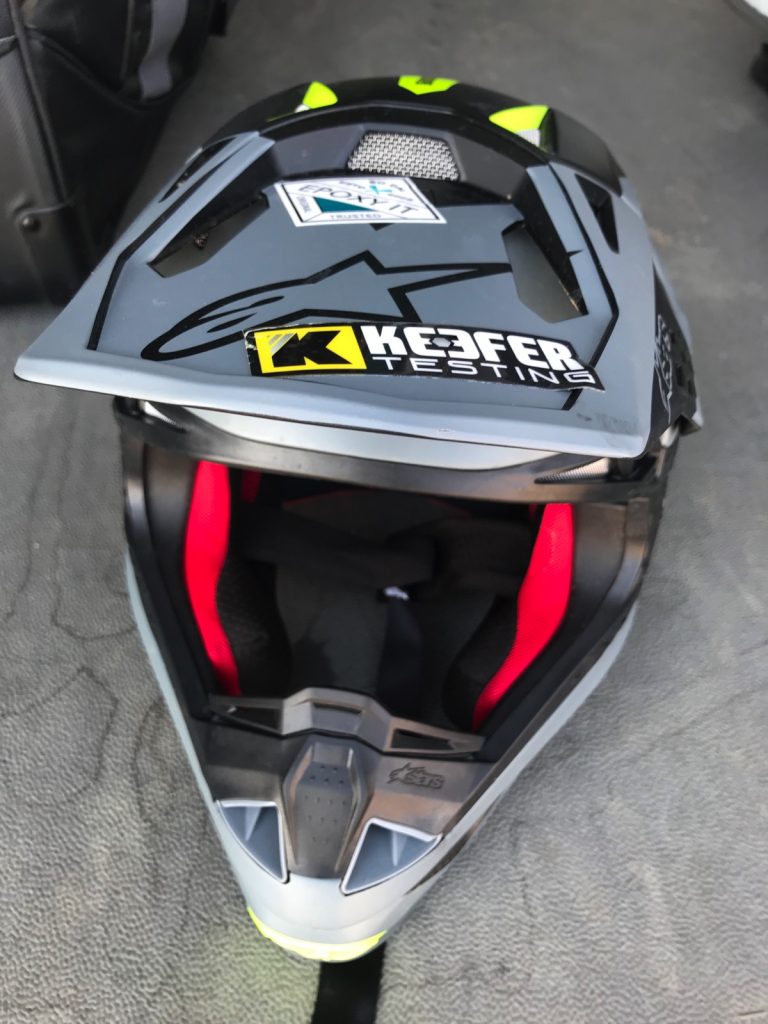 The first thing you immediately notice about the M10 is its lightweight feel. Constructed from a carbon fiber shell, a medium M10 weighs only 1260 grams – that's 2.78 lbs. – and is lighter than most helmets I have been wearing lately. It's surprisingly light when you pick it up and you just about forget you're wearing it once out on the track, which translated into less neck fatigue. Weight isn't usually a big factor for me, but after riding with the Alpinestars M10 for a while now I surely can appreciate the feeling on longer motos. The cool-max interior liner is really nice too, especially in the dez. California is atrociously hot in the summer months, but that hasn't stopped me from continuing to pound out motos in 100 degree weather. When you're sweating your nuts off, the helmet's interior is wicking it away and soaking it up. Sometimes helmet liners can become slightly abrasive/course feeling once all the moisture dries up, but the M10 still leaves you with a soft feel to it and will not feel like a Brillo pad when putting it on your head.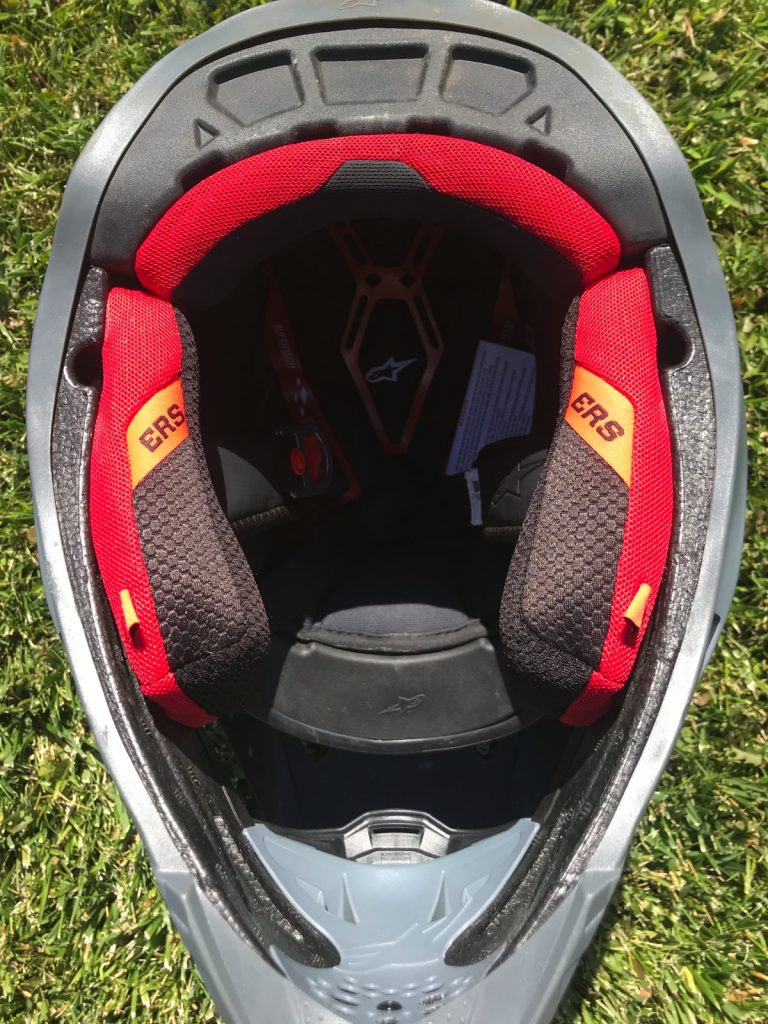 Ventilation was an important focal point in Alpinestars R&D process of the M10. Immediately when I went out on the track I noticed this helmet flows a lot of air, noticeably more than other off-road helmets I have tested lately. Alpinestars heat mapping tests have resulted in specifically designed ducting which produces a positive flow into the helmet over and around the rider's head, leading to improved comfort while riding and reduced onset of heat stress in extreme conditions.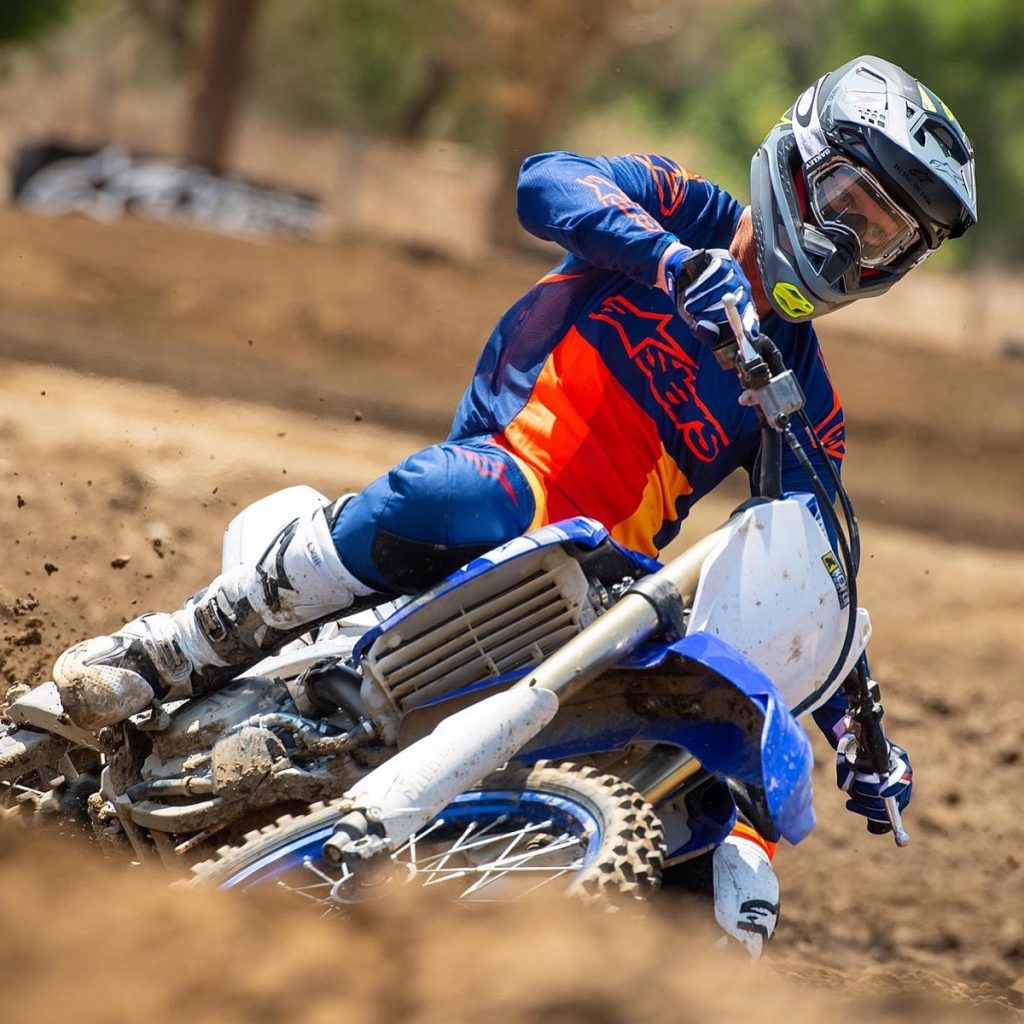 The visor design of the M10 is also a very innovative part of the ventilation system, as it's profiled to direct airflow and acts as a channel to concentrate and smooth the flow into the shell. The Supertech M10 interior liner design is formed to optimize airflow channeling around the rider's head before exiting through rear exhaust vents. The visor design also features a patented mounting/release system that sits flush with the helmet's shell. There are no screws keeping it in place. This makes the helmet look even more custom and seamless. The visor snaps in and stays put until the right level of resistance causes it to release and detach from the helmet to mitigate any rotational forces that would otherwise be transmitted to the rider's head, brain or neck in the event of a crash. You will not lose this M10 visor from a simple tip over/face plant like a Fox V3 helmet can do at times. 
As far as the safety aspects of the M10, the carbon shell features a multi-composite combination of 3K high-density carbon on the outer layer, a unidirectional carbon composite layer (which gives greater radial strength around the shell, preventing compression but allowing controlled deflection for reducing transmitted impact energy), and an aramid fiber layer that provides critical penetration protection. This multi-compound shell gets surrounded by an inner four-part multi-density EPS liner, which soaks up impact forces dissipated over the outer shell, and it all works in conjunction with its Multi-Directional Impact System, or MIPS.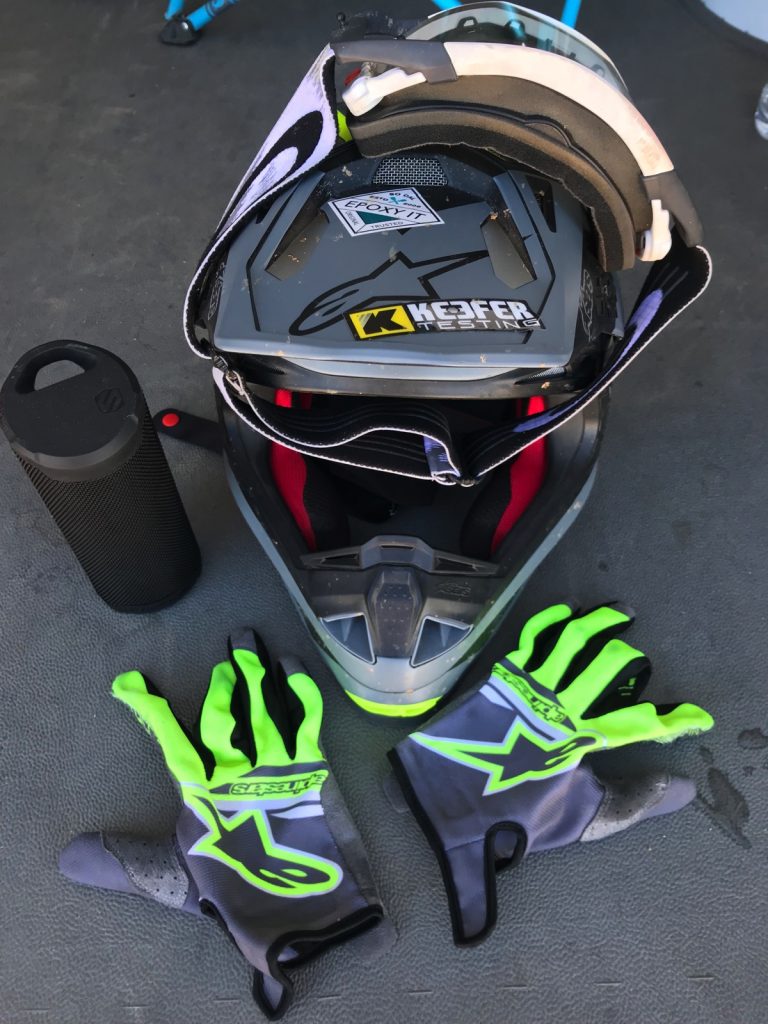 MIPS and similar technology is becoming more common these days in helmet construction. MIPS is a system that uses a low-friction slip layer between the comfort padding liner and the EPS layer, which allows one to move slightly independently of the other to dampen, redirect and reduce forces to the brain and neck, helping to reduce the chances of a concussion. Key word here is "helping"!! This system will not prevent a concussion. There are many types of "helmet technology" in the our world, so study up and decide on which one you believe in the most. Again, just like neck brace technology, it's up to you to take in the scientific information and decide for yourself which one you trust in the most. 
Other benefits found in the M10's shell and EPS liner are a patented A-Head fitting height and adjustment system as well as hydration system compatibility. The A-Head system allows the helmet to be tuned exactly to the riders preference for the height and angle at which the helmet sits on the head. With a micro-adjustable pad that is connected to the helmet's inner shell, it is possible to raise or lower the helmet fit and also, to tilt the helmet forward, or backwards. It's easy to use and adjust, but I did find that I needed to use thicker cheek pads to fill in the area inside the helmet. I am a size medium and the standard cheek pads are way too thin for my skinny cheek bones. Going to 40-45mm cheek pads gave me a snugger fit and helped with feeling too much side to side slop on my head. For you off-roaders out there, the hydration pack compatibility is also a very cool feature, but I am going to let my tester Michael Allen handle those duties. There's a channel on either side of the chinbar behind the cheek pads to run a tube from a Camelbak or similar system. It's cool that Alpinestars includes some "off-road" into their lids!
Each Alpinestars Supertech M10 helmet size comes with its own dedicated proprietary carbon shell size and EPS liner construction. This not only ensures that riders have a correct fit, but most importantly improves protection and the effectiveness of the helmet in case of an impact while optimizing weight reduction across the size range. The Alpinestars Supertech M10 is both DOT and ECE certified, comes in six different sizes from XS to XXL and will set you back $649.95. That is in the range of most premium helmets out there in the market today.
The looks of the helmet is something that has grown on me honestly. I wasn't on board with the looks initially, but after riding with it and seeing photos of myself with the M10 on, it looks attractive enough for some "Best Dressed" awards come 2019. I will continue to wear the Supertech M10 and get back to you all on a long term "Living With" test soon.