Where did the year go? Wow! Time flies when you're riding, testing, typing, and talking about dirt bikes!
With 2018 coming to a close I look back on the bikes/products (yes, some are 2019
bikes that I tested in 2018) that arrived or gained popularity this year and I picked a few that I think deserve some recognition. I went through a lot of bikes, parts, and gear this year so it was tough to narrow it down to just a few, but in the end these are the ones that stood out to me. I am a very picky guy, (just ask my wife) so pleasing me is somewhat difficult, but these products/bikes below indeed did something in order for me to write about them once again. As 2018 draws to a close, I salute these companies, manufacturers, and products for making the sport faster, safer, and more comfortable for all of us enthusiasts out there. Here they are in no particular order….
Vortex ECU For KTM 450 SX-F/Husqvarna FC450/Yamaha YZ450F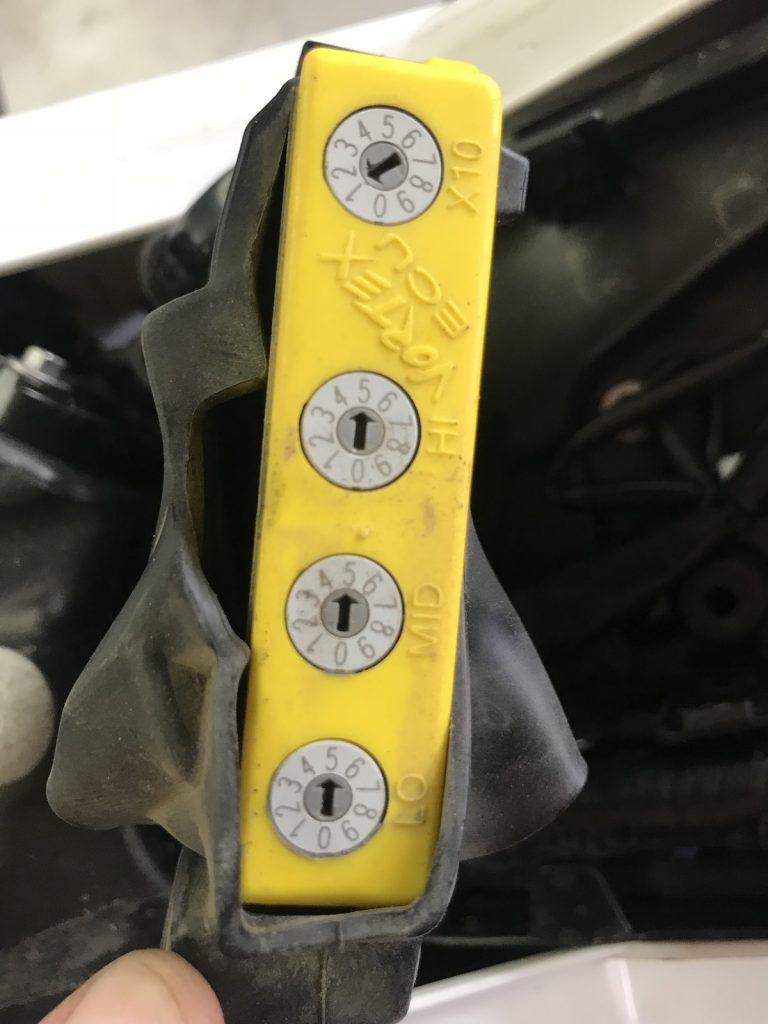 If there is one thing you can do to improve your modern day four-stroke power delivery, it would be to map your current ECU. Yamaha has an awesome PowerTuner app to play around with, so you can get your power delivery the way you like it (within a safe parameter) on the track. On the flip side to the Yamaha, the KTM/Husqvarna comes with a handlebar mounted map switch that allows you to choose between three settings (standard, aggressive, and traction control) so you can go pick and choose on how aggressive you want your orange/white bike to be while riding. However, if you really want to get more usable power, that is controlled, and broader, the Vortex ECU mapped by Twisted Development is my number one go to modification. On the 2019 KTM/Husqvarna 450's the ECU comes rich down low and somewhat lethargic, which makes the bike heavy feeing. With the Vortex ECU mapped by Jamie at Twisted Development the stock KTM/Husqvarna lethargic power delivery down low becomes a snappy, easier to ride machine that pulls stronger out of corners and longer down the straights. By simply taking your seat off and plugging this Vortex ECU in, these two bikes quickly become two of my favorite machines to ride. You also have 10 pre-programmed maps on the trim dial so you can choose how aggressive you want your power delivered. Run the Vortex on pump fuel or race gas, it doesn't matter because there's a map for both. The improvement you will feel on the track is huge and noticeable right away! www.td-racing.com
2019 Yamaha YZ450F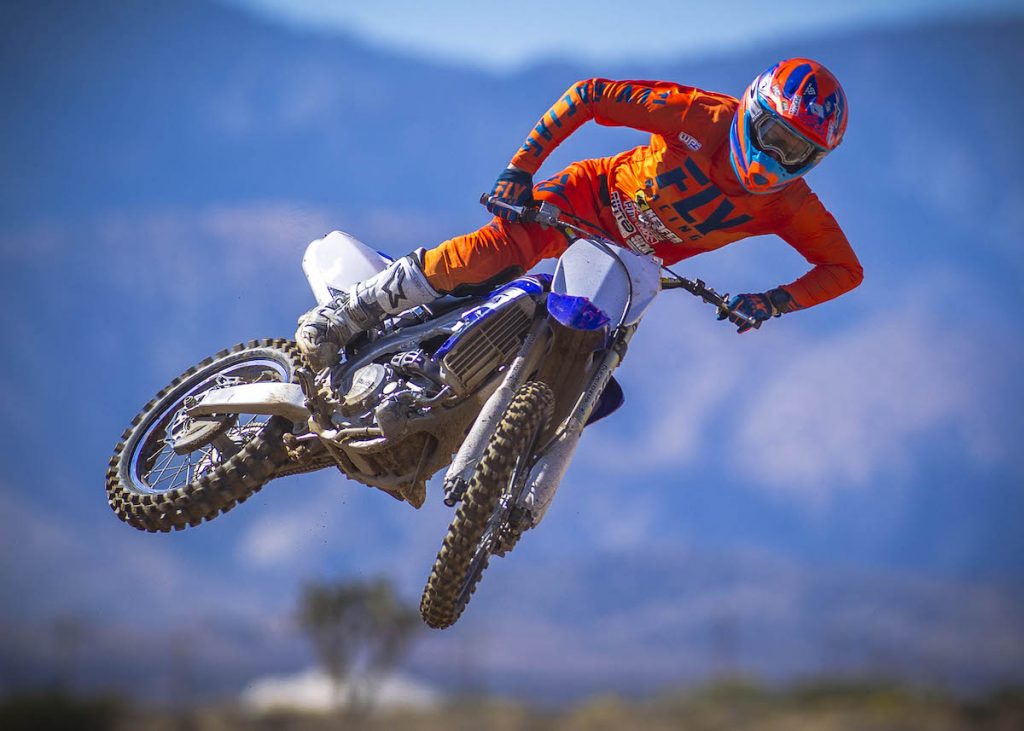 Small changes to the 2019 Yamaha YZ450F made it our 450 MX Shootout winner and my
favorite bike of the year! No it's not the lightest bike on the market, but it's engine delivery is unmatched, has the best production suspension in the game, has a better cornering ability for 2019, and is the most reliable bike on the track. Every time I think I may have found something better, I hop back on the ol' 2019 YZ450F and fall in love all over again. It's one of the only bikes I can ride in stock form and go very fast on right away. Kudos to all the Yamaha Japanese engineers and North America test riders for making an incredible machine! www.yamaha-motor.com
6D ATR-2 Helmet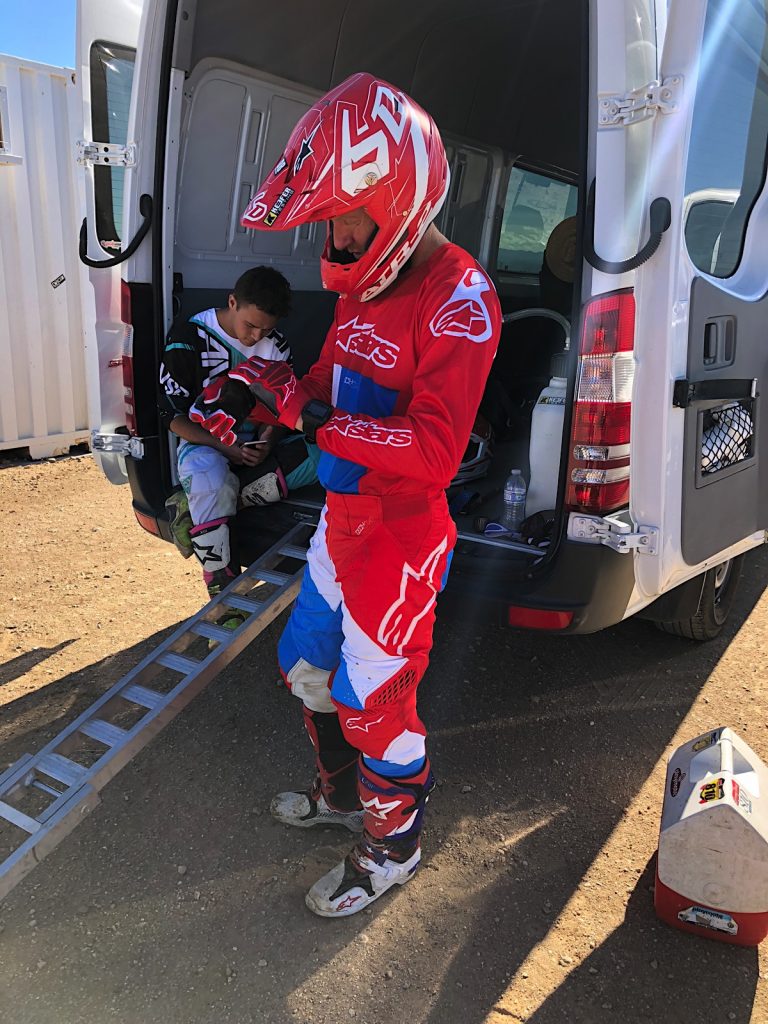 6D Helmets launched their ATR-2 in 2018 and improved on an already great ATR-1 helmet. It has a shorter chin bar/nose area, shorter visor, and is lighter that the ATR-1, but keeps all the safety features of the ATR-1. It's hard to write about something, that in some cases, can't be fully tested until shit goes wrong. In the world of helmet safety, we as buyers have to be very trustworthy customers. I mean…We have no choice, but to trust in a certain helmet company's technology right? We have to trust in what the helmet company is telling us (about their latest safety technology offerings) is in fact the truth and works in real world conditions, just like the test results say back at the testing facility. The only way to truly know if the helmet "works" or not is to crash and that is something that riders usually aren't looking to do. However, when it does come time to test the safety aspect of the helmet, it better damn well work and be what we paid for. I have worn and trusted in the 6D technology for quite sometime now and even spent my own money on a few helmets for my kid and I. My son and I both have crashed in an ATR-2 and came away dazed, but not confused. I feel whole heartedly that this is due to the 6D Technology, plain and simple. www.6dhelmets.com
Ride Engineering One Piece Handlebar Mount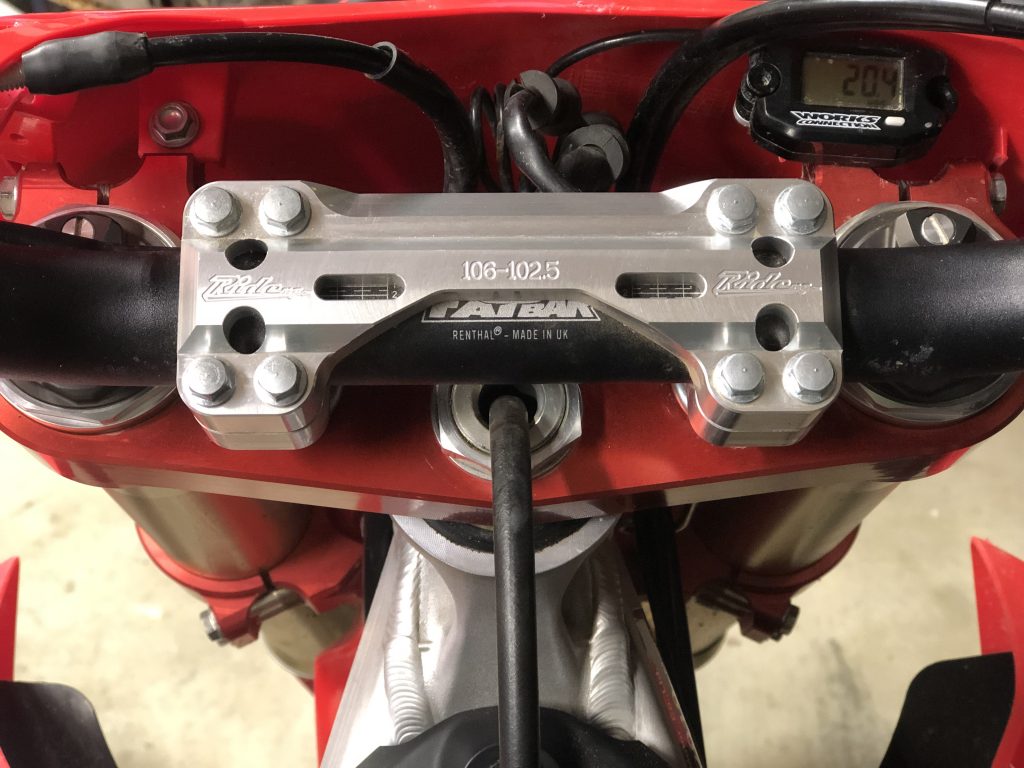 The Ride Engineering One Piece Oversize Bar Mount has a one-piece top that is designed to resist bending much better than the stock bar mount. Precision machined from aircraft quality aluminum, there is also a 6mm difference between the forward and back mounting positions. Ride Engineering also machines their own stainless steel posts that prevent over tightening, unlike some other competing brands that DO NOT use quality posts. I have stuck these Ride Engineering bar mounts on the KTM 450 SX-F and the Honda CRF450R with great results after crashing. I never had to find something to bang my front wheel off of to try and straighten my bars/mounts after a crash. These powerful suckers do not cause added rigidity to your ride and only cost $104.95, but you can save 20% by using the code Keefer-20 over at ride-engineering.com
Guts Racing Firm Seat Foam And Gripper Wing Seat Cover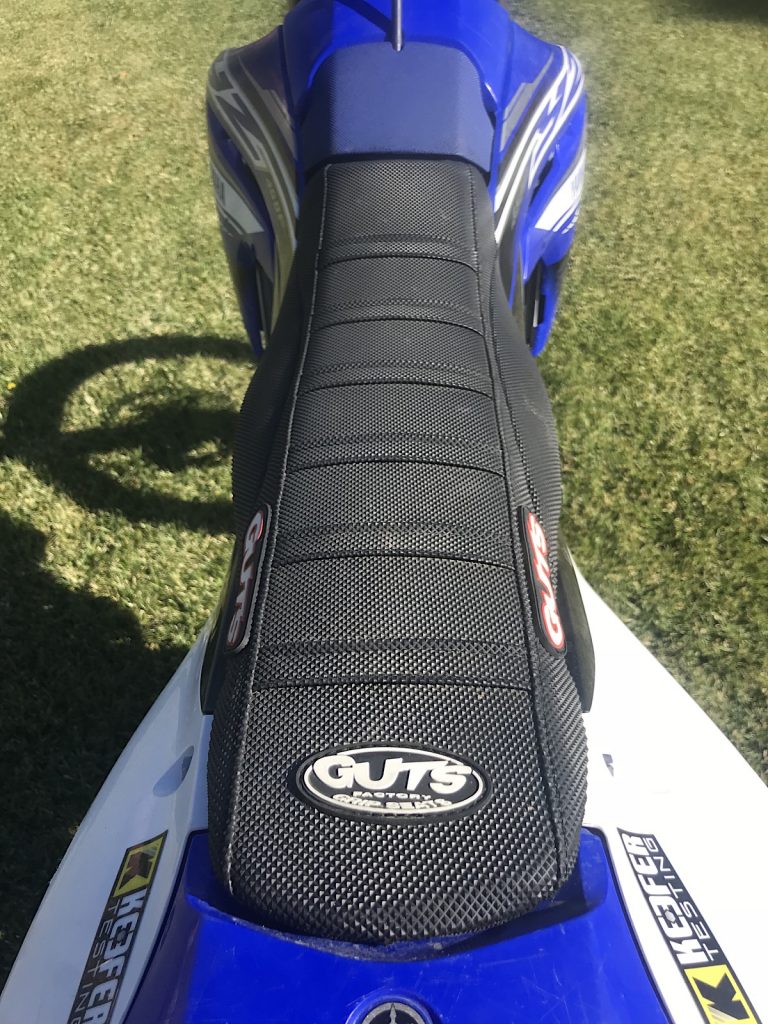 The real only downside to the Yamaha YZ450F is the seat density and cover. The foam is not firm enough near the middle portion of the seat the rider sometimes can hit the fuel tank when pushing hard into corners. So when you think of the words "hard" or "firm" you may think of uncomfortable right? Well in this case you would be wrong. The "firm" GUTS foam is just what the doctor ordered, especially when I am slamming into corners. With the GUTS firm foam the density is harder in the middle of the foam/seat, but also on the sides of the foam where you need it (especially when riding aggressively). Your butt is not always placed directly in the middle of the seat when you're riding, so why just make the middle part of the foam firm? GUTS thought of this because all of us riders need to have a firm feel on each side of the foam as well. The GUTS Racing foam provides the correct amount of density, so I am not pushing my tushy through the foam and into the plastic of the fuel cell. On top of the foam gripping the bike is important to me so Andy from GUTS makes these special "wing" gripper seat covers so my long legs have something to lock on to when standing up through rollers or choppy terrain. Having the "wing" seat also improves the cushioning of the side of the seat even more with the added padding sewn into the cover. It's a brilliant idea and works awesome! www.gutsracing.com.
Works Connection Elite Axle Blocks For KTM And Husqvarna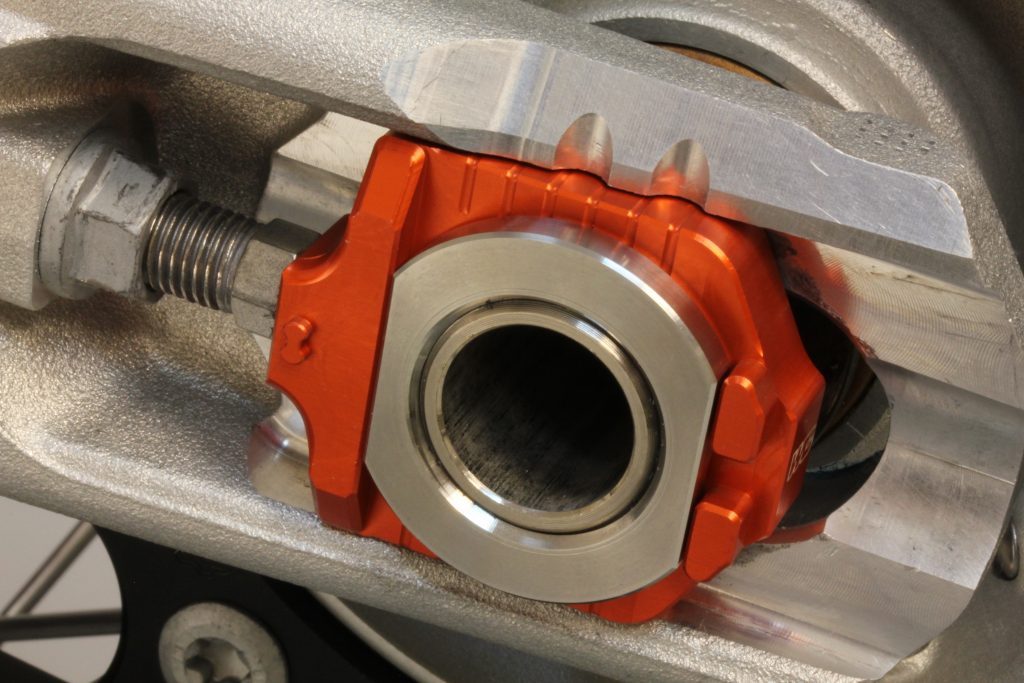 Consisting of a pair of CNC'd Elite axle blocks, a titanium drive-side receiver, and a square removal tool nut, the Elite Axle Block Kit converts your stock KTM/Husqvarna rear axle from a fixed design into a floating type. KTM and Husqvarna Factory teams use this same floating type design on their race team bikes to improve traction as well as straight line stability, and it actually works! Another key component is the integrated receiver post on each axle block that allows the use of a caliper to precisely measure and match the left and right axle block's position. This assures exact alignment of the chain and sprocket, which is critical to prolonging chain and sprocket life. I have been secretly running these on my KTM and Husqvarna test bikes for almost a year now
and it may not seem like it's much once installing them, but you will notice more rear wheel traction and a less harsh feeling under acceleration chop. www.worksconnection.com
2018 Yamaha YZ65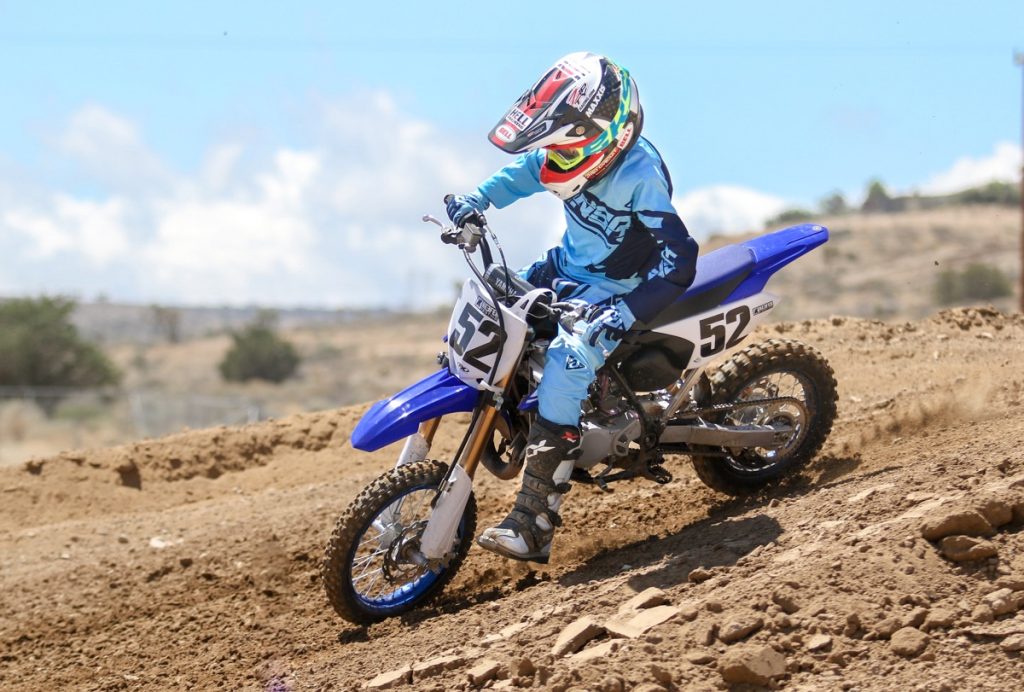 Anytime a manufacturer develops a new dirt bike for kids I am all in. Yamaha introduced a new model to their lineup with the YZ65 in 2018 and it was well perceived not only by my little test guy, but by many other littler riders and parents alike. The YZ65 has a potent engine, great suspension, and adjustability that lets little riders a chance to grow with their machines. We even let our test rider Dustyn Davis ride it with his friends at the 24 Hours Of Glen Helen and the YZ65 lasted the entire time in the muddy conditions. We have almost 80 hours racked up on this test unit along with a WORCS championship that Dustyn won along the way.
2018 Top Gear Choices
You guys knew this was coming right? I am such a gear fanatic that I couldn't just pick one set that was my favorite, so I am giving you my top three sets of gear that I tested/wore throughout 2018, in no particular order:
Fly Lite Hydrogen: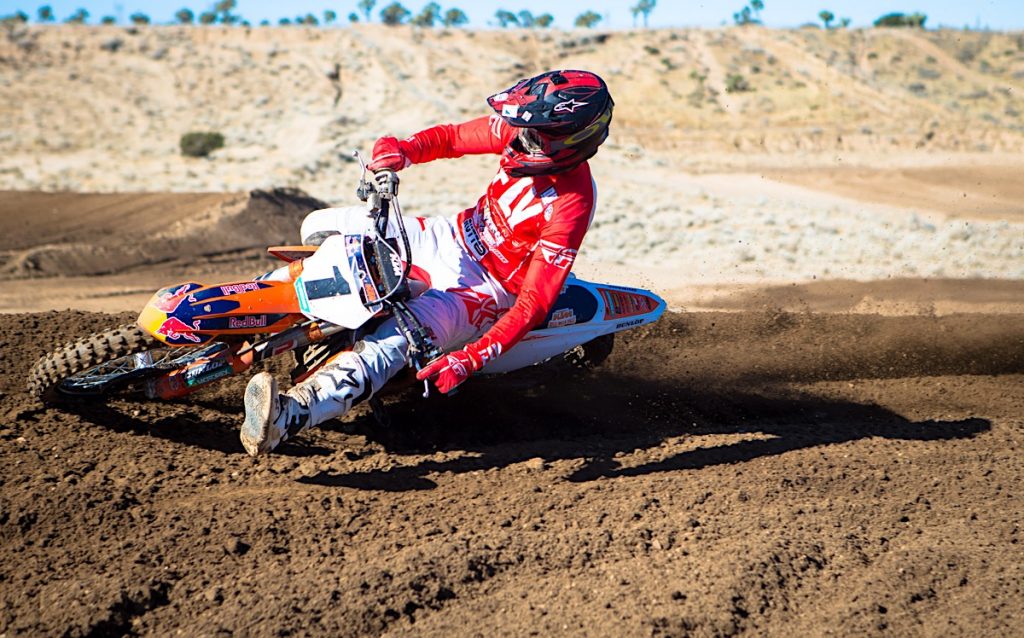 Lightweight, flexible, and most of all very comfortable the Fly Lite Hydrogen
gear is a joy to wear on long days of testing. It's ventilated enough to breathe through the hot summer days in the desert, but also is durable enough to last through the abuse I can throw at gear. Not to mention the solid colorways that FLY came back to for 2019 has me all giddy like a school girl on prom night.
Fox FlexAir: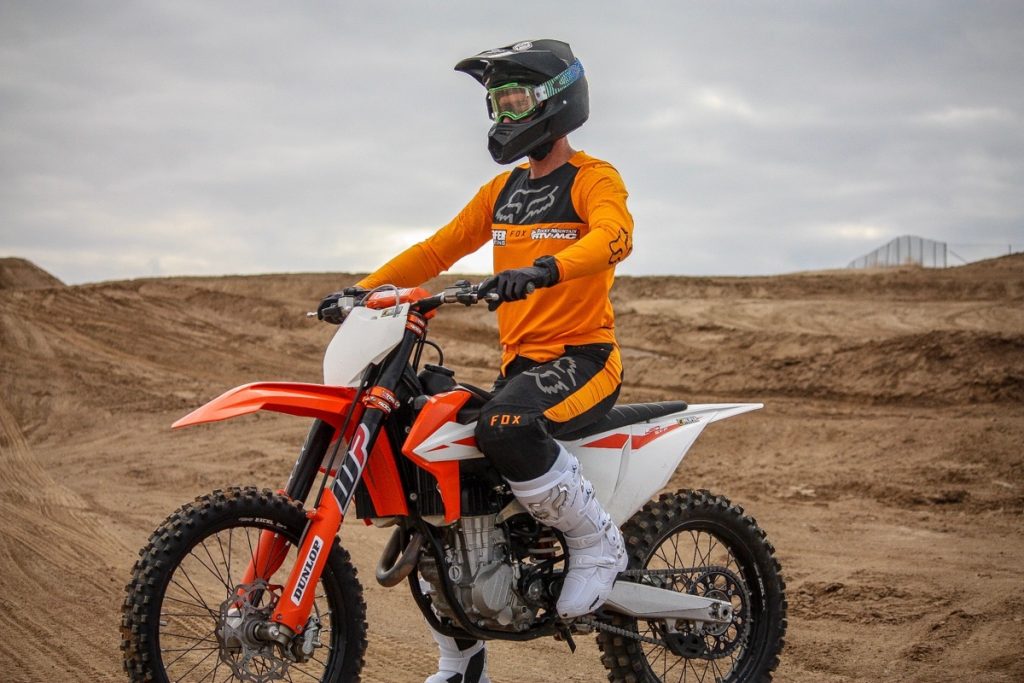 When you put a set of Fox FlexAir gear on you really notice how lightweight and
minimalistic this stuff really is. The gear is snug and so streamlined when I am riding that I notice that I can move around on the bike a lot better. This is a real thing folks! Just like cyclists streamlined, form fitting gear helps your body become more agile while riding and Fox does it right with the FlexAir gear!
O'Neal Hardwear: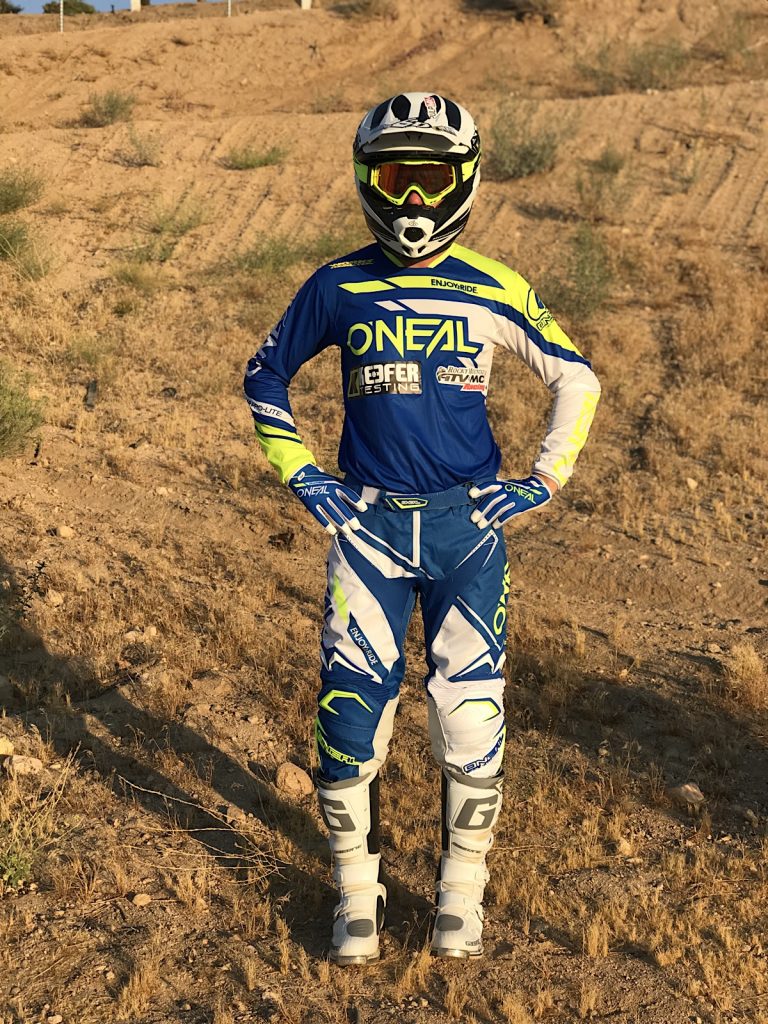 Say what you want about O'Neal, but they have come a long way with the styling of their gear. I wanted to put O'Neal in this mix because the Hardwear fit is much
better in 2018 than it has been it quite sometime and there is no other gear out in the market that is as tough as the Hardwear pant and jersey in my opinion. Yes, the gear is a little heavier than the two above it, but the stuff is tough and has a clean look for 2019!
LitPro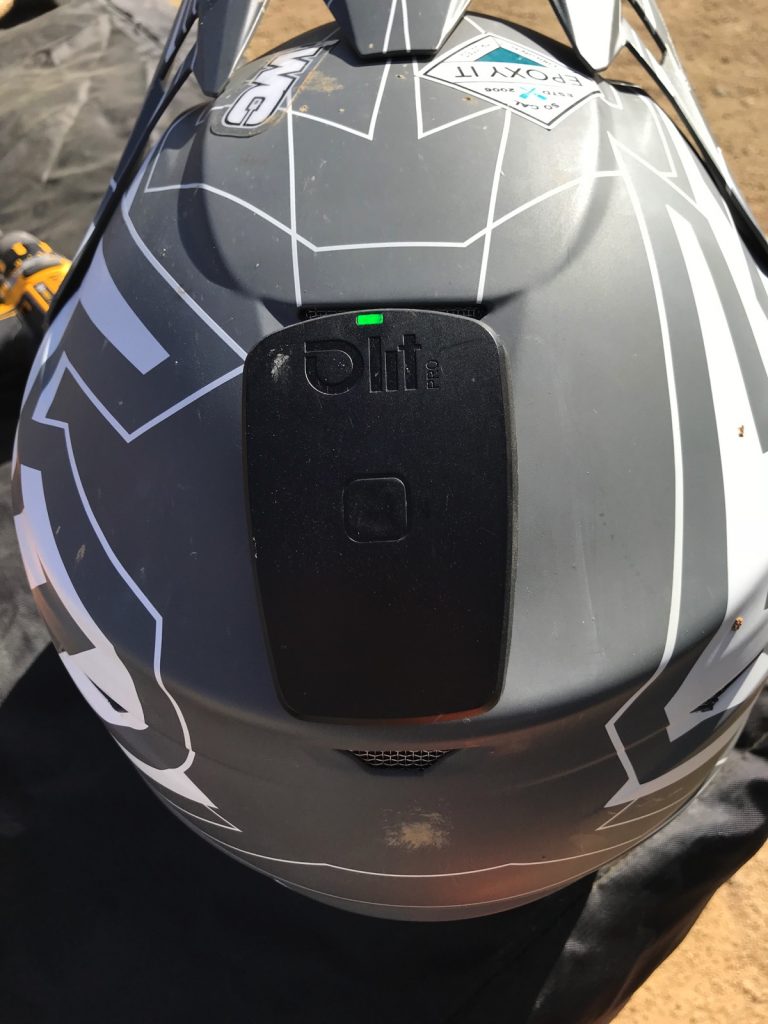 If you like analyzing your riding like me then the LitPro is a pretty incredible tool to have. Look, I will be target up with you. I wasn't on board with the LitPro a while back because it was too damn hard to use and confusing to me. However LitPro has made some updates to their app and made easier for us idiots to use the device. I have been riding with the updated software for a few months now and by no means am I a pro at it, but at least I can see each session I do and analyze my lap times, my line choice, what's faster, and which bike I may be faster on at any given time. I love that I can get with my buddy Travis Preston and really show him how fast my corner speed is compared to him! To me that is worth the $499.00 price tag! You can even track your heart rate during each moto, just in case you really want to go all "Baker Factory" out there! www.litprolive.com
2018.5 Husqvarna FC450 Rockstar Edition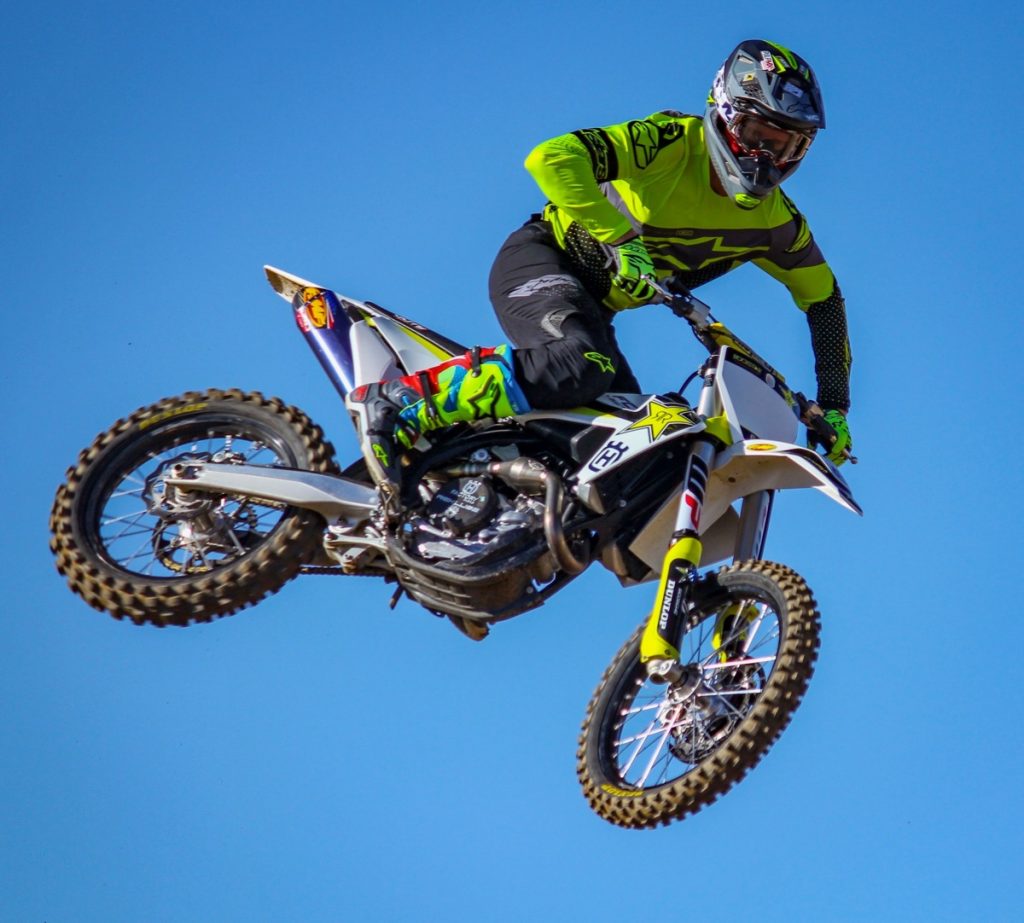 Did you really think you were going to get through this without me mentioning the Rockstar Edisssssh? No, the 2018.5 Husqvarna Rockstar Edition didn't win our shootout, but that doesn't mean I didn't get happy every time I rode one of these suckers. I would talk about how much fun it was to ride (to my wife) so many times that she finally got sick of it and went and bought me one. The Rockstar Edition has better ECU mapping than the 2019 FC450, it feels the lightest of all 450's on the track, is super connected from my throttle hand to the rear wheel, and my lap times (from my LitPro) always said I was fastest on it! Simply put, the 2018.5 FC450 Rockstar Edition is just a fun bike to ride and gets even better with just a couple modifications like an FMF Muffler, removal of the backfire screen, and some good race fuel. To me the Yamaha and Husqvarna are my two most favorite bikes to ride of the 2018/2019 model year!