XPR Motorsports might not be a very familiar name to you, but the owner Chad has been doing engines for quite sometime. Most notably he is the engine builder for the MotoConcepts/ BullFrog Spas/Honda racing team of Justin Brayton, Malcolm Stewart, and Vince Friese. In case you were living under a rock, these bikes are some of the fastest bikes on the track on any given weekend of racing and they're not a factory engine. The engines are all done in house by Chad himself. I had the chance to ride Brayton's race bike in 2018 and I was so impressed that I told Chad that I would like to ride another project bike of his in 2019. I am very hard to please when it comes to engines as I rarely test/review built engine/project builds, but Chad did such quality work (on Brayton's bike) that I decided to write "Ten Things" about the 2019 XPR Motorsports KTM 250SX-F build that he worked over for an up and coming amateur motocross racer. If you want to hear the RMATVMC Keefer Tested podcast I did about this bike, head over and click the podcast right here on pulpmx.com.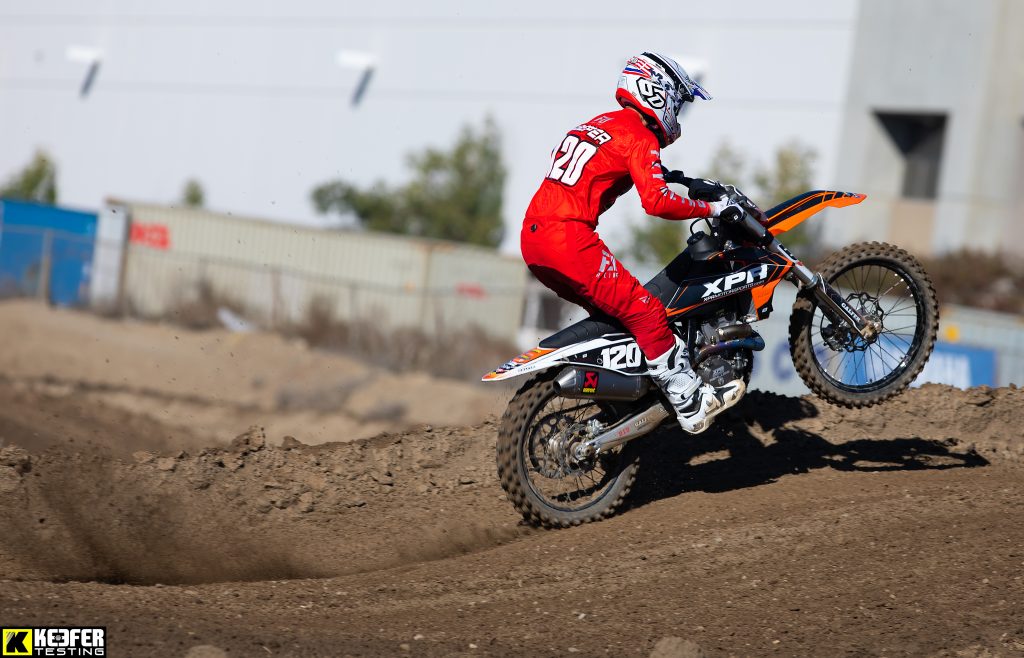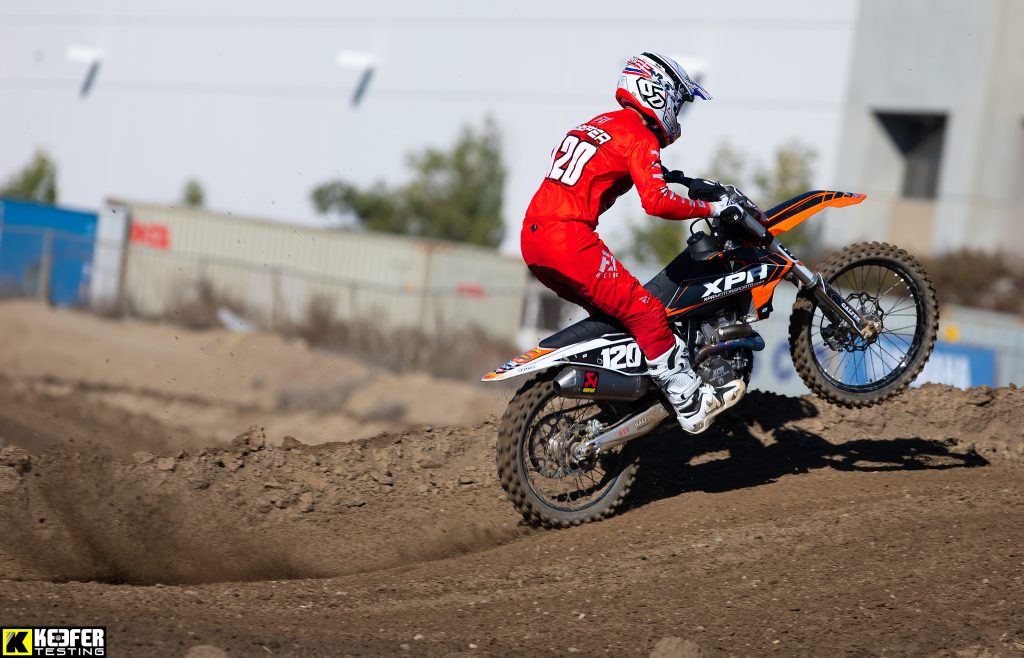 RPM Response: If there is something that the standard 2019 KTM 250 SX-F is lacking it is throttle response. The XPR engine has much better throttle response, but keeps the stock linear character that makes for excellent rear wheel traction. The XPR engine has a quicker delivery of power down low that makes the KTM 250 SX-F feel even lighter than it already is. Popping over square edge or jumping through braking bumps is made much easier with this engine.

 
Free-Rev Feel: The common theme I get when I ride Chad's engine work is a free-revving feel that doesn't have drag. What this means is that engine braking feeling is considerably less than stock and the XPR KTM doesn't pitch as bad, once you're off throttle. How does Chad achieve such a thing? By balancing the crank, treating of the transmission, and using a Vortex ignition all help in the free feeling on the track. It's a pretty amazing feeling to ride a four-stroke that spools up quick, but also is free enough to where the bike stays flat/balanced around the track when on/off throttle. Having this sensation gives the rider confidence when entering corners with braking bumps. Imagine a two-stroke engine braking feel, but with a lot more traction. This is what the XPR KTM 250 SX-F engine feels like.
Bottom-End Delivery: Along with RPM response this is also where the KTM needs some help (compared to a YZ250F). Again, the character of the engine remains KTM'esque and is very controlled, but the XPR engine just has more pulling power down low. Chad kept the stock gearing on the bike, but I still could use third gear in almost every 180 degree corner I came across. The XPR engine delivers such an enormous amount of torque on the track that I was able to ride it like a 450 instead of a 250. Unlike a built Yamaha YZ250F where you get a lot of bottom end real quick, the XPR KTM 250SX-F feels connected to the ground under heavy throttle. Just like a KTM 450SX-F the XPR engine is deceiving because it builds up the RPM's so calculated. You think you may not make a big jump out of a corner, but there is so much torque and traction that you end up over-jumping certain obstacles. I thought I really liked the bottom end of a built YZ250F, until I rode Chad's KTM engine.

 
Mid-Range: You better hold on once you're out of the corner and start to accelerate because this is where you will need a gripper/ribbed seat. Pulling power is increased dramatically and the XPR engine invites you to keep your finger off of the clutch. Sometimes when I accelerate down straights on other built 250F engines I have to cover the clutch in order to keep it from wheeling. The mid-range of the XPR KTM pulled my 170 pound frame down the straight in a hurry, but also kept the front end down and my finger off of the clutch.

 
Top-End/Over-Rev: Do you need to shift to third after the corner with the XPR engine? No. Can you just leave it in 2nd? Yes. 2nd and 3rd gears pull extremely far for a 250F. Just when I thought I needed to shift the XPR KTM it told me to chill out and use the gear I was in until it was finished. Well…. 2nd gear on this bike is a vet riders dream. It doesn't rip your arms out of your sockets coming out of the corner and your old ass doesn't even have to shift before the next corner. If you're a lugger, well that is just fine too, as this engine let's you run third gear through the corner and down longer straights with ease. I never even tried fourth gear because I never had to use it, so I apologize that I didn't test fourth gear pull for you guys.

 
Vibration: Stock KTM's vibrate, but the XPR modified engine didn't vibrate nearly as much as the stock engine. If I was a KTM owner I would have chad just balance the crank to get less vibration. That in itself was one of the first things I felt on the machine when I left the pits.

 
Akrapovic: Probably the most beautiful, put together muffler made, graced the XPR KTM 250SX-F. The note of the exhaust is quiet, yet throaty, which I have come to appreciate over the years.
Rekluse Torque Drive Clutch: The Rekluse Torque Drive clutch gave the KTM 250SX-F a little extra snappiness down low, but gave the clutch a more on/off feel. I would like to have more of a linear clutch engagement so that I may roll my corners better. The good news is that I could of changed my springs to help this if it was my bike.
Vortex Ignition: Just this simple ECU makes the KTM a better motorcycle, but when tuned by Chad to his engine spec this makes for a wider range of power throughout the power curve. I would love to show you the dyno numbers, but Chad will not let me and two, I don't care about dyno numbers. I care about what the bike feels like on the track. #IAmAHumanDyno
What Do I Really Think: Like I said in my intro I really DO NOT test/review 250F builds because they are usually super expensive and time bombs. I came from a blue collar family and never had a modified bike growing up. EVER! Getting a fast 250F that last 10 hours is not realistic to my readers, so I just usually pass on offers from small bore engine builders. However, Chad made an incredible engine that lasts for 20 plus hours and although still pricey, is realistic to build if you're a serious racing family, with a teenage kid trying to make his dream a reality. Motocross is expensive enough right? If you are wanting more power out of your nine grand 250F than you don't need some stuck up, my engines are the best type of builder only to find out that it blows up six hours later. Chad is an honest, hard working guy that doesn't walk around talking about how good his stuff is. He just hands you the finished product and lets you feel it for yourself. Nice job www.xprmotorsprots.com.