Round two of the Monster Energy AMA Supercross Series came to the home of the Arizona Cardinals Saturday night and gave us plenty of action. I was back home in the "other" desert in 2019 250 MX Shootout hell, so I was unable to attend, but between studying some things on TV and with the help of some of my insider buddies I managed to whip you guys up some "Daytime Program" from the lovely Arizona desert. 
Glendale Track: Long rhythms, long whoop section, slippery dirt, and a long ass start straight made up for a very tricky round two. I texted a couple riders that rode press day and they both said that the dirt was quite good and better than last year, but by the time the main event rolled around, it was looking like Corona, California in spring time. If you watch closely you can see riders up shifting early in a lot of sections especially coming across the start straight. If the dirt was tackier most riders would of downshifted into second gear, after the straight, but most 450 riders left their bike in third! I checked after the race to see if a couple riders knew what gear they were in through that section and all said third gear in the corner and sometimes even fourth gear down the straight. A higher gear means less wheel spin, but that also means you have to roll your corners more because you have to keep the bike in the meat of the power. Tough to balance that fine line between lugging and getting the power to the ground.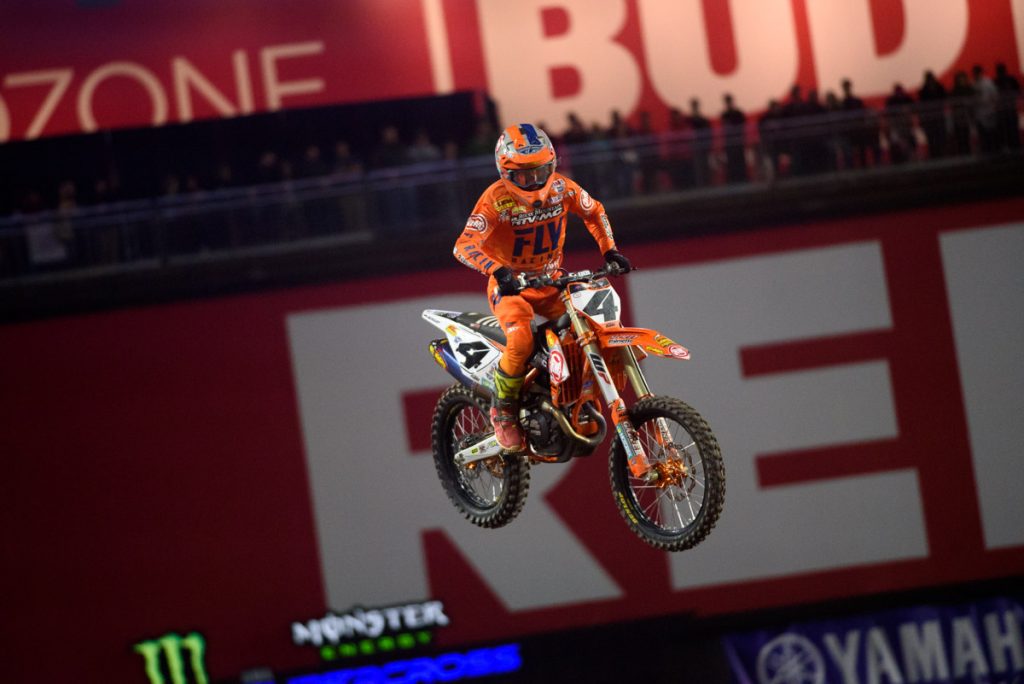 Blake Baggett: Anyone else notice that BB4 rode really smooth in Glendale? I am not saying that Blake is out of control most of the time, but when you think of Baggett you usually don't go straight to thinking "smooth rider". After the red flag re-start he seemed to really find his flow and was doing different rhythms and hitting the whoops exceptional every lap. He also was really good the corner before the finish line and got that little triple down without breaking his rear end loose. It's surprising that Blake hasn't won a race yet, but something tells me that this will not be his last this year. Great job to the Rocky Mountain KTM team and Blake for hanging in there when things didn't look so good there for a while.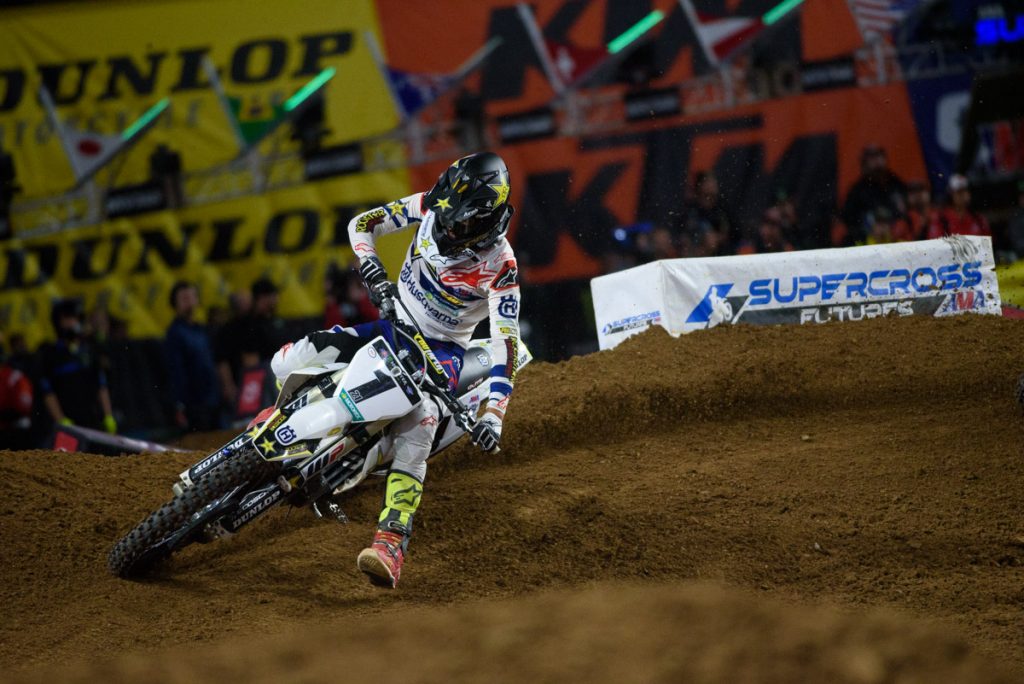 Jason Anderson: What can we contribute Jason's better weekend to? No Mud? Different engine spec? Feeling better? Getting some more seat time under his belt? We will never get the full truth from the team or Jason, but at least the champ is up front and mixing it up. Was the pass on Roczen dirty? When I first watched it go down I thought it was an opportunity that was well taken by Anderson and Roczen should of known that he was there. The previous lap Anderson peaked his nose in there, so I would of assumed Roczen thought he would make a move again the next lap? I guess not and the #1 took the #94 down in a heap. Anderson was pretty apologetic on the podium, which to me means that he is fearful of some kind of retaliation from Roczen sometime soon. Just like JT$ said "you don't want to make enemies on the track as it is a long series".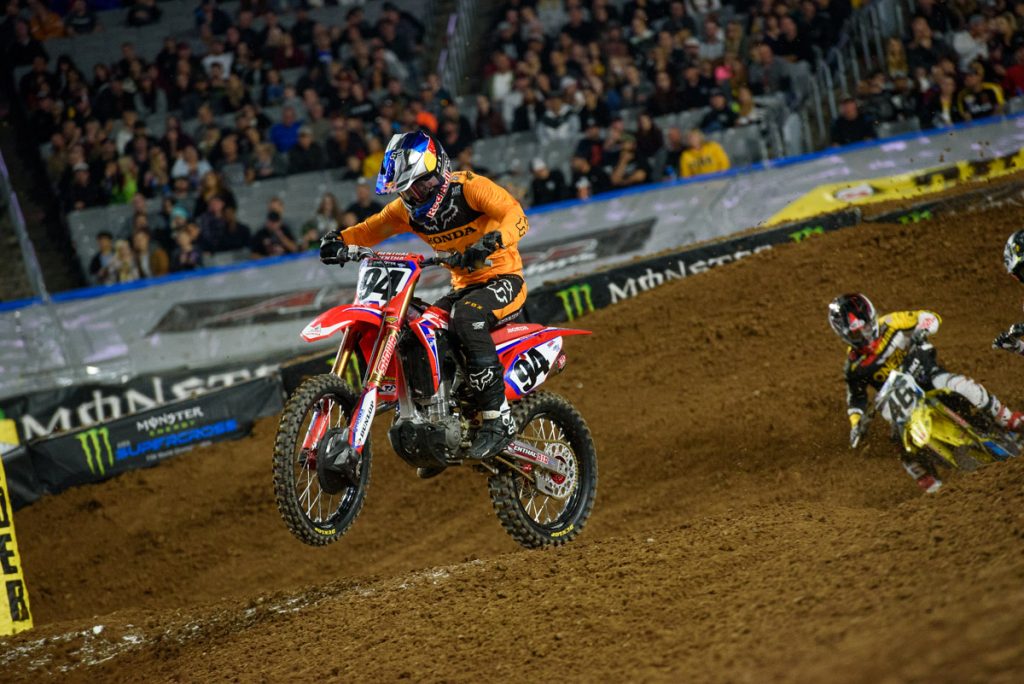 Ken Roczen: Roczen is your new points leader heading into A2! Roczen hasn't been the fastest guy in the first two main events, but he has been consistently good and up on the podium mostly due to his effortless style. I also feel like Kenny should of expected Anderson to run it in hot as he was peaking his nose in on the previous lap! The slippery Arizona track was tailor made for Kenny's riding style, but to me the Honda set up looked a little off for the dry conditions. Just from my eye it looked like Kenny's bike couldn't hook up (rear wheel traction) right out of corners like Anderson's bike could. This forced Roczen to lose time in corners in which he usually pretty damn good. This more or less is a chassis setting and not an engine delivery problem. I am sure the Honda guys will go to work and fix this for any future slippery tracks they have in store. Anaheim will not be one of those because a week of rain that is scheduled to be in store for us is going to make Anaheim pretty tacky for once. Oh and to me Kenny is NOT going to forget what Anderson did to him.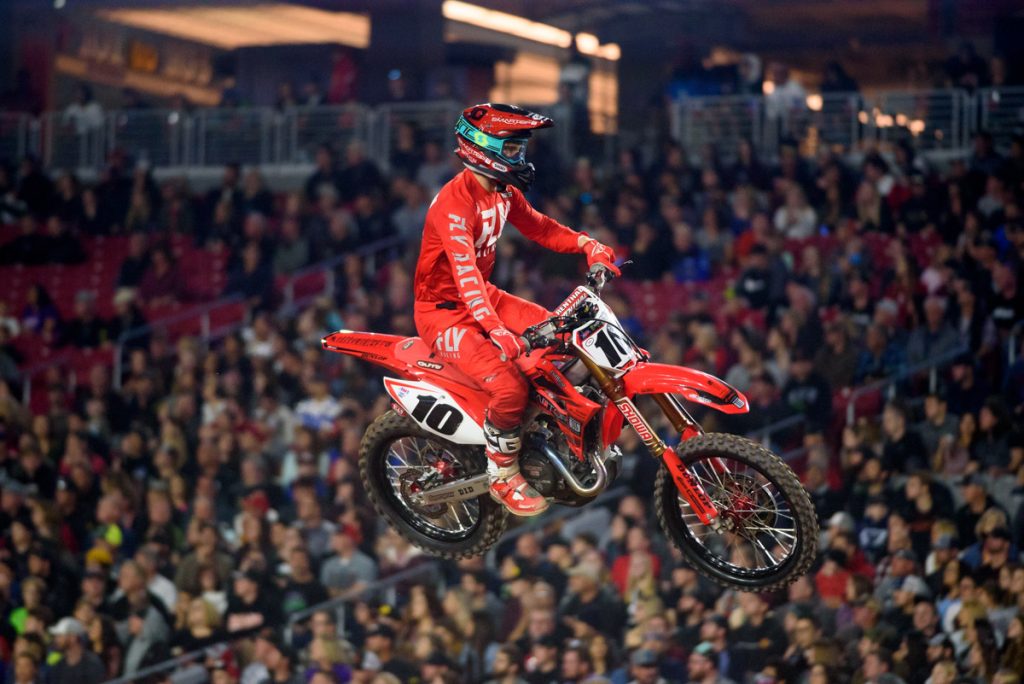 Justin Brayton: Over seas JB10 is coming around and by the time the east coast hits expect this 34 year old bad ass to be on the podium. A heat race win was a good start, but a bad jump off the gate in the main didn't help his cause for a good showing. Brayton also had a nice turn down at the finish of the heat race, just to show all of you that older dudes can still do young buck stuff!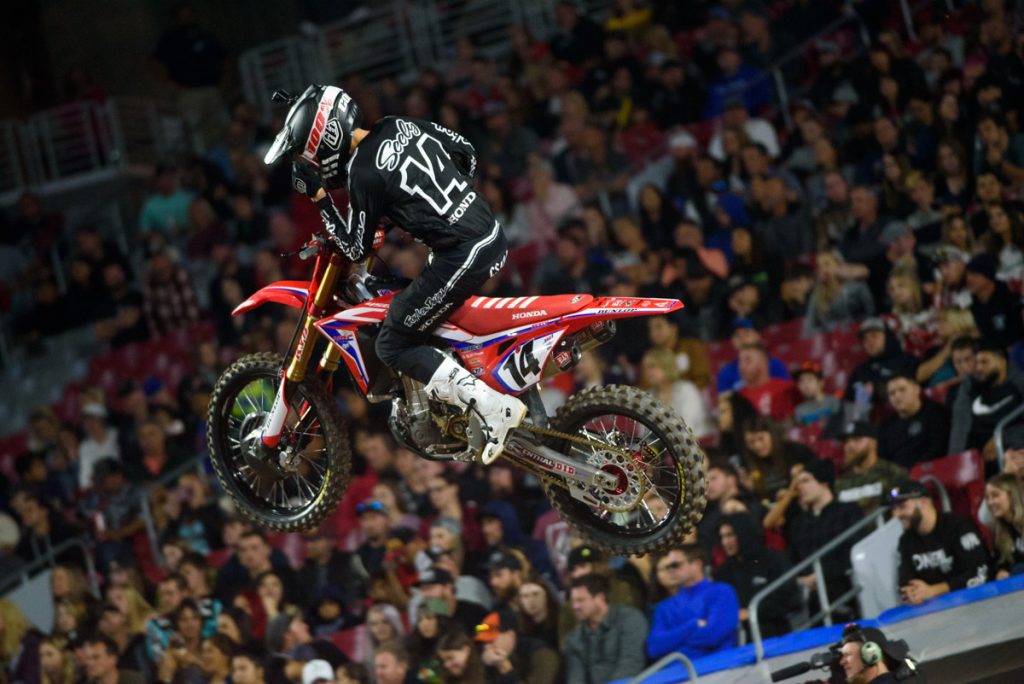 Cole Seely: Slippery conditions and Cole Seely go hand in hand. For a guy that was pretty jacked up last year I think Seely is riding pretty damn good. A top ten in these early races is exceptional.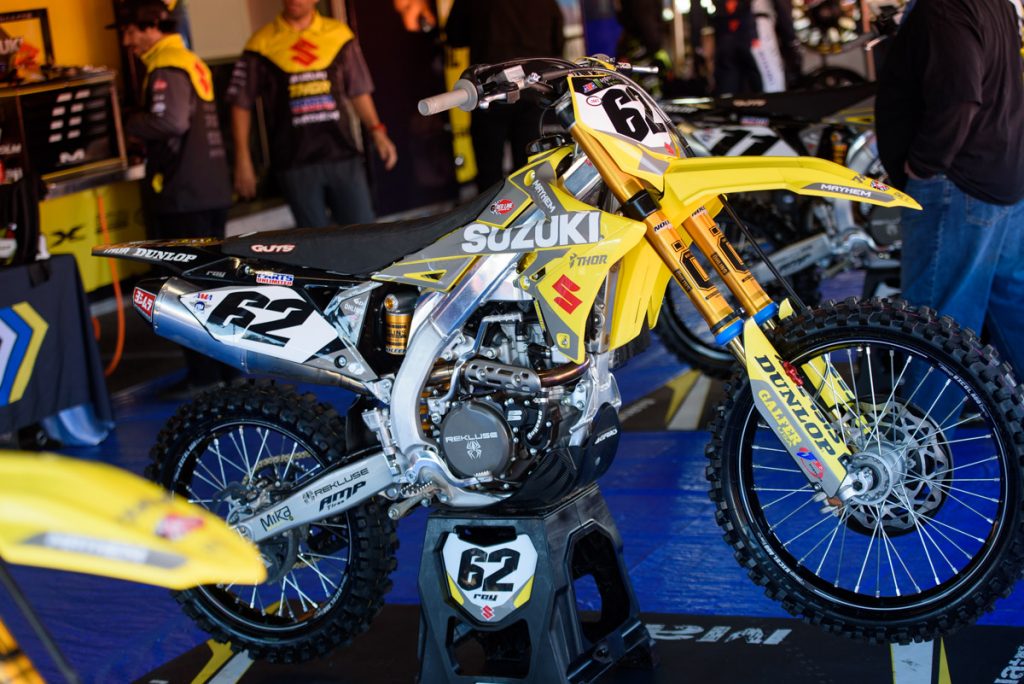 HEP Suzuki Team: The HEP Suzuki team have started off a little slow, but they're starting to get some momentum going. With a last minute muffler switch at Anaheim due to some sound issues the team is starting to get its feet under them. Chiz and A-Ray made the main and number 97 is on the cusp, but needs some better starts. Kudos to Dustin Pipes for dialing in these riders and embarking on the team manager journey, which can't be easy.  
Mookie: This sucks! Heal up Malcolm!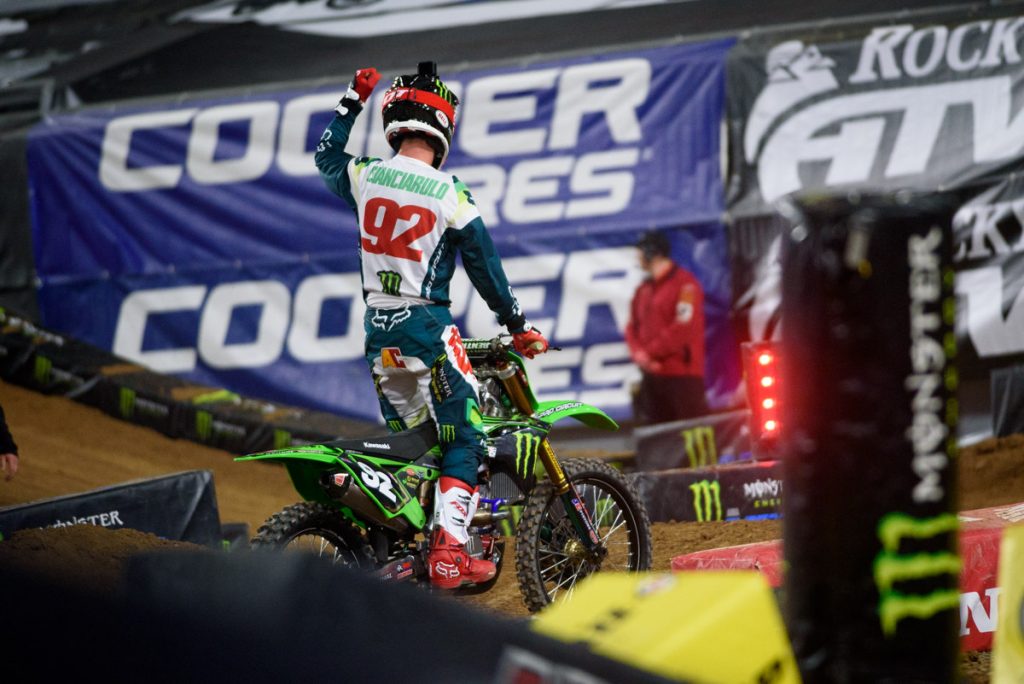 Adam Cianciarulo: AC looked super crisp and was insanely accurate in where he put his machine all night. Watching him was a thing of beauty and his whoop speed killed everyone else in the class. His starts have improved this year in case you haven't noticed and I know that this is one thing he worked on with Nick Wey.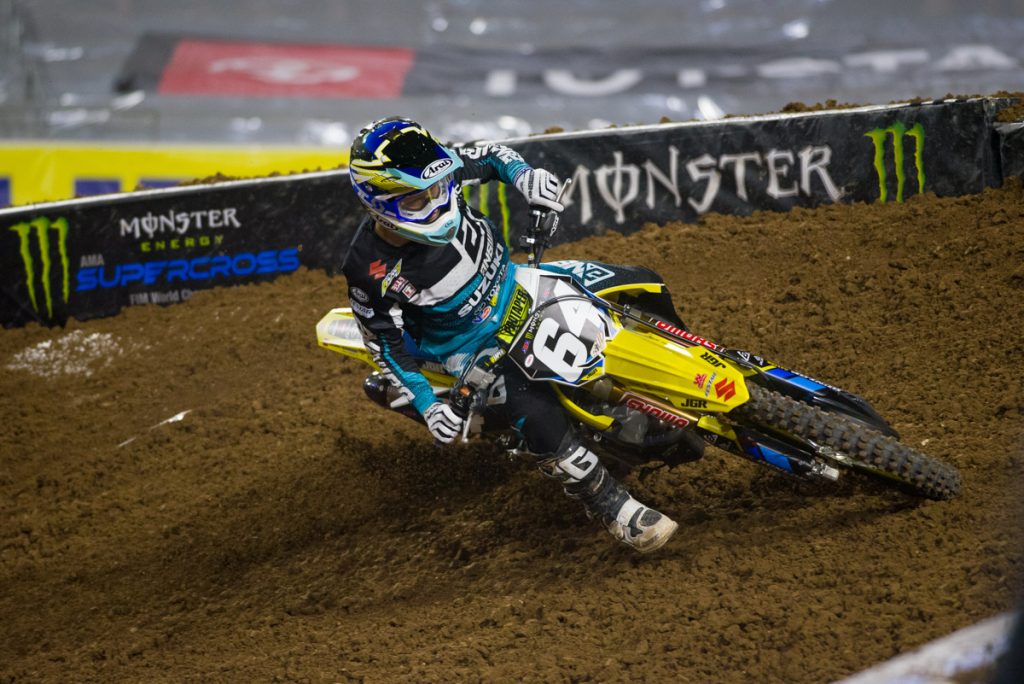 Jimmy Decotis: Damn Jim, you're ripping! I will have to admit that I didn't think Jimmy could be this good! Great qualifying times, good starts, and holy whoop speed for Jimmy in 2019! How many of you thought Jimmy and his JGR Suzuki would have been good in the whoops? Not me! A top five in Glendale puts him sixth in points and gives him a good chance to get within the top three by the time the series takes a break for the east coast dudes. The Suzuki looks fast and JGR is selling a "race kit" for the consumer based on what they learned within their own race team machines. I am going to be doing a test on the JGR hop up kit soon, so look for it over here on pulpmx.com.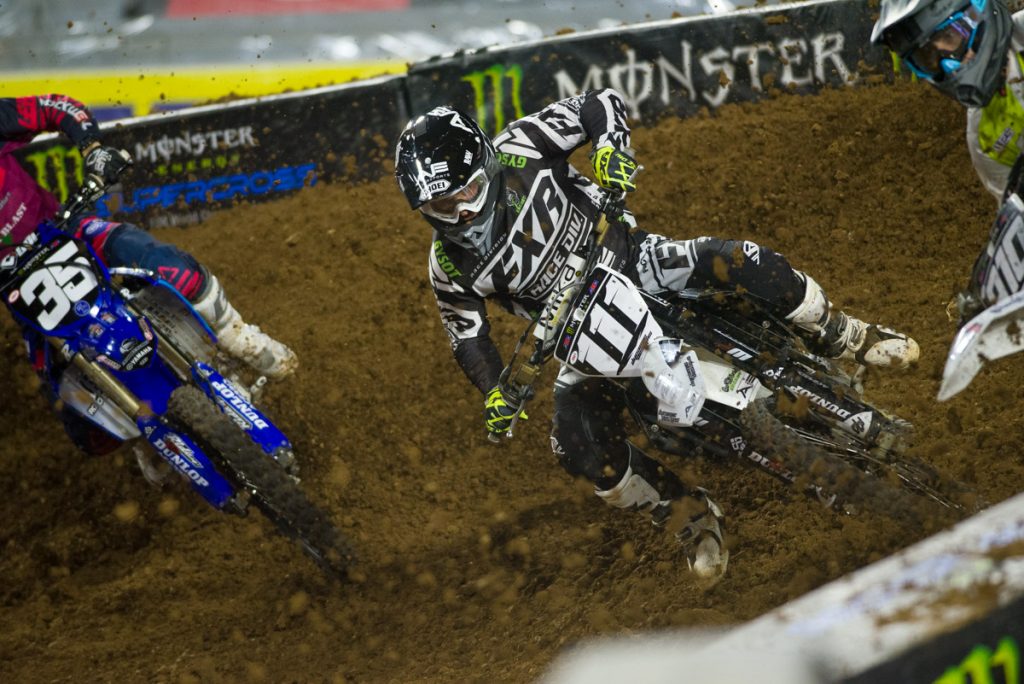 Chris Blose: Chris Blose and his wife are expecting a baby boy and it looks like Chris is racing hard to save some of those earnings for some diapers. Chris's 7th place is not what he is capable of, but he has been battling up front and looks very solid for the whole 15 minutes plus one lap. Race Tech is helping Chris with suspension/engines and the Gas Monkey Husqvarna looks fast! Chris also ditched the cue ball Shoei lid and upgraded to a colored helmet! Thank you Blose. Thank You.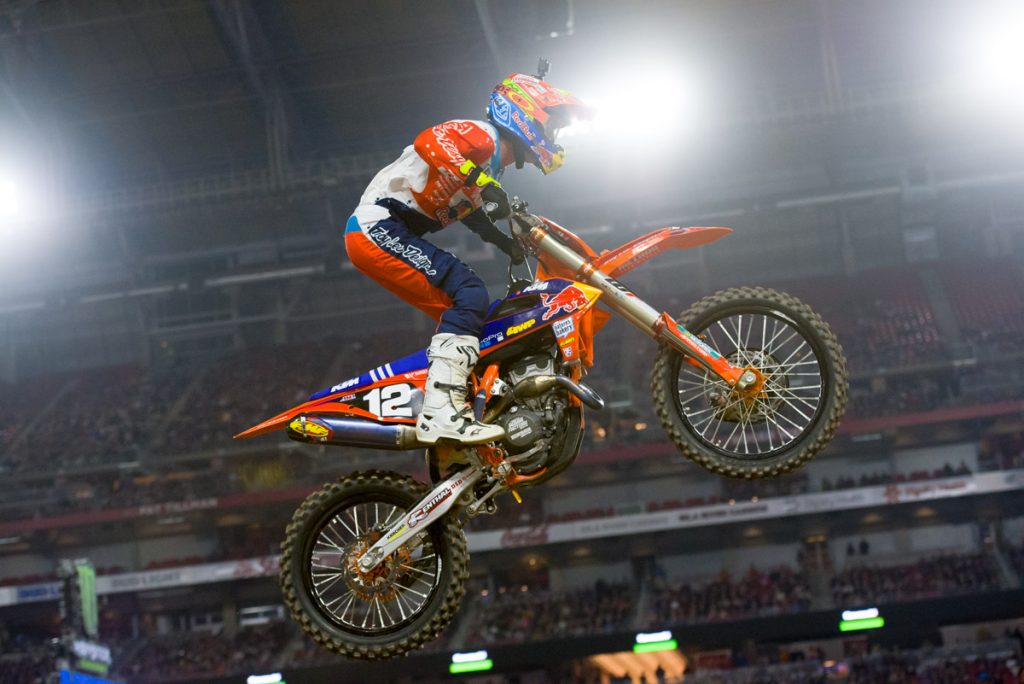 Shane Mcelrath: I would have thought Mcelrath would have won already. He doesn't look as strong at the end of the race like he did last year, which puzzles me. The team is on last year's frame geometry because the riders liked the older frame in the whoops better so there shouldn't be any excuses. Two third place finishes isn't bad by any means, but with Mcelrath being in the class for a while, I just expect more out of him.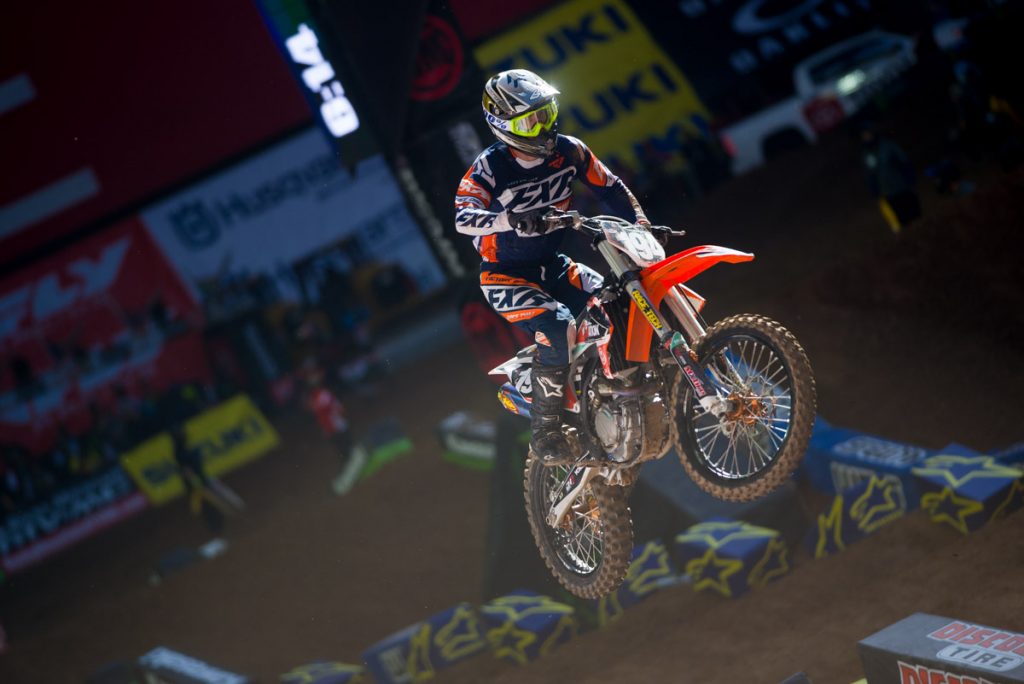 Jerry Robin: Leave Jerry alone you mean Pulp MX Fantasy players! He is riding better than he did last year, has a new trainer, a new bike, and to me will get one of these main events figured out very soon.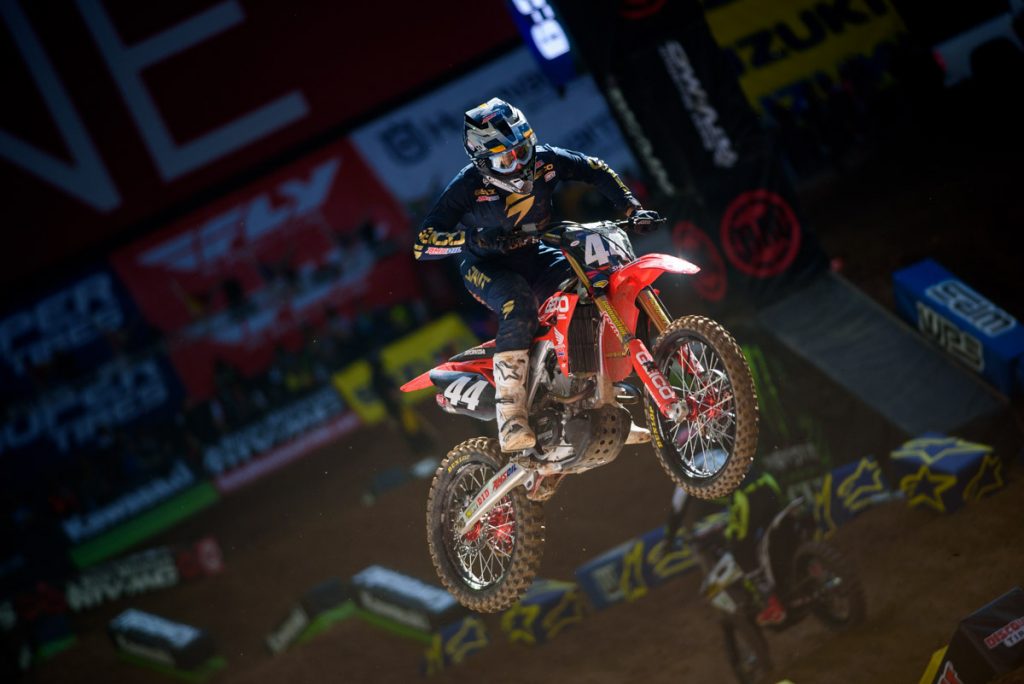 Best Dressed: Cameron Mcadoo wins it this week because the Shift Navy Blue/Gold gear looked so clean and popped off of the red Factory Connection Honda superbly. It's tough to get a set of gear that goes well with a red colored bike, but the navy blue and just that touch of gold really made for an incredible looking set of gear on the track. Unlike Roczen where that orange Fox gear clashed with his red bike, the Shift set of gear overpowered everyone else in Glendale. Congrats to Shift and Mcadoo!