After two episodes, 13 riders, over five hours of rider opinions, three vastly different tracks, over 90 pages of notes, and several engine hours later, the 2019 250 MX Shootout is dusted. We set out to find the correct 250 four-stroke motocross machine for you and have came away with the final ranking. Below are the final scores (that were tallied up by using an olympic style scoring) and a brief evaluation/summary of each bikes strengths and weaknesses. If you want to hear more about each bike and get a much broader/detailed breakdown of each machine, click on the podcast tab to listen to the Rocky Mountain ATV/MC Keefer Tested Podcast Presented By Fly Racing And Race Tech right now! 
First Place: Yamaha YZ250F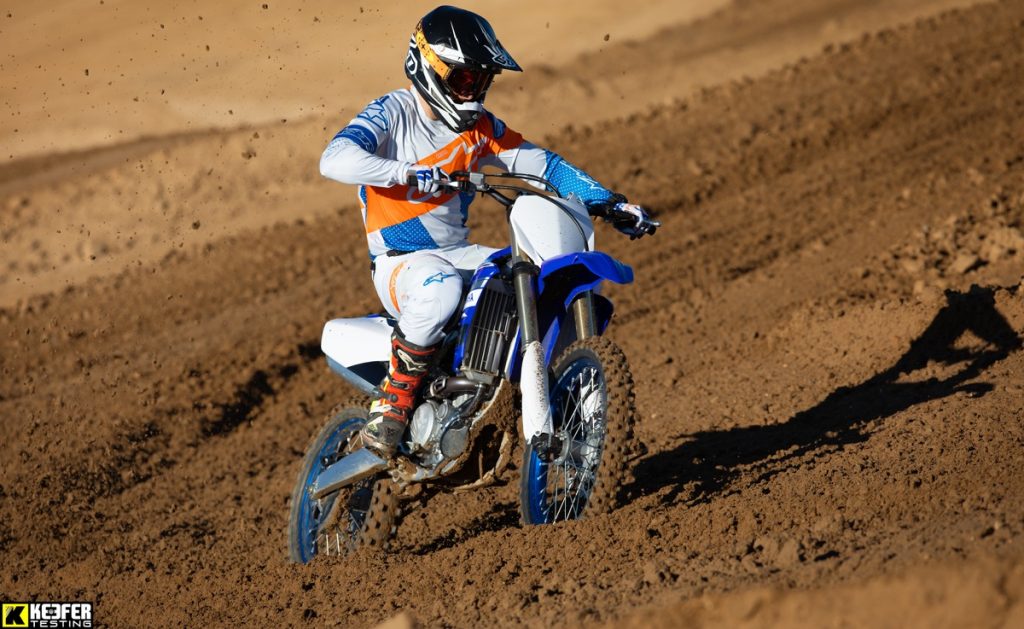 This wasn't a surprise as the Yamaha boasts unreal amounts of torque for a 250F, which makes any type of rider smile from ear to ear. The YZ250F comes on strong down low, has a wide mid-range and pulls much farther up top than it did in 2018. Combine that with the best suspension in class it was tough to beat when it came to riding a very rough track. The amount of comfort that the suspension gave for a wide variety of riders was unmatched and proved that this is one of the most broad spectrum motocross machines available today. When asking testers to pick out one negative, most found it difficult to think of one, but the exhaust note under higher RPM's was annoying. 
Postives: 
Most torque/pulling power in class
Plushest suspension 
Yamaha Power Tuner App makes it easy to tailor the power for each rider (it's free with purchase of bike)
Negatives: 
Wide feeling, still noticeable for a few laps
Exhaust note is annoying
Bridgestone X20 tires aren't as good at mid corner as Dunlop
Second Place: Honda CRF250R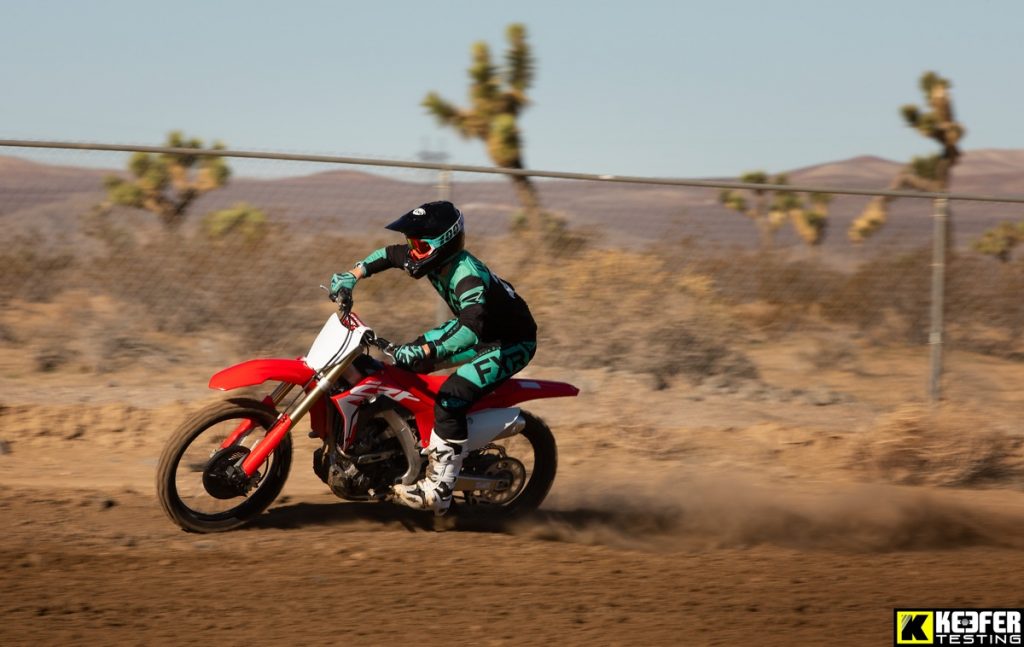 Surprise! Surprise! At least it was to me. In my final ranking I rated the Honda fourth, but in the overall standings the Honda CRF250R was second best in the shootout. Why? Almost every test rider agreed that the Honda's chassis was the most agile and well rounded over the course of the test. Bump absorption was superb at rough tracks, ease of cornering, and a lightweight feel all had most of the riders buzzing. The downside to the Honda is you have to ride it aggressively because it simply doesn't have the torque that the Yamaha does. The CRF250R revs out farther than the Yamaha, but its sweet spot is much narrower than the YZ250F. I guess the old theory of "engine is king" is somewhat thrown out the window in this case. The Honda's map switch and its maps are actually noticeable. Most everyone agreed that "map three" was the better map to get some added bottom end feel out of corners where it's needed. The 2019 Honda also didn't want to overheat like it did in 2018 so maybe that's another reason why it moved up the ranking in 2019. 
Positives: 
Chassis has a good balance of straight line stability and ease of cornering 
Mid-Top end power rivals the KTM and Husqvarna 
Suspension has comfort along with excellent hold up for larger riders 
Negatives:
Lack of bottom end torque
Clutch abusers will notice fading in longer motos
Transmission spacing is weird (2nd gear feels long, but 3rd gear feels short)
Third Place: KTM 250SX-F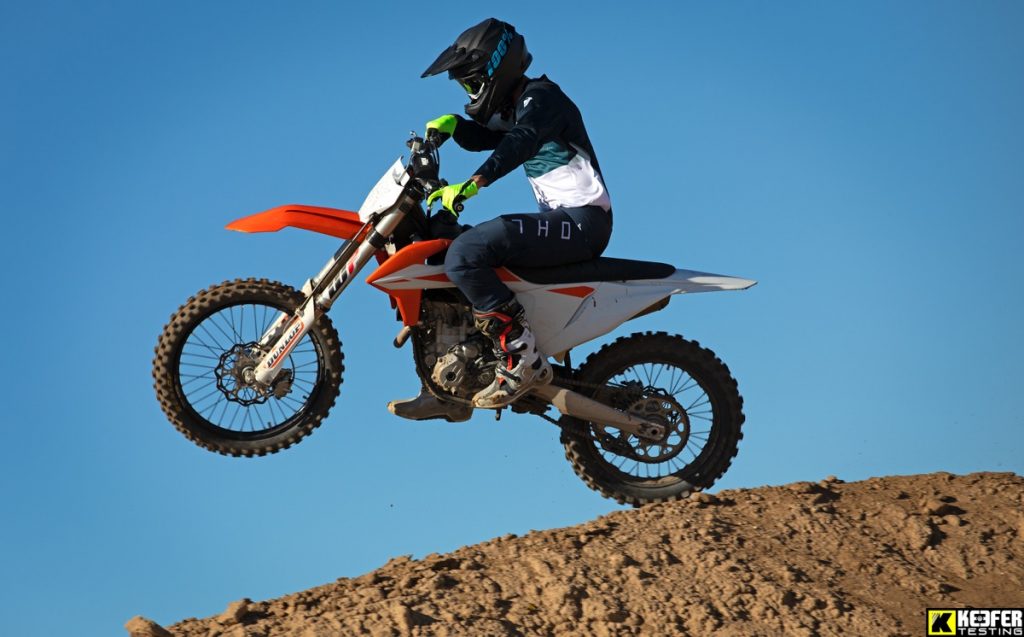 The KTM250SX-F has a deceiving engine character and is smooth and linear down low, but actually has "meat" to its pulling power. It's exhaust note is quieter than its competitors yet builds RPM's more calculated, which leaves the rider with more rear wheel traction. If there is one thing lacking in the KTM's armor it has to be bottom and mid range RPM response. It simply needs more excitement in this area to keep up with the blue bike. This easily can be changed with mapping, but KTM doesn't have a handy ECU tool to make that change accessible to the consumer. The handlebar mounted map switch works well and there is a distinct difference between map one and map two. The TC button is an added bonus that no one else has and it actually works on hard pack areas of the track, so don't be afraid to use it. Not to mention that you can turn it on and off while you ride or as the track deteriorates. The KTM's AER fork isn't the worst fork in the bunch, but the two bikes ahead of it simply are more comfortable when the track gets bumpy. The KTM is lacking some front end positivity while leaning and that was a complaint with over 50% of the testers. KTM and Husqvarna have the best brakes, a solid hydraulic clutch, and ergonomics that fit a wide range of riders. 
Positives: 
Mid to top end pulling power 
Feels light on the track
Clutch that never fades
Negatives:
Lack of bottom-mid range end RPM response (excitement) 
Fork lacks some mid-stroke comfort on de-cel bumps
Handlebar has stiff/rigid feel
Fourth Place: Husqvarna FC250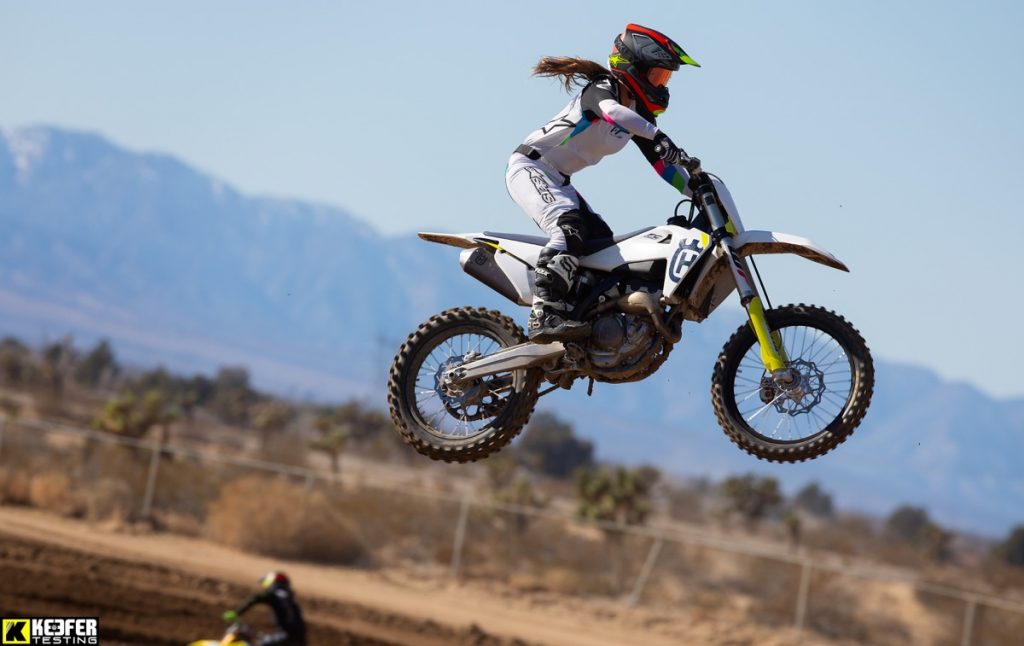 Whether you like it or not the Husqvarna FC250 does feel different than the orange bike. The Husqvarna has a slightly smoother roll on delivery, but to most test riders had a better pull on top end/over-rev. The vibration wasn't as apparent on the Husqvarna as it was on the KTM and the overall chassis forgiveness (or in the production testing world we call that "track toughness") is better than the brigade as well, but not as good as the YZ250F (king of track toughness). Simply put, the Husqvarna got ranked behind it's "blood relative" because of a less exciting bottom end power delivery when the track was deep. If the track was hard pack, most testers like the Husqvarna more, but with the conditions we tested at being 70% loamy and 30% hard pack the FC250 got a fourth place ranking. The AER fork didn't have the comfort of the Honda or Yamaha on small bump absorption, but with that being said could make our heavier testers happier on overall balance around the track, due to its easy to to adjust nature. 
Positives: 
Mid to top end pulling power
Feels light on track
Comes with Pro Taper handlebar 
Negatives:
Lack of bottom end RPM response 
AER fork lacks mid-stroke comfort 
Seat cover eats your ass up on longer rides 
Fifth Place: Kawasaki KX250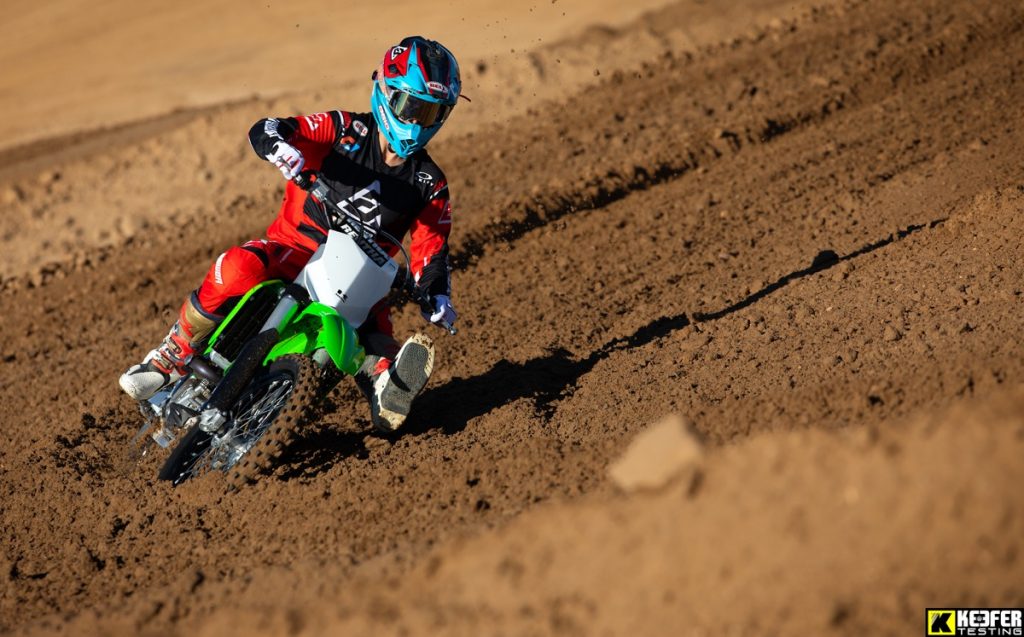 The Kawasaki KX250 is unchanged for 2019 as Team Green focused its efforts on the KX450. The engine on the KX250 is snappy/exciting down low and has an impressive amount of torque out of corners, but it's short lived compared to the other bikes in its class. Running the white (lean) coupler helps the Kawasaki pull better through the mid range and gives it increased RPM response on mid-top end. The muffler note still sounds like crap, so hopefully Kawasaki will give the 250 the 450 exhaust note treatment. The Showa SFF fork was split 50/50 with testers as half could find a comfortable setting (mostly heavier riders) and the other half (smaller, lighter testers) couldn't make it plush enough on small to medium sized bumps. The back half of the KX250 had zero complaints and the frame's bump absorption is comfortable, but all the complaints came from the front end. Cornering the KX250 felt light and nimble and tracked well through the middle to end of rutted and flat corners alike. Faster heavier riders noticed the rear of the bike being a little low and that hurt the initial lean of the Kawasaki. We are looking forward to seeing what the R&D guys have in store for us in 2020 with the KX250. 
Positives: 
Great bottom end RPM response 
Straight line stability 
Mid to exit of cornering stability 
Negatives: 
Top end pulling power
Exhaust note
Harsh fork and tough to set up for a variety of tracks (Track Toughness) 
Sixth Place: Suzuki RM-Z250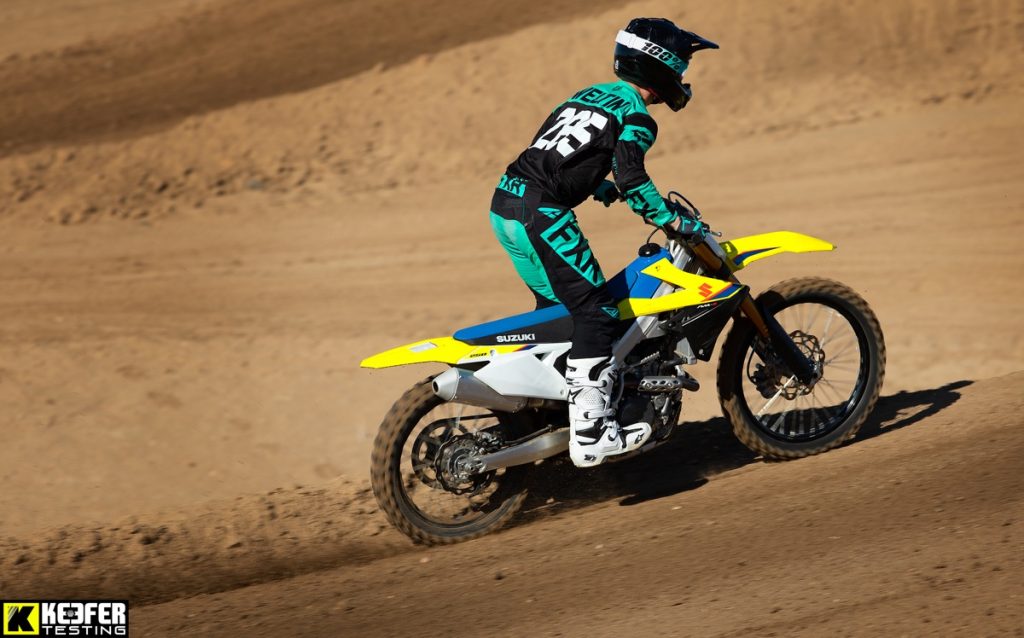 To give this bike a sixth place pains me, but again Suzuki is still a great choice for a lot of riders. Let me explain why. The engine is snappy and quick off the bottom, especially when coming out of tight 180 degree corners, the RM-Z250 also has the best "lean in" coming into corners than anyone else in the shootout, and lastly the Suzuki's suspension is decent when the rider tips the scales above 185 pounds. So with all this being said why did it get sixth? Simply put the RM-Z250 needs another 20%-25% more power everywhere, could use a softer fork/shock spring rate, and needs a less rigid feeling head tube area. The Suzuki transfers a lot of the track to the rider and that made most of the test riders back the throttle off (especially when the track got super rough). The frame just feels like it doesn't want to flex near the head tube area when pushing the Suzuki into a corner with decent size braking bumps. The best way to describe this feeling is like when you have a knot in your back muscles and you can't seem to massage it out, but you constantly feel a tightness in that spot of your back no matter which way you turn, lay, sit, etc. That is the RM-Z250's frame in a nutshell. There is however tons of potential in the engine and it feels exciting coming out of corners, but the Suzuki only teases you with that excitement and then it immediately runs and hides from you. Where did it go? We don't know, but we want more of it! If the track was tight and smother (AKA Arenacross/Supercross) the Suzuki wouldn't be sixth, we do know that. 
Positives: 
Snappy throttle response 
Cornering ability
Ergonomics comfortable for most sizes 
Negatives: 
Frame stiffness on rough tracks
Needs more pulling power/meat/torque
Over-sprung for most standard 250 sized riders