PulpMX.com Fantasy Wrap "We're On To Minnesota"
Photos by Rich Sheppard
Going into round five of the Monster Energy Supercross at Petco Field, the majority of talk centered on a weather forecast that called for heavy rain. During the week leading up to race day, it became very apparent to everyone that we were going to have a mudder, and did we ever.
Race day wound up being a condensed schedule; with a late start and only one practice each for "A" and "B" riders. As the single practice session began only two hours before the first gate drop, it didn't give us a lot of time, or information to select our teams.
Because of the weather and shortened schedule, team owners had to make interesting decisions regarding their overall strategy. I feel that one good option was to play it safe, pick riders on good equipment, including picking more than one all star per class. This included picking riders who are known to perform well in the mud, like Aaron Plessinger and Justin Barcia.
It was pretty obvious that this was the way that many team owners would go, it also made another strategy viable, picking one or two riders who put in good practice times, but had very little, or no AMA Supercross racing experience. Gambling bros!
As it turns out, the gamblers won. "On The Box" took down the overall with 345 points. His 250 team included Adam Cianciarulo as an all-star, Carson Brown, Martin Castelo, and Matthias Jorgensen. His 450 squad included Aaron Plessinger, Justin Bogle, Eli Tomac, and my fantasy kryptonite Joey Savatgy. He also picked AC as a lap leader for an extra 15 points. When all was said and done, and the lime had fully dried, he sat atop the PulpMX Fantasy leaderboard with a 345 point score. Congrats on the great week!
Let's look at how the rest of the week unfolded.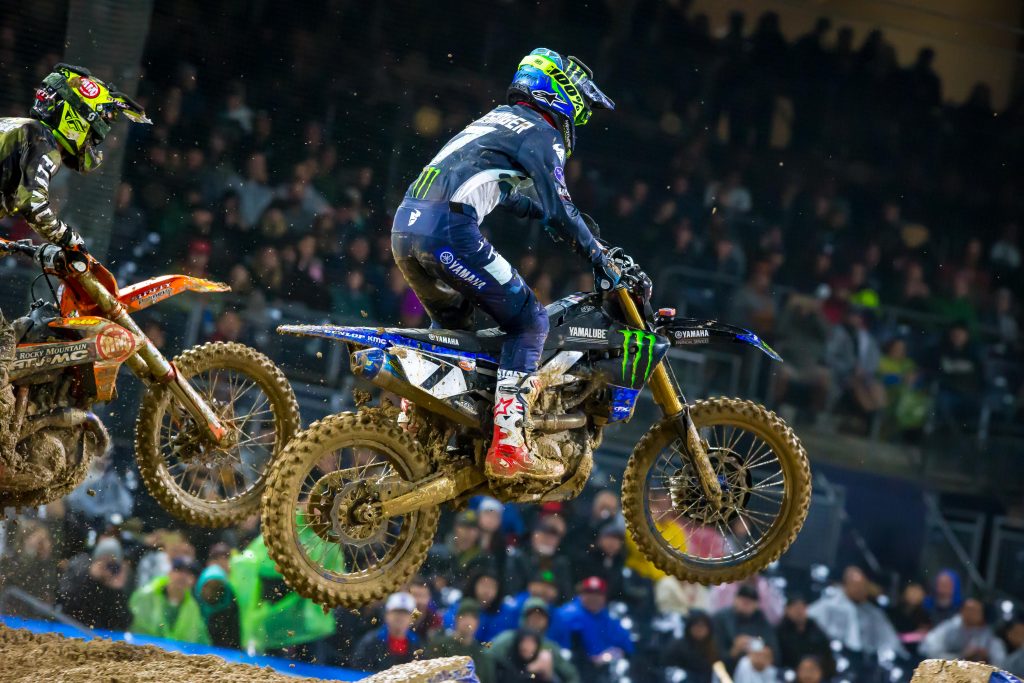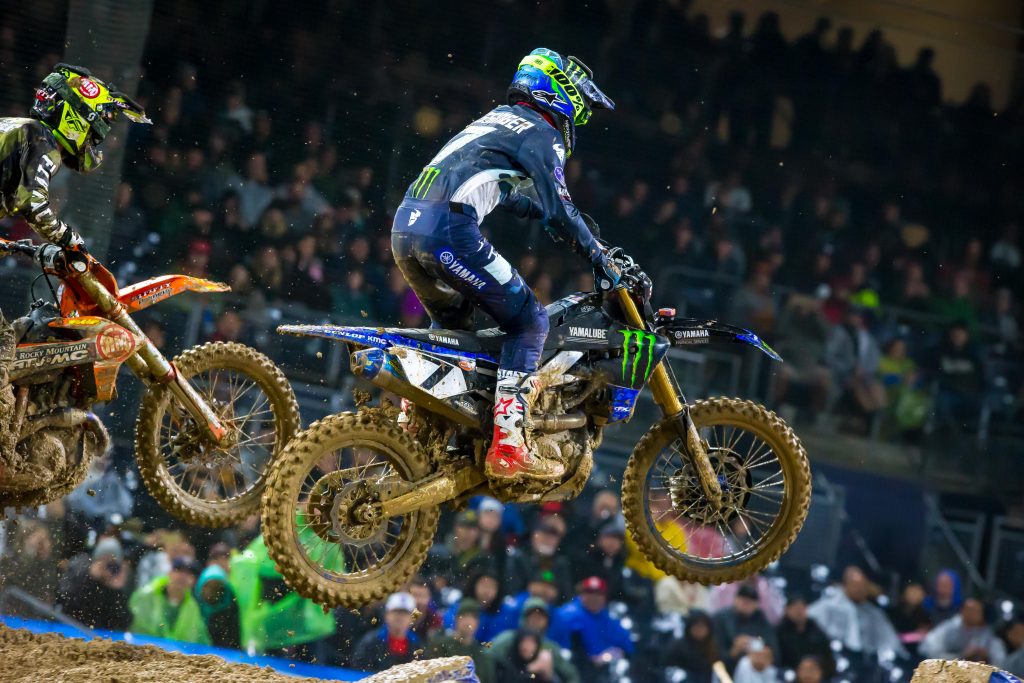 Most picked riders AKA "the chalk"
Is anyone surprised that Aaron Plessinger (2) had the highest pick trend for San Diego? I'm not; he was selected by a whopping 59% of PulpMX Fantasy team owners. I'm only surprised that his pick trend wasn't higher than that. Following him were Eli Tomac (2AS) at 40%, Chad Reed (2) at 35% and Joey Savatgy (5) at 31%.
The 250 class pick trend leaderboard was topped by Carson Brown (10) at 47% and Enzo Lopes (7) at 40%. No other rider was picked above 30%.
All of the high pick trend 450 riders delivered good scores for their owners, the worst was Plessinger with 38 points, and even that didn't crush your day. Of the 250 riders, Enzo was a disaster. Multiple falls in the main lead to a 19P finish for a measly 11 fantasy points. Carson Brown had a much better day for his team owners, delivering 38 points.
 Low owned players who delivered – AKA great contrarian plays
 Both classes had a number of riders with single digit ownership who delivered great scores. The 450 class featured Theodore Pauli (16) and Carlen Gardner (14) delivering 46 points each with Pauli at 0% and Gardner at 2%. Cade Autenreith (16) and Cole Martinez (10) followed them scoring 42 points each. Cade was 0% picked with Cole at 8%.
The 250 class also had some high scoring – low ownership. Leading the pack we saw RJ "which" Wageman (16), Matthias Jorgensen (16), and Martin Castelo (5) all take down perfect 52 points scores! RJ was only 1% picked, while Matthias and Martin each had 9% pick trends.
Fantasy Duds
Two main culprits splashed and burned the scores for their team owners this week, one in each class. Justin Barcia was out after only a few laps of the 450 main after suffering a mechanical, leaving the 27% of team owners with only 7 points. In the 250 class, Enzo Lopes at 40% was among the highest picked riders and as we mentioned earlier, had a miserable night, only delivering 11 points.
 Fantasy Studs
 Lots of high scores this week mentioned above in the low owned section, we also saw great scores from riders with higher pick trends. Joey Savatgy (5) continued his weekly stud-dud-stud flip flop with a great 46 point score at 31% ownership. To nobodies surprise Chad Reed (2) scored 42 points at 35% ownership. Apparently Bears do like mud, as Tyler Bowers (6) also had a great night scoring 38 points for the 19% who selected him.
In the 250 class Jimmy Decotis (1) scored 46 points at 27% ownership. Garrett Marchbanks (0) was sending it all day and carried that through on the fantasy scoreboard as well, putting up 46 for the 14% who selected him.
 The "Lead Pipe Locks"
This week we had a new expert locking picks in, former RCH Suzuki Team Manager Kyle Bentley made a guest appearance on the PulpMX Fantasy pod after taking down the overall in Oakland. He was emphatic and 100% wrong about Enzo Lopes. JT had a side of bacon with his waffles and chose "all stars". Dan locked in Savatgy (I'm guessing he knew I wasn't eligible to pick him this week). Steve picked Enzo Lopes and Savatgy, and finally Paul chose Jimmy D and Savatgy.
The highest scoring combo of 100% Lead Pipe Locked riders was chosen by Paul, with 92 points scored, nice job and note to the others, you have to pick two riders!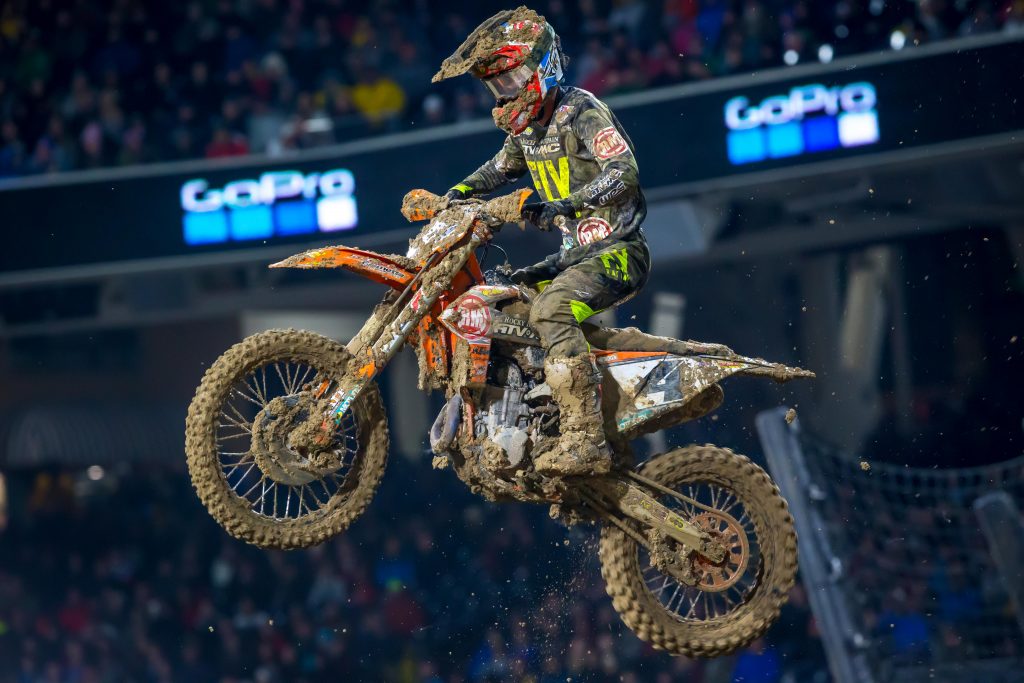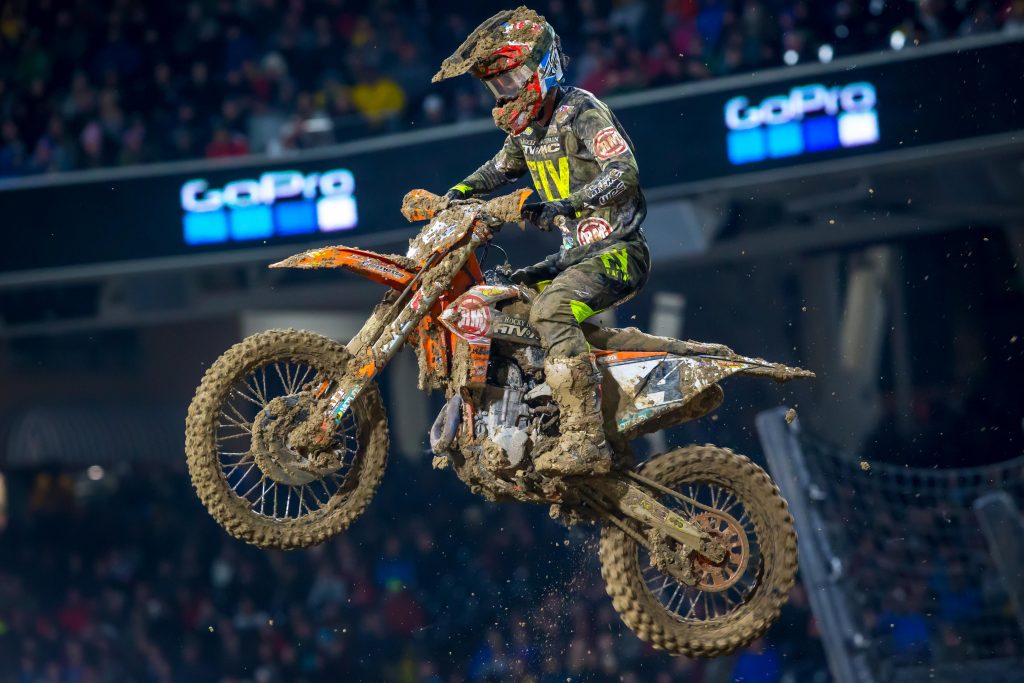 Final Thoughts – San Diego Picks
It will be good have a "normal" round this week, in a domed stadium, hopefully the dirt won't be super soft from thawing out. One thing to keep in mind this week, check out the social for any rider you are considering. If they suffered lime burns from San Diego, there is a chance they didn't have a normal week of training. This could affect their performance in MN.
With that said, I like Blake Baggett as a 6 all star and Jusin Bogle at a 3 non-all star. The 250 class gives us a whole new field to choose from as we are beginning round one of the east series. Looking at non-all stars, Blake Wharton jumps off the page at me with a 7 handicap. Those of you who played last year might remember that he was a "free square" when he lined up for the first time. For an all star I like Christian Craig at a 4. With a new mental coach, great equipment and family in the MN area, he is set up to succeed.
That's it for this week, I hope all of you have a great weekend and we will see you on the leaderboard!