Photos by Rich Sheppard
Hey I bet you couldn't guess it was cold from looking at every single one of the riders social media accounts from Minnesota? I mean it's winter and it is usually cold every year at Minneapolis, but it seems to catch riders by surprise every year. Weird? Anyway, the first round of the 250 east coast round was upon us and our second legit dome stadium of the year, so you know we were going to have some good racing in both classes. It should be noted that this article is a "Lime Free" zone as we are past that now and hopefully both sides can work something out, so we all can move on. Here are some things that I witnessed during the day qualifiers and watching the night show intensely at home, where it was 72 degrees in my living room.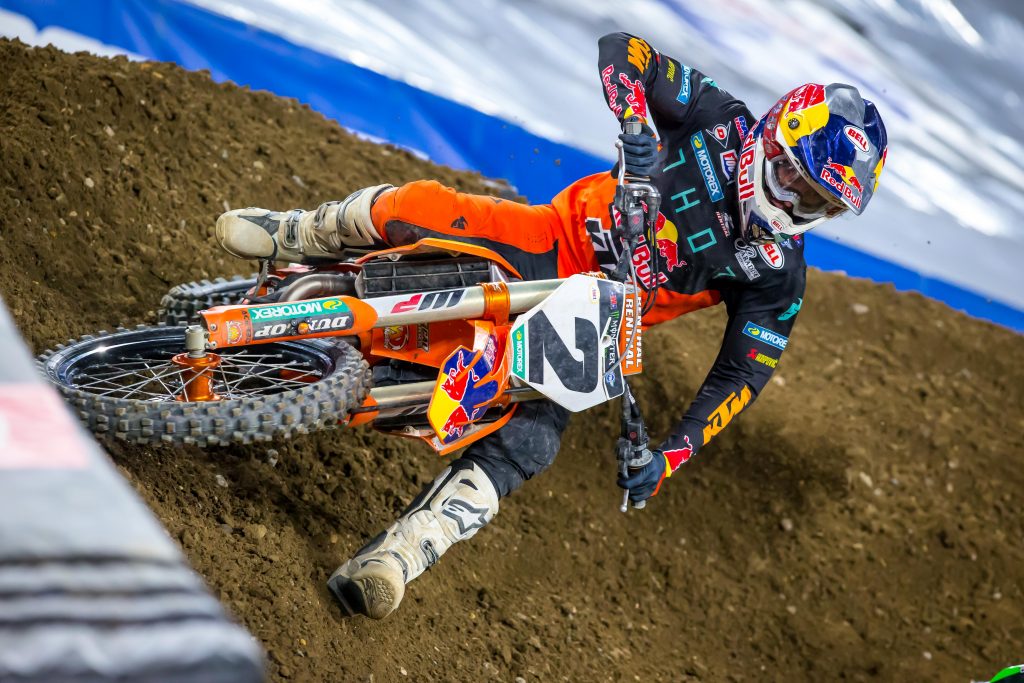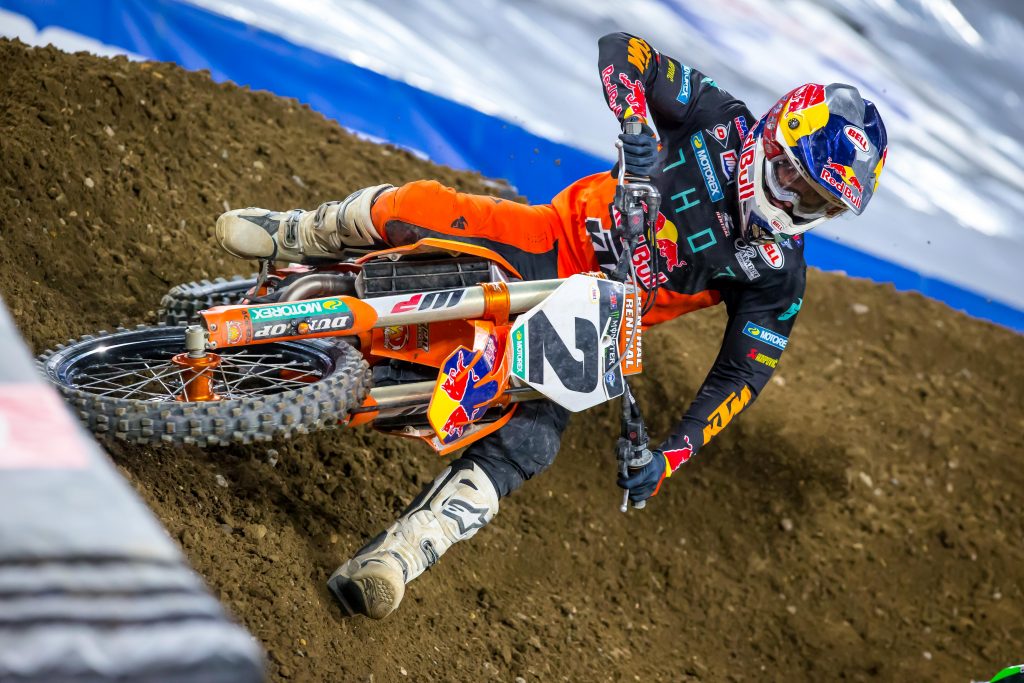 Cooper Webb: To me this is Cooper's most impressive win to date. With the amount of pressure that was behind him and to also be as patient as he was with Savatgy, without cracking for 20 plus one is so difficult. Cooper wasn't the fastest in the Main Event (check lap times), but he was the most accurate and smartest of the five riders that were bunched up near the front. I also noticed that Webb's KTM was one of the only machines in the Main that stayed glued to the ground going across the start straight. Go back and re-watch a few laps as he accelerates out of the left hand turn and accelerates down the straight. His KTM doesn't wheelie and stays glued to the ground without having to fan the clutch. Most other riders start to wheelie or have to fan the clutch to keep the front end down. The rear of Webb's bike also stays straight and shoots forward (under acceleration) and doesn't move side to side.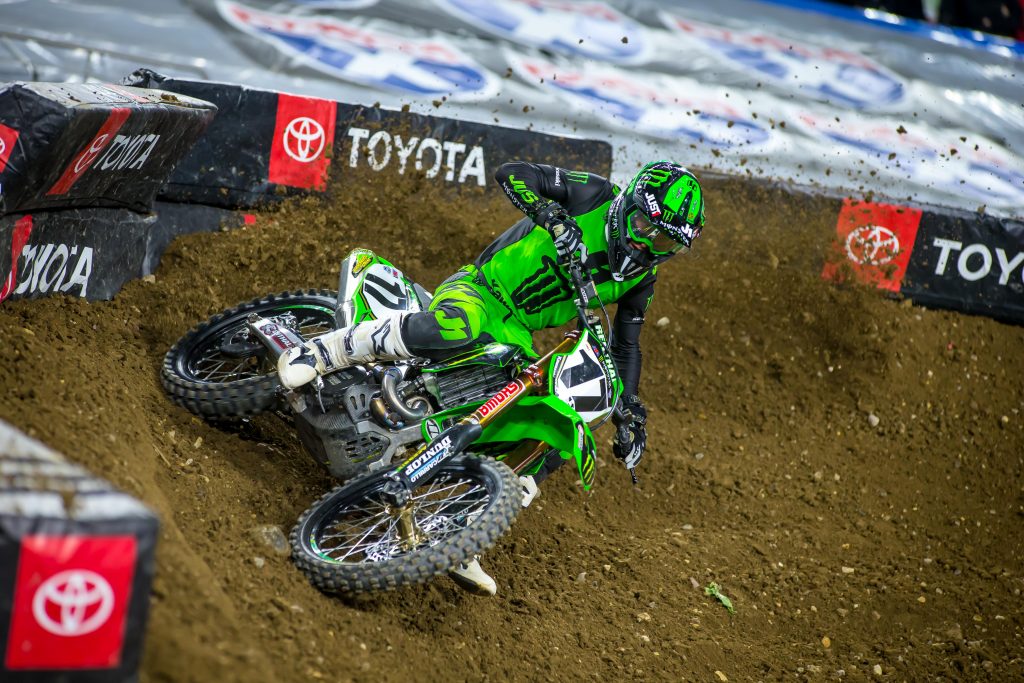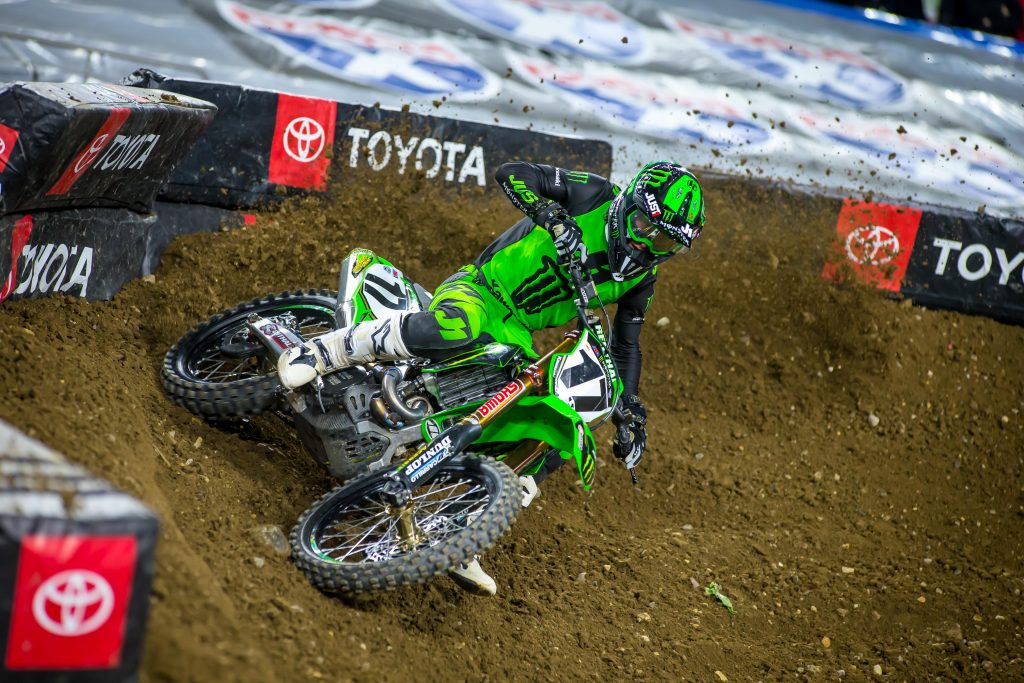 Joey Savatgy: Wow…Impressive ride by Joey for over half of race. A great start and some impressive rolling corner speed early on let him dictate the pace early on in the race. We don't talk enough about how good Savatgy is on the 450 and also how good his technique is. Sometimes I think that his perfect technique though, with his straight back, nicely bent elbows, balls of his feet riding style, does lead to some mental mistakes when he makes an error on the track. It's like he is so perfect that he can't get past some of his mistakes on the track. If you go back and look at some of Joey's races, it sometimes unravels, because of one small mistake and that leads to him tightening up. I am sure Joey had some nerves after leading over half the race, but he continued to hang in there for a fourth!
To be the number two guy on the team and beat the number one guy is a great feeling. I also noticed that Savatgy was wearing Fox gloves with his Just 1 gear in the daytime qualifiers. After some inspecting I have found out that his Just 1 gloves weren't ready in time for his Allsport Dynamics wrist braces, so that forced to have some "other" gloves. I notice the small things people!!
Chad Reed: Old man is riding good. Maybe you don't think a seventh is good, but in this deep of a field (yes, I said it), it's damn impressive. Chad hasn't got the starts he needs to be up front, but I am thinking Dallas will be a good round for Chad. BIG WHOOPS THAT ARE HARD PACKED!
Ken Roczen: If you're Ken are you bummed that you haven't won a race or are you stoked that you're the points leader? He was oh so close of wining this one in Minneapolis because if he could of got around Webb earlier I think he could of got around Savatgy and gapped the rest of the guys a little for the win. But….. That didn't happen. I have mentioned this before, but the factory Hondas are good in the whoops. Being involved with the Honda a little I know that the stiff natured frame is a recipe for success through the whoops. This frame is tailor made for skimming whoops at speed.
Casey Brennan: Who? Yeah I know.. I didn't know anything about this kid nether until I met him in Atlanta last year. He is from New Mexico and wasn't planing on doing the full 450 series until just before the season got underway. He switched to KTM's in 2019 and moved up to the 450 class and it looks like the transition has been going well. I have kept an eye on him closely the past few races and what I like about his style is that he doesn't look tight or try to over-ride the track. Getting a good start in the LCQ helps and staying away from the carnage that happens.. See 250 LCQ for proof…
Austin Forkner: Fast all day. Fast all night. Great starts. This looks like a Forkner that is going to make life really difficult for everyone else in 2019. It looked like the old Forkner in practice, with crashes, but maybe that was just first race nerves? Working with Robbie Reynard will most certainly help his crashing habits and give him some insight on trying to be more consistent this year.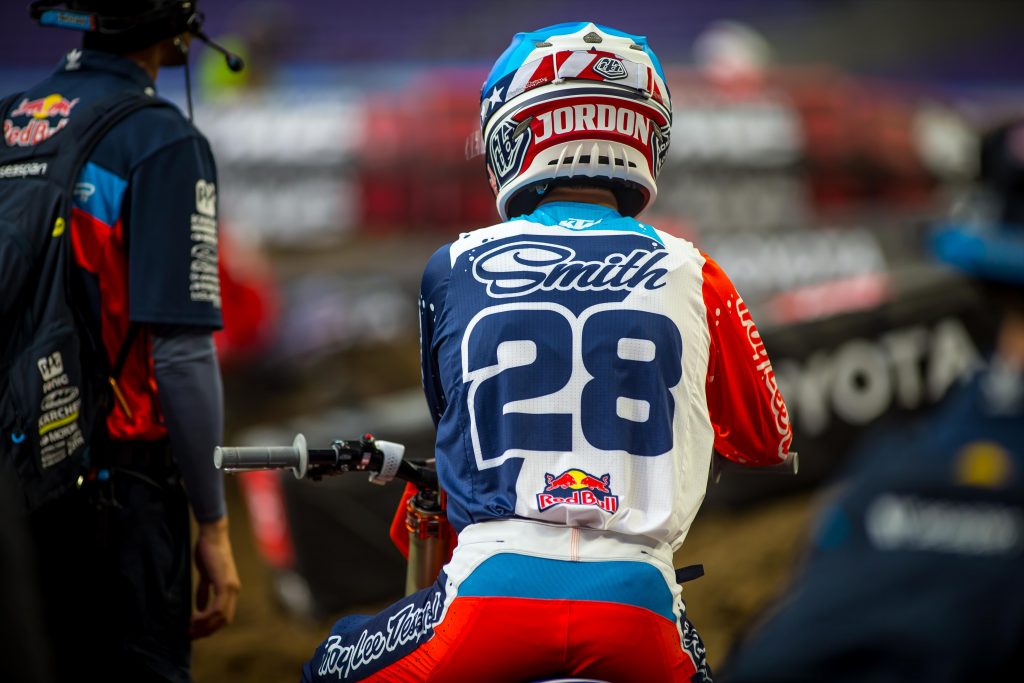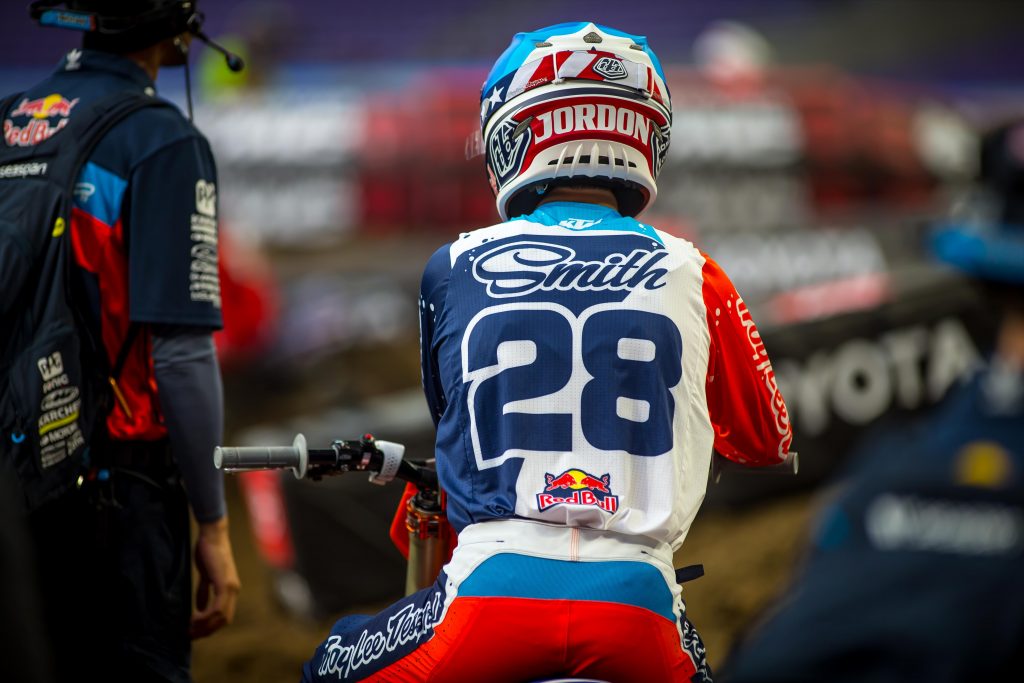 Jordan Smith: If there is one rider that can challenge Forkner in raw speed it's J-Smith. How about the crazy wheel change minutes before the gate drop and the fact that he crashes, but still gets back up and finishes second. Smith isn't flashy and rides a lot like Mcelrath as they both have more of a hammer type of riding and not a finesse type, but it's effective nonetheless.
Justin Cooper: For only his second race Cooper looked impressive and rode within his limits. He never looked out of sorts or sketchy. I have a couple close friends that are close with Cooper and they say that he is one of the most mentally "together" young kids they have ever met. I like that he is a thinker on the track and not OOC. Thats "Out Of Control" for you older fellas.
Christian Craig: Damn it! A thumb injury early in the season has de-railed CC's run for a title in 2019. This injury is still lingering for his east coast run and it showed in Minneapolis. Christian is one of the best riders to watch on the east coast even though he's still hurt. Look for Christian to make progress as the weeks progress.
250 LCQ: Holy crap! My boy Lane Shaw got ran over. Joey Crown flies off of a berm. Redman endo's his brains out. Dudes stacking up on top of each other. All these dudes just need to chill down a little and things will go much better. Have you ever watched a 125 "C" class race at your local track? This wasn't much different with the decision making of these professional riders. I thought "Supercross Futures" was supposed to help the decision making problem for our younger riders? Let's see how the 250 LCQ goes in Dallas…..Stay tuned….. Note to riders: Get your transfer in the heat races!!!!!!
Best Dressed: Look….The BD award is given out when there is something impressive. I didn't see anything worth giving an award to in Minneapolis. Pick a side people. Pick a side..