It's only February, but are we really seeing a 2019.5 model already? Yes, that's right, KTM introduced the 2019.5 450 SX-F Factory Edition to us media dweebs out at Fox Raceway in Pala, California Tuesday morning. I have been putting a lot of time on an orange bike lately for an article that is up on keeferinctesting.com, so this model release came at a perfect time. A time where I can really dissect the differences between the 2019 KTM 450 SX-F and the 2019.5 KTM 450 FE. Now even though this is only a first impression, I managed to come up with ten things about this fresh orange model that you may be interested in. These beauties will be arriving in dealerships come early March.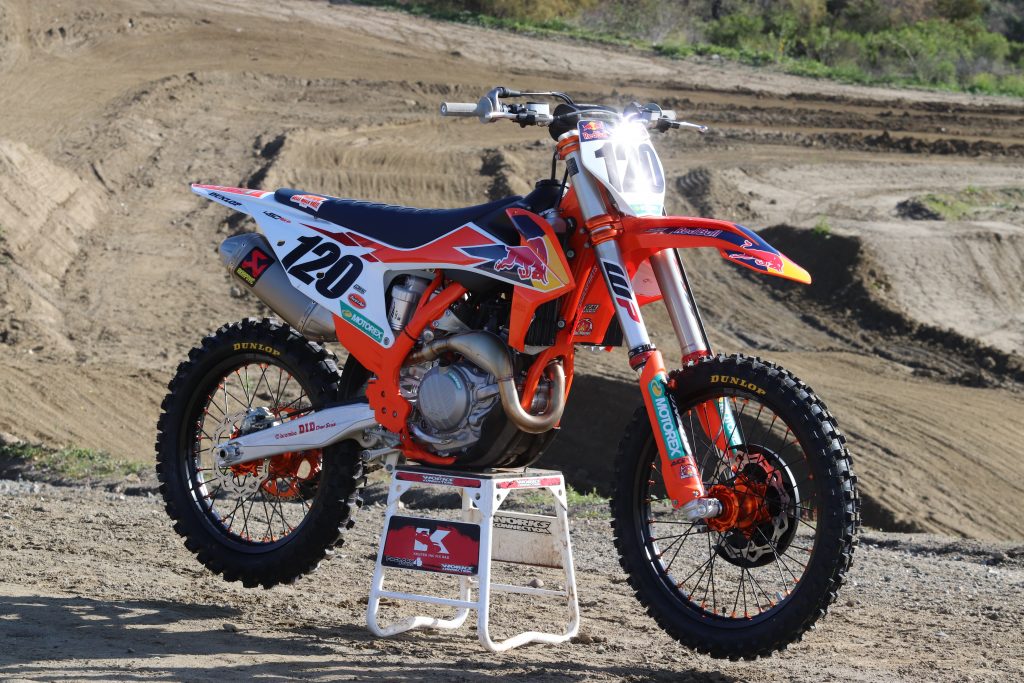 What are the changes to the 2019.5 KTM Factory Edition?
Red Bull KTM Factory Racing graphics
New CP box-in-box piston & new PANKL connecting rod
New Factory machined Anodized triple clamps
Factory start for front fork
Orange frame
Composite skid plate
New Akrapovic? Slip-On muffler
New Factory D.I.D DirtStar wheels
Factory seat with Selle Dalla Valle logo
Semi- Floating front disc
Front brake disc guard
Orange rear sprocket
1-Engine: On paper there are only two pieces to the engine that have changed… The CP box piston and the Pankl connecting rod with brass bushing. Now with those two things in mind I wasn't expecting much change from the 2019 version, but to me the free-feeling of the engine is very noticeable in 2nd and 3rd gears. When revving the Factory Edition out in second gear there is much less engine de-cel drag than the 2019 version. The FE also feels like it pulls farther in second gear than the 19, but the overall bottom end delivery is smoother because of the Akrapovic slip on muffler. The stock muffler has more bottom end hit, but the Akrapovic, along with the engine changes, make for a stronger pulling mid range. There are two points of the Fox Raceway track where the 2019 must be shifted to third gear (out of corners), but the FE doesn't need to be shifted and can pull second gear to the next obstacle. The top end and over-rev seem to be the same as the 2019, but that is just fine with me as the KTM FE has enough power for me.
2-ECU Settings: I was told from the KTM R&D staff that the FE's ECU settings are the same as the 2019 and that left me bewildered. Why? Because out on the track the ECU settings are so much better on the 2019.5 version than the 2019 machine that there is NO WAY they could be the same. Now I am not into conspiracy theories, but to me someone from KTM Austria must not have passed on the "updated" ECU info to the guys at the North American office. On the track the rich low end 2019 feeling is not apparent on the FE and the lean top end de-cel pop, that comes standard on the 2019, is also not there on the FE (no matter how hard you rev the 2019.5 out). Map 1 (linear pulling power with less throttle response down low, but more top end pull) and Map 2 (more pulling power/RPM response down low and slightly less pull up top) also have a distinct difference on the track and are more noticeable than the 2019 mapping choices. This is all good news for future FE buyers.
3-Chassis: If you're a KTM owner you know that it takes more time to break in the 2019 steel frame compared to a Japanese aluminum framed motorcycle. I have only a few hours on this chassis and it still has that firm feel. It takes a good 7-8 hours on this frame to feel broken in or "relaxed" on the track. The FE turns as good as the 2019 version and all the same excellent "change of direction" qualities are apparent on the FE as well. Straight line stability is not the best of the 450 bunch, but not the worst neither. You can drop the WP XACT fork down to the first line (2.5mm up) like I did to help straight line stability.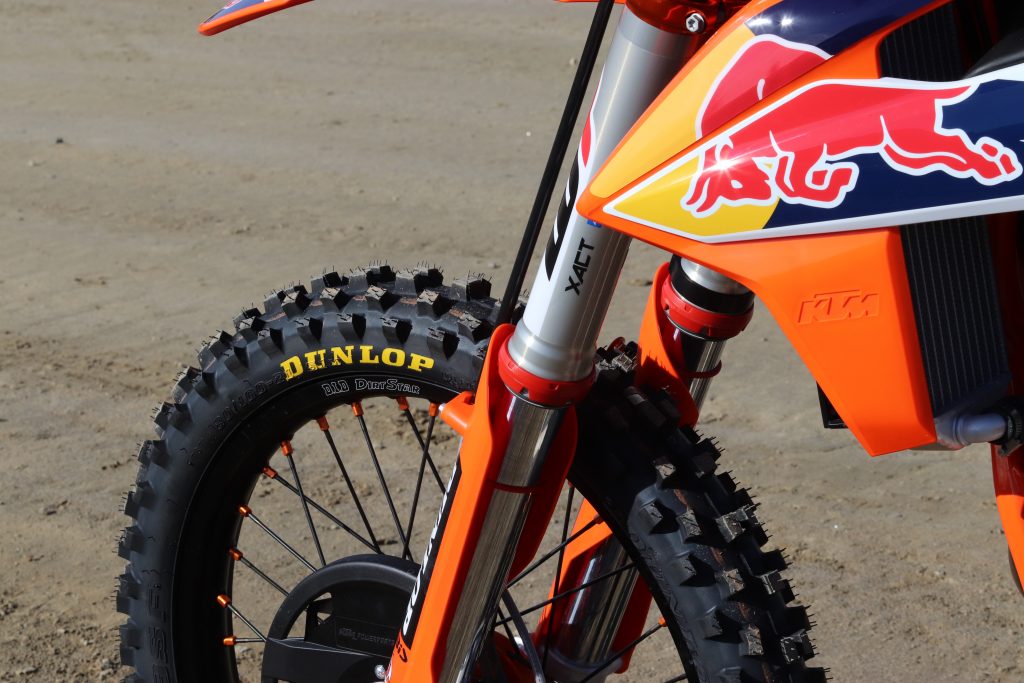 4-Suspension: WP has changed their branding strategy so don't freak out about the XACT name just yet (we can explain that one in another article). I do like the silver color change that WP has done for the FE line of suspension and that color change will also be on the 2020 production models. The WP AER fork has an updated piston that allows for a tighter tolerance along with valving updates. The standard air pressure fork setting has also now gone up from 10.5 bars to 10.9 bars on the FE. The rear shock likes a sag of around 106mm now instead of 105mm, but the overall feel of the FE's WP suspension is slightly firmer with more hold up than the 2019 model. Would I rather have a spring fork? Of course, but the updated AER fork does have some qualities that I like. I like that the front end feels light (de-cel/off-throttle) while keeping front end traction high enough so I don't have to change my riding style up. I am a front end steering rider and the AER fork will give you what you need on initial lean. The mid stroke of the FE's WP fork has a free-er feel and the action seems smoother than 2019, which makes for a plusher ride. The shock doesn't feel that much different to me than the 2019, but then again, I never had a problem with the 2019 shock.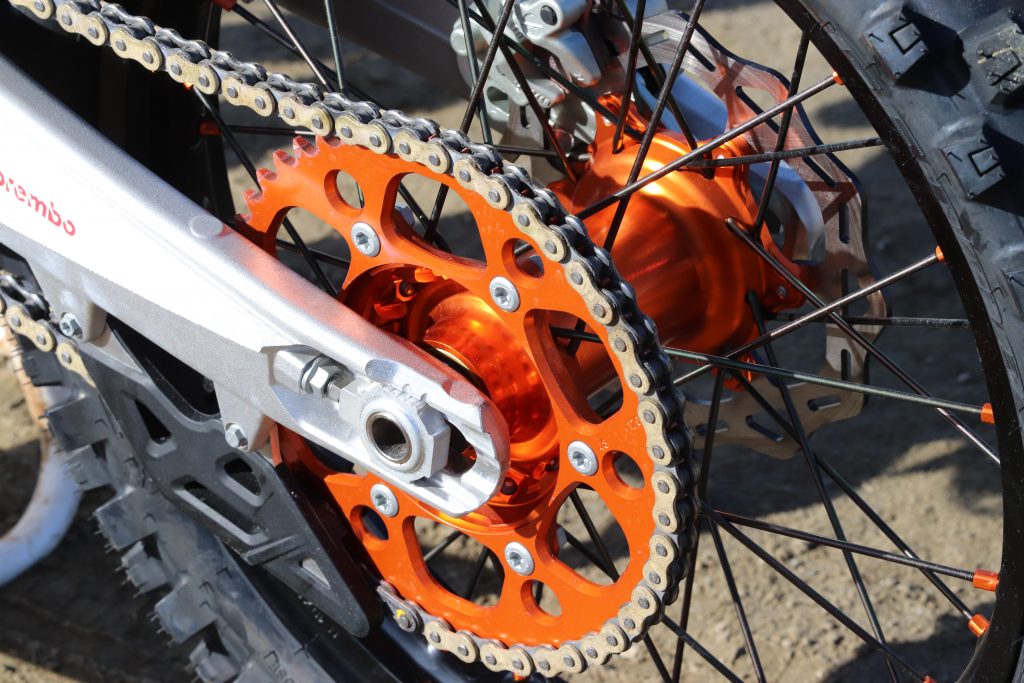 5- Gearing: It comes with a 13/48, but with this Akrapovic slip on muffler I think I want a 13/49 to help with throttle response to help with recovery and second to third gear pulling power. I have also tried a 14/52 with good results as well, so feel free to try that too.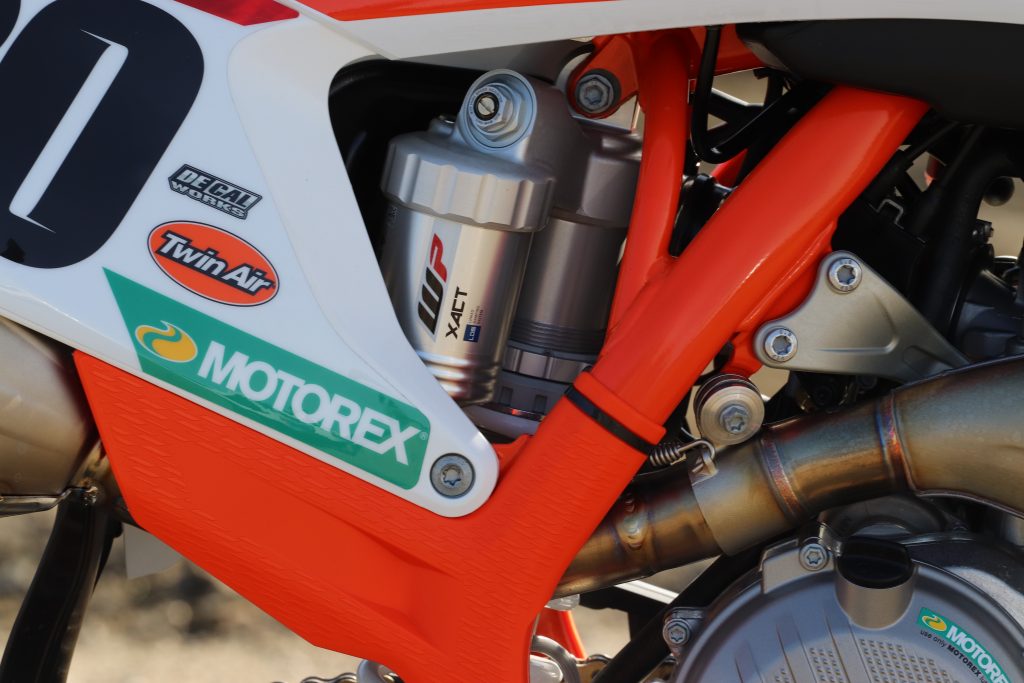 6-Lightweight Feel: You would think with an engine character that is so smooth down low and linear feeling that the orange machine would feel heavy on the track, but it feels quite the opposite. It's light, flickable, and if you want to make a sudden line change, it can do that exceptional as well. Leaning into corners and keeping it leaned all the way through the corner is the KTM FE's strong suit. No one in the class can beat an orange bike in this category.
 7-Dunlop MX3S Tires: Even though you can't purchase them anywhere anymore, these tires are still going strong on the KTM production machines. Well…. At least for another year anyway.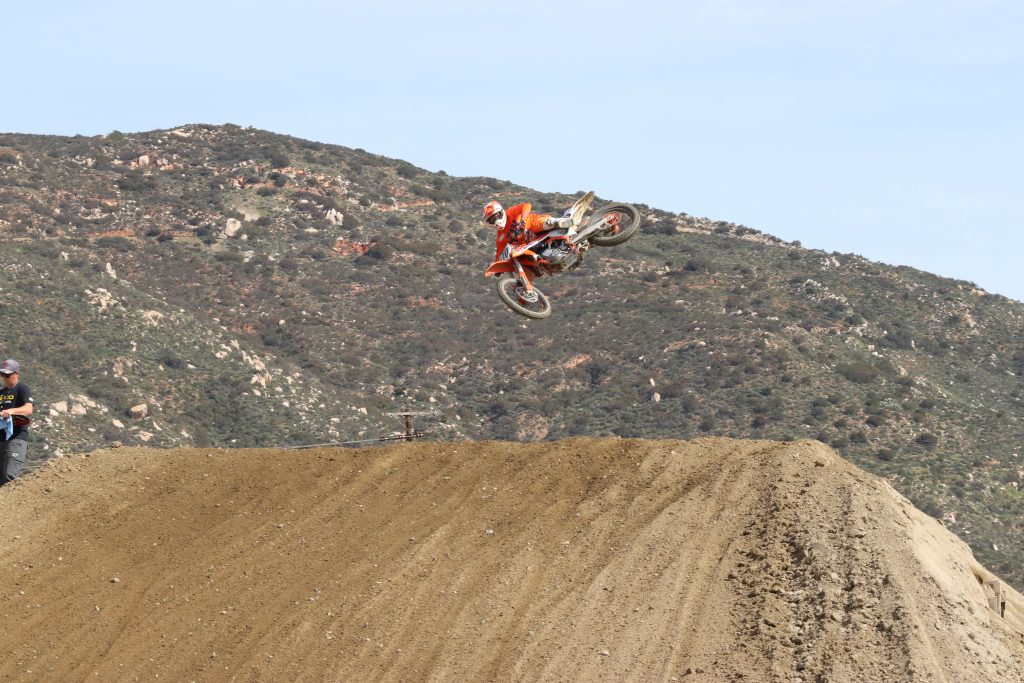 8-Vibration: Every time I get back on a KTM from a Japanese bike I notice more vibration. The updates that KTM have made to the FE internally have improved the vibration slightly. The 2019.5 doesn't give you as much feedback to the hands as the 2019 does. Good news!
9- Selle Dalla Valle Seat: This factory seat is very grippy, but also will eat your butt cheeks up on a long day of motos. The foam itself is not the problem, it's just that the pleats on the seat are very aggressive. Just be ready to spackle the cheeks up with some Bag Balm if you're riding sand or plan on doing a long day of riding.
10-Factory Trips Clamps: The KTM Hard Parts aluminum Factory CNC-machined triple clamps feature optimally tuned steering stem stiffness, in order to try and achieve perfect alignment and precise fork clamping for a highly responsive and smooth fork action. They can be adjusted to an offset of 20 or 22mm that gives you the option to change your KTM FE for different track conditions. I noticed zero added rigidity riding with KTM's Hard Part FE clamp compared to the stock 2019 clamp. I also didn't notice any improvements on the track (with the the FE clamp), but the orange does look factory!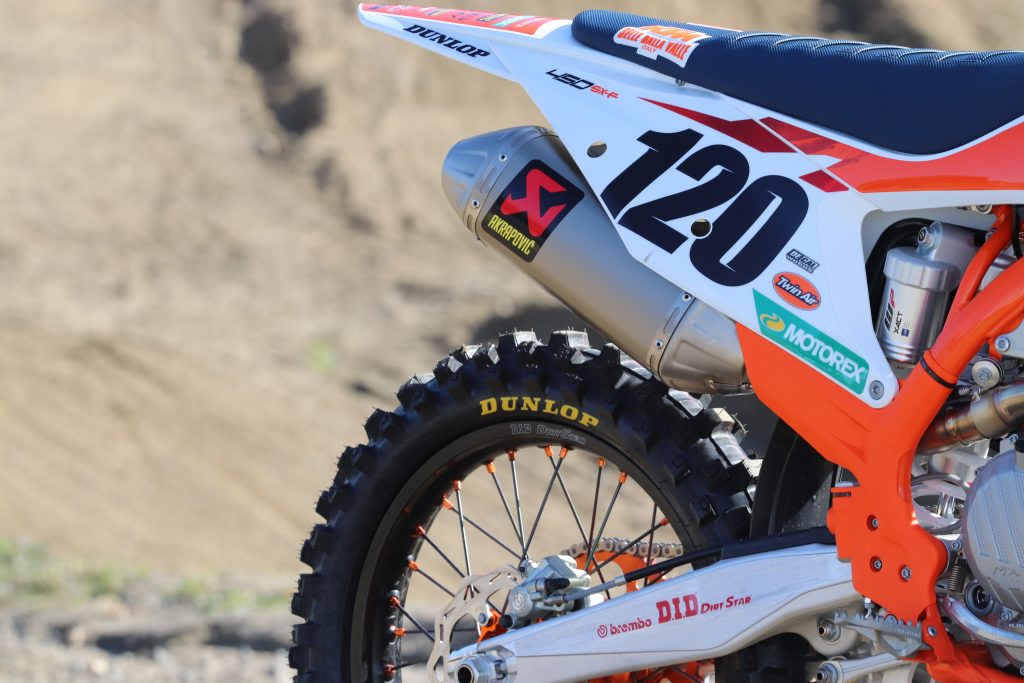 If you want to learn more about this 2019 KTM 450 SX-F Factory Edition listen to the Rocky Mountain ATV/MC Keefer Tested Podcast on iTunes, Stitcher, here on pulpmx.com, and or keeferinctesting.com right now. We try hard to give you a couple different avenues to diet your dirt bike information.