PulpMX.com Fantasy Pick & Trends
The frozen tundra of Minneapolis MN greeted round 6 of the Monster Energy Supercross series. The air was frigid, and some of the riders looked like they were still frozen while they were racing. A few high pick trend riders really chilled their team owners; we had point totals in the 250 class that were almost as low as the temperature outside the dome. They sure provided entertainment though, especially in the LCQ, holy crap that was some madness.
From a game theory perspective it was a great week to avoid the chalky picks as many of them did not pan out. The overall winning score was the second lowest this season, b_norman25 put up 286 points, just edging out a 282 by Court2469 and 276 by Dgood427.
It's interesting to look at b_norman25's team as he was able to win by differentiating from the field with only one rider, Chase Marquier at a 5% pick trend. In the 250 class he also had Josh Osby, Blake Wharton, and Austin Forkner. Chase and Josh put up high for the week scores of 34 points each, with Blake dropping a few, scoring 30 points. Austin was his all-star pick and scored a perfect 26.
In the 450 class, he didn't differentiate much, picking ARay, Savatgy, Brayton, and Barcia. He also chose Austin Forkner as the first lap leader and nailed it. Apparently the word is out on Pro Circuit riders delivering holeshots. Adam Cianciarulo was an oft-picked rider on the west coast, and now Forkner is joining him. Of the 20% of owners who chose a lap leader in that class, 56.4% correctly chose Forkner.
Let's look at how the rest of the week unfolded.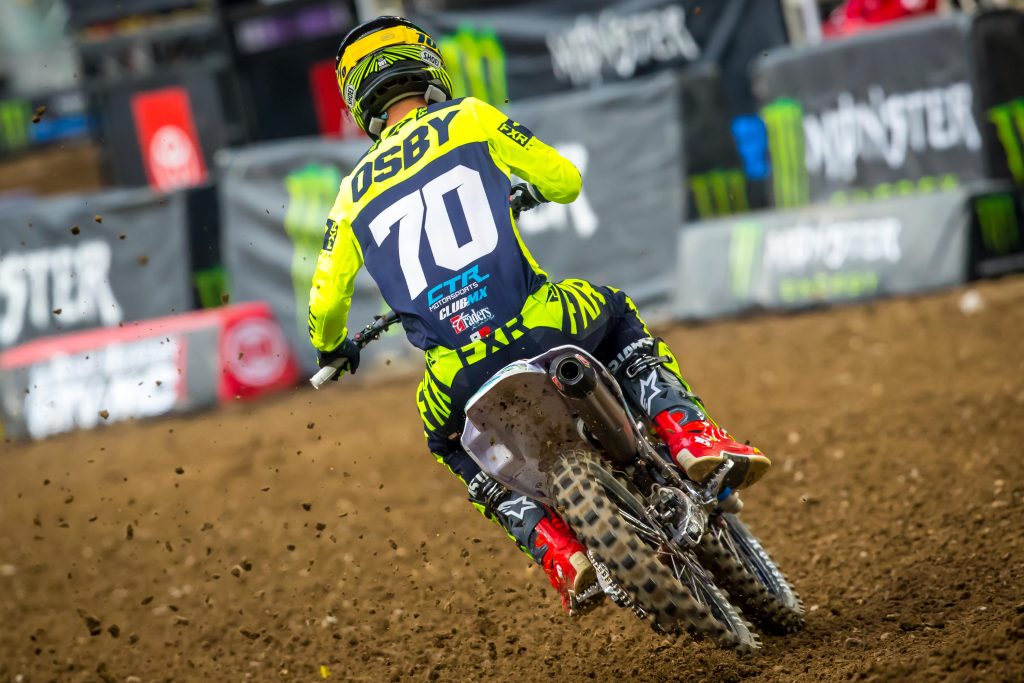 Most picked riders AKA "the chalk"
The 250 class definitely saw the highest concentration of high pick trend riders. Josh Osby (7) led the field at 48% and took down 34 points. Justin Cooper (5AS) followed close behind at 46% picked. Black Wharton (7) rounded out the top three in the class with a 45% pick trend and 30 points scored.
The pick trends in the 450 class were much lower. Joey Savatgy (2) topped the class with a 38% pick trend, he delivered the highest score of the week as well, 46 points. ARay (11) had a 36% pick trend and scored 36 points. Cooper Webb (4AS) took down his third overall of the season and delivered a perfect 26 point score for the 32% of team owners who selected him.
I have to wonder how the only rider who has won multiple races this season went into MN with a 4 handicap, but I'll take it. Probably the last time we will see him at anything other than 1 or 2 for a long time.
 Low owned players who delivered – AKA great contrarian plays
 The 250 class scores were really low this week! The highest point score was only 34; there were a bunch of riders who put up that score. More than a few of them were low owned as well. Chase Marquier (12) 5%, Kyle Cunningham (1) 7%, Hunter Sayles (15) 9% and Lorenzo Locurcio (6) 9% all put 34 on the board for their owners.
In the 450 class there were definitely a few riders who went either unowned, or nearly were. Cheyenne Harmon (16) put up 42 points at 0% pick trend. Looking at qualifying times it's easy to see why owners where hesitant to pull the trigger on him, the Ovilla TX racer qualified in 25th place, but was only 1.2 seconds off of 21st, it was tight in the low twenties for qualifying! Daniel Herrlein (16) qualified 20th overall for the night show and was selected by 6% of owners. He rewarded them with 46 points. Casey Brennan (16) rounded out the top three low owned. The Albuquerque, NM racer qualified 29th and put it in the main, scoring 38 points for zero owners.
Fantasy Duds
Jayce Pennington (15) pulled off an amazing feat in his LCQ. He was in 5th place on the first lap, had at least four riders crash in front of him in only a few laps, and somehow still managed to finish 5th, one place out of qualifying. In doing so he also took 38% of teams out of contention for the overall win. Mitchell Falk (5) was solid in qualifying, (10P) and seemed like a lock for a high score at a 5 HC. It wasn't meant to be; multiple tip overs left him with a 17OA finish and only 11 points for his owners.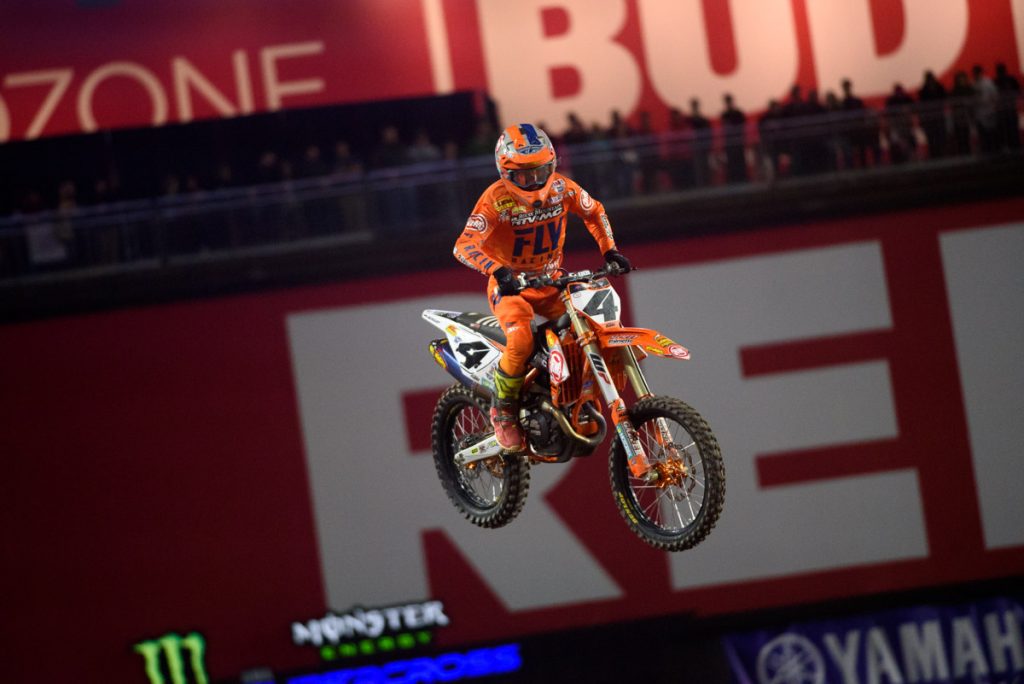 The 450 class also had two high pick trend duds, Blake Baggett (6) and the 722 (16). Blake's rough season start continued, he looked strong all day, running in the top four until the 22nd lap, when a nasty crash took him out for the night, leaving his team owners with only 8 points. Poor Adam, he came up just short again this week, another rough start in the LCQ did him in and he was unable to put it in the main. He's looking strong on the bike and running good lap times, it has to be only a matter of time before he makes the show.
 Fantasy Studs
 Not much studliness in the 250 class, with the previously mentioned 34 point high score logjam. We did have some nice scores in the 450 class though. For the first time this season Team Kawasaki's Joey Savatgy lands in the stud section in back to back weeks! Actually, I think he's the only 450 rider to do so this year, what a weird season for Joey. Joey had a great night overall, leading the race and scoring 46 for his team owners. Daniel Herrlein (16) also had a 46 point score; Cheyenne Harmon (16) followed at 42 points, with Justin Brayton (2) at 42 points. JB10 was a solid pick for the 25% of owners who chose him.
 The 100% "Lead Pipe Locks"
The podcast crew made some solid picks this week. Remember, they are making these well before a single knobby ever hits the track so there is a lot of variance possible. With that being said, JT chose Blake Wharton and Cole Seeley. Dan chose James Weeks and 722, Paul chose Joey Savatgy but wasn't clear about his 250 lock, and Steve went with Joey Crown and Justin Brayton.
As it turns out, Blake Wharton, Savatgy, and Brayton were all solid picks. Of all expert picks, JT had the highest scoring 100% lead lock combo with 56 points.
Final Thoughts – San Diego Picks
I think that Dallas will present a good opportunity for team owners to take advantage of recency bias. There are a number of riders who underperformed last week who could make great picks in JerryWorld. In the 250 class I like Davalos at a non-all star 0 handicap. Mitchell Falk will be a 6 handicap and has top 10 speed; he could be an excellent bounce back candidate in Dallas.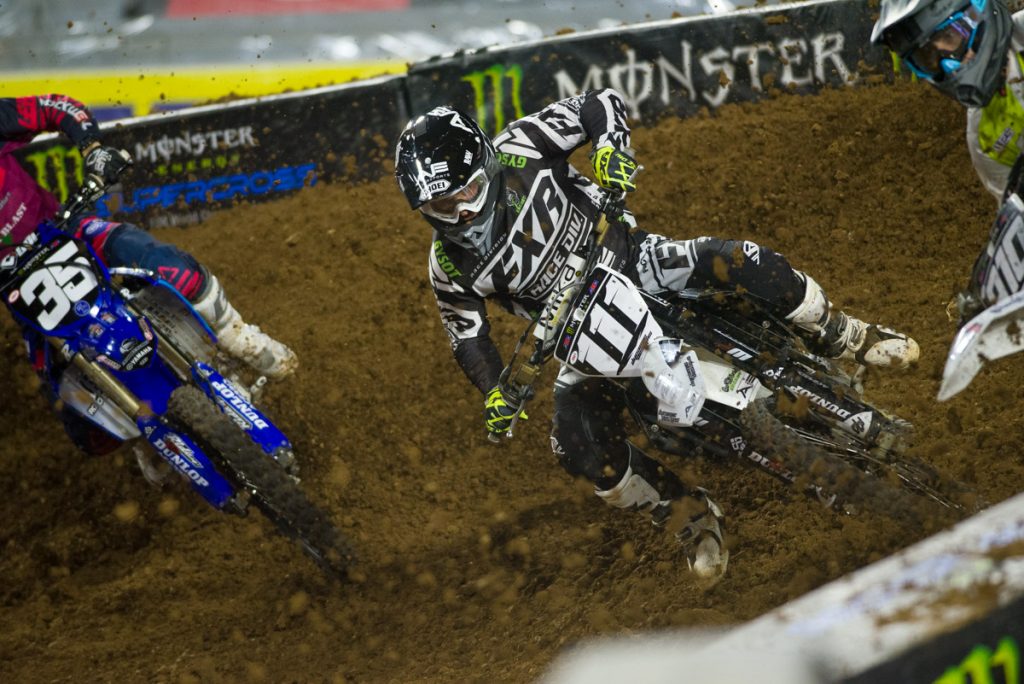 The 450 class has a few new faces. I like Chris Blose at a 13 handicap, and of course Zach Osborne, who returns to competition this week. The 450 class rookie will begin the season at a 2 handicap. Finally, I would be negligent not to mention the 722. As a pure game theory pick he is really strong. He has had a string of just misses and burned a bunch of owners last week. He is riding better than his results have shown though, and still carries a 16 handicap. When he puts it in the main, he will reward his owners with a big score.
Well that's it for this week. Thanks everyone for reading and playing. Please remember to support the sponsors of this site.
Hope I see you on the leaderboard!