Last month, I put together my picks for the best-looking Honda models of all time.  It was a list I agonized over and shuffled the order of many times. The more I tried to pin down my picks, the harder it became to rank them. In the end, I surprised even myself by depreciating some of my all-time favorites and promoting a few others did not expect. Of course, that agonizing is what makes bench racing like this fun. In case you missed this ode to all things red, you can watch it HERE.
Because I had so much fun torturing myself last month, I thought it would be entertaining to do it again and enlist Matthes to help. For this second installment, I am going to look back at Suzuki's fifty-year history in the sport and come up with my picks for their best-looking motocross models. Then Matthes is most likely going to tell me I am blind and concussed. As before, these are purely our opinions, so feel free to call us idiots and inform us why your personal RM should have made the list. 
Here are my picks for the ten best-looking Suzuki motocross models of all time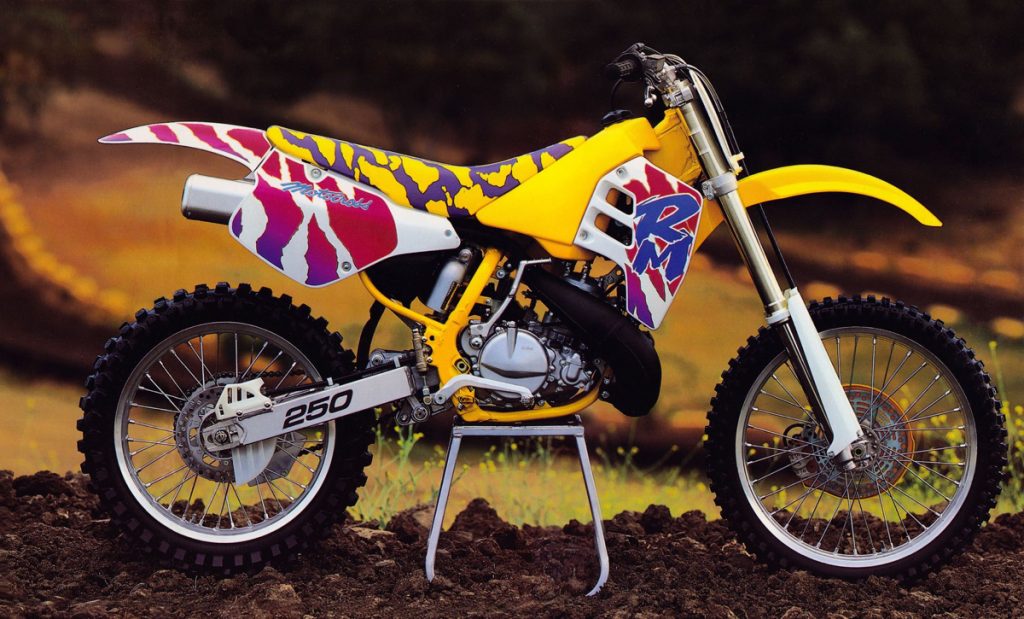 Blaze's #10 – 1992 Suzuki RM250
Blaze: If there is any pick on this list that is going to get me accused of post-concussion syndrome, this is it. To be honest, I would not blame you if you actually felt this way. For years, I hated this bike. In 1992, I thought it was an absolute joke, but the intervening years have turned me around on its "unique" appeal. For starters, I have always loved the overall look of this bodywork, it was only the outlandish colors and graphics that turned me off. I still prefer the blue frame to the yellow, but the basic DNA of beauty is still there. As to the rest of it…well, that has taken a while to wear me down. Actually, twenty -seven years to be precise. 
Today, I appreciate it for the absurdly bold choice that it was. After all, I was dressed like a pink and orange AXO tangerine in 1992, so who am I to judge? This was certainly no more outlandish than the zebra-striped Fox pants worn by my heroes, so why was I so resistant to its charms? Maybe it just took a while to work its magic on me. Regardless of the reason, I see it now and am taking the bold stand to put this insanely colorful nineties icon on my list.
Matthes: I need to get you tested for a drug problem right away. This is a good looking bike as far the overall shape of everything but the graphics are the ONE massive issue I can't get away from. By the way, the bikes in Canada and Europe had yellow rear fenders and side panels and looked, say, 30% better. I saw this was on your list and I almost fired you on the spot.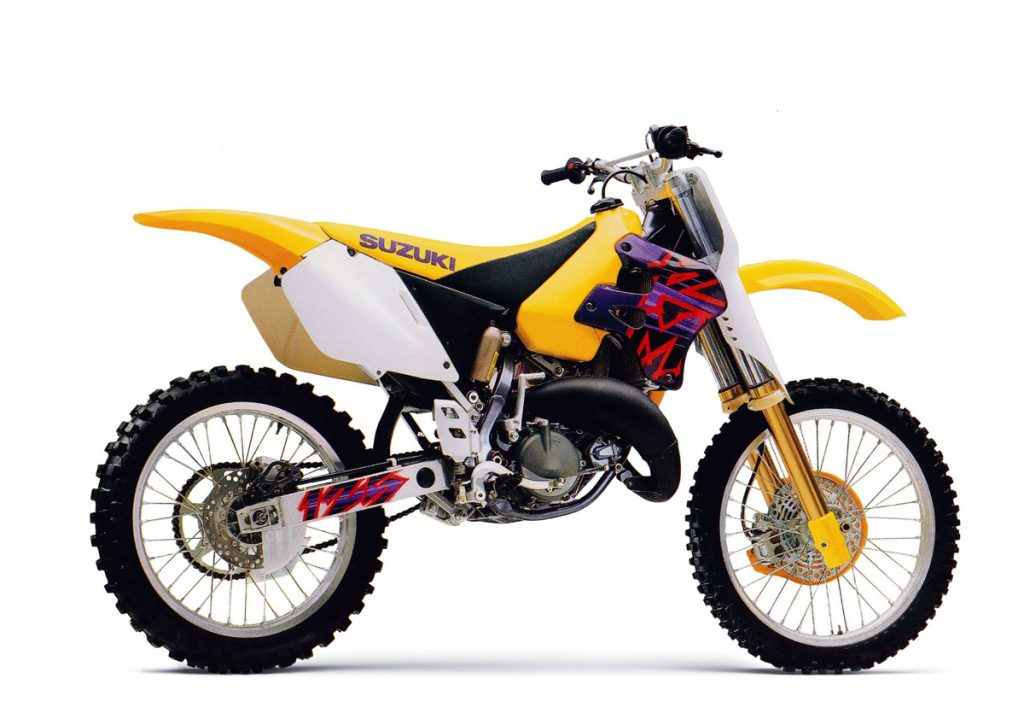 Blaze's #9 – 1996 Suzuki RM125 
Blaze: In 1995, words could not describe how much I wanted this bike. I had the 1995 RM250 and hated that thing, but the new 1996 models looked so sexy to me. I absolutely loved the look of the new bikes and could not wait to get one. I actually ended up buying both an RM125 and RM250 in 1996 and really loved them. The new plastic was a huge improvement after the odd-looking (to me) '93-'95 bodywork and those massive conventional forks were pure sex on wheels.
While I have to admit the purple accents do date it a bit, I still really dig the overall look of the '96 RMs. That big RM graphic and huge "125" on the swingarm are very nineties, but in a restrained sort of way that the '92 model lacked. Even though it is kind of a Honda clone (no insult in my opinion), I think the looks of the '96 RMs hold up really well and make this my favorite of all the nineties Suzukis. 
Matthes: WHAT THE HELL IS WRONG WITH YOU BLAZE? This bike is also very, very, ugly. I mean, what's up with the front plate/fork protector? It's an ok looking bike except for that. I mean, throw some old school fork boots on it maybe but why would need to protect your fork tubes with that massive chunk of plastic? No, no, no Blaze.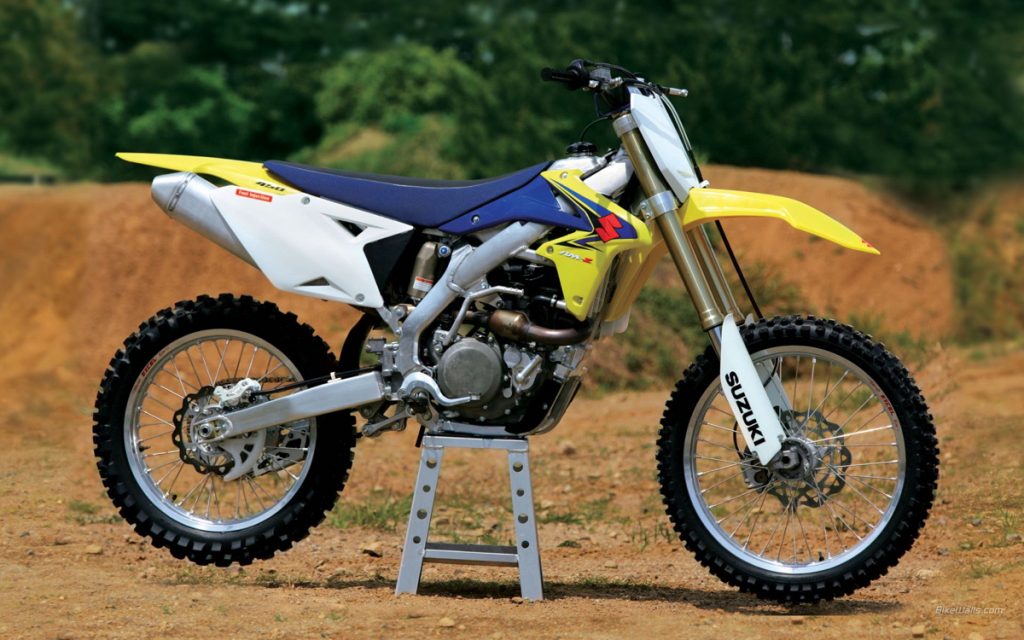 Blaze's #8 – 2008 Suzuki RM-Z450 
Blazier: Personally, I was not a fan of the looks of Suzuki's first-generation RM-Z450, but man did they ever knock one out of the park with gen two. Everything from the bodywork to the retro yellow and blue color scheme was on point in 2008. That alloy tank added a "works" flavor and the understated graphics still look modern today. Later models started dialing in lots of red and black, but for my money, this 2008 is still the best. Considering Suzuki stuck with this basic package for a decade, it is a good thing they got it right.
Matthes: Yeah I like this bike; Suzuki needs to stick with blue somehow, someway. It's their heritage color and always looks good. The aluminum tank was so cool when it came out, that used to be- for the kids out there- the ultimate sign of cool.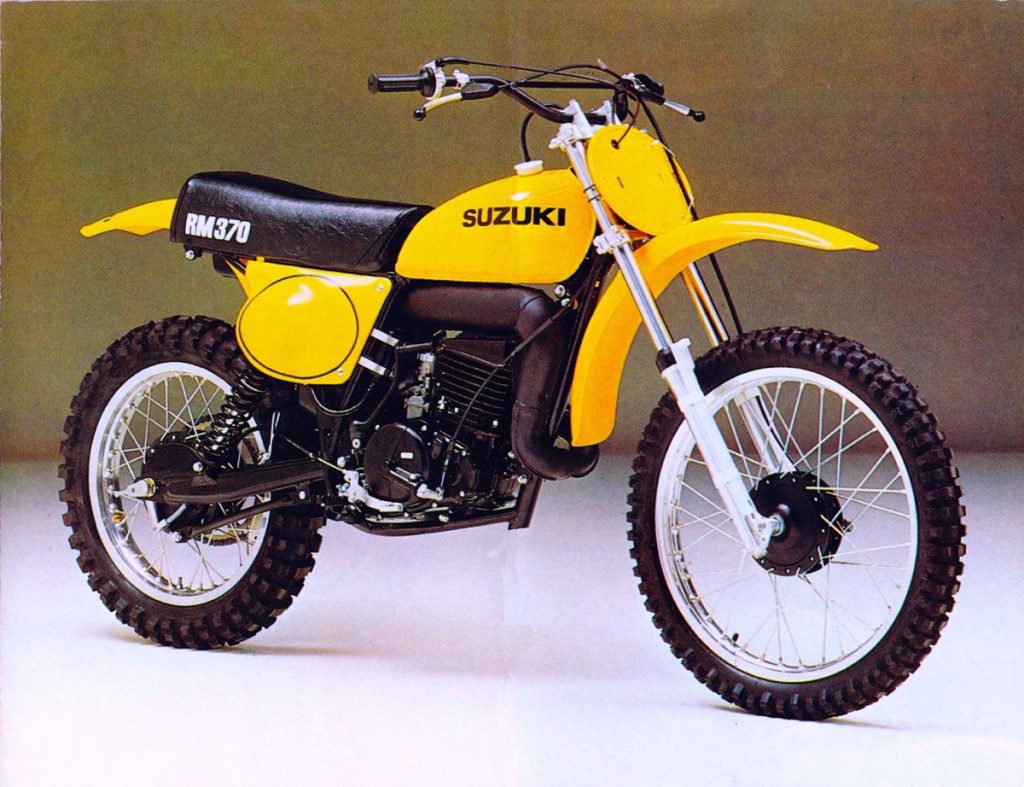 Blaze's #7 – 1977 Suzuki RM370
Blaze: In general, I am not a huge fan of bikes from the seventies. I was a little kid during this time and I did not really get into motocross until the early eighties. That said, however, I don't know how anyone cannot appreciate the simplistic beauty of the 1976-1977 Suzuki RMs. These were the first Suzuki production motocross models that were actually worth buying and are just as beautiful today as they were in 1976. The styling is clean, purposeful, and devoid of the oddball design cues Suzuki would become so enamored with a few years later. I much prefer the styling of these first-gen alloy-tanked models to the later plastic-tanked ones. The color, the styling, the overall proportions were just right on this bike. 
In my final analysis, I picked the '77 model over the very similar '76 because of the trickness factor of the remote-reservoir shocks (the '76 model lacked them). Other than the shocks, the two models are pretty much indistinguishable and I think either one would have been a solid choice. I also LOVE yellow plates on Open bikes, so the 370 got the nod over the very similar RM250. Plus, when I see this RM, I can't help but think of The Man at the controls, putting the wood to Bob Hannah or Heikki Mikolla. For my money, this RM is the best-looking bike of the seventies and easily the best-looking Suzuki for another decade. 
Matthes: I'm out.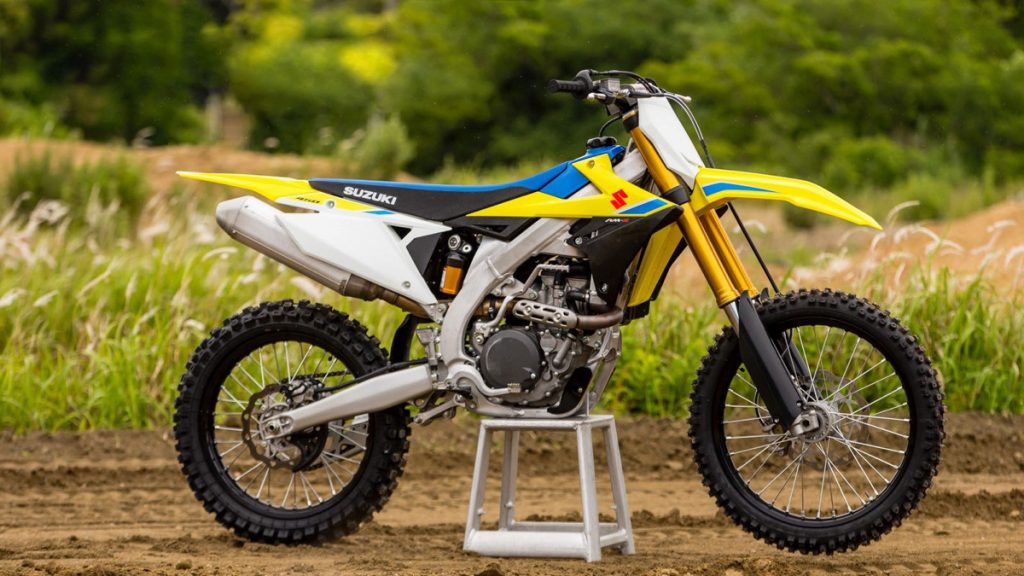 Blaze's #6 – 2018 Suzuki RM-Z450
Blaze: After ten years of recycled and retreaded RM-Zs, Suzuki finally pulled out all the stops and introduced a redesigned RM-Z in 2018. While the new bike was still behind the times in some performance categories, it was certainly up-to-date in terms of styling.  The return of the traditional yellow and blue was a really smart choice and the updated plastic gave the RM-Z a sleek and aggressive appearance. Personally, I prefer the looks of two-strokes in general (that giant muffler is an eyesore), but this is one damn fine-looking thumper. Really, about the only thing I can knock this RM-Z for is its black rims and fork guards. I have never been a fan of the Black Bart look, but this RM-Z pulls it off about as well any machine I can remember. 
Matthes: As I said, stick with the blue Blaze. I had one of these for a little while and I will say that they are great looking bikes. Might've been number 2 on my personal list. As I said, I love the blue and also the factory gold coating on fork and shock is rad. Blue tank cover? Excellent! Great looking Suzuki and much better than any other bikes you placed above it. I'll even take the black rims even though they're played out.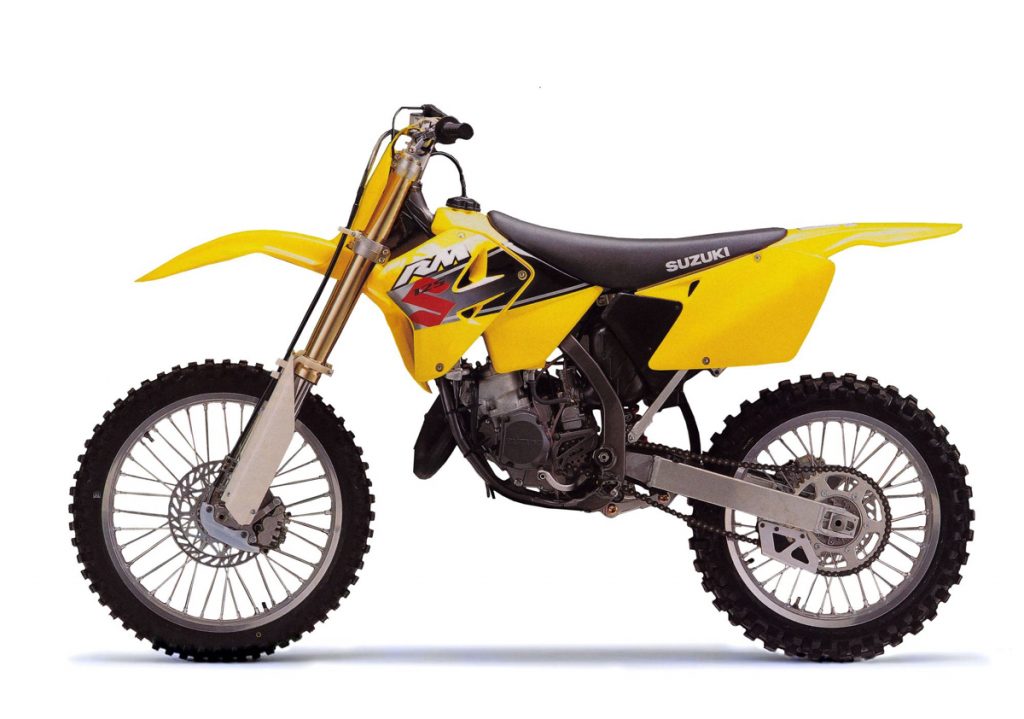 Blaze's #5 – 2001 Suzuki RM125
Blaze: When this new-body-style RM made its debut for 2001, it was a huge departure from the outgoing model. Everything from the shade of yellow in the plastic to the firmness of the seat was tweaked in pursuit of a better breed of RM. While the actual bike was no world-beater on the track, its styling was certainly a huge success. From stem-to-stern, the new bodywork was sleek, modern and up-to-date. Even today, eighteen years later, it still looks modern, fresh, and to my eye at least, more attractive than anything in the 2019 Yamaha lineup. 
Matthes: Yeah, it's ok. What's up with the seat though? It's kind of weird looking right? Needs some white number plate backgrounds.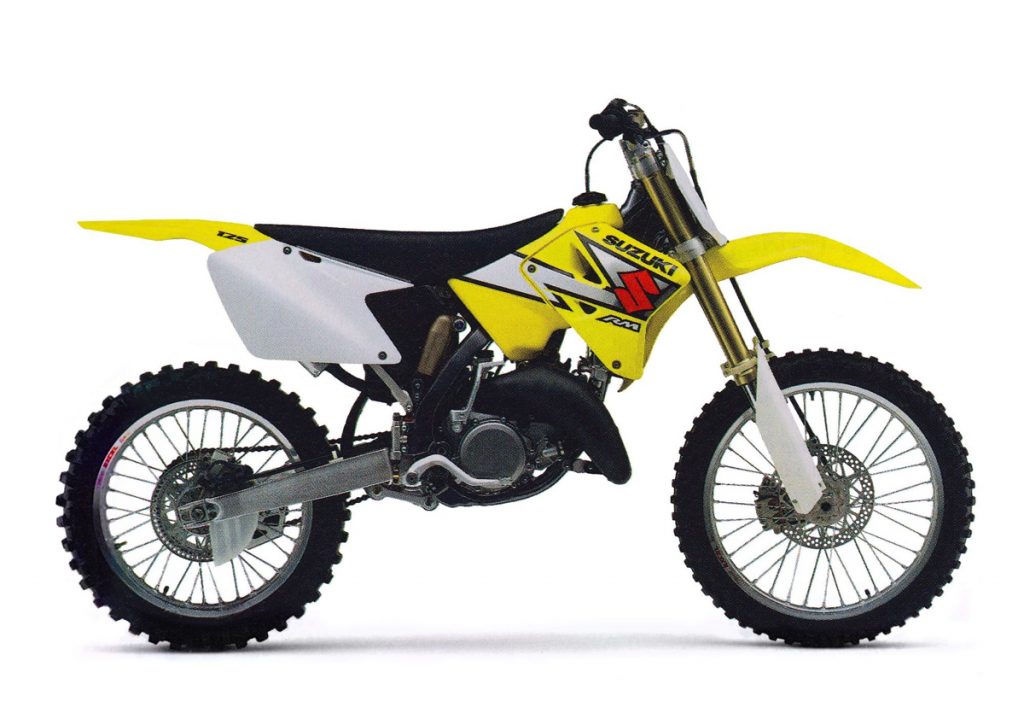 Blaze's #4 – 2003 Suzuki RM125
Blaze: While this is very similar to the 2001, I do prefer the 03 RM's looks over almost all of the other 2000s models. The graphics this year are really cool, with a subtle chrome effect added in. The addition of the while number plates also really helps to break up the yellow. Later RM models brought in more red accents and some of my beloved blue, but I never thought it worked as well as this simple and clean 2003. 
Matthes: This was a good-looking bike but again, go with blue instead of some weirdo silver graphics. This bike was basically a copy of the Yamaha in body style and motor. One thing for sure, there was a little bit of an era there where Suzuki ran the red "S" Suzuki thing hard.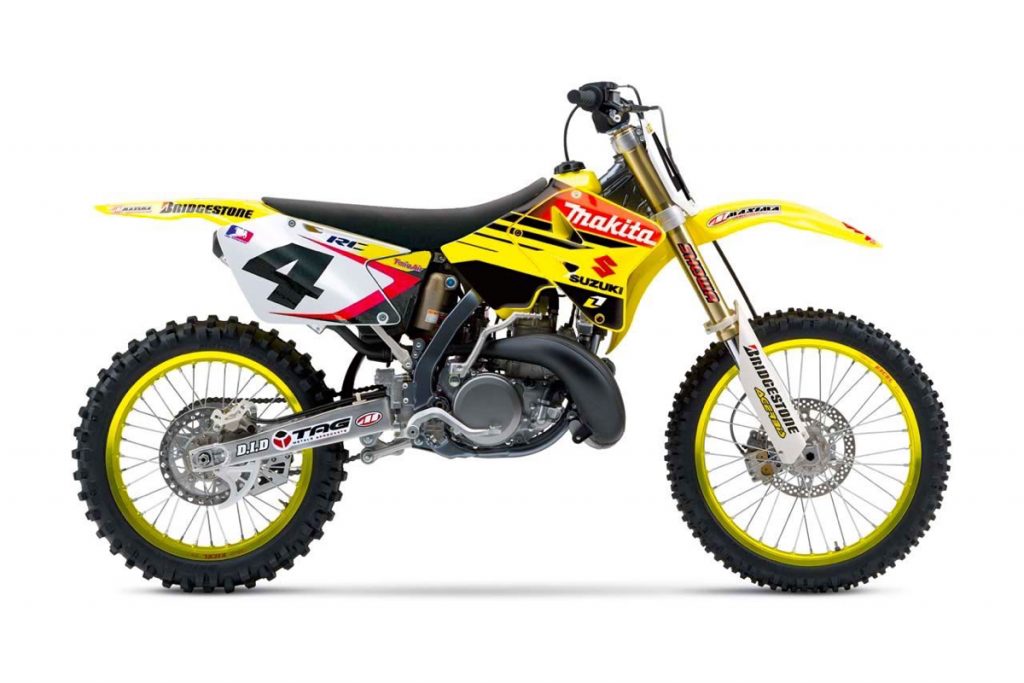 Blaze's #3 – 2006 Suzuki RM250 Ricky Carmichael Championship Edition
Blaze: While it may seem like a cheat to put essentially a works bike on the list, I just had to include this badass machine. To me, this is the pinnacle of the 2000s RMs. Gold rims? Yes, please! Factory Suzuki Makita graphics? I'll take two. I mean, what is there not to love about this design? It has all the lovely bodywork of the other 2000s RM, with the added cache of looking like the last two-stroke ever to win a Supercross title. 
In 2006, I had to have this bike on looks alone. As soon as I saw this bad boy sitting in the corner of the dealership, I knew it needed to be in the Blaze stable. Even though I ended up not loving its performance (holy crap this bike was a hairy-chested handful), I never fell out of love with its matinee idol looks. Sleek, sexy and full of championship swagger, 2000s RMs did not get any better than this. 
Matthes: First of all, I'd never, ever buy a bike that had an energy drink graphic kit on it or some drill companies logo either. Like, I don't want to advertise for companies that don't do crap for me you know? Blaze is right, the rims do look good but I would just buy this bike and tear off all the graphics and run my own stuff.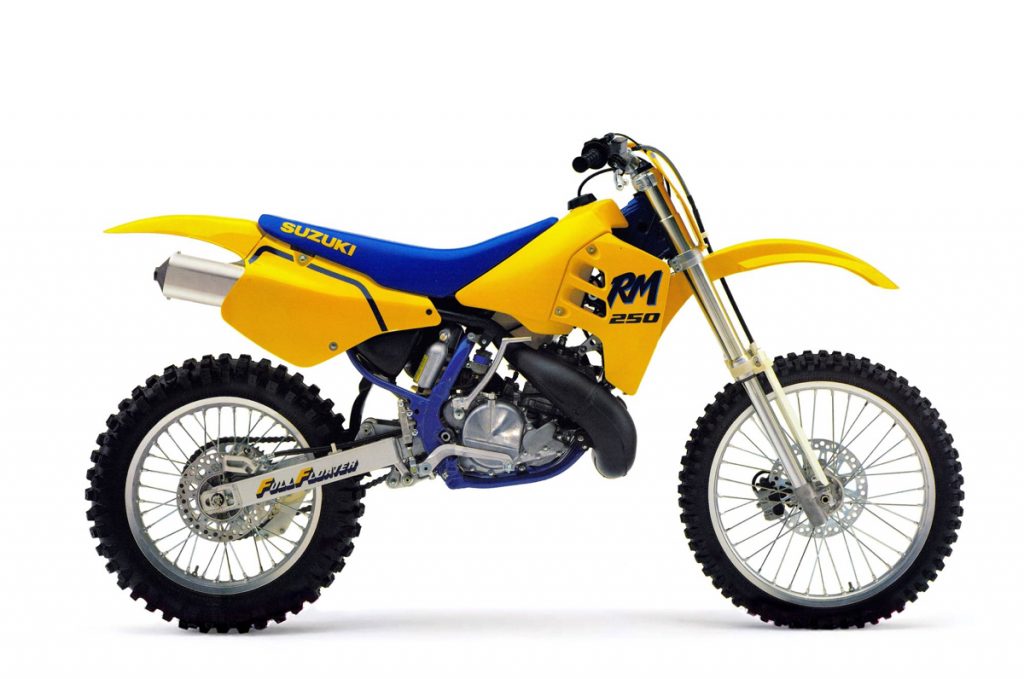 Blaze's #2 – 1989 Suzuki RM250
Blaze: In my opinion, the mid-eighties were a dark time for Suzuki styling. Weird fenders (duckbilled platypus anyone?), poorly-fitting bodywork and shoddy build quality were the hallmarks of the Reagan-era RMs. Occasionally, they actually went fast, but they always looked goofy doing it.
In 1989, all that nonsense stopped with one of the most dramatic redesigns in motocross history. Both the RM125 and RM250 went from ugly ducklings to yellow swans in one fell swoop. It was an incredible turnaround for a brand that had become the butt of jokes for half a decade. 
In terms of styling, I do prefer the RM250 to the 125 in '89. The pipe on the 125 looked like it was meant for a different motorcycle and the odd asymmetrical gas tank on the tiddler is less elegant than the one on the deuce-and-a-half. Still, either one is downright gorgeous and worlds better than 1988. 
To me, this classic yellow and blue is the best color combo Suzuki has ever used and it looks as great today as it did in '89. The blue motors from the mid-eighties were probably a bit much, but that blue frame and blue seat with yellow lettering on it are still aces. That bodywork still looks modern to me as well, even though it lacks the hard lines and oddly angular shapes of the current motocross designs.
Overall, this is almost my favorite RM of all time. 
Matthes: Blaze is right, Suzuki's were butt ugly for a long time until this beauty dropped out of the sky and changed everything. Great looking bike, really cool flow to the plastics and I've always liked the look of the fork sliders that just go in the front of the tube ALA factory Showas for a long time. On that note, the 1988 Suzuki 250 was super weird in that it was all new plastic but just used on the 250 that year and then never again! Rando weird for an OEM.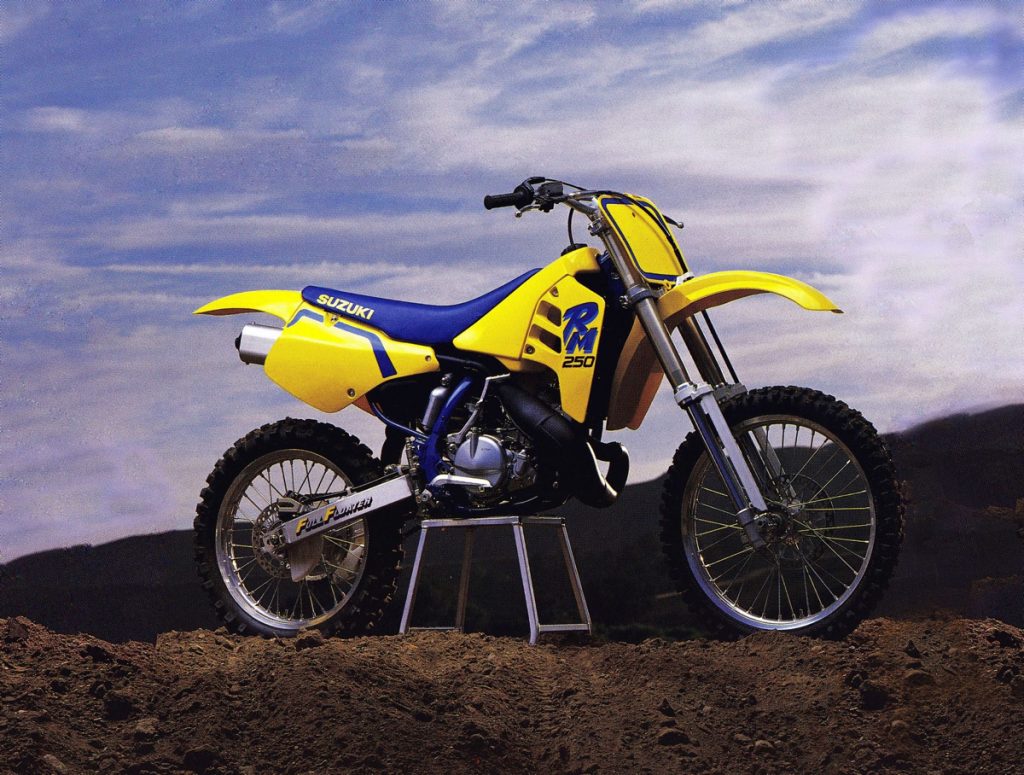 Blaze's #1 – 1990 Suzuki RM250
Blaze: My fondness for the motorcycles from 1990 is well documented, but come on, can you blame me? Just look at this beauty. From every angle, this is just a stunner. Even though it is basically identical to 1989, I ranked the '90 ahead based on its slightly bolder graphics. To me, the '89 graphics were a bit too understated, but of course, your mileage may vary. In the end, I think they are both gorgeous and either one could have scored the top spot with little debate.
What do you think Matthes? Did get this one right, or did my '90 bias lead me astray again? 
Matthes: Yeah, either '89 or '90, whatever works for you. They're basically the same and both are great looking. As Blaze and I have talked before, the '90 Kawi and Honda were sweet looking also so 1990 was a banner year for great looking bikes.