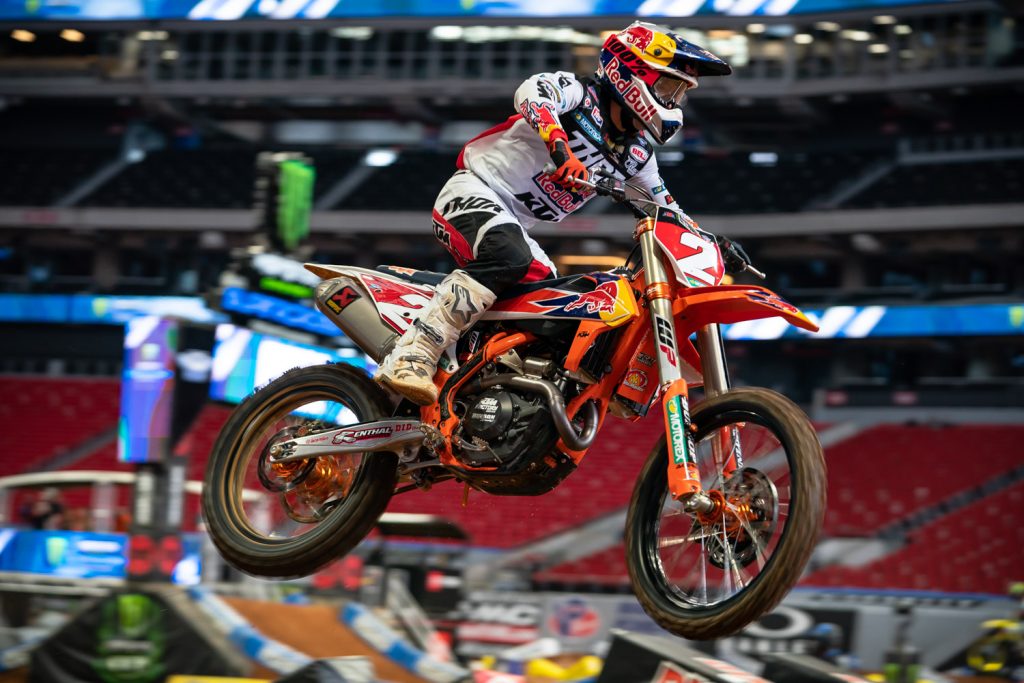 Photos by Anton
I didn't watch the race live this weekend or even get to watch practice as much as I usually do because I was busy getting my Seger on in Las Vegas with Steve and Pookie. However, I did spend my Sunday at home watching the race and even catching some of the "Daytime" qualifying to study up on what went down throughout round nine of the Monster Energy Supercross Series in Atlanta, Georgia.
Sand Section: I honestly thought it was going to be worse than it actually was. In the daytime qualifiers there wasn't much going on with the circular sand section, but when it came to the night show, there was some separation and even a few passes made in the sand area. The sand got rough and if you paid attention you would notice a few riders standing up through the whole section like an outdoor national. It's tough to adapt to sand when the whole track that you're attacking is clay/sticky based. You have a certain feel for 98% of the track, then that 2% comes up and you have to ride completely different, so it catches even the most advanced riders off guard (like Plessinger, Musquin, Decotis). I thought it turned out decent for the night's racing.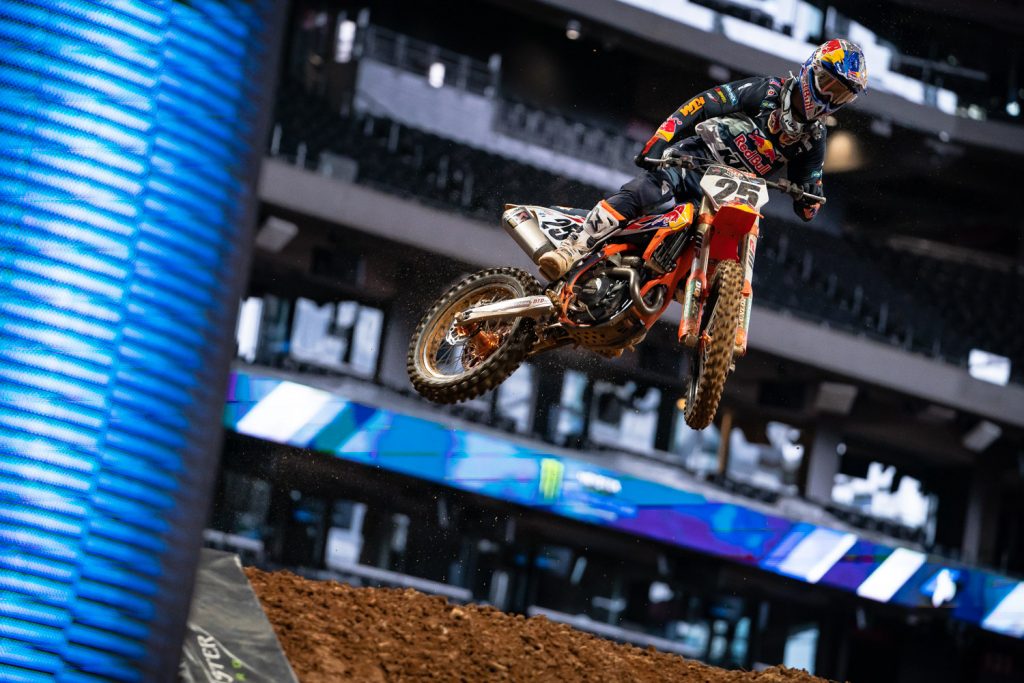 KTM's: The top three were all KTM's and I almost can bet all three of those KTM's had damn near the exact same set up as one another. If you listen to my podcast you know how much compliancy these bikes have and how easy it is to go fast on one of these bikes. This just doesn't roll over to factory riders, but privateers like Soubeyras (yes, he's on a Husqvarna but you get the point), Brennan, and Blose all have done very well on a steel framed bike for 2019. It's a combo of a relaxed chassis, that has traction and an engine character that has controllable torque. Controllable torque is when the rear tire is literally so connected to the ground (under throttle) that you can get on the gas sooner while being more aggressive. This is something that I know Cooper couldn't do with his factory Yamaha YZ450F last year.
Marvin Musquin: I feel like Marvin has the speed to run Webb's pace, but maybe his fitness is not quite up to where Webb's is because of the knee injury. Marvin was catching Webb and to me was simply better than him in Atlanta, but he either got blocked by Coop or couldn't capitalize on the few mistakes Webb made. He's getting better and I think we will see a win soon from Marvin coming by Seattle.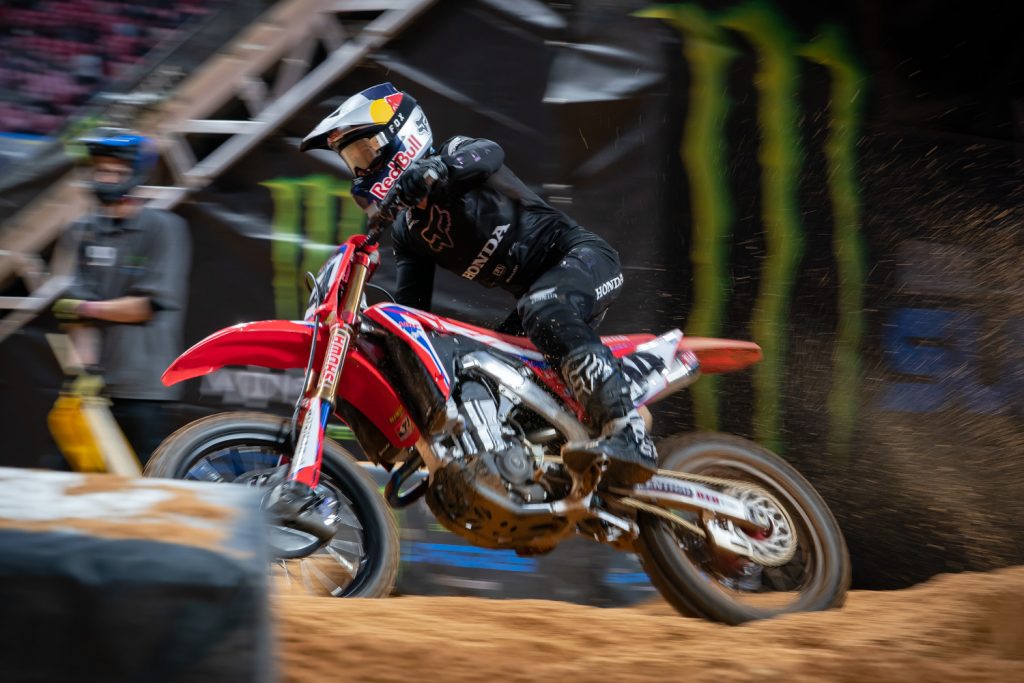 Ken Roczen: This one baffles me a little… He was up near the leaders early on in the main, but couldn't latch on to the guys through last half of the race. I think the flu has him playing catch up again. Fitness and health is an internal battle these riders have to deal with all year. The media doesn't ever pay much attention to health and wellness as we focus more on speed and style. At the finish he was 18 seconds back and is now 13 points out of the lead, which leads me to believe he's still recovering. Kenny will be good in Daytona because even though the track is usually pretty fast, it's rough and technical. Kenny's speciality.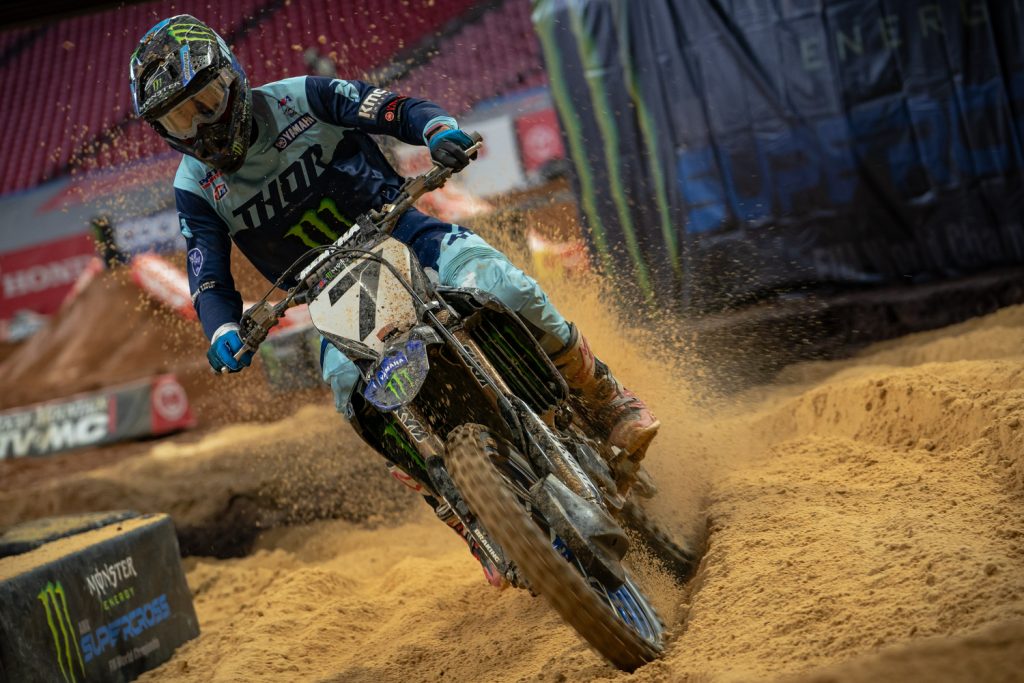 Aaron Plessinger: Hey look who's coming around? AP looked good in the main until a tip over cost him some valuable time. It looks like riding with Barcia has been helping him on the east coast dirt and look for AP to be good at the outdoor-ish Daytona as well.
Cole Seely: A win in the heat race to tenth in the main. This is how tough this class is if you don't get a top three start. Nice rebound from last week for Cole and it's always a pleasure to watch him ride. Silky smooth!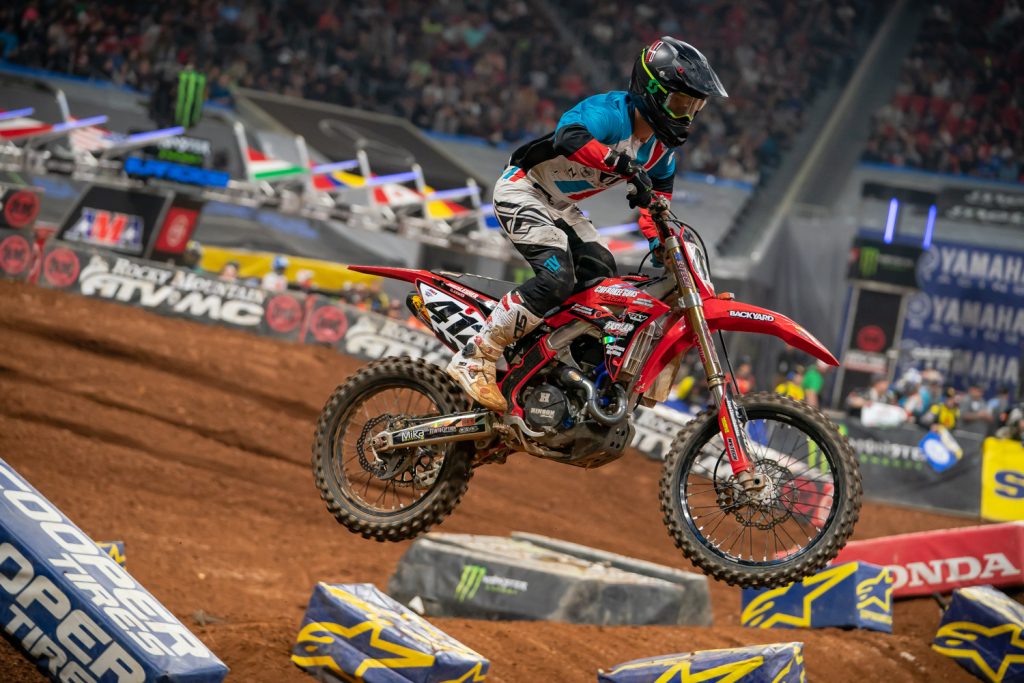 Jared Lesher: When it said Lesher was in fifth (in the heat race), I thought the AMA Live Scoring was jacked up. I don't know much about him, but I respect what he just accomplished on his privateer Honda. Anyone got some info on this kid? Hit me up..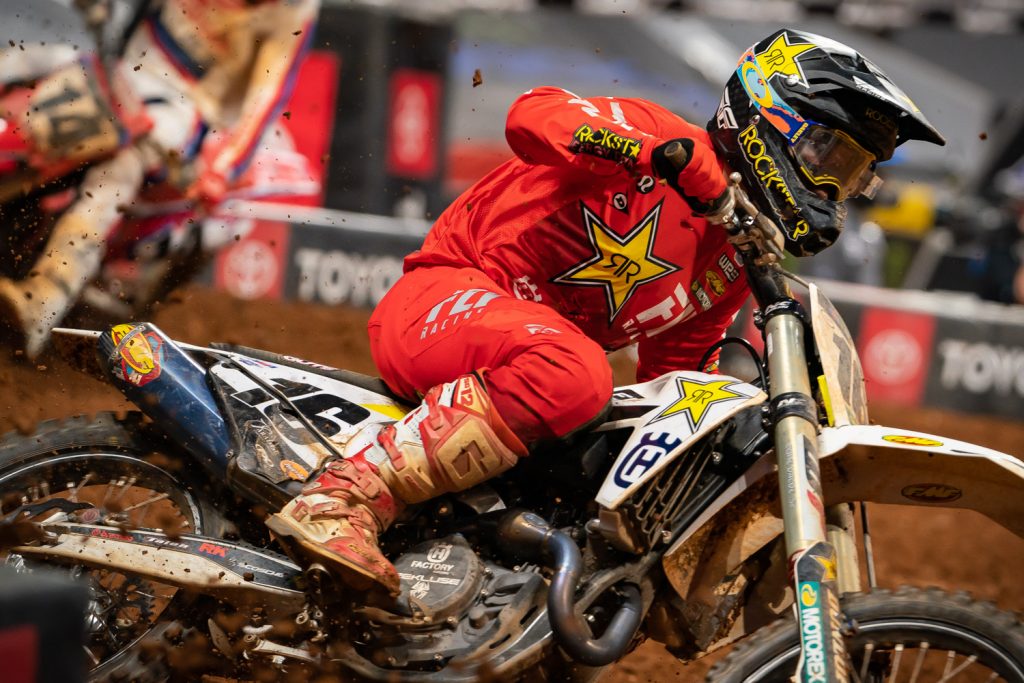 Zach Osborne: Poor Zach. His subframe broke so his seat fell off. Things will get better for him as the rounds go on. He did qualify sixth, so that is something to build off of.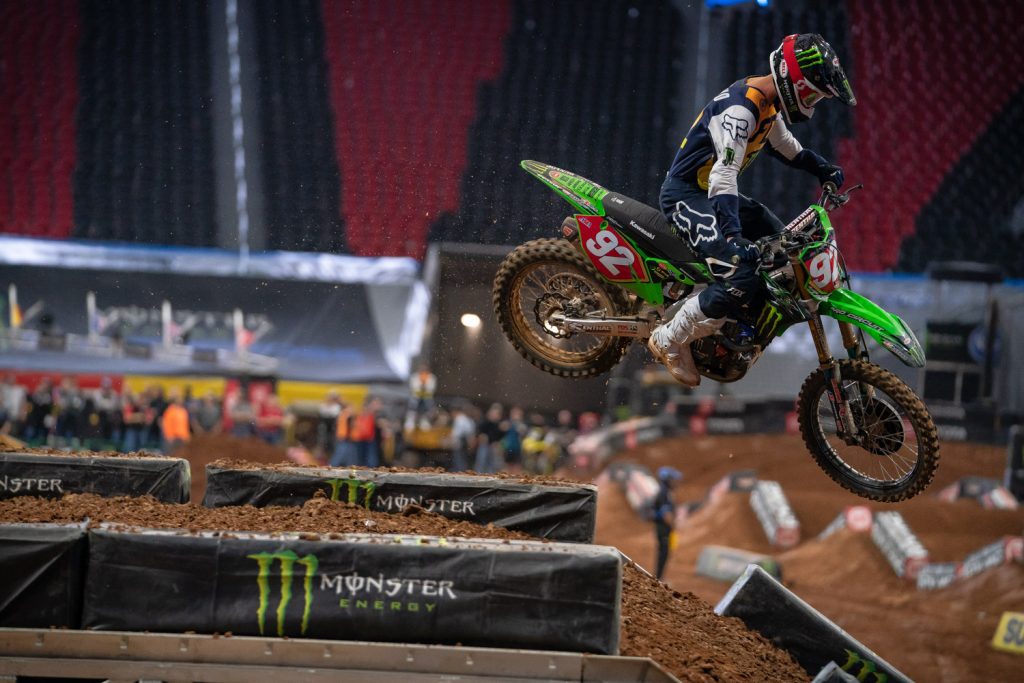 Adam Cianciarulo: AC looked good, but more importantly he was very patient in the East/West Showdown! He watched Sexton for a bit and took advantage of some lines Chase was taking and then made his move. He quickly used those lines and caught Forker who looked like he was getting a little tired. This win boosted AC's confidence and the west looks to be going through him from here on out. AC also moves around a lot on the bike like DV did back in the day. Watch!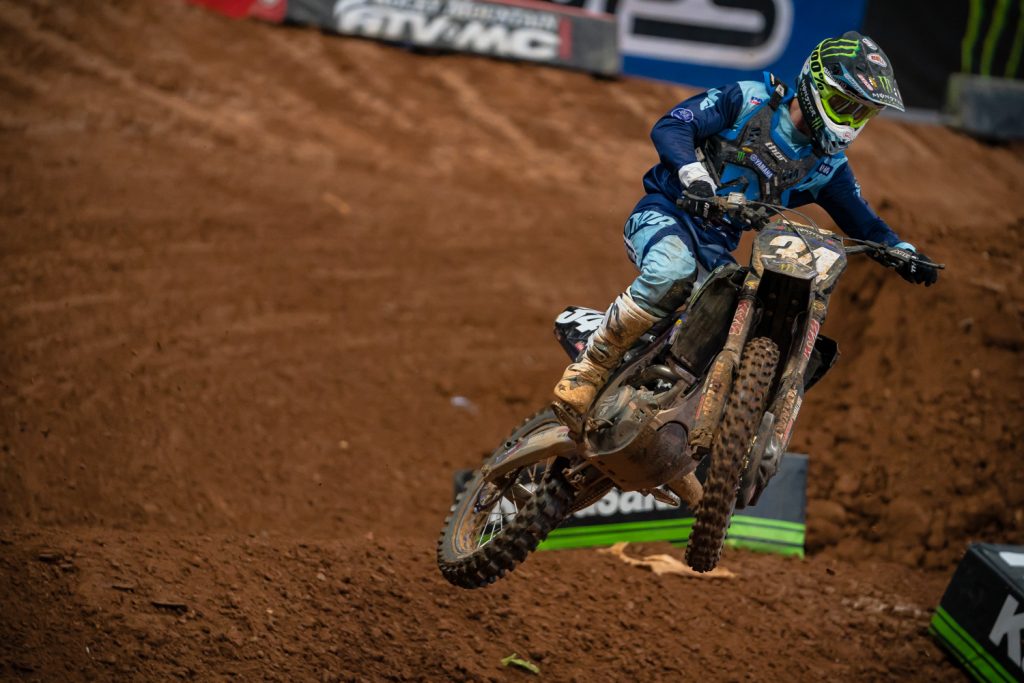 Dylan Ferrandis: Ferrandis had some fire and to me is the only other guy in the west who can challenge AC right now with pure speed. I think Ferrandis and AC's mental game is very close, but it will come down to who gets the better starts in any given main event. The Pro Circuit Kawasaki's look good off the gate these past few weeks.
Austin Forkner: Austin has a pretty cozy lead in the east series, but to me looked to be riding conservative in the East/West main this weekend. His focus is winning the title and that is something he has been lacking the past couple years. Keeping his eyes on the prize. No need to dick measure on these showdowns.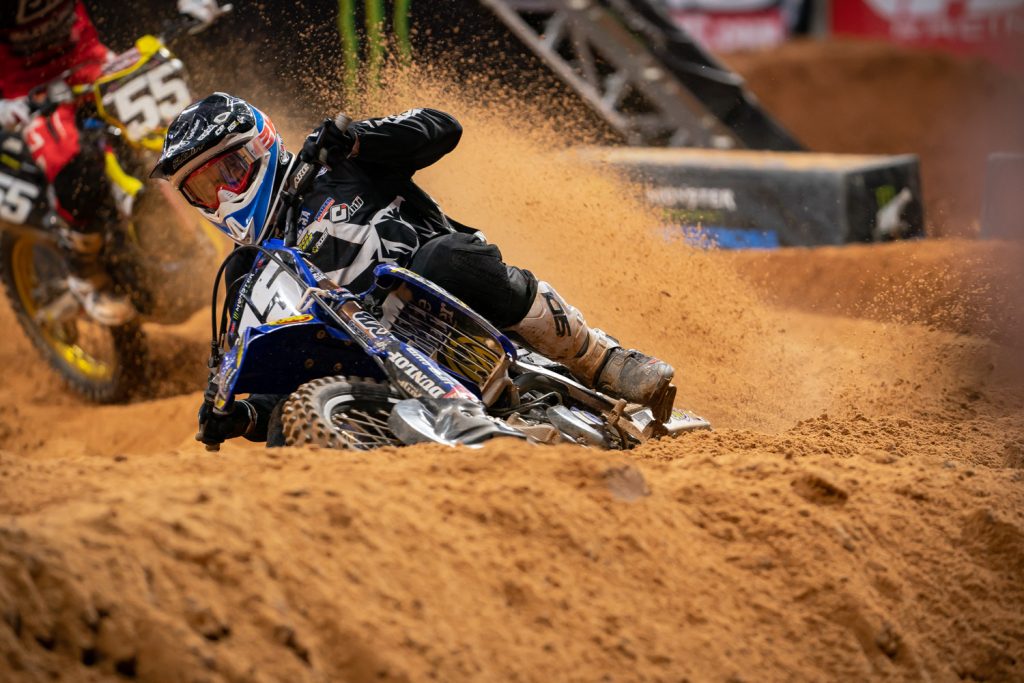 Brandon Hartranft: This kid was moving up in the main and looked good through the whoops. I was viewing a certain team's personal video and saw Hartnraft kill the whoop section more than a few times in the main. He's built like a shit brick house so it makes sense on how this dude can go through whoops so well. Just in case anyone was wondering, Brandon rides for the Cycle Trader Rock River Yamaha team.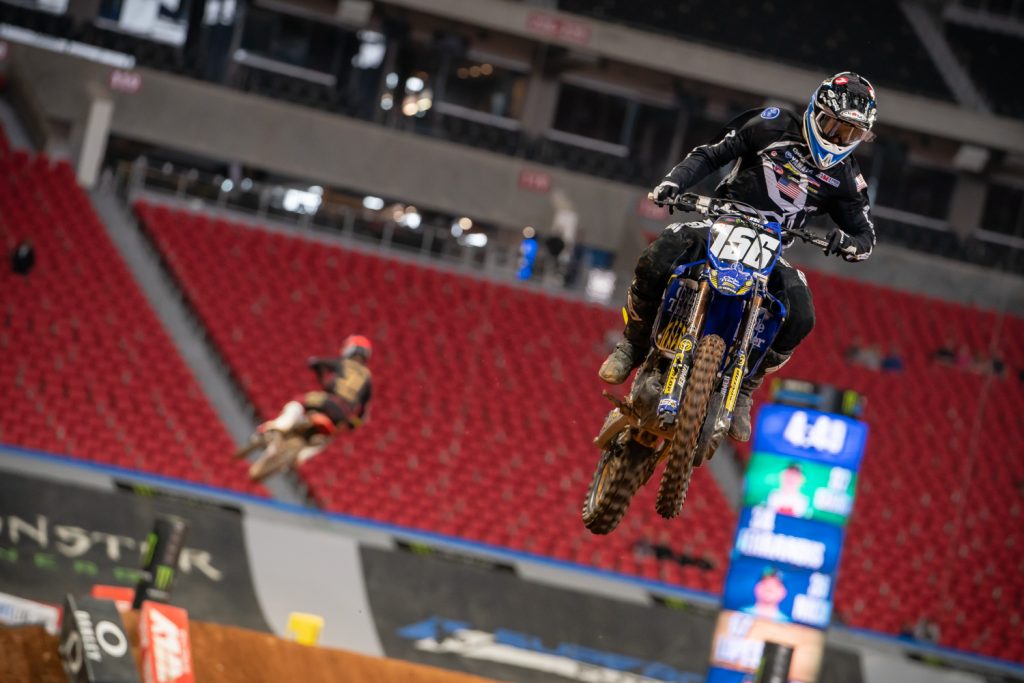 Jacob Hayes: Rick…Rick?