The Daytona Supercross has evolved over the years, but one thing remains the same about the hybrid motocross/supercross event. It's gnarly! Long rhythms, huge ruts, and different types of dirt really kept the riders on their toes Saturday night. I watched the race back a few times and came away with a few thoughts that I decided to write in this column just so you guys can have some quality reading while sitting on the toilet.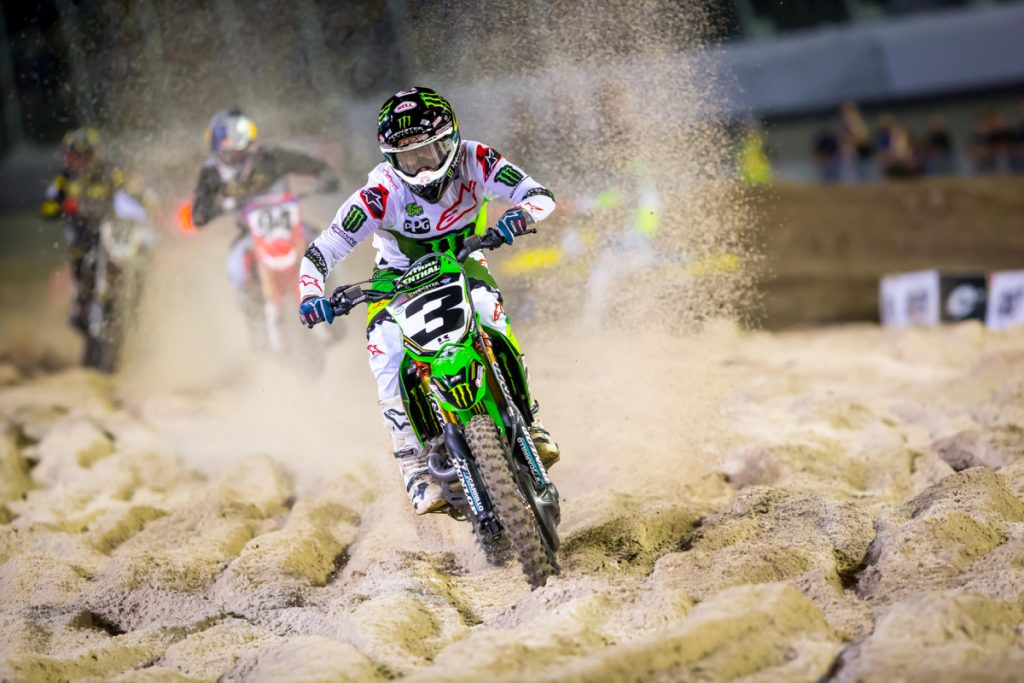 Eli Tomac: Tomac recovered nicely from a few mistakes early on to take the win in convincing fashion. I am sure when Eli saw Baggett jump the wall in front of him on the opening lap that must of fired him up. However when Tomac leaped past Baggett to regain the lead, that took some major balls and strength. Can you imagine sending the wall like that without having your jaw break from hitting the crossbar pad? Uhhhhhhh, no thanks. Oh did I mention that Tomac had the fastest lap in the main event by over a second.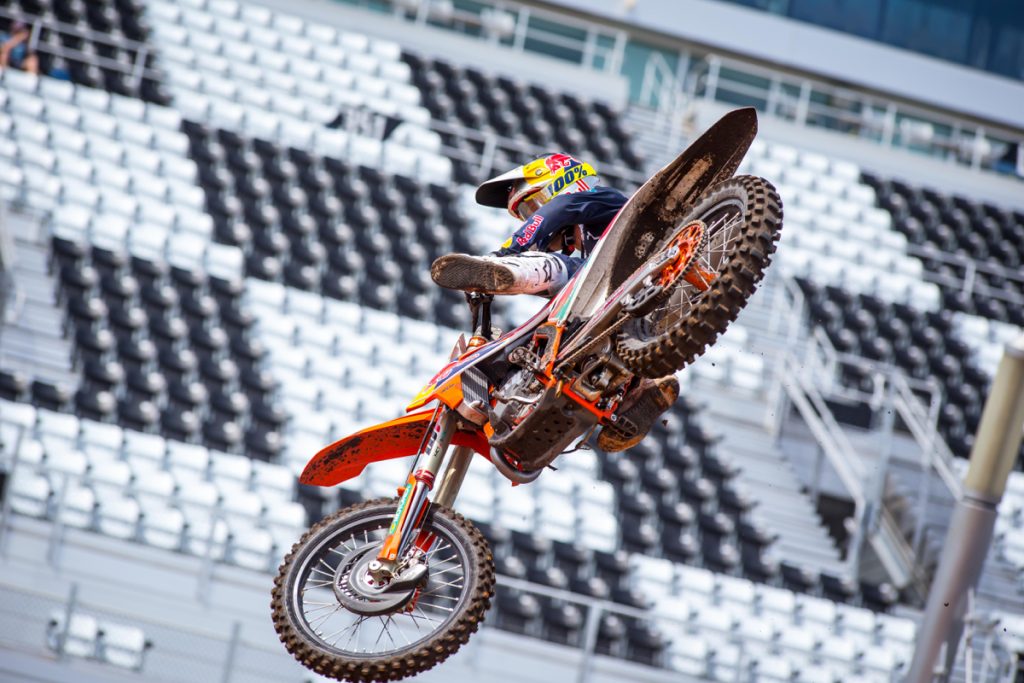 Cooper Webb: Cooper wasn't on Tomac's level in Daytona. Hell, he wasn't on Marvin's level either, but he's so smart when it comes to racing that he manages to get the better of riders that may be faster than him. 19 points up and Webb is looking good for the last seven races. Hey Steve, remember when I talked about Webb way back at the Monster Energy Cup? Yeah, I do too! 
Marvin Musquin: Poor Marv. He was so fast all day and actually looked like he was pushing, unlike what he normally looks like, which is buttery smooth. Musquin just seems to make bad little decisions and that sometimes costs him a position or two. I do like that the Musquin and Webb still seem to be fairly cordial after each race.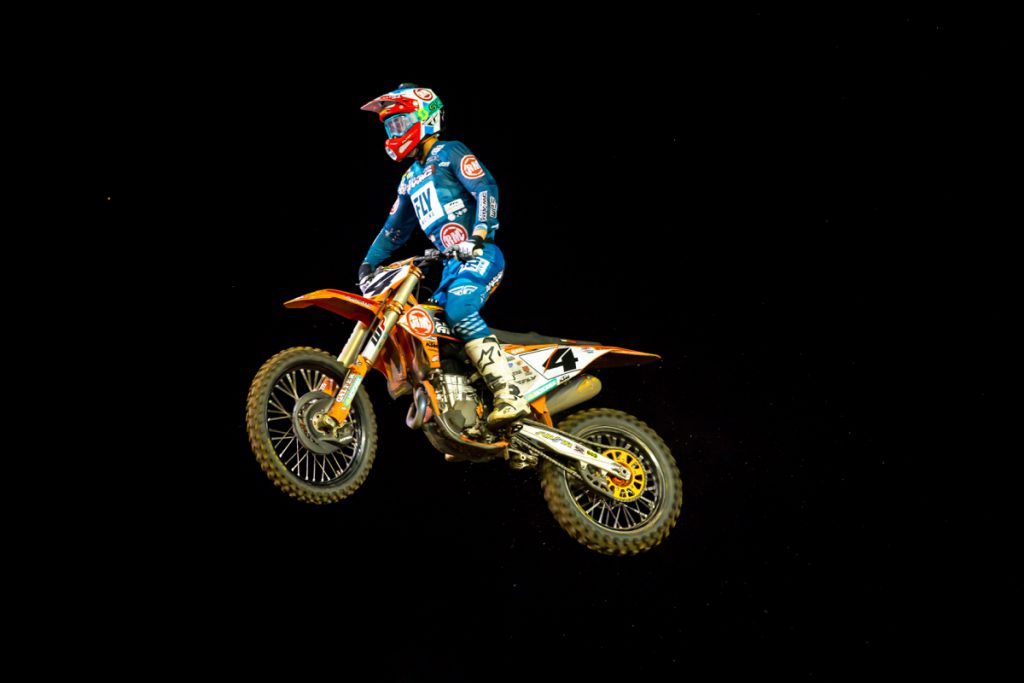 Blake Baggett: Old Blake seems to be back. You know that Blake that was on the Pro Circuit Kawasaki team that was aggressive and incredibly fast? Yeah that one! It's been a while since Blake hasn't changed up things on his bike and that is because I have heard he has been super happy with "most" things. Having a bike that is as friendly as the newer generation KTM is, I am sure the window of "happiness" is larger than it was pre-2018.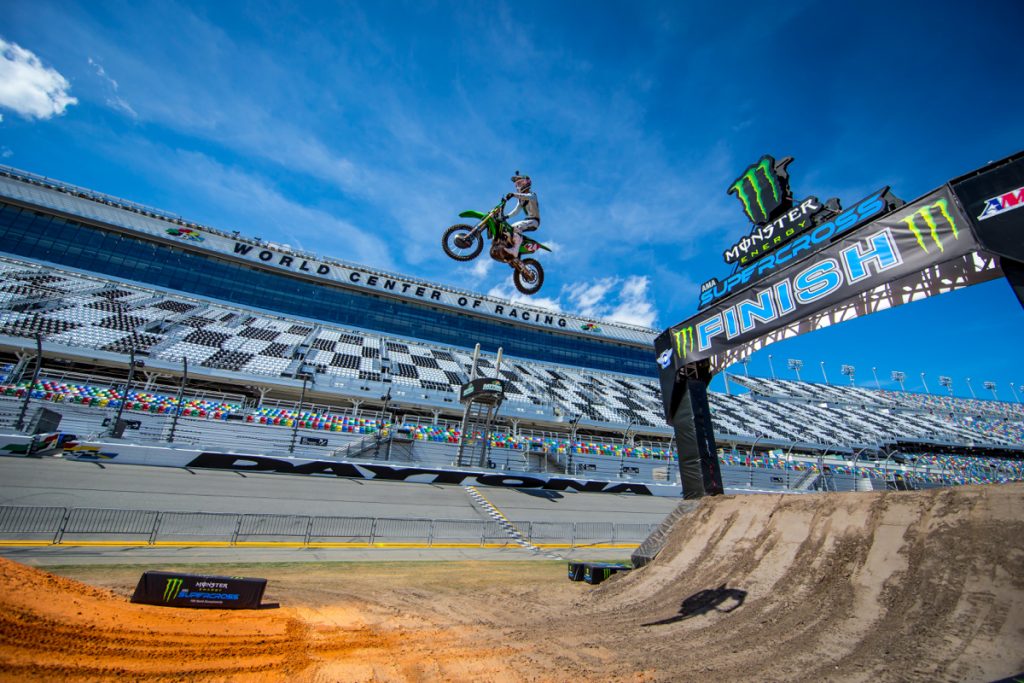 Austin Forkner: The kid is gnarly. Almost kills himself on a tuff block while jumping the quad and then just keeps hitting it while ripping tear offs. He's a little cocky at times, but to be a champion you have to have that little bit of cockiness and a chip on your shoulder. You have to know every time you go to the line that you're a bad ass. Forkner has that in 2019. I actually can't wait until outdoors because he's got this title on lock.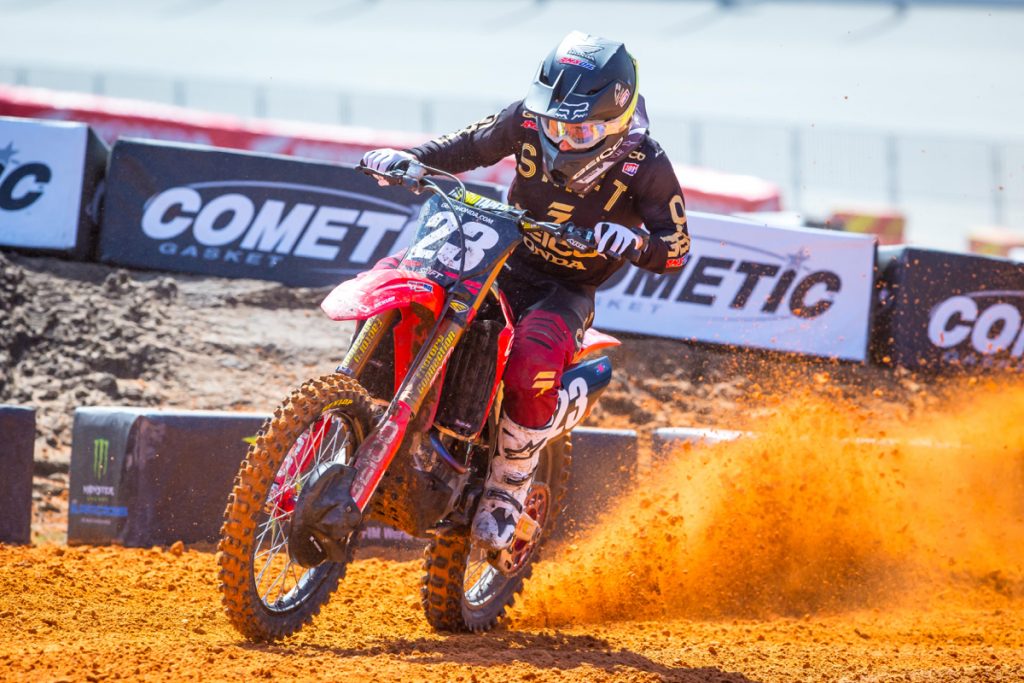 Chase Sexton: Chase is getting closer and having the fastest qualifying time will help his psyche for Indy. Chase is the smoothest 250 rider on the east coast, but for a smooth rider he does make those small mistakes. If you're a younger kid that wants to learn proper technique, look not further than Chase.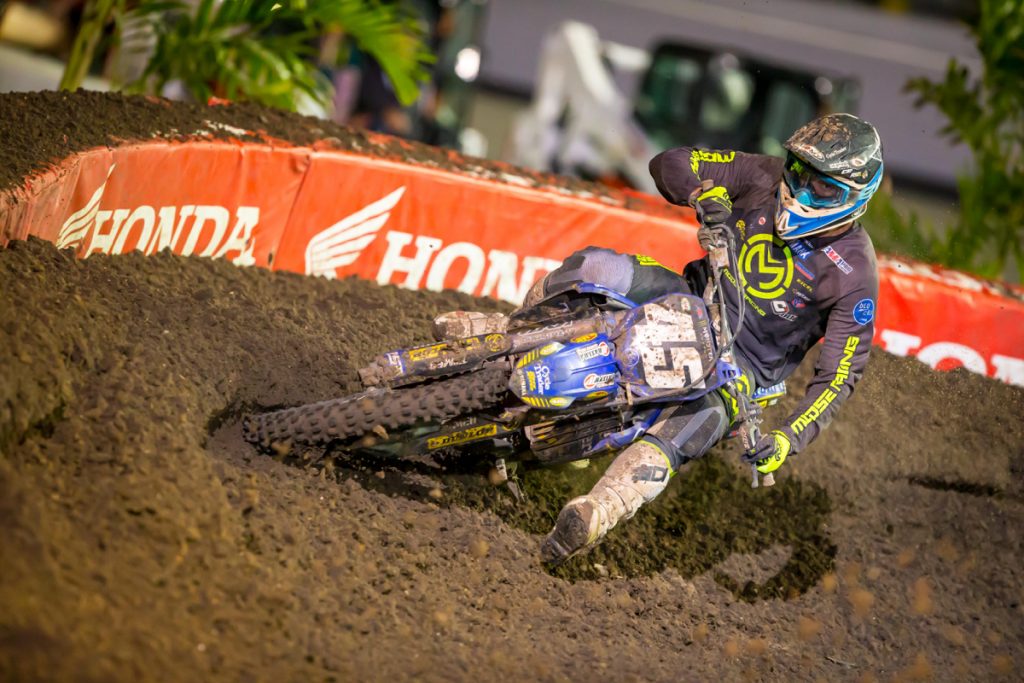 Brandon Hartnraft: Seth Rarick trains this kid and although it has taken sometime to show his "true" speed, it's starting to come around. Brandon looks like a big kid and it must be tough to get good starts with those 140-150 pound little whippers in the class, but his strength helps him out towards the end of the main events. Hartnraft was good in the moguls and the whoops. He made a ton of time up in those sections where it took strength to get through. 
Dakota Alix: All you have to know is that Dakota had a stock muffler, crappy numbers, and soft suspension. He had the main in his sights, but got nipped on the line (in the LCQ) by Scott Champion. I like guys that don't care much about their set up and just go out to race because they WANT to! Kudos Dakota and nice try!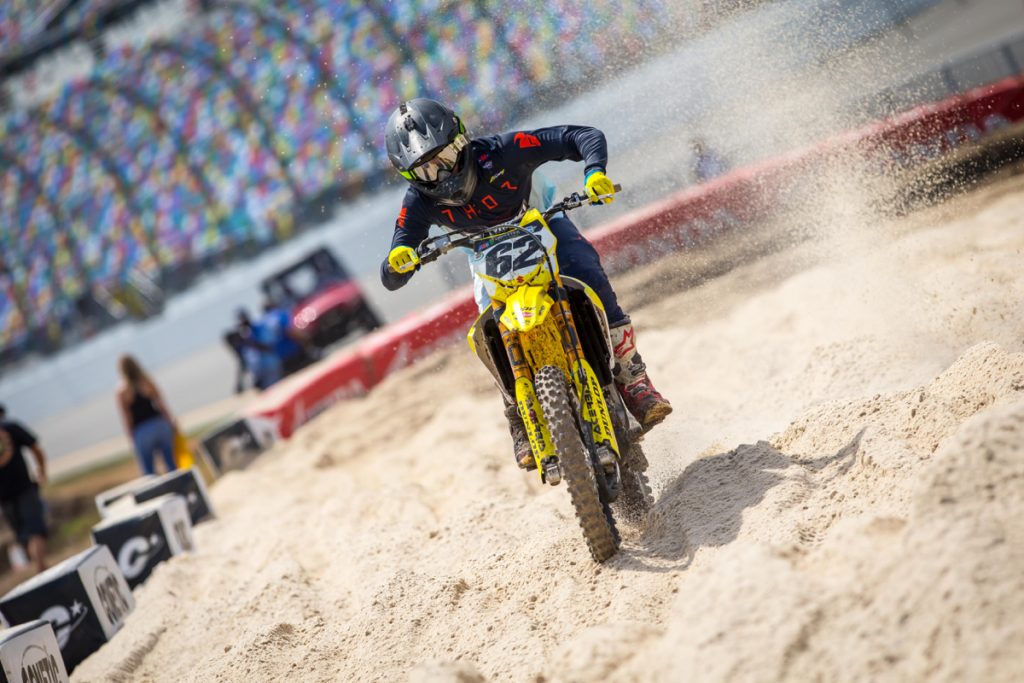 Alex Ray: I had lunch with A-Ray last Monday and I know that he didn't get to ride all week because his practice bike blew up. Not riding all week and then going to Daytona is not a recipe for success so look for A-Ray to bounce back next week in Indy. The dude is fast and is qualifying good, he just needs to calm down just a bit. I don't think he's as cattywampus as people think. I think A-Ray is one of the most improved riders in the series over the past year or so.  
Adam Enticknap: I heard that the 97 had bike problems and that forced him out of another main event. If you see Adam, please give him a hug from me. He needs one! Keep working Addy! Keep working, it's coming! 
Tevin Tapia: TT had a huge get off in practice and still hung in there for the night program. A 15th in the LCQ may not seem like anything to some people out there, but what that 15th place doesn't show is how gnarly it is to dust yourself off (from that crash) and get back out on the gate. I like riders who have balls and it takes balls to bust out the same section you just ate crap on, during the day qualifiers.  
Freddy Noren: One of the nicest guys in the paddock is Freddy Noren. Freddy is an outdoor specialist and is still learning the ropes of supercross. Noren raced the Kicker Arenacross series for the Phoenix Honda team and finished third overall in both Open and 250 divisions. I wish Freddy was on a 450 however because it takes a serious amount of aggression to race with these crazy ass kids in the 250 class. I feel like Freddy is too nice of a guy to slap these kids around on the track, like they need to be at times. Freddy, stop smiling and get mad at these dudes!