PulpMX.com Fantasy Pick & Trends
Another high pick trend rider sinks the field.
Daytona was pretty damn cool this year. Over the last few years I have not loved the new "crammed in a corner" layout that I discussed in this column last week, but I have to give credit where credit is due. The course had some really cool sections and the long straightaways definitely made for some good racing.
This week, another high pick trend rider failed to score and sunk a huge percentage of the field. Jace Owen qualified in 8P and looked like a lock for 40 plus points. Unfortunately he wound up crashing out of the main, leaving his owners with only 12 points. This took 53% of team owners out of the running for overall honors.
The team Pro Circuit Kawasaki holeshot – first lap lead streak was also broken this week. Austin Forkner lead the field off the gate and through the first corner, but it all ended in the sand, when he spun his rear wheel and wound up getting passed by Kyle Peters. This cost another large chunk of the field 7 valuable points.
This week there were three keys to winning. Being eligible to pick Zach Osborne, avoiding Jayce Owen, and not picking lap leaders. Two team owners managed this and wound up tying for first place. Interestingly enough they rose to the top with two different teams.
Congratulation to ChuckA and MotoMeat113 for taking down the Championship League this week with 284 points!
ChuckA got there with a 250 team of Josh Osby (5), Ryan Sipes (10), Jordan Bailey (4), & Chase Sexton (1AS). His 450 team was equally strong, Shane McEltrath (5), Zach Osborne (4), Justin Starling (16), and Eli Tomac (2AS) sent him to the top of the field with 284 points.
MotoMeat113 achieved his 284 point score by having a similar core of riders. His 250 squad also had Osby and Sipes, he differentiated by selecting AMart (4AS) and TJ Albright (14). MotoMeat113's 450 squad was also similar; he shared Zach Osborne and Justin Starling, but differentiated by selecting Joey Savatgy (0) and Ken Roczen (4).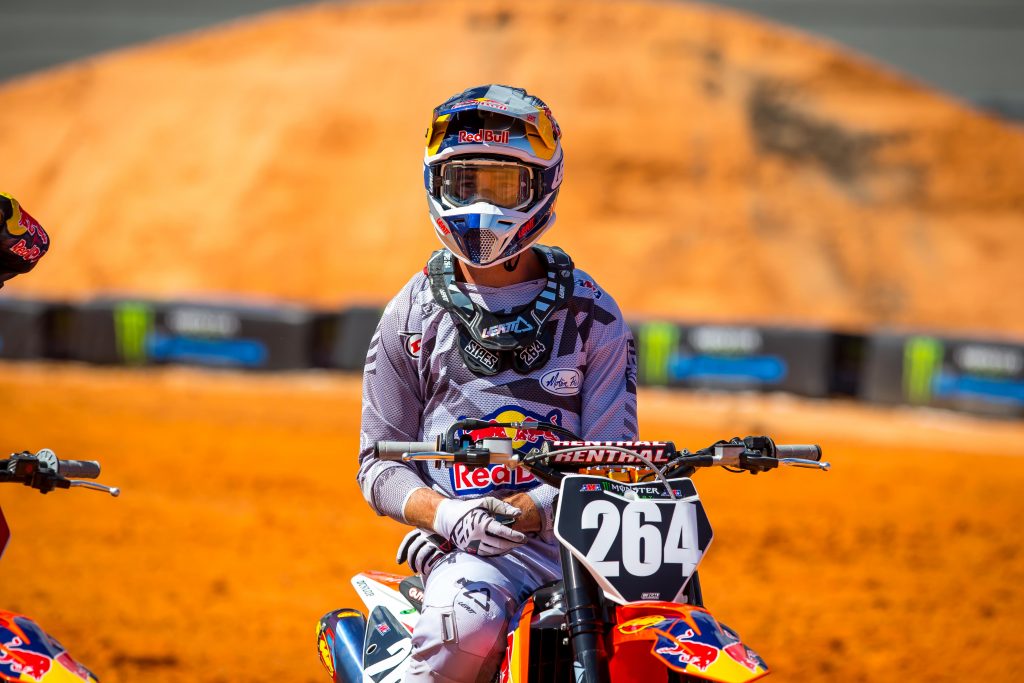 Most picked riders AKA "the chalk"
Ryan Sipes (10) was picked by 64% of PulpMX Fantasy team owners this week and he delivered nicely, his 14P finish delivered 38 points to his team owners. The 250 class also featured two riders with an over 30% trend. Jace Owen (11) who will make multiple sections in this week's column also had an unusually high pick trend of 53%. Unfortunately he wound up finishing in 22P and only delivered 12 points to his team owners. Jordan Bailey (4) – 32% pick trend rounded out the top three. His 11P finish netted his team owners a respectable 32 points.
The 450 class also had three riders with >30% pick trends. Shane McElrath (5) topped them all with a 38% pick trend; his 12P finish gave his team owners a nice 32 point score. Chris Blose (8) – 32% pick trend was next in line; he finished in 17P and scored 28 points. Two of PulpMX Fantasy's most mercurial riders were also high pick trends this week. Zach Osborne (4) – 46 points and Joey Savatgy (0) – 36 points each had strong nights for 32% of team owners. Next week looks to be an interesting dilemma for owners who are eligible to pick Zacho, as we have seen great scores every other week since he returned from injury. What are you going to do?
Low owned players who delivered – AKA great contrarian plays
 There were a slew of riders in the 250 class this week who had a top five score and a single digit pick trend. Dustin Winter (16) qualified for his first pro main event and delivered 38 points for 4% of team owners. Winter, from Clearwater KS qualified in 19P, then put it in the main straight out of his heat race with a 6P finish. He went on to finish 20th in the main event. We also saw Luke Neese (16) – 0% pick trend and TJ Albright (14) – 4% pick trend score 36 points each. John Short (6) – 4% pick trend and Kyle Peters(1) – 7% pick trend rounded out the slew, scoring 34 points apiece.
Did Justin Hill finally arise from his race day doldrums, or was it a one-week thing? The blazing fast JGR rider finally put it together on race day and looked strong all night. He was picked by 9% of team owners, his 2 handicap accounted for 36 points via a 7P finish. Scott Champion (16) – 0% pick trend went way under the radar this week, his 21P finish netted 36 points for nobody.
It will be interesting to see what owners do with Hill going forward, given his typical fast qualifying times, he will make for an interesting dilemma in the weeks ahead.
Fantasy Duds
If you joined me in picking Jace Owen this week you probably didn't have a great night. As we discussed earlier, he had an enormous 53% pick trend and only delivered 12 fantasy points. Cedric Soubeyras (7) pulled a DNQ and left 20% of team owners with zero points. Finally, Cole Seeley's (0) run of rotten luck continued at Daytona. Cole qualified in 11th then wound up down in the first corner of the main event with his teammate Ken Roczen. He was able to manage a 13P finish – 10 points for the 15% of team owners who selected him. Cole is another rider who I will continue to target going forward as he is seriously due for some positive regression.
Fantasy Studs
 The big scores were in the big bores this week! If you picked Zacho last week you were probably pretty pissed off about his night. To rub salt in the wound, he went out and put up the top PulpMX Fantasy score this week for those who were able to choose him. Ouch, and ouch! Justin Starling (16) also had a great night. His 19P finish netted 42 points for the 15% of owners who selected him.
In the 250's Josh Osby (5) had a great 8P finish and scored 42 points for 16% of team owners. We also saw a good night for Mitchell Oldenberg (0). His 4P finish scoring 38 points for the 25% of team owners who selected him.
 The 100% "Lead Pipe Locks"
 This week had three experts on the podcast. Steve chose Jace Owen and Chris Blose for 40 points, Paul chose Marshall Weltin and Zacho for 46 points, and Dan chose only Weltin who was a DNQ and scored zero points.
For the third straight week Paul had the highest point total with his 100% Lead Pipe Locks, nice job!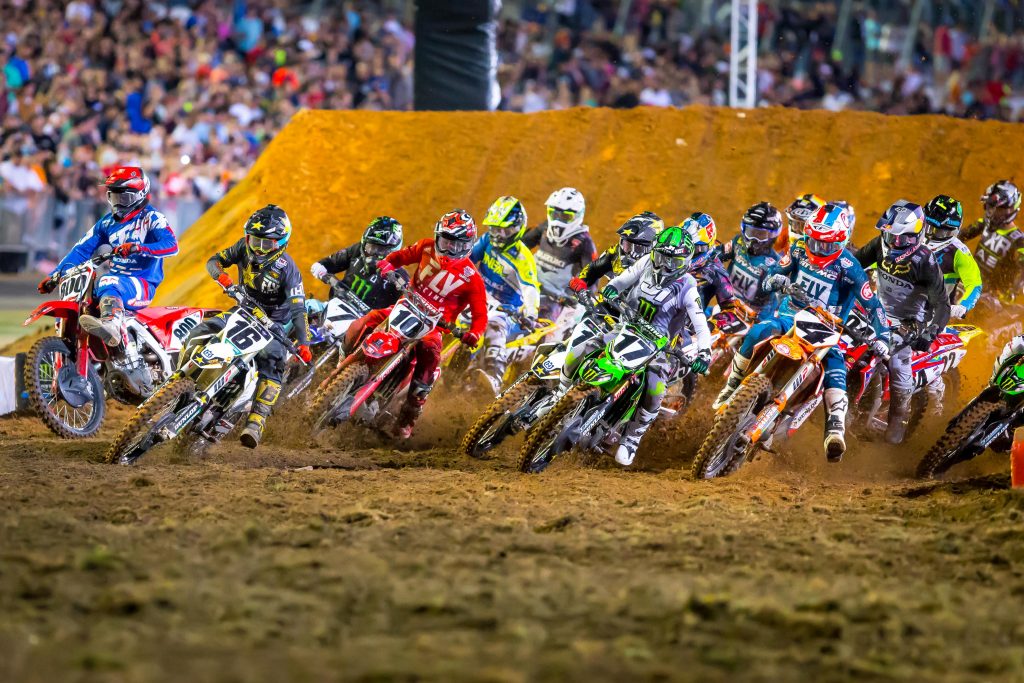 First Lap Leaders
If you picked a first lap leader this week, odds are pretty good that you got skunked. As we mentioned above, Forkner's LL streak finally came to an end in the deep Florida sand. We saw 45.7% of team owners pick a lap leader and I would guess that the vast majority of them picked Austin, as 0.0% picked correctly. As usual the 450 class had a lower pick trend, only 32.5% ventured a guess at who the lap leader would be, only 3.4% correctly picked Blake Baggett.
Final Thoughts – Indianapolis Picks
Indianapolis and the Lucas Oil Dome are up next. A quick glance at the handicaps and standings makes for some interesting possibilities. As I mentioned earlier, Cole Seely is due for some positive regression. He remains double points eligible and carries a 2 handicap. Also, keep an eye on Justin Barcia's injury status this week. He is also 2x points eligible at a zero handicap.
For the 250 class, keep an eye on guys who have been on the bubble over the last few weeks. Injuries have knocked a few main event guys out for the season so we should see some new names making the night show. Anthony Rodriguez is definitely a rider who is going to suffer from recency bias. This means he will have lower than usual ownership. He will have a 4 handicap at Indy and with the slightly weaker field, could deliver a good score for fantasy team owners.
Well that's it for this week. Thanks everyone for reading and playing. Please remember to support the PulpMX Fantasy sponsors when you shop for all of your off road, motorcycle and MTB needs.
Hope I see you on the leaderboard!