Daytime Program is here! Indianapolis was kind of a snore fest until the last race of the night where we had a great 450 Main Event. However on the bright side, Indianapolis brought out a Best Dressed winner and a few statistics I would like to throw out there for you number geeks. Without further adieu here is Daytime Program from Indy.
450 Main Event Colors: Out of the 22 bikes that were out there in the main event two were on a Yamaha, five were on a Honda, three on a Kawasaki, four on a Suzuki, four on a KTM, and four on a Husqvarna. When I look at this I think about this in a production perspective and how Honda didn't fare that well in any major media outlet shootout, yet the "Red Riders" were well represented Saturday night.
250 Main Event Colors: Out of the 22 bikes that were out there in the main event six were on a Yamaha, five on a Honda, three on a Kawasaki, two on a Suzuki, four on a KTM, and two on a Husqvarna. Yamaha has one of the best 250 four strokes out there today and you can see that it's popular with a lot of professional riders in the paddock.
Marvin Musquin: Marv held tough in Indy! BB4 and Webb both were catching Marv towards the end of the race but Marv stuck to his lines and wick'd it up for his first win of the year. Soft dirt and a rough track makes for a perfect blueprint for Musquin's technique. Will we see the ball keep rolling for the number 25?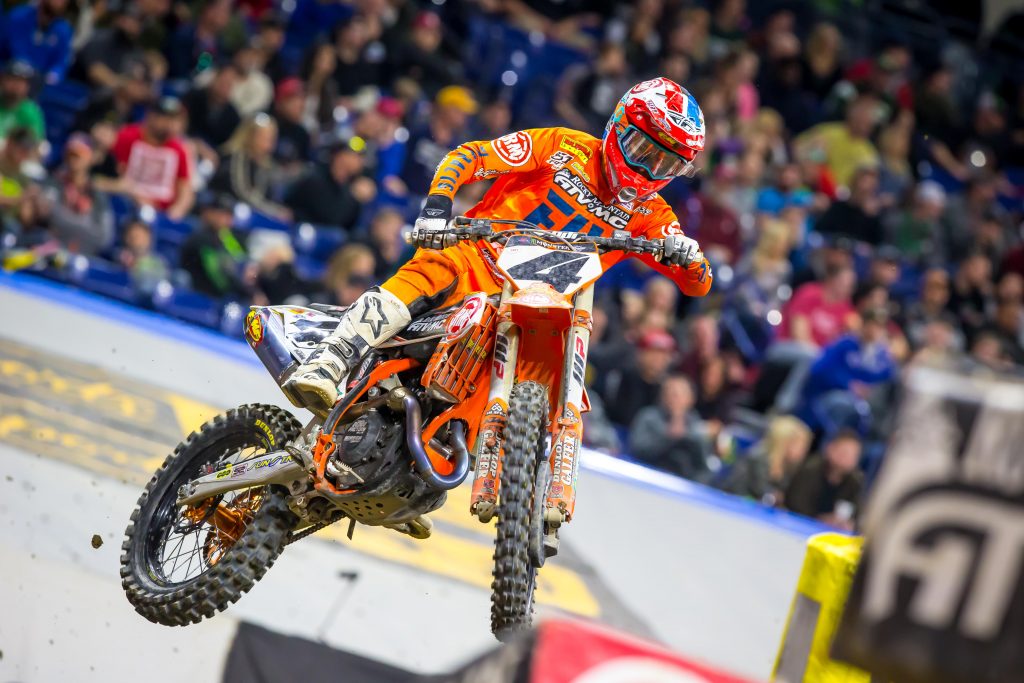 BB4: Can you imagine how good Blake is gong to be outdoors if he's this good in Supercross this year? Uh oh! If BB4 can stay healthy I am going to say that he will be a threat to Tomac's championship this summer. Blake had some unique lines in Indy and even went back to blitzing the whoops by the mechanics area, which was a lot faster.
Cooper Webb: This dude is so strong. He made a mistake and got yarded, but then reeled the leaders back in. If it wasn't for a few bad line choice decisions near the end we could of seen Webb with another sneaky late race charge win. He still looks good for the title, but he has to make it through Seattle before he can start smelling that bonus money.
Eli Tomac: I. Don't. Know. Anyone? It's not like the #3 to get dropped by 20 seconds at the finish when halfway through the Main Event he was in the mix for the "W".
Justin Barcia: Nice ride by Barcia after coming off of his concussion. A fifth place in a field this stacked is nothing to be bummed on. If Barcia gets a start in Seattle, watch out, he can check out like he did at A1. Mud is Barcia's bud.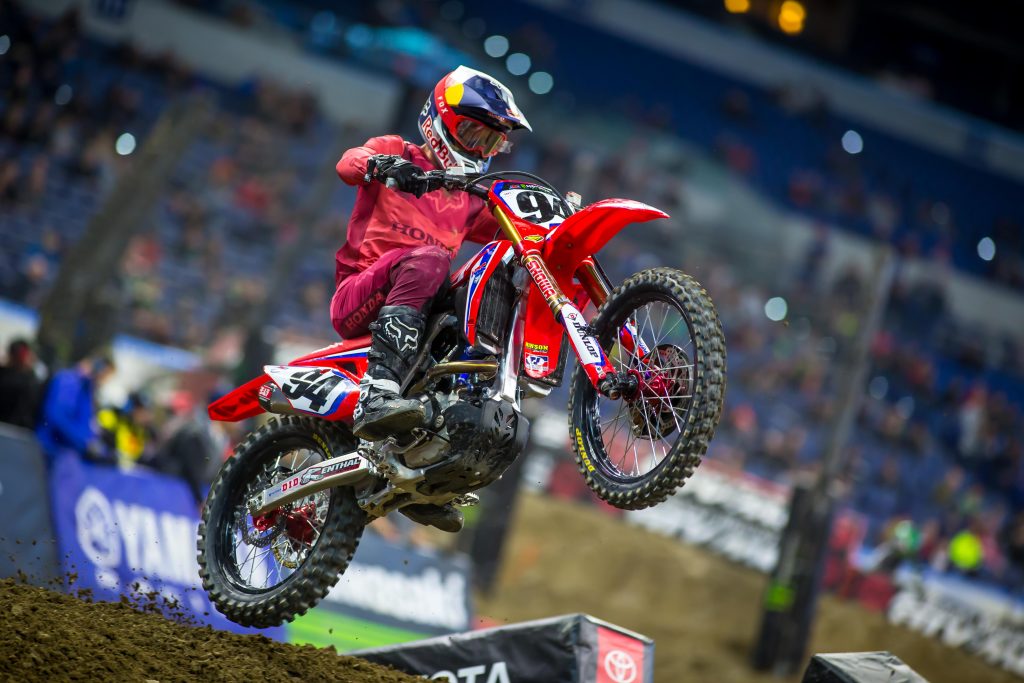 Ken Roczen: On the Moto 60 Show last Thursday I said that Roczen will be better. He wasn't. I am lame and know nothing. Back to the drawing board for HRC this week.
Adam Enticknap: Finally! I knew all Adam needed was a start and he finally got a good one in the LCQ! He has been riding well, but his starts were lacking and the sketchiness that ensues around 10th place in a LCQ is gnarlier than driving to LAX on a Friday evening. The whole HEP team was in the LCQ (and in transfer position at one time), but poor A-Ray washed out in the corner after the finish! This whole HEP team has me on the edge of my seat!
Austin Forkner: Monster Girl + PDA on track walk + Pixy Stix = CHAMPIONSHIP!!!
Justin Cooper: Strong ride by Cooper to bag Freckle on the last lap and on the podium for a third. Cooper has shown impressive strength and speed in SX, so I am fairly certain he will be closer to Forkner come the summer. Cooper is much better at outdoors than he is at SX.
Bradley Taft: Taft is back to give it one more go at this dirt bike thing. He was working for his brother in Missouri and decided he needed to give it one more shot before he completely hangs it up. In his second race back he makes the main, but has some work to do in the fitness department.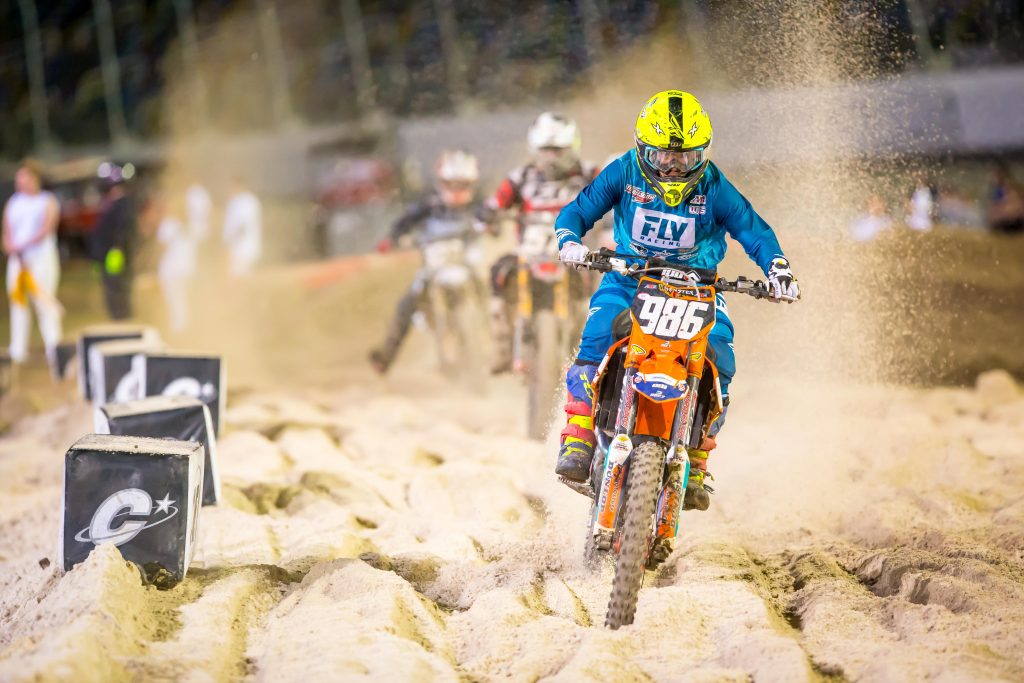 Lane Shaw: Poor Lane has had a rough go this year in SX. He gets run over in Dallas, knocked out in Daytona, but kept plugging away and made the main via an LCQ win in Indy! Boom! The nicest kid in the pits is Mr. Shaw, so go by his pits, look at his abs, his stunning tan, and give the dude a hug. He likes those!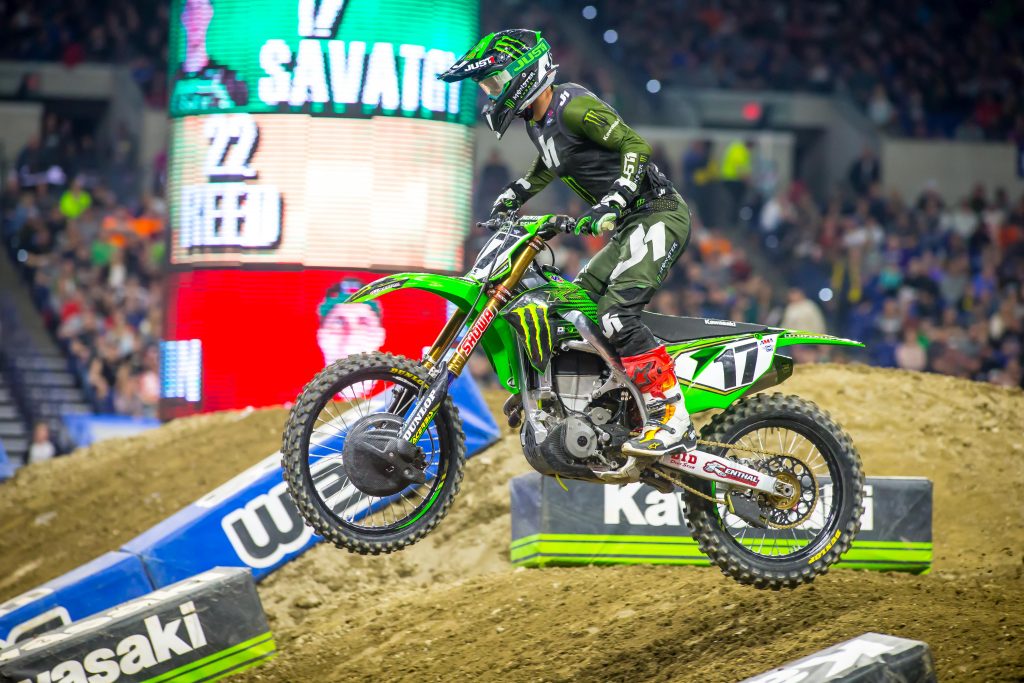 Best Dressed: The Just One gear looked so bad ass on the number 17 this week. Kudos to Savatgy and J1 for having a unique colorway that tied in nicely with the Monster Energy Kawasaki. Oh and Savatgy is wearing Just One gloves now as well not the "other" brand. I need to test some of this gear to see how it is.