PulpMX.com Fantasy Pick & Trends
Scoring return to normalcy despite Triple Crown providing easy picks
There has been a lot of talk this season on the fantasy podcasts about the need to change scoring or handicaps for the Triple Crown rounds. After looking at the results though, I'm not sure that it's needed.
The upside of Triple Crowns is that we aren't guessing if our riders will be in the main. That doesn't guarantee a great result though as riders crash out, or finish below expectations.
The common thought that the easier picking makes the game easier didn't really pan out this week. Once again, the highest handicap rider to make a main didn't put up the highest possible score. He did wind up being on the winning overall team, but that team could've been beaten.
The overall was very close this week, the top six riders were within twelve points of each other, yet one team owner managed to find a combination that allowed him to take down the overall by eight points over second place.
Congratulations to JDoggydog for taking down the overall this week with a massive 344 point score! JDog's differentiating pick this week was none other than Sean Cantrell (4), who had the third highest score of the night in his class with 38 points. Cantrell's pick trend was only 4%. This gave him a huge advantage over the rest of the field, especially considering that 35% owned Bradley Lionnet (12) basically busted, only scoring 28 points.
JDog almost picked the perfect team this week. He nailed it in the 250 class picking the three highest point scorers, and just missed in the 450 class as one of his riders, Charles Lefrancois (16) was outscored by two points by Justin Bogle (3). This is interesting because it means that JDog could've been beaten, but nobody had the right combo. He also correctly picked first lap leaders in both classes.
Now, let's take a look at this week's results.
 Most picked riders AKA "the chalk"
The recurring thought with Triple Crowns is that they lead to more concentrated ownership. That wasn't backed up by the numbers though, we saw pretty average pick trends among the >30% picked riders and the rest were fairly spread out as well.
The 250 class saw three riders with more than 30% trends. Michael Lieb (14) topped them all with 43% ownership. Adam Cianciarulo (1AS) followed at 42% and Bradley Lionnet (14) rounded out the top three with a 35% trend.
The highest pick trend in the 450 class was no surprise as he was also the highest handicap to make the mains. Charles Lefrancois (16) was our highest picked rider in the class with a 43% pick trend. The 722, Adam Enticknap (14) – 40%, Ken Roczen (4) – 36% and Alex Ray (10) – 31% finished up the plus 30% crew.
Finally, a couple of Side notes, the 722 has been crushing the fantasy game over the last two weeks, great to see! Also the 450 LCQ was pretty awesome, Charles Lefrancois exhibited pure joy when he qualified for the night show, the first of his career. Congratulations Charles!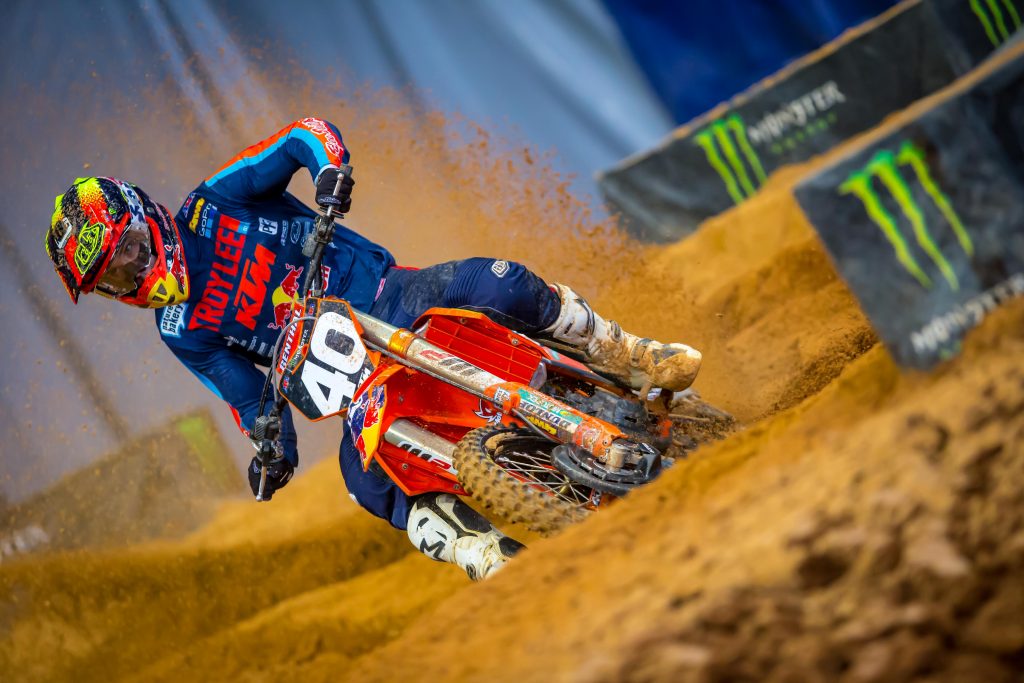 Low owned players who delivered – AKA great contrarian plays
 We have had a recurring weekly theme in this section, outlining the riders who allowed for points differentiation and ultimately put their team owners on the top step. This week is no different. We already mentioned Sean Cantrell putting JDog over the top with his great score at only 4% ownership. We did have a few other riders sneak through.
The 250 class saw Logan Karnow (10) sneak through at only 8% ownership, he scored 36 points. We also saw Martin Castelo (5) – 2% and Dylan Merrian (10) – 8% ownership put up 34 points each.
Last week in this column I said to keep an eye on Justin Bogle, and he really delivered at very low ownership. He was selected by only 6% of team owners at a 3 handicap and had the second highest score of the night in his class with 38 points. Kyle Chisholm (7) managed to do his thing yet again as well. His pick trend was only 7% and he had a top 5 score – 34 points. Chizz Chizzed!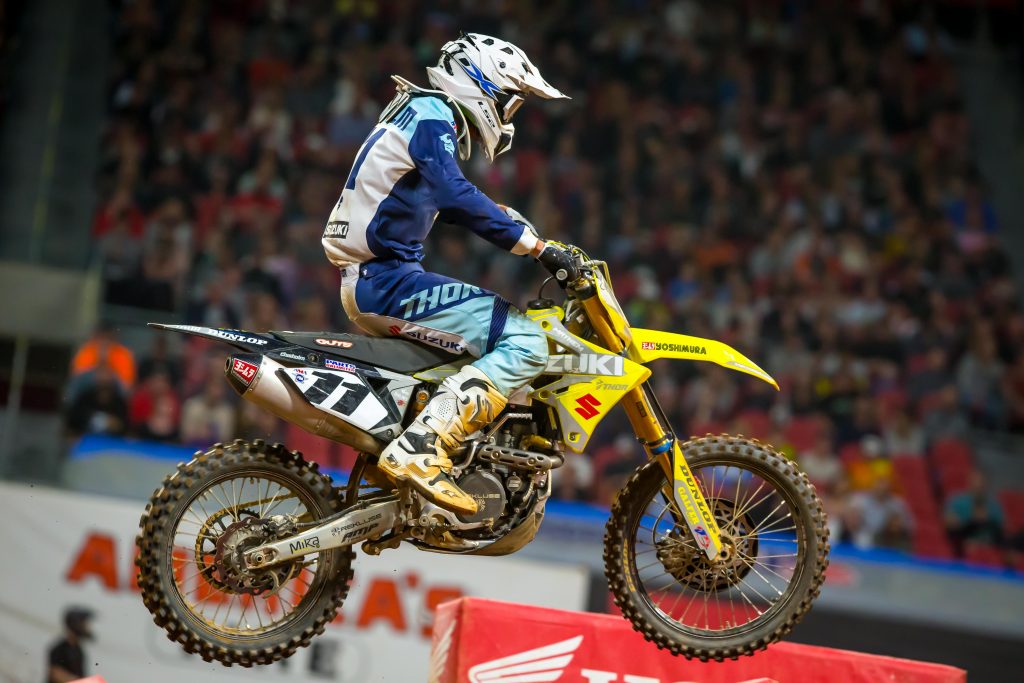 Fantasy Duds
We definitely had a few fantasy team wreckers this week. The 250 class saw Bradley Lionnet (12) – 35% trend score only 28 points, and Robbie Wageman (10) – 26% pick trend score only 11 points for their team owners.
The 450 class was topped by an all star, Ken Roczen (4AS). Ken crashed out of Gang Bang 2 and wound up scoring only 17 points for 36% of owners. This was only 9 points below his max score, but it could have made the difference for a team owner who picked perfectly everywhere else.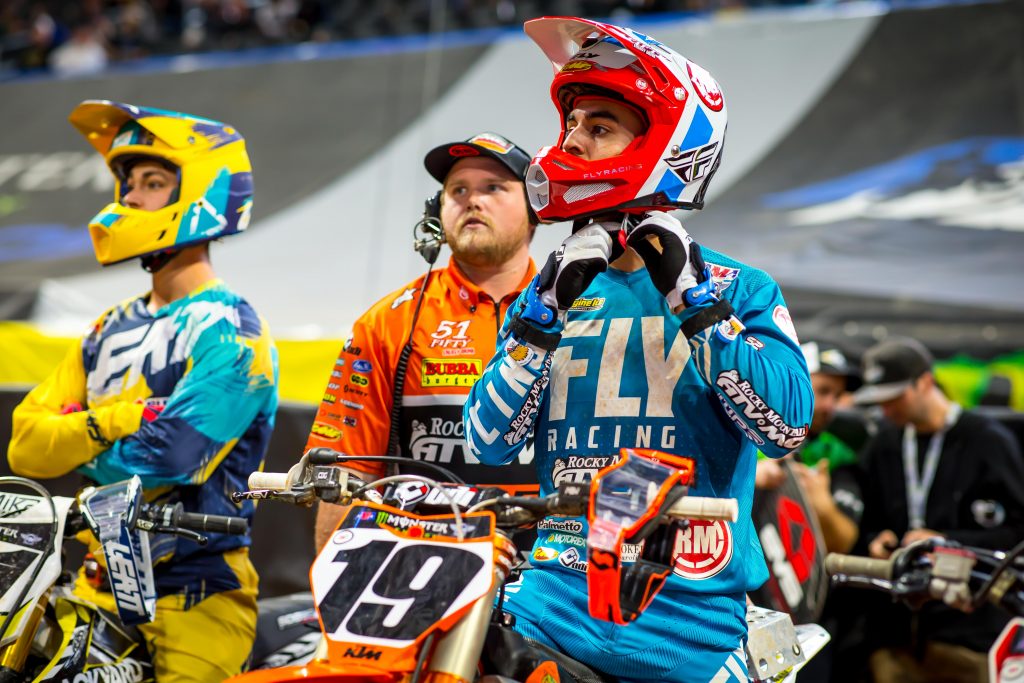 Fantasy Studs
 The big scores stayed with the small bores this week! It was actually pretty close between the two classes. We had only one rider in each class put up a perfect 52, Michael Lieb (14) in the 250 class, and Adam Enticknap (14) in the 450 class.
Justin Starling (5) -18% pick trend for 46 points, and Sean Cantrell (4) – 4% pick trend 38 points topped the 250 studs.
The 450's saw a great score from another rider I've been writing about for a few weeks. Cole Seely had a 1 handicap and put up a great 38 points score for 20% of team owners via his 5P finish.
The 100% "Lead Pipe Locks"
We had a crew of three on the fantasy pod this week. Travis Marx chose Enzo Lopes and Josh Grant for 12 points, Steve went with Matthias Jorgensen and Josh Grant for 46 points, and Dan went with Garret Marchbanks and John Short for 30 points.
Matthes rose to the top of the 100% Lead Pipe Lock expert podium this week with a dominating 46 points score, nice job Steve!
First Lap Leaders
Really high pick trends and correct pick percentages for this week as expected. If you aren't guessing first lap leaders on Triple Crown rounds your basically down 30 points to begin the night on over 80% of the field.
The 250 class saw 67% of owners choose with 93% correctly guessing correctly. Adam Cianciarulo, Chris Blose, and Colt Nichols each took a turn getting to the stripe first. I would bet the majority of correct picks were on the 92 bike.
The 450 class had a slightly lower lap leader pick percentage. 63.2% of owners chose with 80.4% correctly choosing Marvin Musquin, Cooper Webb, or Ken Roczen. Guessing the 20% who chose wrong went with Eli Tomac?
 Final Thoughts – Nashville Picks
We return to the east coast this week and for the first time ever Supercross will pay a visit to Nashville Tennessee. As of this writing on Wednesday night, the weather looks great, in the high 70's during the day and sunny, so weather should not be a factor.
Keep an eye out for Jordon Smith this weekend in the 250 class. Word is that he might return in Nashville. If he does he will arrive with a 0 handicap and be double points eligible, making him a strong pick. I like Marty as a 5 all star as well.
Ben Lamay looks to be a strong pick again this week on his Moto Concepts Smart Top Honda. He has been putting in great rides lately, will be double points eligible and will have a 6 handicap. Chris Blose will be back on a big bike this week, he looks like another strong pick at an 8 handicap. Finally can Logan Karnow do it again? He's been good of late, scoring a 15P finish in Houston and will enter Nashville with a 16 handicap, making him a very strong early pick.
First lap leader! Don't forget to pick Forkner for first lap leader; he has only missed it once this year!
Well that's it for this week. Thanks everyone for reading and playing. Please remember to support the PulpMX Fantasy sponsors when you shop for all of your off road, motorcycle and MTB needs.
Hope I see you on the leaderboard!